cheltenham festival / 2011 news / champion hurdle
Stan James Champion Hurdle 2011 - Analysis
20/01/11
Binocular heads a superb entry of 31 for this year's £370,000 Grade One Stan James Champion Hurdle, the feature race of the first day of this year's Festival, Tuesday, March 15.
Binocular (left)


© racing-images.co.uk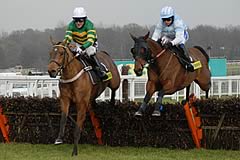 The Nicky Henderson-trained seven-year-old stormed to a decisive three and a half length victory over subsequent Grade One Aintree Hurdle scorer Khyber Kim, from the stable of Nigel Twiston-Davies, in the two-mile championship contest last year, having gone down by a neck and a head to Punjabi and Celestial Halo the previous season. He also ran an excellent race at the 2008 Festival when coming second to Captain Cee Bee in the Grade One Supreme Novices' Hurdle.
After only finishing third on his seasonal return in the Grade One stanjames.com Fighting Fifth Hurdle, which was this season run at Newbury, Binocular returned to his brilliant best when comfortably taking the Christmas Hurdle at Kempton on January 15.
Oscar Whisky


© racing-images.co.uk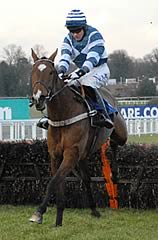 A strong quintet from Henderson also includes Oscar Whisky, who announced himself as a genuine contender for Stan James Champion Hurdle honours when routing his rivals in the Cheltenham & Three Counties Club Hurdle at Prestbury Park on New Year's Day. The previous two winners of the Grade One JCB Triumph Hurdle, Zaynar (2009) and Soldatino (2010), also feature among the Seven Barrows team alongside exciting French import Solix, who has yet to make his debut for Henderson.
Menorah has been victorious on all three of his starts at Cheltenham. The Philip Hobbs-trained six-year-old posted a head verdict over Get Me Out Of Here, from the stable of Jonjo O'Neill in last season's Supreme Novices' Hurdle before returned to triumph in both the Grade Three Greatwood Handicap Hurdle and the Grade Two stanjames.com International Hurdle this season.
Trainer Donald McCain saddled Peddlers Cross to take the Grade One Neptune Investment Management Novices' Hurdle at The Festival last term and the six-year-old, who is unbeaten in six racecourse appearances, got the better of the Alan Fleming-trained Starluck and Binocular in the stanjames.com Fighting Fifth Hurdle. The Cheshire handler has also entered talented dual code performer Overturn, who won the Northumberland Plate and Galway Hurdle in the summer before chasing home Binocular at Kempton last weekend.
Paul Nicholls has yet to win the Stan James Champion Hurdle but the champion trainer may have a strong contender this year with Silviniaco Conti, who was an impressive winner of the Grade Two Coral Hurdle at Ascot in November prior to coming home third behind Menorah in the stanjames.com International. Nicholls may also be represented by the 2009 runner-up Celestial Halo, who scored in the JCB Triumph Hurdle at The Festival in 2008.
Solwhit


© racing-images.co.uk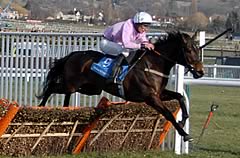 A potential Irish challenge of seven is spearheaded by the Willie Mullins-trained Hurricane Fly, who has six Grade One victories to his name, including when posting an effortless success over Solwhit, himself a six-time Grade One winner for trainer Charles Byrnes, in Leopardstown's Festival Hurdle at the end of December. Both horses are set to re-oppose in this weekend's Irish Champion Hurdle at Leopardstown.
Mullins may also be represented by Blackstairmountain, winner of last year's Grade One Punchestown Champion Novice Hurdle, and Thousand Stars, who triumphed in the Grade Three Vincent O'Brien County Handicap Hurdle at The Festival in 2010. The Robbie Hennessy-trained Sublimity, who captured the 2007 Stan James Champion Hurdle for former handler John Carr, last year's JCB Triumph Hurdle third Alaivan, from the stable of Edward O'Grady and Philip Fenton's stable star Dunguib, who was a stunning winner of the Grade One Weatherbys Champion Bumper at The Festival in 2009 prior to coming third in the Grade One Supreme Novices' Hurdle 12 months later, complete the Irish-trained contingent.
Mille Chief was forced to bypass last year's Festival through injury but the Alan King-trained five-year-old returned to form with an easy victory in a Sandown handicap hurdle on January 8, while Salden Licht and Walkon, not seen since emphatically taking a Grade One Hurdle at Aintree in April, 2009, could also line up for the Barbury Castle handler.
Other notable entries include the Colin Tizzard-trained novice Cue Card, who was an impressive winner of the Weatherbys Champion Bumper at last year's Festival and found only Menorah four and a half lengths too strong in the stanjames.com International Hurdle.
Tocca Ferro
© racing-images.co.uk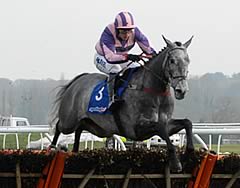 Clerk's Choice gave permit holder Michael Banks one of his biggest wins as a trainer when romping to a 21-length success in the sportingbet.com Hurdle at Cheltenham's Open Meeting in October, while Evan Williams may be represented by the third from that race, Irish Grade One winner Barizan, and Cristal Bonus, a Grade One runner-up in France for previous connections.
David Pipe also has a pair of entries courtesy of last year's Grade Three Fred Winter Juvenile Novices' Handicap Hurdle second Notus de la Tour and Ronaldo des Mottes, while the entry is completed by the progressive Tocca Ferro, from the stable of Emma Lavelle, and the Karen McLintock-trained Bygones of Brid.
SMURFIT KAPPA CHAMPION HURDLE RESULTS
2009-WINNER-PUNJABI 6-11-10 Owner-Raymond Tooth; Trainer-Nicky Henderson; Jockey-Barry Geraghty; SP-22/1
2ND-Celestial Halo 5-11-10 Owner-The Stewart Family; Trainer-Paul Nicholls; Jockey-Ruby Walsh; SP-17/2
3RD-Binocular 5-11-10 Owner-J P McManus; Trainer-Nicky Henderson; Jockey-Tony McCoy; SP-6/4 Fav
23 ran, Time-4m 0.90s; Dist- nk, hd
2008-WINNER-KATCHIT 5-11-10 Owner-D S J P Syndicate; Trainer-Alan King; Jockey-Robert Thornton; SP-10/1
2ND-Osana 6-11-10 Owner-Thomas Barr; Trainer-David Pipe; Jockey-Tom Scudamore; SP-9/2
3RD-Punjabi 5-11-10 Owner-Raymond Tooth; Trainer-Nicky Henderson; Jockey-Barry Geraghty; SP-25/1
15 ran, Time-4m 8.10s; Dist-1, 5 2/1 Fav Sizing Europe (14th)
2007-WINNER-SUBLIMITY 7-11-10 Owner-Bill Hennessy; Trainer-John Carr IRE; Jockey-Philip Carberry; SP-16/1
2ND-Brave Inca 9-11-10 Owner-Novices Syndicate; Trainer-Colm Murphy IRE; Jockey-Ruby Walsh; SP-11/2
3RD-Afsoun 5-11-10 Owner-Trevor Hemmings; Trainer-Nicky Henderson; Jockey-Mick Fitzgerald; SP-28/1
10 ran, Time-3m 55.70s; Dist-3, nk 6/4 Fav Detroit City (6th)
2006-WINNER-BRAVE INCA 8-11-10 Owner-Novices Syndicate; Trainer-Colm Murphy IRE; Jockey-Tony McCoy; SP-7/4 Fav
2ND-Macs Joy 7-11-10 Owner-Mac's J Racing Syndicate; Trainer-Jessica Harrington IRE; Jockey-Barry Geraghty; SP-13/2
3RD-Hardy Eustace 9-11-10 Owner-Lar Byrne; Trainer-Dessie Hughes IRE; Jockey-Conor O'Dwyer; SP-11/2
18 ran. Time-3m 50.00s; Dist-1, 3½
2005-WINNER-HARDY EUSTACE 8-11-10 Owner-Lar Byrne; Trainer-Dessie Hughes IRE; Jockey-Conor O'Dwyer; SP-
7/2 Jt Fav
2ND-Harchibald 6-11-10 Owner-Des Sharkey; Trainer-Noel Meade IRE; Jockey-Paul Carberry; SP-7/1
3RD-Brave Inca 7-11-10 Owner-Novices Syndicate; Trainer-Colm Murphy IRE; Jockey-Barry Cash; SP-10/1
14 ran, Time-3m 51.50s; Dist-nk, nk 7/2 Jt Fav Back In Front (9th)
2004-WINNER-HARDY EUSTACE 7-11-10 Owner-Lar Byrne; Trainer-Dessie Hughes IRE; Jockey-Conor O'Dwyer; SP-33/1
2ND-Rooster Booster 10-11-10 Owner-Terry Warner; Trainer-Philip Hobbs; Jockey-Richard Johnson; SP-11/8 Fav
3RD-Intersky Falcon 7-11-10 Owner-Interskyracing.com & Jacqui O'Neill; Trainer: Jonjo O'Neill; Jockey-Liam Cooper; SP-8/1
14 ran, Time-3m 54.50s; Dist-5, 4
2003-WINNER-ROOSTER BOOSTER 9-12-00 Owner-Terry Warner; Trainer-Philip Hobbs; Jockey-Richard Johnson; SP-9/2
2ND-Westender 7-12-00 Owner-Matt Archer & Jean Broadhurst; Trainer-Martin Pipe; Jockey-Rodi Greene; SP-33/1
3RD-Rhinestone Cowboy 7-12-00 Owner-Sue Magnier; Trainer-Jonjo O'Neill; Jockey-Norman Williamson; SP-5/2
Fav 17 ran, Time-3m 54.70s; Dist-11, 3
2002-WINNER-HORS LA LOI III 7-12-00 Owner-Paul Green; Trainer-James Fanshawe; Jockey-Dean Gallagher; SP-10/1
2ND-Marble Arch 6-12-00 Owner-Martin Wilson, Rory Sweet and Mary Wilson; Trainer-Hughie Morrison; Jockey-Ruby Walsh; SP-25/1
3RD-Bilboa 5-11-09 Owner-Jorg Vasicek; Trainer-Francois Doumen FR; Jockey-Thierry Doumen; SP-14/1
15 ran, Time-3m 53.80s; Dist- 3, ½ 2/1 Fav Istabraq (pu)
2001 Cancelled
2000-WINNER-ISTABRAQ 8-12-00 Owner-J P McManus; Trainer-Aidan O'Brien IRE; Jockey-Charlie Swan; SP-8/15 Fav
2ND-Hors La Loi III 5-12-00 Owner-Paul Green; Trainer-Francois Doumen FR; Jockey-Dean Gallagher; SP-11/1
3RD-Blue Royal 5-12-00 Owner-Lynn Wilson; Trainer-Nicky Henderson; Jockey-Mick Fitzgerald; SP-16/1
12 ran, Time-3m 48.10s; Dist-4, nk
1999-WINNER-ISTABRAQ 7-12-00 Owner-J P McManus; Trainer-Aidan O'Brien IRE; Jockey-Charlie Swan; SP-4/9 Fav
2ND-Theatreworld 7-12-00 Owner-Sue Magnier; Trainer-Aidan O'Brien IRE; Jockey-Tommy Treacy; SP-16/1 3RD-French Holly 8-12-00 Owner-Kieran Flood; Trainer-Ferdy Murphy; Jockey-Andrew Thornton; SP-11/2
14 ran, Time 3m 56.7s; Dist-3½, 2½
1998-WINNER-ISTABRAQ 6-12-00 Owner-J P McManus; Trainer-Aidan O'Brien IRE; Jockey-Charlie Swan; SP-3/1 Fav
2ND-Theatreworld 6-12-00 Owner-Sue Magnier; Trainer-Aidan O'Brien IRE; Jockey-Tommy Treacy; SP-20/1
3RD-I'm Supposin 6-12-00 Owner-Nicholas Cooper; Trainer-Richard Rowe; Jockey-Richard Dunwoody; SP-6/1
18 ran, Time 3m 49.1s; Dist-12, 1
1997-WINNER-MAKE A STAND 6-12-00 Owner-Peter Deal; Trainer-Martin Pipe; Jockey-Tony McCoy; SP-7/1
2ND-Theatreworld 5-12-00 Owner-Sue Magnier; Trainer-Aidan O'Brien IRE; Jockey-Norman Williamson; SP-33/1
3RD-Space Trucker 6-12-00 Owner-Elaine Queally; Trainer-Jessica Harrington IRE; Jockey-John Shortt; SP-9/2
17 ran, Time-3m 48.4s, Dist-5, ¾ 7/2 Fav Large Action (pu)
1996-WINNER-COLLIER BAY 6-12-00 Owner-Wally Sturt; Trainer-Jim Old; Jockey-Graham Bradley; SP-9/1
2ND-Alderbrook 7-12-00 Owner-Ernie Pick; Trainer-Kim Bailey; Jockey-Richard Dunwoody; SP-10/11 Fav
3RD-Pridwell 6-12-00 Owner-Jones, Berstock and Fleet Partnership; Trainer-Martin Pipe; Jockey-Chris Maude;
SP-33/1 16 ran, Time-3m 59.0s, Dist-2½, 6
1995-WINNER-ALDERBROOK 6-12-00 Owner-Ernie Pick; Trainer-Kim Bailey; Jockey-Norman Williamson; SP-11/2
2ND-Large Action 7-12-00 Owner-Brian Stewart-Brown; Trainer-Oliver Sherwood; Jockey-Jamie Osborne; SP-4/1 Jt Fav
3RD-Danoli 7-12-00 Owner-Dan O'Neill; Trainer-Tom Foley IRE; Jockey-Charlie Swan; SP-4/1 Jt Fav
14 ran, Time-4m 03.1s, Dist-5, 2
[more]