cheltenham festival / 2009 news /
Zaynar Triumphs at Cheltenham
13/03/09
1st (18) Zaynar 11/2
2nd (17) Walkon 4/1 fav
3rd (8) Mourad 14/1
4th (12) Starluck 5/1
Zaynar -143p


© racing-images.co.uk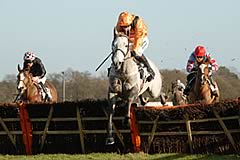 totesport Cheltenham Gold Cup day began with a superb renewal of the JCB Triumph Hurdle that saw the greys Zaynar (11/2) and Walkon (4/1 fav) fight out a brilliant finish. A bold leap of the final hurdle enabled Zaynar see off his rival by three quarters of a length under Barry Geraghty.

"Barry said didn't want to be in front when Ebadiyan ran out but the horse is tough and Barry gave him a very positive ride." said winning trainer Nicky Henderson. "Zaynar might be short of natural pace but has always been a very good jumper. It was a tough test for young horses and I feel sorry for Kingy (Walkon's trainer Alan King) because they were two tough horses who gave everything.
"Zaynar has always threatened to do this but we just didn't know what would happen when he got into a battle. It's only his third run over hurdles and his fifth in all and it was a big question to ask a baby at the last like that.
"I think you can safely say that's it's for the year. Aintree's not his track, he won't run on the flat and he'll be a very nice horse for next year.
"The cheekpieces were Barry's idea. We put them on once at home and they help him through his races.
"In fairness those two horses came from that Newbury race. That looked like the best race earlier in the year and it has turned out that it was .
"You would probably say that he might be looking at further than two miles one day but he's going to grow up and he has only had five or six races in his life. It's a good way to start the day but there is still a bit of pressure to come later."
"I thought Zaynar was my best chance of the week and it rode like a good race and the formbook said it was," said Geraghty. "He's very tough. When Oliver Brady's horse ran out at the second last I was left in front, which wasn't ideal but he was only ever doing enough.
"Walkon has run a cracker and he came for me but he was always finding. He hasn't had that much experience but he had a lot in the tank.
"He battled really well and I knew he stay. I was waiting for something to come to me because I knew that he would close down. The cheekpieces helped him travel.
"This is only his sixth time at a racecourse and he probably doesn't know much about racing. He's dead genuine."
Zaynar is owned by a partnership including bookmaker Victor Chandler, who said: "We lost Tiger Eye, who was third favourite for the 1000 Guineas, and it's mostly the same group of owners so we are absolutely thrilled.
"Barry and Nicky decided to try him with the cheekpieces and they were right. The horse was absolutely great. I am sure we won't be 12/1 for next year's Champion Hurdle and I will start backing him now!"
Position

Horse
Trainer
Jockey
Weight
Starting Price
Beaten Distance
1

Zaynar
N J Henderson
B J Geraghty
11st 0lbs
11 - 2
Winner
2

Walkon
A King
R Thornton
11st 0lbs
4 - 1
3/4 length
3

Mourad
W P Mullins
R Walsh
11st 0lbs
14 - 1
2 3/4 lengths
4

Starluck
A Fleming
T J Murphy
11st 0lbs
5 - 1
3 1/2 lengths
5

Trenchant
A King
W Hutchinson
11st 0lbs
28 - 1
3 lengths
6

Reve De Sivola
Nick Williams
D Jacob
11st 0lbs
20 - 1
1 1/4 length
7

Simarian
Evan Williams
Donal Fahy
11st 0lbs
40 - 1
13 lengths
8

Tyrrells Wood
T G Mills
J E Moore
11st 0lbs
66 - 1
3 3/4 lengths
9

Jumbo Rio
E J O'Grady
A J McNamara
11st 0lbs
11 - 1
3/4 length
10

Tharawaat
G Elliott
D N Russell
11st 0lbs
40 - 1
3 3/4 lengths
11

Master of Arts
D Pipe
T Scudamore
11st 0lbs
17 - 2
3 3/4 lengths
12

Just Rob
Ian Williams
D R Dennis
11st 0lbs
150 - 1
2 1/2 lengths
13

Silk Drum
J Howard Johnson
Denis O'Regan
11st 0lbs
25 - 1
1 1/4 length
14

Stow
Miss V Williams
S Thomas
11st 0lbs
50 - 1
2 1/4 lengths
15

Maidstone Mixture
Paul Murphy
R McGrath
11st 0lbs
250 - 1
23 lengths
16

Lethal Weapon
C Roche
A P McCoy
11st 0lbs
17 - 2
6 lengths
17

Art Sleuth
W P Mullins
P Townend
11st 0lbs
66 - 1
19 lengths
na

Ebadiyan
P O Brady
J Cullen
11st 0lbs
8 - 1

Trainer Alan King has endured something of a frustrating Festival and this continued into the final day when 4/1 favourite Walkon took the runner-up spot in the JCB Triumph Hurdle.
King, who has now had four second-placed horses at this year's Festival, said: "He ran a hell of a race, like most of our team have this week.
"I thought we might win coming to the last but to be fair to the winner, he has picked up again after the last.
"I am very pleased, although I would be a liar if I said I wasn't a bit frustrated.
"I see no reason why he shouldn't go to Aintree."
Paddy Teahon, owner of third-placed Mourad said: "That was tremendous. Ruby Walsh said before he went out he was going to ride him from behind and then creep through coming up the hill and that's what he did. He said if he's jumped the last a bit better he would have been closer but it didn't make the difference between winning and losing.
"He's a serious horse and we're looking forward to next year already. We'll leave him now for this season."
Trainer Alan Fleming, whose charge Starluck was beaten for the first time when finishing fourth was nonetheless delighted with his performance and said: "I'm absolutely chuffed. He really is a little star. There was always a little doubt in my mind about the hill and he just didn't quite handle it but he might next year when he's a bit stronger. We're really, really happy and looking forward to going to either Aintree or Punchestown and a flatter track."
John Cullen, rider of the well-supported Ebadiyan who ran out before the second last, said: "There was no interference, he just took it into his head to run out."
Previous results - JCB TRIUMPH HURDLE

2008-WINNER-CELESTIAL HALO 4-11-00 Owner-The Stewart Family; Trainer-Paul Nicholls; Jockey-Ruby Walsh; SP-5/1
2ND-Franchoek 4-11-00 Owner-J P McManus; Trainer-Alan King; Jockey-Tony McCoy; SP-Evens Fav
3RD-Won In The Dark 4-11-00 Owner- Gerard Crehan; Trainer-Sabrina Harty IRE; Jockey-Andrew McNamara; SP-16/1
14 ran, Time-4m 7.83s; Dist-2¼, 2¼
2007-WINNER-KATCHIT 4-11-00 Owner- DSJP Syndicate; Trainer-Alan King; Jockey-Robert Thornton; SP-11/2
2ND-Liberate 4-11-00 Owner-Diana Whateley; Trainer-Philip Hobbs; Jockey-Richard Johnson; SP-12/1
3RD-Mobaasher 4-11-00 Owner-Seasons Holidays; Trainer-Charlie Mann; Jockey-Noel Fehily; SP-33/1
23 ran, Time-3m 54.6s; Dist-9, 1 ¾ 7/2 Fav Lounaos (10th)
2006-WINNER-DETROIT CITY 4-11-00 Owner-Terry Warner; Trainer-Philip Hobbs; Jockey-Richard Johnson; SP-7/2 Fav
2ND-Fair Along 4-11-00 Owner-Alan Peterson; Trainer-Philip Hobbs; Jockey-Paddy Brennan; SP-25/1
3RD-Blazing Bailey 4-11-00 Owner-Three Line Whip; Trainer-Alan King; Jockey-Robert Thornton; SP-14/1
17 ran, Time-3m 51.20s; Dist-5, 1
2005-WINNER-PENZANCE 4-11-00 Owner-Elite Racing Club; Trainer-Alan King; Jockey-Robert Thornton; SP-9/1
2ND-Faasel 4-11-00 Owner-Jim Ennis; Trainer-Nicky Richards; Jockey-Tony Dobbin; SP-7/1
3RD-Akilak 4-11-00 Owner-Andrea & Graham Wylie; Trainer-Howard Johnson; Jockey-Graham Lee; SP-7/2 Fav
23 ran, Time-4m 3.60s; Dist-hd, 8
2004-WINNER-MADE IN JAPAN 4-11-00 Owner-Terry Evans; Trainer-Philip Hobbs; Jockey-Richard Johnson; SP-20/1
2ND-Chief Yeoman 4-11-00 Owner-B Moore & E C Stephens; Trainer-Venetia Williams; Jockey-Tony Dobbin; SP- 40/1
3RD-Top Strategy 4-11-00 Owner-W J Kane; Trainer-Ted Walsh IRE; Jockey-Ruby Walsh; SP-33/1
23 ran, Time-4m 5.30s; Dist-2, nk 5/1 Fav Trouble At Bay (10th)
2003-WINNER-SPECTROSCOPE 4-11-00 Owner-Gay Smith; Trainer-Jonjo O'Neill; Jockey-Barry Geraghty; SP-20/1
2ND-Well Chief 4-11-00 Owner-David Johnson; Trainer-Martin Pipe; Jockey-Tony McCoy; SP-7/1
3RD-Golden Cross 4-11-00 Owner-Mrs H Johnson; Trainer-Mick Halford IRE; Jockey-Charlie Swan; SP-11/2 Fav
27 ran, Time-4m 0.30s; Dist-hd, 5
2002-WINNER-SCOLARDY 4-11-00 Owner-David Flynn; Trainer-Willie Mullins IRE; Jockey-Charlie Swan; SP-16/1
2ND-Newhall 4-10-09 Owner-Helen McParland; Trainer-Francis Flood IRE; Jockey-Fran Flood; SP-8/1
3RD-Diamond Joshua 4-11-00 Owner-Diamond Racing Ltd; Trainer-John Berry; Jockey-Jim Culloty; SP- 66/1
28 ran, Time-4m 7.80s; Dist-11, 3/4 7/1 Fav Giocomo (PU)
2001 Cancelled (Foot and Mouth Disease)
2000-WINNER-SNOW DROP 4-10-09 Owner-John D Martin; Trainer-Francois Doumen FR; Jockey-Thierry Doumen; SP-7/1 Fav
2ND-Regal Exit 4-11-00 Owner-Brian Buckley; Trainer-Nicky Henderson; Jockey-Barry Geraghty; SP-20/1
3RD-General Cloney 4-11-00 Owner-John J Brennan; Trainer-Willie Mullins IRE; Jockey-Ruby Walsh; SP-20/1
28 ran, Time-3m 52.90s, Dist-2, nk
1999-WINNER-KATARINO 4-11-00 Owner-Robert Waley-Cohen; Trainer-Nicky Henderson; Jockey-Mick Fitzgerald; SP-11/4 Fav
2ND-Balla Sola 4-11-00 Owner-Top Cat Syndicate; Trainer-Willie Mullins IRE; Jockey-Ruby Walsh; SP-16/1
3RD-Afarad 4-11-00 Owner-J P McManus; Trainer-Christy Roche IRE; Jockey-Charlie Swan; SP-8/1
23 ran, Time-4m 2.4s, Dist-8, 1.5
1998-WINNER-UPGRADE 4-11-00 Owner-Matt Archer and Jean Broadhurst; Trainer-Nigel Twiston-Davies; Jockey-Carl Llewellyn; SP-14/1
2ND-City Hall 4-11-00 Owner-Rosemary Key & Val Ward; Trainer-Val Ward; Jockey-Robert Thornton; SP-12/1
3RD-Nomadic 4-11-00 Owner-Des Sharkey; Trainer-Noel Meade IRE; Jockey-Richard Dunwoody; SP-14/1
25 ran, Time-3m 57.1s, Dist-1.25, 1.75 10/3 Fav Zafarabad (4th)
1997-WINNER-COMMANCHE COURT 4-11-00 Owner-Dermot Desmond; Trainer-Ted Walsh IRE; Jockey-Norman Williamson; SP-9/1
2ND-Circus Star 4-11-00 Owner-The Ringmasters; Trainer-David Nicholson; Jockey-Richard Johnson; SP-40/1
3RD-Shooting Light 4-11-00 Owner-John Brown; Trainer-Pat Murphy; Jockey-Richard Dunwoody; SP-7/1
28 ran, Time-4m 0.2s, Dist-1, 1.25 9/2 Fav White Sea (9th)
1996-WINNER-PADDY'S RETURN 4-11-00 Owner-Paddy O'Donnell; Trainer-Ferdy Murphy; Jockey-Richard Dunwoody; SP-10/1
2ND-Mistinguett 4-10-09 Owner-John Duggan; Trainer-Nigel Twiston-Davies; Jockey-Carl Llewellyn; SP-14/1
3RD-Hatta Breeze 4-10-09 Owner-Jenny Mould; Trainer-David Nicholson; Jockey-Richard Johnson; SP-14/1
29 ran, Time-4m 1.4s, Dist originally 4, hd, 1.75
Magical Lady (2nd) disqualified 6/1 Fav Debutante Days (f)
JCB TRIUMPH HURDLE ROLL OF HONOUR
(JCB Triumph Hurdle since 2002, Elite Racing Club Triumph Hurdle from 1997-2000, Daily Express Triumph Hurdle 1965-1996, previously run at Hurst Park. Held at Cheltenham's April meeting from 1965-67)

Year Winner Age/Wt Jockey Trainer Owner SP Ran
2008 Celestial Halo 4-11-00 Ruby Walsh Paul Nicholls The Stewart Family 5/1 14
2007 Katchit 4-11-00 Robert Thornton Alan King DSJP Syndicate 11/2 23
2006 Detroit City 4-11-00 Richard Johnson Philip Hobbs Terry Warner 7/2F 17
2005 Penzance 4-11-00 Robert Thornton Alan King Elite Racing Club 9/1 23
2004 Made In Japan 4-11-00 Richard Johnson Philip Hobbs Terry Evans 20/1 23
2003 Spectroscope 4-11-00 Barry Geraghty Jonjo O'Neill Gay Smith 20/1 27
2002 Scolardy 4-11-00 Charlie Swan Willie Mullins IRE David Flynn 16/1 28
2001 No Race (Foot and Mouth)
2000 Snow Drop 4-10-09 Thierry Doumen Francois Doumen FR John Martin 7/1F 28
1999 Katarino 4-11-00 Mick Fitzgerald Nicky Henderson Robert Waley-Cohen 11/4F 23
1998 Upgrade 4-11-00 Carl Llewellyn Nigel Twiston-Davies Matt Archer & Jean Broadhurst 14/1 25
1997 Commanche Court 4-11-00 Norman Williamson Ted Walsh IRE Dermot Desmond 9/1 28
1996 Paddy's Return 4-11-00 Richard Dunwoody Ferdy Murphy Paddy O'Donnell 10/1 29
1995 Kissair 4-11-00 Jonathon Lower Martin Pipe Terry Benson 16/1 26
1994 Mysilv 4-10-09 Adrian Maguire David Nicholson Million In Mind Partnership (3) 2/1F 28
1993 Shawiya 4-10-09 Charlie Swan Michael O'Brien IRE Miss G Maher 12/1 25
1992 Duke Of Monmouth4-11-00 Mark Richards Simon Sherwood Ali Saeed 33/1 30
1991 Oh So Risky 4-11-00 Paul Holley David Elsworth Oh So Risky Syndicate 14/1 27
1990 Rare Holiday 4-11-00 Brendan Sheridan Dermot Weld IRE Dr Michael Smurfit 25/1 30
1989 Ikdam 4-11-00 Nigel Coleman Richard Holder LBI Law (873) Ltd 66/1 27
1988 Kribensis 4-11-00 Richard Dunwoody Michael Stoute Sheikh Mohammed 6/1 26
1987 Alone Success 4-11-00 Steve Smith Eccles Nicky Henderson Sheikh Amin Dahlawi 11/1 29
1986 Solar Cloud 4-11-00 Peter Scudamore David Nicholson Ann McEwen 40/1 28
1985 First Bout 4-11-00 Steve Smith Eccles Nicky Henderson Fahad Al Athel 5/1 27
1984 Northern Game 4-11-00 Tommy Ryan Edward O'Grady IRE Frank Conroy 20/1 30
1983 Saxon Farm 4-11-00 Mark Perrett Stan Mellor A Birchall 12/1 30
1982 Shiny Copper 4-11-00 Allen Webb Dina Smith Doug Tyler 66/1 29
1981 Baron Blakeney 4-11-00 Paul Leach Martin Pipe Wheatley Leisure Ltd 66/1 29
1980 Heighlin 4-11-00 Steve Jobar David Elsworth Woodside Engineers Ltd 40/1 26
1979 Pollardstown 4-11-00 Philip Blacker Stan Mellor Georgina Tulloch 12/1 28
1978 Connaught Ranger 4-11-00 John Burke Fred Rimell Jim McCaughey 25/1 14
1977 Meladon 4-11-00 Tommy Carberry Adrian Maxwell IRE Mrs N Flynn 6/1 30
1976 Peterhof 4-11-00 Jonjo O'Neill Mick Easterby H Gould 10/1 23
1975 Royal Epic 4-11-00 Fred McKenna Vernon Cross Robert Read 20/1 28
1974 Attivo 4-11-00 Robert Hughes Cyril Mitchell Peter O'Sullevan 4/5F 21
1973 Moonlight Bay 4-11-00 Johnnie Haine Ryan Price Meg Mullion 85/40F 18
1972 Zarib 4-11-00 Bill Smith Fred Rimell Mrs A Hornby 16/1 16
1971 Boxer 4-11-03 Jimmy Uttley Ron Smyth Lord Blakenham 100/30JF 18
1970 Varma 4-11-04 Brian Barker Mick Masson Charles Clore 100/7 31
1969 Coral Diver 4-11-04 Terry Biddlecombe Fred Rimell Bryan Jenks 3/1F 26
1968 England's Glory 4-11-00 Jimmy Uttley Staff Ingham Mrs M Sherman 9/2 16
1967 Persian War 4-11-08 Jimmy Uttley Brian Swift Henry Alper 4/1 13
1966 Black Ice 4-11-04 Bobby Beasley Arthur Thomas A Crowther 9/2 11
1965 Blarney Beacon 4-11-04 Geordie Ramshaw Ron Smyth Freddie Laker 8/1 7
JCB TRIUMPH HURDLE FACTS AND FIGURES
1. The JCB Triumph Hurdle was formerly run at Hurst Park and transferred to Cheltenham in 1965 on the closure of the London course.
2. JCB, which supports the contest for the eighth time this year, is only the race's third sponsor. The Elite Racing Club was due to back the race for a fifth time in 2001 when The Festival was cancelled, while the Daily Express sponsored from 1965 to 1996. The race was originally run at the April Meeting but was transferred to The Festival in 1968.
3. The JCB Triumph Hurdle has been one of the most competitive races of The Festival. The 2008 field of 14 was by far the smallest since Connaught Ranger beat 13 rivals in 1978 - the recent introduction of the Fred Winter Juvenile Handicap Hurdle has meant that the JCB Triumph Hurdle now attracts the very best four-year-olds. The race regularly reached the safety factor, reduced from 28 to 24 in 2004. In fact, the 14 runners in Connaught Ranger's year probably had more to do with the transfer of the race to April following the abandonment of racing on Gold Cup day than any loss of its competitive nature. The smallest field was for its first running at Cheltenham in 1965, when seven runners took part. The largest field was 31 in 1970.
4. Since the race has been at Cheltenham, there has only once been an odds-on winner of the Triumph Hurdle. This was Attivo, owned by former BBC TV commentator Sir Peter O'Sullevan, in 1973 at 4/5. The longest-priced winners were Baron Blakeney, Shiny Copper and Ikdam at 66/1 in 1981, 1982 and 1989.
5. Three horses have gone on from winning the JCB Triumph Hurdle to victory in the Smurfit Kappa Champion Hurdle. Persian War won the Triumph in 1967, and reeled off three Champion Hurdles from 1968-70, Kribensis won the Triumph in 1988 and the Champion Hurdle in 1990 while last year Katchit added a Smurfit Kappa Champion Hurdle victory to his success in the 2007 JCB Triumph Hurdle.
6. The JCB Triumph Hurdle has a good record for home-trained winners. French-trained raiders won it on four consecutive occasions at Hurst Park from 1950-53, again in 1955 and with Snow Drop in 2000. There have only been six Irish successes (1977,1984,1990, 1993, 1997 and 2002). No trainer has been able to dominate the race and the late Fred Rimell and Nicky Henderson are the only trainers to have won it three times.
7. Among jockeys, Jimmy Uttley was successful three times. Fred Winter, Steve Smith Eccles and Richard Dunwoody had two winners as have current riders Richard Johnson and Robert Thornton, but perhaps the most interesting name is that of Lester Piggott, who won the race on King Charlemagne when run at Hurst Park in 1954.
8. The fastest time for the winning horse is 3m 51.20s, recorded in 2006 by Detroit City. The previous best was 3m 52.90s, set by Snow Drop in 2000.
9. It has a justifiable reputation for being one of the more unpredictable contests at The Festival - there have been three 66/1 winners and only eight successful favourites since 1965.
10. It was in the 1981 JCB Triumph Hurdle that Martin Pipe, the 15-time champion jump trainer who retired at the end of the 2005/06 season after registering 34 wins at The Festival, enjoyed his first Festival success with the 66/1 shot Baron Blakeney.
11. Three fillies have been successful; Snow Drop in 2000, Mysilv in 1994 and Shawiya in 1993.