cheltenham festival / 2010 news /
Katie Walsh Doubles Up on Thousand Stars
19/03/10
1 Thousand Stars 20/1
2 Arcalis 33/1
3 Dee Ee Williams 20/1
28 ran
Thousand Stars


© racing-images.co.uk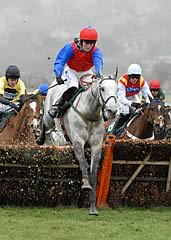 The Walsh family have now won a total of five races between them at The Festival in 2010, with Ruby riding three winners and his sister Katie now up to two successes at the meeting following her victory aboard Thousand Stars in the Vincent O'Brien County Handicap Hurdle.

Katie Walsh's previous winner this week was Poker De Sivola in Wednesday's marathon National Hunt Chase, while this was also a second winner of the week for Thousand Star's owners, the Hammer & Trowel Syndicate, who on Tuesday saw Quevega take the David Nicholson Mares' Hurdle for the second year in succession.

Walsh delivered the 20/1 shot with perfect timing and won going away by three lengths from the 2005 Supreme Novices' Hurdle victor Arcalis.

Winning trainer Willie Mullins said: "That was a super ride from Katie. She was very cool and waited with the horse down the back and then delivered her challenge perfectly.

"Her tactics were spot on. She was very well placed on the outside and has kept the horse out of trouble.

"She really is a tip-top rider and I use her at every opportunity that I can. Even though she rides as an amateur, she has the brain of a professional and she is fit and well. I love putting her up and that is her second big handicap hurdle victory on this horse for me. It's fantastic for me, Katie, Ted (her father) and Helen (her mother).

"Ruby thought that he would be top jockey here but it is great to see Katie doing it as well!

"It has been hard to beat the English handicapper this week but finally we have managed it. We were originally looking at the Coral Cup for Thousand Stars, but decided to come here instead."

Looking ahead to the totesport Cheltenham Gold Cup, in which Mullins saddles last year's RSA Chase victor Cooldine, the trainer continued: "Everything has gone to plan with Cooldine's preparation and the rain is now arriving - maybe that's an omen."
Position

Horse
Trainer
Jockey
Weight
Starting Price
Beaten Distance
1

Thousand Stars
W P Mullins
Ms K Walsh
10st 8lbs
20 - 1
Winner
2

Arcalis
J Howard Johnson
Denis O'Regan
10st 4lbs
33 - 1
3 lengths
3

Dee Ee Williams
N J Gifford
L Treadwell
10st 9lbs
20 - 1
1 1/4 length
4

Zanir
T R George
P J Brennan
10st 6lbs
50 - 1
1 3/4 length
5

Noble Prince
P Nolan
A P Cawley
11st 6lbs
11 - 1
Head
6

Gloucester
M Scudamore
T Scudamore
10st 3lbs
50 - 1
2 lengths
7

Secret Dancer
A E Jones
Christian Williams
10st 8lbs
25 - 1
2 3/4 lengths
8

Keki Buku
P J Hobbs
G Hawkins
10st 6lbs
33 - 1
Nose
9

Inventor
D McCain Jnr
A P Lane
10st 6lbs
25 - 1
Neck
10

Songe
C E Longsdon
T Siddall
11st 0lbs
50 - 1
5 lengths
11

Tarkari
W P Mullins
D J Casey
10st 3lbs
14 - 1
3/4 length
12

Pascha Bere
N J Gifford
Paul Moloney
10st 3lbs
33 - 1
1 1/2 length
13

Oldrik
P J Hobbs
R Johnson
10st 3lbs
8 - 1
Short Head
14

Any Given Day
D McCain Jnr
J M Maguire
10st 12lbs
14 - 1
1 1/4 length
15

Fushe Jo
J Howard Johnson
B Hughes
10st 5lbs
100 - 1
3 1/2 lengths
16

Mutual Friend
D Pipe
J W Farrelly
11st 0lbs
40 - 1
1 3/4 length
17

Bellvano
N J Henderson
B J Geraghty
11st 1lbs
11 - 1
1 length
18

Bahrain Storm
P J Flynn
D N Russell
11st 7lbs
33 - 1
4 lengths
19

Marodima
Miss R Curtis
Aodhagan Conlon
11st 10lbs
40 - 1
2 3/4 lengths
20

Puyol
Mrs J E Mulhern
R Thornton
11st 1lbs
16 - 1
3 lengths
21

Rock Noir
Jonjo O'Neill
A P McCoy
11st 12lbs
9 - 1
1 length
22

Eradicate
N J Henderson
P Carberry
10st 11lbs
16 - 1
1 length
23

Tito Bustillo
P F Nicholls
R Walsh
10st 10lbs
7 - 1
3/4 length
24

Tawaagg
W P Mullins
Paul Townend
10st 13lbs
12 - 1
Neck
25

Santa's Son
J Howard Johnson
J P O'Farrell
10st 6lbs
100 - 1
1/2 length
26

European Dream
R C Guest
G Lee
10st 6lbs
50 - 1
2 lengths
na

Stradbrook
Jonjo O'Neill
R P McLernon
10st 3lbs
33 - 1

na

Izita Star
Mrs A L M King
T J O'Brien
10st 6lbs
100 - 1

KATIE WALSH JUBILANT AFTER SECOND WIN OF THE WEEK
Her brother may be going for the honour of being leading jockey at the Festival but Katie Walsh ensured Ruby was not the only star of the Walsh family in action at Cheltenham after driving home Thousand Stars for a rousing win in the Vincent O'Brien County Hurdle.

The delighted rider said: "To ride one winner here is brilliant but to have two, I wouldn't have even thought it possible.

"It's one for Willie (Mullins) - he's been so good to me and very, very loyal. He's given me every opportunity. He didn't have to leave me on this horse but he did. And for the owners too, this is the be-all and end-all and some owners would have wanted a professional on board but they had the faith in me and they're great people to ride for.
"They also own the little mare Quevega, who won on the first day (the David Nicholson Mares' Hurdle), and J'y Vole, who was third yesterday (in the Ryanair Chase ) so they're having a beano of a week.

Reflecting on her victory aboard Poker de Sivola in the National Hunt Chase on Tuesday, Walsh added: "I haven't even started to celebrate my first winner so it will be some celebration tonight.
"It hasn't even sunk in. I'll be pinching myself when I wake up. Everyone is here that counts - there isn't one person at home that I'd like to be here and isn't so it's brilliant."
ARCALIS ARRIVES FAST AND LATE FOR SECOND
A former star of the Spinal Research Supreme Novices' Hurdle was back in Cheltenham's hallowed winner's enclosure after the Vincent O'Brien County Handicap Hurdle.

Arcalis was no match for winner Thousand Stars, but his late flourish saw him past four horses on the shortened run-in to gain second.

Trainer Howard Johnson said Arcalis, who he trains for Graham and Andrea Wylie, would be seen to better effect on faster ground. He criticised Cheltenham's decision to water the track, although clerk of the course Simon Claisse had earlier said that only 1mm of rain fell overnight and he had applied water only to a two-furlong strip on the back straight.

Johnson said: "He's a grand horse and we're over the moon, but they put too much water on the track. He wants faster ground. They must have put a lot of water on it and I'm disappointed they did that.

"He loves Cheltenham, but after winning the Supreme Novices' it's taken all this time until he is ten for the handicapper to give him a nice weight. There could be a race in him, possibly at Sandown's final meeting of the season, where he has won before [in April 2007].

"He's a better horse when he gets brighter weather - like me he doesn't like the winter. It's been a cold one up north, and we're all getting older."
Previous Results
VINCENT O'BRIEN COUNTY HANDICAP HURDLE
2007-WINNER-PEDROBOB 9-10-00 Owner-Barry Connell; Trainer-Tony Mullins IRE; Jockey-Philip Carberry; SP-12/1
2ND-Ouninpohja 6-10-00 Owner-Maggie Findlay; Trainer-Paul Nicholls; Jockey-Ruby Walsh; SP-11/2
3RD-Premier Dane 5-10-00 Owner-Jim Ennis; Trainer-Nicky Richards; Jockey-Brian Harding; SP-100/1
4TH-Kawagino 7-10-00 Owner-K Pike; Trainer-Seamus Mullins; Jockey-Wayne Kavanagh; SP-20/1
28 ran, Time-3m 53.90s, Dist 1, nk, ¾ 3/1 Fav Fair Along (25th)
2006-WINNER-DESERT QUEST 6-10-10 Owner-Maggie Findlay; Trainer-Paul Nicholls; Jockey-Ruby Walsh; SP-4/1 Jt Fav
2ND-Noble Request 5-10-11 Owner-Karola Vann; Trainer-Philip Hobbs; Jockey-Richard Johnson; SP-25/1
3RD-Adamant Approach 12-10-06 Owner-Greenstar Syndicate; Trainer-Willie Mullins IRE; Jockey-Richard Kiely; SP-50/1
4TH-Pirate Flagship 7-10-01 Owner-Mark & Tessa Woodhouse; Trainer-Paul Nicholls; Jockey-Paddy Brennan; SP-10/1
29 ran, Time-3m 52.70s, Dist-2.5, 3.5, 1 4/1 Jt Fav Studmaster (10th)
2005-WINNER-FONTANESI 5-10-00 Owner-David Johnson; Trainer-Martin Pipe; Jockey-Timmy Murphy; SP-16/1
2ND-Stance 6-10-00 Owner-N J Jones; Trainer-Gary Moore; Jockey-David Casey; SP-11/1
3RD-Borora 6-10-00 Owner-Mrs E M Clarke; Trainer-Richard Lee; Jockey-Tom Doyle; SP-200/1
4TH-Grande Jete 8-10-02 Owner-Lee Westwood, A Chandler & Jeremy Hindley; Trainer-Nicky Henderson; Jockey- Mick Fitzgerald; SP-14/1
30 ran, Time-4m 1.30s, Dist-2, 2, 1.5
2004-WINNER-SPORAZENE 5-10-13 Owner-Ged Mason & David Jackson; Trainer-Paul Nicholls; Jockey-Ruby Walsh; SP- 7/1 Jt Fav
2ND-Hawadeth 9-9-07 Owner-Nicky Viney; Trainer-Victor Dartnall; Jockey-Mr Tom Malone; SP-50/1
3RD-Copeland 9-10-01 Owner-Professor David and Mrs Heather Silk; Trainer-Martin Pipe; Jockey-Jamie Moore; SP- 25/1
4TH-Balapour 6-10-00 Owner-Rita Shah; Trainer-Oliver Brady IRE; Jockey-Carl Llewellyn; SP-12/1
23 ran, Time-4m 3.70s, Dist-.5, 1.5, nk 7/1 Jt Fav Harchibald (5th)
2003-WINNER-SPIRIT LEADER 7-11-07 Owner-Dil Thompson; Trainer-Jessica Harrington IRE; Jockey-Barry Geraghty; SP-10/1
2ND-Balapour 5-10-00 Owner-Rita Shah; Trainer-Oliver Brady IRE; Jockey-Martin Mooney; SP-25/1
3RD-Through The Rye 7-10-09 Owner-Nice To See You Euro-Racing); Trainer-Edwin Tuer; Jockey-Graham Lee; SP-66/1
4TH-Non So 5-11-05 Owner-ROA Dawn Run Partnership; Trainer-Nicky Henderson; Jockey-Mick FitzgGerald; SP-10/128 ran, Time-3m 58.60s, Dist-nk, shd, 5 5/1 Fav Mise Rafturai (PU)
2002-WINNER-ROOSTER BOOSTER 8-11-01 Owner-Terry Warner; Trainer-Philip Hobbs; Jockey-Richard Johnson; SP-8/1
2ND-The Gatherer 8-10-06 Owner-J P McManus; Trainer-Arthur Moore IRE; Jockey-Conor O'Dwyer; SP-12/1
3RD-Ben Ewar 8-10-01 Owner-Tony Richards; Trainer-Ken Cunningham-Brown; Jockey-Barry Fenton; SP-50/1
4TH-Benbyas 5-10-00 Owner-C H Stephenson & Partners; Trainer-Les Eyre; Jockey-Timmy Murphy; SP-12/1
21 ran, Time-4m 5.90s, Dist-1.25, .5, 7 2/1 Fav Polar Red (13th)
2001 - No Race (Foot and Mouth Disease)
2000-WINNER-MASTER TERN 5-10-03 Owner-J P McManus; Trainer-Jonjo O'Neill; Jockey-Tony Dobbin; SP-9/2 Fav
2ND Danegold 8-10-02 Owner-Circular Distributors Ltd; Trainer-Mick Channon; Jockey-Timmy Murphy; SP-25/1
3RD Spokesman 6-10-02 Owner-Theresa McCoubrey; Trainer-Christy Roche IRE Jockey-Paul Moloney; SP-10/1
4TH Auetaler 6-11-09 Owner-The Anfield Hombres; Trainer-Martin Pipe; Jockey-Rodi Greene; SP-12/1
21 ran, Time-3m 51.30s Dist-nk, 1, 1
1999-WINNER-SIR TALBOT 5-10-00 Owner-Wally Sturt; Trainer-Jim Old; Jockey-Timmy Murphy; SP-10/1
2ND-Decoupage 7-10-13 Owner-James Dean; Trainer-Charlie Egerton; Jockey-Norman Williamson; SP-100/30 Fav
3RD-Toto Toscato 5-11-05 Owner-Hilda Clarke; Trainer-David Nicholson; Jockey-Richard Johnson; SP-25/1
4TH-Sadler's Realm 6-9-09 Owner-B D Racing; Trainer-Philip Hobbs; Jockey-Robert Widger; SP-25/1
28 ran, Time- 3m 57.8s Dist-6, 10
1998-WINNER-BLOWING WIND 5-11-08 Owner-Peter Deal; Trainer-Martin Pipe; Jockey-Tony McCoy; SP-15/8 Fav
2ND-Advocat 8-10-05 Owner-The High Street Racing Syndicate; Trainer-Noel Meade IRE; Jockey-Paul Carberry; SP-12/1
3RD-Bless Me Sister 9-10-02 Owner-Bray Partners; Trainer-Richard Rowe; Jockey-Darren O'Sullivan; SP-33/1
4TH-Barna Boy 10-11-06 Owner-Lynn Wilson; Trainer-Nicky Henderson; Jockey-Mick FitzGerald;
SP-14/1 27 ran, Time- 3m 54.3s Dist-1.75, 2.5
1997-WINNER-BARNA BOY 9-10-12 Owner-Lynn Wilson; Trainer-Nicky Henderson; Jockey-Richard Dunwoody; SP-14/1
2ND-Carlito Brigante 5-10-00 Owner-Lady Carole Bamford; Trainer-Paul Webber; Jockey-Jamie Osborne; SP-13/2
3RD-Penny A Day 7-11-08 Owner-Ian Good; Trainer-Mary Reveley; Jockey-Peter Niven; SP-15/2
4TH-Black Queen 6-10-04 Owner-Heinz Pollmeier; Trainer-John Kiely IRE; Jockey-A J O'Brien;
SP-12/1 20 ran, Time-3m 58.9s, Dist-1, 3, 1 7/2 Fav Tidjani (5th)
1996-WINNER-STAR RAGE 6-10-00 Owner-David Abell; Trainer-Jimmy Harris; Jockey-Dean Gallagher; SP-14/1
2ND-Romancer 5-11-03 Owner-Matt Archer & Jean Broadhurst; Trainer-Nigel Twiston-Davies; Jockey-Carl Llewellyn; SP-8/1
3RD-Non Vintage 5-10-13 Owner-A Mann and Mrs T Mann; Trainer-Michael Chapman; Jockey-Billy Worthington; SP-33/1
4TH-Cheryl's Lad 6-11-05 Owner-Elaine Baines; Trainer-Nicky Henderson; Jockey-John Kavanagh; SP-5/1 Fav
28 ran, Time-4m 0.8s, Dist-3, 3.5, 2.5
VINCENT O'BRIEN COUNTY HANDICAP HURDLE ROLL OF HONOUR
(Vincent O'Brien County Handicap Hurdle since 1995, County Handicap Hurdle 1990-1994, Racegoers Club County Handicap Hurdle 1989, County Handicap Hurdle before 1989)
Year Winner Age/Wt Jockey Trainer Owner SP Ran
2009 American Trilogy
2008 Silver Jaro
2007 Pedrobob 9-10-00 Philip Carberry Tony Mullins IRE Barry Connell 12/1 28
2006 Desert Quest 6-10-10 Ruby Walsh Paul Nicholls Maggie Findlay 4/1JF 29
2005 Fontanesi 5-10-00 Timmy Murphy Martin Pipe David Johnson 16/1 30
2004 Sporazene 5-10-13 Ruby Walsh Paul Nicholls Ged Mason & David Jackson 7/1 JF 23
2003 Spirit Leader 7-11-07 Barry Geraghty Jessica Harrington IRE Dil Thompson 10/1 28
2002 Rooster Booster 8-11-01 Richard Johnson Phillip Hobbs Terry Warner 8/1 21
2001 No Race (Foot and Mouth)
2000 Master Tern 5-10-03 Tony Dobbin Jonjo O'Neill J P McManus 9/2F 21
1999 Sir Talbot 5-10-00 Timmy Murphy Jim Old Wally Sturt 10/1 28
1998 Blowing Wind 5-11-08 Tony McCoy Martin Pipe Peter Deal 15/8F 27
1997 Barna Boy 9-10-12 Richard Dunwoody Nicky Henderson Lynn Wilson 14/1 20
1996 Star Rage 6-10-00 Dean Gallagher Jimmy Harris David Abell 14/1 28
1995 Home Counties 6-10-12 Jimmy Moffatt Dudley Moffatt Roxy Cinemas (Dalton) Ltd 14/1 23
1994 Dizzy 6-10-00 Tony Dobbin Peter Monteith Lt Col Willie Monteith 12/1 24
1993 Thumbs Up 7-10-02 Richard Dunwoody Nicky Henderson Michael Buckley 16/1 21
1992 Dusty Miller 6-10-06 Jamie Osborne Simon Sherwood Watership Down Racing 9/1 27
1991 Winnie The Witch 7-9-08 David Bridgwater Ken Bridgwater Paddocks Thoroughbred Racing 33/1 26
1990 Moody Man 5-11-02 Peter Hobbs Philip Hobbs James Burley 9/1 20
1989 Willsford 6-10-08 Michael Bowlby Jenny Pitman Arnie Kaplan 11/1 21
1988 Cashew King 5-10-04 Trevor Wall Bryan McMahon Peter Moss 9/1 24
1987 Neblin 8-11-00 Richard Guest Toby Balding Skipper Leather 14/1 24
1986 Jobroke 6-10-03 Jonjo O'Neill Peter Easterby Lt Col Dick Warden 6/1F 29
1985 Floyd 5-10-05 Colin Brown David Elsworth Mike Walsh 5/2F 27
1984 Hill's Guard 5-10-11 Andy Stringer Andy Scott G Shie 6/1 19
1983 Robin Wonder 5-10-03 Jim Davies David Elsworth Anthony Hunt 10/1 29
1982 Path Of Peace 6-10-06 Jonjo O'Neill Chris Thornton Louise Gold 4/1 23
1981 Staplestown 6-10-07 Tommy Ryan Edward O'Grady IRE Mrs I O'Sullivan 11/2F 25
1980 Prince Of Bermuda 5-10-00 Steve Knight Bob Turnell J Harnett 9/1 18
1979 Monte Ceco 6-10-12 Colin Tinkler Fred Rimell J Saunders Jones 6/1 20
1978 No race (Abandoned because of snow)
1977 Kilcoleman 5-10-07 Tommy Kinane Billy Boyers IRE P Clarke 14/1 26
1976 Java Fox 6-10-01 Mr George Jones Roy Cambidge J Caddick 16/1 13
1975 No race (Course waterlogged)
1974 True Song 5-11-02 Gary Old Donald Underwood Mrs J Underwood 14/1 20
1973 Current Romance 7-10-07 David Nicholson Frenchie Nicholson R Warmington 20/1 31
1972 Cold Day 6-10-08 Ron Hyett Katie Gaze Katie Gaze 15/1 25
1971 Carry Off 7-10-01 David Goulding Nigel Angus A M Picken 25/1 24
1970 Khan 6-9-11 Lord Petersham Miss Delmer Harty IRE Lord Petersham 100/8 32
1969 Gay Knight 5-10-03 Aly Branford Les Kennard L E Withers 100/7 27
1968 Jolly Signal 6-10-11 Jimmy Uttley Earl Jones Mrs D Crouch 6/1 16
1967 Cool Alibi 5-10-09 Roddy Reid Rodney Bower H A Moore 20/1 28
1966 Roaring Twenties 6-11-02 George Milburn Ken Oliver Mrs A L G Ogilvy 10/1 16
1965 Mayfair Bill 6-10-04 Andy Turnell Bob Turnell Jim Joel 33/1 19
1964 Icy Wonder 5-10-02 Jeff King Vernon Cross F J Hunt 11/2 17
1963 Bahrain 6-10-06 Tommy Carberry Dan Moore IRE Ted Sturman 11/2 19
1962 Sky Pink 5-10-11 Fred Winter Ryan Price Gerry Judd 100/8 20
1961 Most Unusual 6-10-07 Josh Gifford Bill Ransom Bill Ransom 100/7 23
1960 Albergo 6-12-05 Doug Page Clem Magnier IRE Mrs Clem Magnier 7/4F 26
1959 Approval 13-11-02 Derek Leslie Syd Mercer Syd Mercer 10/1 20
1958 Friendly Boy 6-10-05 Liam Brennan Joe Osborne IRE Mrs V Vanden Bergh 3/1F 18
1957 Flaming East 8-10-05 Peter Pickford Ricky Vallance Mrs Ricky Vallance 100/6 19
1956 Pommel 9-10-11 Steve Boddy Jack C Waugh Peter Shepherd 100/7 18
1955 No race (Abandoned because of snow)
1954 Bold Baby 8-12-00 Paddy Powell Michael Dawson IRE Michael Dawson 13/8F 14
1953 Teapot II 8-12-07 Pat Taaffe Clem Magnier IRE Mrs C Magnier 4/1 16
1952 Ballymacan 5-10-12 Bryan Marshall Neville Crump H D Waddington 100/7 21
1951 Southwick 7-10-03 George Spann J Whiting Sonny Hall 100/7 21
1950 Blue Raleigh 7-10-00 Jimmy Power Bobby Renton Lurline Brotherton 25/1 19
1949 No race (Abandoned because of frost)
1948 Cape Light 5-11-01 Joe Maguire Ivor Anthony Sir Humphrey de Trafford 2/1F 21
1947 No race (Abandoned because of snow and frost)
1946 Vidi 5-11-10 Don Butchers Reg Hobbs A E Saunders 6/1 2