cheltenham festival / 2008 news /
Katchit Claims Champion Hurdle Crown
11/03/08
1st (10) Katchit 10-1
2nd (12) Osana 9-2
3rd (13) Punjabi 25-1
15 ran
Also: 2-1 Fav Sizing Europe, 7-1 Sublimity 4th
NR: Kalderon, Salford City
Katchit (Robert Thornton centre) takes the last hurdle ahead of Osana (Tom Scudamore right) and last year`s winner Sublimity (Philip Carberry).
© racing-images.co.uk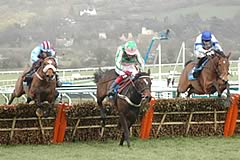 No five-year-old had won the Smurfit Kappa Champion Hurdle since See You Then in 1985 but Katchit - winner of last season's JCB Triumph Hurdle - defied that statistic to win this year's renewal in scintillating fashion to score by a length from the front-running Osana.
Trainer Alan King admitted the victory came as a pleasant surprise.
"I'm totally shocked, I've been so relaxed all day because I thought we couldn't win," admitted King. "I thought the ground was against him and the stats were against me - five-year-olds don't win the race so I told the owners to be delighted if we were in the first four.
"It shows how good the four-year-olds were last year with Punjabi coming third, I think they are a vintage generation. My gut feeling today was that the older horses might power away up the hill from him.
"There was always going to be a strong pace and the one thing I did say beforehand was that we'd get closer to Osana than at the December meeting. He's just amazingly tough - he doesn't let you down.
"See You Then went on to win the next two Smurfit Kappa Champion Hurdles but asked about that, King added: "I'm not going to worry about that. When we bought him off Mick Channon I thought he might be an ideal sort for the juvenile handicap hurdle at Market Rasen, this sure as hell wasn't his target! He didn't cost a fortune and it just shows that good horses can come from anywhere.
"I don't think he'll go to Aintree, that's two and a half miles and he could possibly go to Punchestown but I think that's probably it for the season. I always said we wouldn't over race him this season as a five-year-old."
Winning rider Robert Thornton added: "They went a real good gallop, it ended up a bit of a slog, and I was worried we'd given Osana a soft lead ust like in the Boylesports. Normally mine's a good traveller but I was flat out all the way, I think it was a combination of the ground and the gallop. It was only at the second last that I thought we might win.
"He's a little legend, he's as tough as a box of nails and doesn't owe anyone anything. When jumping comes into play, that's what helps him. He's a little terrier.
"This is what everyone has worked for including Christoph (Dallaporta), his lad. This is what it's all about. He was flat out most of the way and I was cautious not to give Osana too much rope down the hill.
"The gallop felt quick enough early on and he's picked up Osana fairly well and he's probably got there soon enough. The one thing I knew he would do is battle and he has. Sizing Europe got a little close at the second last and he's lent on me so I've lent back, which is the kind of thing Katchit needs. He needs to grab hold of the bit and battle. I felt Osana coming back at us coming up the hill but I was hopeful that Katchit would fight win, lose or draw and he did."
David Bellamy, who heads the ownership syndicate, added: "We've had three or four horses since we were introduced to racing by William Harrison-Alan, a good friend of mine, and had some great experiences but nothing to match this. This is dream time, we're so proud of Katchit and have family and friends all over the country cheering him on."
Groom Christoph Dallaporta said: "I'm so happy, I ride him every day and he's a wonderful horse to sit, he's a natural and very laidback at home."
Katchit was the first JCB Triumph Hurdle winner to win the Smurfit Kappa Champion Hurdle the following season since Persian War in 1968.
THORNTON DOUBLE
Robert Thornton, celebrating a 103.5/1 double on Katchit and Captain Cee Bee.
He said after the Smurfit Kappa Champion Hurdle victory of the former. "I don't know what to say - it's unbelievable. He's a little terrier. I was flat out all the way to be honest, I didn't want to let Osana get away down the hill. Katchit is just tough - unreal.
"You have to believe you are going to win otherwise there's not point doing it. I believed he could but whether he actually did it was another story. I'm delighted."
After Captain Cee Bee's win in the Anglo Irish Bank, Thornton - last year's leading rider at The Festival with four winners - commented: " "I wasn't liking the ground early ground and, to be honest with you, I was off grinding behind the bridle from the first down the back straight.
"He's picked up and held his position and the one thing he can do is jump which is a great attribute round here. Off the bend A P looked as though he was probably going better than me but I was half confident that Captain Cee Bee would pick up and he did. He missed the last and still got away with it. He's gone well in ground he probably doesn't like.
"The ground is described as good to soft and it has ridden soft for Captain Cee Bee, but he doesn't like the ground and it depends on what you are sat on. If you were on a horse that loved that kind off ground then it would probably ride good to soft. You wait and see a couple of race before taking a view on what the ground is like.
"Its great to ride an Irish-trained winner, although I wouldn't want to come in here carrying the Cross of St George!"
PIPE PRAISES BRAVE FRONT-RUNNER OSANA & HENDERSON PLEASED WITH PUNJABI
David Pipe declared himself thrilled with Osana, the 9/2 shot who set a strong early pace when making the running and locked in a duel with eventual winner Katchit up the hill to grab second.
The second-season trainer said: "He's run a really great race. Tom (Scudamore) gave him a brilliant ride. To be honest, I thought he was going to get swallowed up turning for home but he just battled and battled."
25/1 chance Punjabi ran third for trainer Nicky Henderson, who said: "He's run really well. It's interesting as the two five-year-olds (winner Katchit and Punjabi) have come out and virtually run to their Triumph Hurdle form from last year which is great.

"Yes, he's done well, I'm really pleased."
FORMER CHAMPION SUBLIMITY NOT DISGRACED
Sublimity, who won last year's Smurfit Kappa Champion Hurdle, made a brave bid to defend his title and was close up behind winner Katchit at the final jump.
From there he faded as Katchit and Osana pulled clear, and when Punjabi finished well from off the pace Sublimity and jockey Philip Carberry had to settle for fourth.
Owner Bill Hennessy said: "I thought he ran a smashing race, but the difference was that normally he's wonderful over the hurdles and he didn't jump well today.
"I don't know the reason, maybe it was the ground. He wasn't as fluent as normal. Having said that we're happy with the run. Any one of nine of ten could have won so to come fourth is not bad. I've been in this spot before, when Dunlea was fourth in a handicap hurdle, so I'm getting used to it."
Sublimity was bleeding slightly from a cut by his front hoof, but Hennessy said: "The vet has looked at it and it isn't serious. We certainly can't use it as an excuse."
Trainer John Carr said of Sublimity: "He ran his heart out, but if the rain hadn't come it may have made a difference. He would have stayed on a bit better. He travelled going like the winner, but just couldn't carry it through in the last half furlong or so. It's a good bit softer than last year.
"He'll go to Punchestown now, all being well."
Following the running of the Smurfit Kappa Champion Hurdle, bookmakers Paddy Power priced up next year's race and made today's winner, Katchit, 3-1 favourite, half the price offered by Cashmans, who go 6-1. Paddy Power make today's runner-up Osana a 6-1 chance for next year and Captain Cee Bee, who won the Anglo Irish Bank Supreme Novices' Hurdle earlier in the afternoon, a 14-1 shot.
DE BROMHEAD PERPLEXED
Trainer Henry de Bromhead could offer no explanation for the performance of Sizing Europe, who set off as 2/1 favourite for the Smurfit Kappa Champion Hurdle, but finished 14th of the 15 runners.
"One minute we were flying, Andrew [McNamara] gave him the perfect ride and the horse was in control. Coming to the last, Andrew said he lost his action. I just don't know why.
"We'll have a look tomorrow, some times these things come to light in the morning. When it happens, your heart sinks... but life goes on," said de Bromhead.
The horse trotted up sound after the race.
There was disappointment too for Noel Meade, trainer of Harchibald who finished 10th. But Meade, unlike de Bromhead, was not surprised.
"We knew after the first race when Roby [Walsh] reported back that the ground was soft, that it wasn't his day. He needs good ground and it wasn't. It was a desperate slog from the last," said Meade.
SMURFIT KAPPA CHAMPION HURDLE FACTS
1. The Champion Hurdle was inaugurated in 1927, with a value to the winner of £365. The race was abandoned in 1931 due to persistent frost, in 1943 and 1944 because of the Second World War, and in 2001 because of foot and mouth disease.
2. There have only been two sponsors of this great race since its inception. This statistic conceals a dramatic turn of events in 1990, when a major banking group, whose intended sponsorship was to raise the added value of the race by 66 per cent to £120,000, withdrew before its first running. The Smurfit Group stepped in at that point and has remained a loyal sponsor ever since. In 2008, the race will have total prize money of £360,000. Kappa was added to the title in 2006 to reflect the company's new corporate identity.
3. The largest field has been 24 (1964 and 1991) and the smallest three (1932). The first five runnings of the race saw a total of only 24 runners between them.
4. The Champion Hurdle is a contest for multiple winners. Peter Easterby won the race most often as a trainer, with five victories from three horses, Saucy Kit (1967), Night Nurse (1976 and 1977) and Sea Pigeon (1980 and 1981). Vic Smyth and Fred Winter both had four wins, and a further five trainers have captured the hurdling crown on three occasions.
5. Among jockeys, Tim Molony won the race most often with four victories, on Hatton's Grace (1951) and Sir Ken (1952, 1953 & 1954). Fred Winter, Jimmy Uttley, Steve Smith Eccles and most recently Charlie Swan were each successful three times.
6. The most successful owner is still Dorothy Paget, who won the race four times thanks to Insurance (1932, 1933), Solford (1940) and Distel (1946).
7. Istabraq, successful in the three Champion Hurdles from 1998 to 2000, was retired after failing to become the first horse to win the race four times in 2002. The four other three-time winners are Hatton's Grace (1949-51), Sir Ken (1952-54), Persian War (1968-70) and See You Then (1985-87).
8. The race has been won seven times by entires, but only twice by mares - Dawn Run (1984) and Flakey Dove (1994).
9. Four greys have won, the most recent being Rooster Booster in 2003. The others were Kribensis in 1990, Victor Norman in 1936, and Our Hope in 1938. Only one roan horse has won the Champion Hurdle, Anzio in 1962.
10. Istabraq's success in 2000 in a time of 3 minutes 48.1 seconds beat the previous Champion Hurdle record time, set by Make A Stand in 1997, of 3 minutes 48.4 seconds.
11. Dessie Hughes, who trained Hardy Eustace to win in 2004 and 2005, is only the fourth person to have both ridden and trained a Smurfit Kappa Champion Hurdle winner, having partnered Monksfield in 1979. The others to have achieved this double were Fred Winter, Fred Rimell and Gerry Wilson.