cheltenham festival / 2010 news /
Menorah Joy for Hobbs and Johnson
16/03/10
1 Menorah 12/1
2 Get Me Out Of Here 9/2
3 Dunguib 4/5 Fav
18 ran
Menorah


© racing-images.co.uk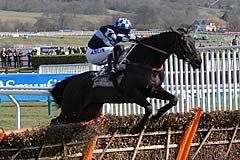 Trainer Philip Hobbs and jockey Richard Johnson teamed up to make the best possible start to the 2010 Festival at Cheltenham when taking the opening Spinal Research Supreme Novices' Hurdle with Menorah.
The five-year-old had suffered a surprise defeat on his previous outing at Ascot but bounced back to hold off the fast-finishing Get Me Out Of Here by a head.
"I said beforehand that if we had one winner this week I'd be delighted and we've got out of trouble at the first. It's an enormous relief, that's the main feeling. We're out of trouble and hopefully we might find some more winners now," said Hobbs.
"Richard said that he made a mistake at the third last but he gained ground despite that and then two out he was a bit green but Richard poached the lead. We might have been in trouble if he hadn't done that and it was a really good ride.
"He could have gone for a handicap but I thought why not come here, you can't be afraid of one horse (favourite Dunguib).
"He's been beaten twice before but both time they were muddling races and this was strongly-run, which suited him.
"He's only five and at this moment I'd think we might go for the Champion Hurdle next year rather than going chasing although his long-term future lies over fences. There's a lot of room for improvement."
Johnson added: "It was a farcical race last time at Ascot but he's a very, very good horse. I've always thought a lot of him and he's never properly had a race run to suit him until today. It was a true-run race.
"He only ran in a bumper eight months ago so there's a lot of reason to believe that he's going to improve a lot. He won a two and a half mile bumper and I always thought he would stay well but you never know up that hill.
"I thought we might see a sudden black and white flash (Dunguib's colours) but fortunately it never came."
Position

Horse
Trainer
Jockey
Weight
Starting Price
Beaten Distance
1

Menorah
P J Hobbs
R Johnson
11st 7lbs
12 - 1
Winner
2

Get Me Out Of Here
Jonjo O'Neill
A P McCoy
11st 7lbs
9 - 2
Head
3

Dunguib
P Fenton
Mr B T O'Connell
11st 7lbs
4 - 5
1 3/4 length
4

Oscar Whisky
N J Henderson
B J Geraghty
11st 7lbs
11 - 1
2 lengths
5

Flat Out
W P Mullins
Paul Townend
11st 7lbs
20 - 1
6 lengths
6

Spring Jim
J R Fanshawe
Felix De Giles
11st 7lbs
80 - 1
2 1/2 lengths
7

Fiulin
Evan Williams
Paul Moloney
11st 7lbs
100 - 1
1/2 length
8

Vino Griego
G L Moore
J E Moore
11st 7lbs
50 - 1
Neck
9

Far Away So Close
P Nolan
D N Russell
11st 7lbs
100 - 1
1/2 length
10

Blackstairmountain
W P Mullins
R Walsh
11st 7lbs
12 - 1
Neck
11

Hollins
Micky Hammond
J M Maguire
11st 7lbs
250 - 1
Neck
12

Dan Breen
D Pipe
T Scudamore
11st 7lbs
25 - 1
3 1/2 lengths
13

Dream Esteem
D Pipe
Danny Cook
11st 0lbs
100 - 1
4 lengths
14

Cootehill
N A Twiston-Davies
P J Brennan
11st 7lbs
66 - 1
8 lengths
15

Takestan
P O Brady
J Cullen
11st 7lbs
200 - 1
3 lengths
16

Chain Of Command
W J Greatrex
W Hutchinson
11st 7lbs
100 - 1
1/2 length
17

Mister Wall Street
Ferdy Murphy
G Lee
11st 7lbs
200 - 1
4 lengths
UnseatedRider

General Miller
N J Henderson
A Tinkler
11st 7lbs
25 - 1

OWNER THRILLED
Menorah's owner Diana Whateley, from Worcester, said after her horse won the opening race of the 2010 Festival: "I am completely overcome, thrilled, delighted and ecstatic. We did not think we had much chance of winning with Dunguib running but Menorah has done it.
"We bought the horse through Aiden Murphy, bloodstock agent, and Philip Hobbs is our trainer, whom we have a few horses with.
"They have always been a fantastic team and we had great excitement about him though he did not run well when we were at Ascot but today is just phenomenal.
"My husband is leading the horse in, I hope. Unfortunately, I cannot because I broke my leg skiing in December."
Winning jockey Richard Johnson said: "On a couple of days this season things didn't work out for Menorah, but they have today and it is a great day for it to happen. He got beat last time because it was a very false-run race.
"I always thought Cheltenham and a fast-run race would suit him far better. He was a bit green at the second last but he was very good."
O'NEILL ACCEPTS DEFEAT AND NO EXCUSES
Get Me Out Of Here


© racing-images.co.uk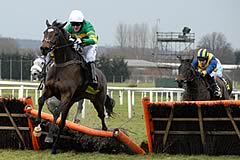 Trainer Jonjo O'Neill and owner J P McManus were making no excuses after Get Me Out Of Here finished a head second in the Festival's opening race.
McManus said: "It's always nice to be in the winner's enclosure at Cheltenham, but full marks to the winner."
O'Neill said: "It was a great race and we have no hard luck stories. I wish the winner was mine. He ran well and Dunguib [favourite, finished third] ran well so there are no excuses.
"When you are beaten a head you cannot say the Newbury race [the totesport Trophy] left its mark. He came here in tip-top form so we're thrilled to bits. His preparation was spot on - he had a few cuts at Newbury and bled a lot [from a leg gash] son the day, but we cleaned it all out and he was going to have a few easy days after that in any case so it made no difference to him.
"We'll have a look at Liverpool now, but we'll see how the horse comes out of this race. He's done us proud and we don't want to abuse him.
"He's a big enough horse to jump fences next season, but he might be good enough to stay hurdling."
FENTON PHILOSOPHICAL AS BUBBLE BURSTS ON DUNGUIB
Dunguib, considered the Irish banker for The Festival by many people, could fare no better than third in the opening Spinal Research Supreme Novices' Hurdle, just under two lengths behind the winner Menorah.
Settled towards the rear by jockey Brian O'Connell, the 4/5 favourite still had plenty to do as the field approached the third last. Although the seven-year-old made up a significant amount of ground in the straight, he was unable to reach Menorah and Get Me Out Of Here.
Trainer Philip Fenton was philosophical in defeat, stating: "We are satisfied with his performance although it's obviously disappointing we are not in the number one spot.
"He has come back in one piece and seems fine - that's the main thing. We live to fight another day.
"Things just didn't work out on the day. He has travelled well although I thought the gallop might have been a bit stronger. He had plenty of light at the last couple of hurdles and jumped the last well. He just couldn't pick up the first two."
When asked if any blame could be attributed to Brian O'Connell's ride, Fenton responded: "These things happen in a split second and I wouldn't criticise Brian.
"We are still in the winner's circle here at Cheltenham.
"We have been beaten and we have to take it, and take it on the chin."
Jockey Brian O'Connell commented: "We had every chance."
ANGLO IRISH BANK SUPREME NOVICES' HURDLE PREVIOUS RESULTS
2008-WINNER-CAPTAIN CEE BEE 7-11-07 Owner-J P McManus; Trainer-Edward Harty IRE; Jockey-Robert Thornton; SP-17/2
2ND-Binocular 4-10-13 Owner-J P McManus; Trainer-Nicky Henderson; Jockey-Tony McCoy; SP-8/1 Co Fav
3RD-Snap Tie 6-11-07 Owner-Diana Whateley; Trainer-Philip Hobbs; Jockey-Richard Johnson; SP-20/1
22 ran, Time-4m 6.45s; Dist-2, 4½ 8/1 Co Favs Pigeon Island (11th), Muirhead (12th)

2007-WINNER-EBAZIYAN 6-11-07 Owner-Peter Garvey; Trainer-Willie Mullins IRE; Jockey-Davy Condon; SP-40/1
2ND-Granit Jack 5-11-07 Owner-John Hales; Trainer-Paul Nicholls; Jockey-Ruby Walsh; SP-15/2
3RD-Amaretto Rose 6-11-00 Owner-Weatherbys Racing Club; Trainer-Nicky Henderson; Jockey-Mick Fitzgerald; SP-2/1 Fav
22 ran, Time-3m 56.1s; Dist-3, nk
2006-WINNER-NOLAND 5-11-07 Owner-John Hales; Trainer-Paul Nicholls; Jockey-Ruby Walsh; SP-6/1
2ND-Straw Bear 5-11-07 Owner-J P McManus; Trainer-Nick Gifford; Jockey-Tony McCoy; SP-11/1
3RD-Buena Vista 5-11-07 Owner-Matt Archer & the late Jean Broadhurst; Trainer-Martin Pipe; Jockey-Timmy Murphy; SP-14/1 20 ran, Time-3m 54.50s; Dist-nk, 1¼ 5/2 Fav Sweet Wake (5th)
2005-WINNER-ARCALIS 5-11-07 Owner-Andrea & Graham Wylie; Trainer-Howard Johnson; Jockey-Graham Lee: SP-20/1
2ND-Wild Passion 5-11-07 Owner-Des Sharkey; Trainer-Noel Meade IRE; Jockey-Paul Carberry; SP-10/1
3RD-Dusky Warbler 6-11-07 Owner-Mike Charlton & Rodger Sargent; Trainer-Gary Moore; Jockey-Jamie Moore; SP-20/1 20 ran, Time-3m 53.00s; Dist-6, ½ 13/2 Fav Marcel (13th)
2004-WINNER-BRAVE INCA 6-11-07 Owner-Novices Syndicate; Trainer-Colm Murphy IRE; Jockey-Barry Cash; SP-7/2 Fav
2ND-War Of Attrition 5-11-07 Owner-Gigginstown House Stud; Trainer-Mouse Morris IRE; Jockey-Conor O'Dwyer; SP-33/1
3RD-Fleet Street 5-11-07 Owner-Henry Ponsonby; Trainer-Nicky Henderson; Jockey-Andrew Tinkler; SP-20/1
19 ran, Time-3m 55.60s; Dist-nk, 7
2003-WINNER-BACK IN FRONT 6-11-08 Owner-Dermot Cox; Trainer-Edward O'Grady IRE; Jockey-Norman Williamson; SP-3/1 Fav
2ND-Kicking King 5-11-08 Owner-Conor Clarkson; Trainer-Tom Taaffe IRE; Jockey-Barry Geraghty; SP-13/2
3RD-Chauvinist 8-11-08 Owner-Bunny & Nick Roberts; Trainer-Nicky Henderson; Jockey-Mick Fitzgerald; SP-20/1
19 ran, Time-3m 56.80s; Dist-10, 4
2002-WINNER-LIKE-A-BUTTERFLY 8-11-03 Owner-J P McManus; Trainer-Christy Roche IRE; Jockey-Charlie Swan; SP-7/4 Fav
2ND-Westender 6-11-08 Owner-Matt Archer and Jean Broadhurst; Trainer-Martin Pipe; Jockey-Tony McCoy; SP-6/1
3RD-In Contrast 6-11-08 Owner-Peter Emery and A Staple; Trainer-Philip Hobbs; Jockey-Richard Johnson; SP-16/1
28 ran, Time-3m 54.25s; Dist-nk, 2½
2001 - Cancelled (Foot and Mouth Disease)
2000-WINNER-SAUSALITO BAY 6-11-08 Owner-The High Street Racing Syndicate; Trainer- Noel Meade IRE; Jockey-Paul Carberry; SP-14/1
2ND-Best Mate 5-11-08 Owner-Jim Lewis; Trainer-Henrietta Knight; Jockey-Jim Culloty; SP-6/1
3RD-Youlneverwalkalone 6-11-08 Owner-J P McManus; Trainer-Christy Roche IRE; Jockey-Conor O'Dwyer; SP-5/4 Fav 15 ran, Time-3m 51.70s; Dist-¾, 1¼
1999-WINNER-HORS LA LOI III 4-11-00 Owner-Paul Green; Trainer-Martin Pipe; Jockey-Tony McCoy; SP-9/2
2ND-Joe Mac 5-11-08 Owner-J P McManus; Trainer-Christy Roche IRE; Jockey-Conor O'Dwyer; SP-6/1
3RD-Arctic Fancy 6-11-08 Owner-The Cool Customers; Trainer-Julian Smyth-Osbourne; Jockey-Warren Marston; SP-66/1 20 ran, Time-3m 54.6s; Dist-17, 7 11/4 Fav Cardinal Hill (ur)
1998-WINNER-FRENCH BALLERINA 5-11-03 Owner-Sue Magnier; Trainer-Pat Flynn IRE; Jockey-Graham Bradley; SP-10/1
2ND-His Song 5-11-08 Owner-David Lloyd; Trainer-Mouse Morris IRE; Jockey-Richard Hughes; SP-4/1 Fav
3RD-Gatflax 6-11-08 Owner-Giles Clarke; Trainer-Nigel Twiston-Davies; Jockey-Carl Llewellyn; SP-16/1
30 ran, Time-3m 50.9s, Dist-7, 1
1997-WINNER-SHADOW LEADER 6-11-08 Owner-James Blackshaw; Trainer-Charles Egerton; Jockey-Jamie Osborne; SP-5/1
2ND-Princeful 6-11-08 Owner-Robert & Elizabeth Hitchins; Trainer-Jenny Pitman; Jockey-Rodney Farrant; SP-25/1
3RD-Nordic Breeze 5-11-08 Owner-Malcolm Jones; Trainer-Martin Pipe; Jockey-David Walsh; SP-100/1
16 ran, Time-3m 49.5s, Dist-10, ½ 2/1 Fav Finnegan's Hollow (f)
1996-WINNER-INDEFENCE 5-11-08 Owner-Indef Limited; Trainer-Jenny Pitman; Jockey-Warren Marston; SP-25/1
2ND-Kimanicky 6-11-08 Owner-Elaine Barnes; Trainer-Nicky Henderson; Jockey-Mick Fitzgerald; SP-11/2
3RD-Castle Sweep 5-11-08 Owner-Lord Vestey; Trainer-David Nicholson; Jockey-Peter Niven; SP-7/2 Fav
27 ran, Time-4m 1.8s, Dist-8, hd
ANGLO IRISH BANK SUPREME NOVICES' HURDLE ROLL OF HONOUR
(Anglo Irish Bank Supreme Novices' Hurdle since 2006, Letheby & Christopher Supreme Novices' Hurdle 2004-2005, Gerrard Wealth Management Supreme Novices' Hurdle 2003, Gerrard Supreme Novices' Hurdle 2001-02, Capel Cure Sharp Supreme Novices' Hurdle 2000, Citroen Supreme Novices' Hurdle 1994-99,Trafalgar House Supreme Novices' Hurdle 1991-93, Waterford Crystal Supreme Novices' Hurdle 1978-90, Lloyds Bank Champion Novice Hurdle 1974-1977, Gloucestershire Hurdle before 1974)
Year Winner Age/Wt Jockey Trainer Owner SP Ran
2009 Go Native
2008 Captain Cee Bee 7-11-07 Robert Thornton Edward Harty IRE J P McManus 17/2 22
2007 Ebaziyan 6-11-07 Davy Condon Willie Mullins IRE Peter Garvey 40/1 22
2006 Noland 5-11-07 Ruby Walsh Paul Nicholls John Hales 6/1 20
2005 Arcalis 5-11-07 Graham Lee Howard Johnson Andrea & Graham Wylie 20/1 20
2004 Brave Inca 6-11-07 Barry Cash Colm Murphy IRE Novices Syndicate 7/2F 19
2003 Back In Front 6-11-08 Norman Williamson Edward O'Grady IRE Dermot Cox 3/1F 19
2002 Like-A-Butterfly 8-11-03 Charlie Swan Christy Roche IRE J P McManus 7/4F 28
2001 No Race (Foot and Mouth Disease)
2000 Sausalito Bay 6-11-08 Paul Carberry Noel Meade IRE High Street Racing Syndicate 14/1 15
1999 Hors La Loi III 4-11-00 Tony McCoy Martin Pipe Paul Green 9/2 20
1998 French Ballerina5-11-03 Graham Bradley Pat Flynn IRE Sue Magnier 10/1 30
1997 Shadow Leader 6-11-08 Jamie Osborne Charles Egerton James Blackshaw 5/1 16
1996 Indefence 5-11-08 Warren Marston Jenny Pitman Indef Ltd 25/1 27
1995 Tourist Attraction6-11-03 Mark Dwyer Willie Mullins IRE North Kildare Racing Club 25/1 20
1994 Arctic Kinsman 6-11-08 Carl Llewellyn Nigel Twiston-Davies Rosie Hambro 50/1 18
1993 Montelado 6-11-08 Charlie Swan Pat Flynn IRE Ollie Hannon 5/1 15
1992 Flown 5-11-08 Jamie Osborne Nicky Henderson Edward Winfield 13/2 17
1991 Destriero 5-11-08 Pat McWilliams Andy Geraghty IRE Elizabeth Furlong 6/1 21
1990 Forest Sun 5-11-08 Jimmy Frost Toby Balding Salehurst Paper Co Ltd 7/4F 18
1989 Sondrio 8-11-08 Jonathon Lower Martin Pipe Mrs J M Ryan 25/1 21
1988 Vagador 5-11-08 Mark Perrett Guy Harwood Amanda Harwood 4/1F 26
1987 Tartan Tailor 6-11-08 Phil Tuck Gordon Richards Edinburgh Woollen Mill Ltd 14/1 20
1986 River Ceiriog 5-11-07 Steve Smith Eccles Nicky Henderson Bobby McAlpine 40/1 29
1985 Harry Hastings 6-11-08 Chris Grant John Wilson Robert Leask 14/1 30
1984 Browne's Gazette 6-11-08 Mr Dermot Browne Michael Dickinson John Poynton 11/2 18
1983 Buck House 5-11-08 Tommy Carmody Mouse Morris IRE Mrs S Purcell 8/1 22
1982 Miller Hill 6-11-08 Tom Morgan Dessie Hughes IRE J Harvey 20/1 19
1981 Hartstown 6-11-08 Niall Madden Mick O'Toole IRE J McGowan 2/1F 16
1980 Slaney Idol 5-11-08 Tommy Carmody Liam Browne IRE Mrs M Hayes 9/1 27
1979 Stranfield 6-11-08 Tommy Kinane Des McDonogh IRE D Devlin 16/1 16
1978 Golden Cygnet 6-11-08 Mr Niall Madden Edward O'Grady IRE Raymond Rooney 4/5F 18
1977 Mac's Chariot 6-11-08 Dessie Hughes Mick O'Toole IRE Mrs A Jordan 7/1 16
1976 Beacon Light 5-11-08 Andy Turnell Bob Turnell Jim Joel 14/1 11
1975 Bannow Rambler6-11-08 Frank Berry Padge Berry IRE Mrs K White 9/2 18
1974 Avec Moi 5-11-06 Roger Rowell Auriol Sinclair Lord Blackford 5/4F 16
1973 King Pele 4-10-10 David Nicholson Gavin Pritchard-Gordon J Richardson 13/2 20
1972 Noble Life 5-11-06 Stan Murphy Christy Grassick IRE M Gallagher 16/1 18
1971(I) Persian Majesty 4-10-13 Terry Biddlecombe Ryan Price Ken Wheldon 13/2 10
1971 (II) Barnard 7-12-00 Johnnie Haine Fulke Walwyn Mrs B Heath 4/1 13
1970 (I) Ballywilliam Boy 5-12-00 Bobby Coonan Paddy Sleator IRE P Smyth 4/1 20
1970 (II) Bula 5-12-00 Paul Kelleway Fred Winter Bill Edwards-Heathcote 3/1F 21
1969 (I) Normandy 4-11-02 Terry Biddlecombe Fred Rimell Bryan Jenks 10/1 28
1969 (II) Private Room 5-11-10 Willie Robinson Fulke Walwyn Mrs A L Hoare 10/1 20
1968 (I) King Cutler 5-12-00 Brian Fletcher Denys Smith Joe Lisle 85/40 12
1968 (II) L'Escargot 5-12-04 Tommy Carberry Dan Moore IRE Raymond Guest 13/2 11
1967 (I) Chorus 6-11-12 Johnnie Haine Tom Jones Lord James Crichton-Stuart 15/2 20
1967 (II) Early To Rise 7-11-12 Jeff King Bob Turnell Paul Mellon 11/2 14
1966 (I) Beau Caprice 12-12-02 Tommy Jennings Fulke Walwyn Richard Head 6/1 14
1966 (II) Fosco 5-11-06 David Moore Mick Goswell David Montagu 7/2 19
1965 (I) Red Tears 5-11-06 Stan Mellor Tom Jones Major Victor McCalmont 7/1 19
1965 (II) Havago 6-12-04 Bobby Beasley Paddy Sleator IRE Clifford Nicholson 11/8 15
1964 (I) Flyingbolt 5-12-02 Pat Taaffe Tom Dreaper IRE Mrs Jean Wilkinson 4/9F 11
1964 (II) Elan 5-12-02 Dave Dick John Sutcliffe R Tucker 9/2 18
1963 (I) Honour Bound 5-11-10 Terry Biddlecombe Fred Rimell Katie Gaze 3/1F 18
1963 (II) Buona Notte 6-11-08 Johnnie Haine Bob Turnell Jim Joel 7/2 15
1963 (III) Deetease 5-12-02 Clive Chapman Basil Foster Charles Chandler 9/1 18
1962 (I) Tripacer 4-10-12 Tommy Carberry Dan Moore IRE Lady Honor Svejdar 20/1 18
1962 (II) Clerical Grey 4-11-02 Willie Robinson P Murphy IRE Mrs R A Palfreyman 100/8 18
1961 (I) Beau Normand 5-11-06 Bill Rees Bob Turnell Jim Joel 5/1 18
1961 (II) Greektown 5-12-02 Michael Scudamore Willie Stephenson Lionel Ensten 100/8 15
1960 (I) Blue Mountain 6-11-05 Dick Broadway George Todd Sidney Banks 5/1 20
1960 (II) Bastille 5-10-13 Bill Woods Tom Masson Mrs V Cripps 33/1 18
1959 (I) York Fair 5-11-10 Tommy Burns Vincent O'Brien IRE John McShain 4/5F 16
1959 (II) Albergo 5-11-06 Doug Page Clem Magnier IRE Mrs Clem Magnier 9/1 19
1958 (I) Admiral Stuart 7-11-12 Tommy Burns Vincent O'Brien IRE Mrs T V Ryan 6/5F 19
1958 (II) Prudent King 6-11-08 Tommy Burns Vincent O'Brien IRE Captain R Westmacott 3/1F 19
1957 (I) Tokoroa 6-12-01 Dave Dick Fred Rimell David Deyong 5/4F 10
1957 (II) Saffron Tartan 6-11-12 Tommy Burns Vincent O'Brien IRE Lady Cottenham 10/11F 12
1956 (I) Boys Hurrah 8-11-08 Tommy Burns Vincent O'Brien IRE M J Sheehan 9/4F 17
1956 (II) Pelargos 5-11-06 Tommy Burns Vincent O'Brien IRE Vincent O'Brien 6/4F 22
1955 (I) Vindore 6-11-12 Mr Phonsie O'Brien Vincent O'Brien IRE J A Wood Evs F 19
1955 (II) Illyric 6-11-08 Tommy Burns Vincent O'Brien IRE R Mulrooney 3/1F 23
1954 (I) Stroller 6-11-08 Pat Taaffe Vincent O'Brien IRE Joe Griffin 13/8F 18
1954 (II) Tasmin 4-10-07 Rene Emery Harry Count FR Harry Count 5/1 18
1953 (I) Assynt 5-11-01 Eddie Newman Danny Morgan IRE Lady Ursula Vernon 9/4F 18
1953 (II) Dessin 7-11-08 Johnny Gilbert Frank Hudson H J Barlow 100/9 17
1952 (I) Cockatoo 6-11-03 Mr Phonsie O'Brien Vincent O'Brien IRE Harry Keogh 4/1 13
1952 (II) Evian 4-10-07 Fred Winter George Archibald M S Westwick 10/1 14
1951 (I) Red Stranger 4-10-12 Denis Dillon Ron Smyth L Jarvis 100/8 20
1951 (II) Oukileles II 4-10-12 Fred Winter George Archibald B Campbell 6/1 13
1950 (I) Tsaoko 5-11-08 Martin Molony Sam Armstrong H E Habib I Rahimtoola 4/9F 9
1950 (II) Sir Charles 4-10-04 Mr Michael Scudamore Geoffrey Scudamore S A Mailes 25/1 15
1949 (I) French Wedding 4-10-07 Jimmy Brogan Gerry Wilson E L Gosling 11/2 14
1949 (II) Tough Guy 4-10-00 Denis Dillon Ivor Anthony Jack Olding 4/1 18
1948 (I) Vulgan 5-10-10 Rickie Black John De Moraville H Coriat 9/2 13
1948 (II) Jean's Last 6-11-00 Bryan Marshall Fulke Walwyn Lady Throckmorton 7/4F 21
1947 No race
1946 (I) Prince Rupert 5-11-03 Ron Smyth Ted Smyth John J Astor 9/2 19
1946 (II) Freetown 6-11-00 George Archibald W Larkin H Rogers 8/1 17
1946 (III) Gremlin 5-10-10 Phil Canty George Todd Desmond Baring 5/1 16