cheltenham festival / 2008 news /
Celestial Halo Makes All in Triumph
14/03/08
1st (3) Celestial Halo 5-1
2nd (6) Franchoek Evens Fav
3rd (15) Won In The Dark 16-1
14 ran
Also: 25-1 Songe 4th
NR: Diego Velasquez
Celestial Halo
© racing-images.co.uk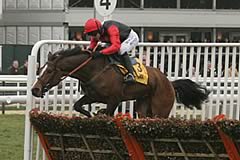 The red, white and black colours of Andy Stewart have been a familiar sight at the Cheltenham Festival for the past eight years, since Cenkos finished second to Tiutchev in the 2000 Irish Independent Arkle Trophy.
In those eight years, Stewart has had any number of placed horses (including Gwanako, second, and Turko, third, already this week) but it took yet another Paul Nicholls trained improver, Celestial Halo, to break the duck in the JCB Triumph Hurdle.
"We had a tipping competition earlier this week and I tipped Franchoek to win," said Stewart, who was almost, but not quite, lost for words.
"I've always wanted to win any race here, but the Triumph will do very nicely indeed. It's been absolutely terrific. Alex Ferguson, a good friend of mine, just said well done. It's been a long time, but well done Francheok too, that's a gutsy horse. I got champagne and jellybeans all over the place! It's great for Ruby, for Paul and for the yard."
It was Alan King, the trainer of the hot favourite and runner-up Franchoek who was among the first to congratulate Stewart. "I'm delighted you have had a Festival winner, but why did you have to pick this one?" he said.
Celestial Halo will not be put away for the season yet and Stewart is keen to take the horse to Liverpool next month. "Today was only his third race since he was gelded and he is a two and a half miler in the making," the owner said.
Celestial Halo had shown improved form from his last outing at Doncaster, but trainer Paul Nicholls explained why. "We rode him completely wrong that day," acknowledged the trainer, "It was a complete balls up last time when we ran him at Doncaster. Ruby wasn't positive enough and I wasn't positive enough with Ruby and also, the horse hates good ground. But we learnt a lot about how he should be ridden. Rome wasn't built in a day."
Nicholls was confident before the race that with the adjustments they had made and with the ground in his favour, the horse course make a big impact.
The trainer added added: ""I knew we had it right and I knew we could ride him positively. He jumps, he gallops and that's the way to do it today.
"He's a big horse and he loves a bit of cut in the ground. He jumping was perfect today. It's great for Andy; he's been such a brilliant supporter and that means an awful lot. Absolutely brilliant. He's put so much in to it and I am just so chuffed for him."
Ruby Walsh commented: "He's a tough little horse. This track helped him with not much jumping in the last part of the race but he's kept on well and he could do it all himself. We (Paul and myself) both thought about a change in tactics. He was a bit cowardly in behind at Doncaster and we wanted a bit of light jumping."
NO EXCUSES FOR FRANCHOEK
Franchoek
© racing-images.co.uk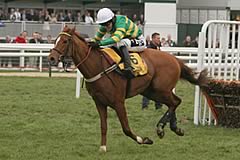 Trainer Alan King offered no excuses after even-money favourite Franchoek went down by two and a quarter lengths to Celestial Halo in the Grade One JCB Triumph Hurdle.
The Barbury Castle handler said: "Franchoek has run a smashing race and there are no excuses.
"I thought he might win turning for home and he has given his all.
"I don't know if he will run again this season.
"We just need to re-group and see where we go from here.
"He knows he has had a race today."
YOUNG TRAINERS DELIGHTED WITH EXPLOITS OF THEIR PLACED HORSES
Sabrina Harty, trainer of third-placed Won In The Dark, who was her first Cheltenham Festival runner, said: "I'm absolutely thrilled. We'd been hoping for better ground but we knew today it would be too dead for him and I was really worried. But he ran a good race, he's very genuine and I think he'll be more of a two-and-a-half mile horse as he stays."
Sabrina Harty's cousin Eddie won the Anglo Irish Bank Supreme Novices' Hurdle with Captain Cee Bee.
The gelding's owner Gerry Crehan commented: "It was a very good run and we're very pleased with him. We took on Franchoek before and we'll beat him on better ground. He was staying on well and ,for a small horse, he'll probably like a bit of a trip.
"He could go to Punchestown but after that we'll put him away until October."
Second-season trainer Charlie Longsdon was thrilled to be in the winner's enclosure with fourth-placed Songe, who was only his second Festival runner.
He said: "He travelled and really battled. The first two are really serious horses. I'm really happy, this is a really good start and he's been so consistent. He's the fourth best juvenile of the season so I can't complain.
Asked whether the colt will head to Aintree, he replied: "We'll see. There's a long way to go with him. We'll see how he is tomorrow and take it from there."
Previous results - JCB TRIUMPH HURDLE

2007-WINNER-KATCHIT 4-11-00 Owner- DSJP Syndicate; Trainer-Alan King; Jockey-Robert Thornton; SP-11/2
2ND-Liberate 4-11-00 Owner-Diana Whateley; Trainer-Philip Hobbs; Jockey-Richard Johnson; SP-12/1
3RD-Mobaasher 4-11-00 Owner-Seasons Holidays; Trainer-Charlie Mann; Jockey-Noel Fehily; SP-33/1
23 ran, Time-3m 54.6s; Dist-9, 1 ¾ 7/2 Fav Lounaos (10th)
2006-WINNER-DETROIT CITY 4-11-00 Owner-Terry Warner; Trainer-Philip Hobbs; Jockey-Richard Johnson; SP-7/2 Fav
2ND-Fair Along 4-11-00 Owner-Alan Peterson; Trainer-Philip Hobbs; Jockey-Paddy Brennan; SP-25/1
3RD-Blazing Bailey 4-11-00 Owner-Three Line Whip; Trainer-Alan King; Jockey-Robert Thornton; SP-14/1
17 ran, Time-3m 51.20s; Dist-5, 1
2005-WINNER-PENZANCE 4-11-00 Owner-Elite Racing Club; Trainer-Alan King; Jockey-Robert Thornton; SP-9/1
2ND-Faasel 4-11-00 Owner-Jim Ennis; Trainer-Nicky Richards; Jockey-Tony Dobbin; SP-7/1
3RD-Akilak 4-11-00 Owner-Andrea & Graham Wylie; Trainer-Howard Johnson; Jockey-Graham Lee; SP-7/2 Fav
23 ran, Time-4m 3.60s; Dist-hd, 8
2004-WINNER-MADE IN JAPAN 4-11-00 Owner-Terry Evans; Trainer-Philip Hobbs; Jockey-Richard Johnson; SP-20/1
2ND-Chief Yeoman 4-11-00 Owner-B Moore & E C Stephens; Trainer-Venetia Williams; Jockey-Tony Dobbin; SP- 40/1
3RD-Top Strategy 4-11-00 Owner-W J Kane; Trainer-Ted Walsh IRE; Jockey-Ruby Walsh; SP-33/1
23 ran, Time-4m 5.30s; Dist-2, nk 5/1 Fav Trouble At Bay (10th)
2003-WINNER-SPECTROSCOPE 4-11-00 Owner-Gay Smith; Trainer-Jonjo O'Neill; Jockey-Barry Geraghty; SP-20/1
2ND-Well Chief 4-11-00 Owner-David Johnson; Trainer-Martin Pipe; Jockey-Tony McCoy; SP-7/1
3RD-Golden Cross 4-11-00 Owner-Mrs H Johnson; Trainer-Mick Halford IRE; Jockey-Charlie Swan; SP-11/2 Fav
27 ran, Time-4m 0.30s; Dist-hd, 5
2002-WINNER-SCOLARDY 4-11-00 Owner-David Flynn; Trainer-Willie Mullins IRE; Jockey-Charlie Swan; SP-16/1
2ND-Newhall 4-10-09 Owner-Helen McParland; Trainer-Francis Flood IRE; Jockey-Fran Flood; SP-8/1
3RD-Diamond Joshua 4-11-00 Owner-Diamond Racing Ltd; Trainer-John Berry; Jockey-Jim Culloty; SP- 66/1
28 ran, Time-4m 7.80s; Dist-11, 3/4 7/1 Fav Giocomo (PU)
2001 Cancelled (Foot and Mouth Disease)
2000-WINNER-SNOW DROP 4-10-09 Owner-John D Martin; Trainer-Francois Doumen FR; Jockey-Thierry Doumen; SP-7/1 Fav
2ND-Regal Exit 4-11-00 Owner-Brian Buckley; Trainer-Nicky Henderson; Jockey-Barry Geraghty; SP-20/1
3RD-General Cloney 4-11-00 Owner-John J Brennan; Trainer-Willie Mullins IRE; Jockey-Ruby Walsh; SP-20/1
28 ran, Time-3m 52.90s, Dist-2, nk
1999-WINNER-KATARINO 4-11-00 Owner-Robert Waley-Cohen; Trainer-Nicky Henderson; Jockey-Mick Fitzgerald; SP-11/4 Fav
2ND-Balla Sola 4-11-00 Owner-Top Cat Syndicate; Trainer-Willie Mullins IRE; Jockey-Ruby Walsh; SP-16/1
3RD-Afarad 4-11-00 Owner-J P McManus; Trainer-Christy Roche IRE; Jockey-Charlie Swan; SP-8/1
23 ran, Time-4m 2.4s, Dist-8, 1.5
1998-WINNER-UPGRADE 4-11-00 Owner-Matt Archer and Jean Broadhurst; Trainer-Nigel Twiston-Davies; Jockey-Carl Llewellyn; SP-14/1
2ND-City Hall 4-11-00 Owner-Rosemary Key & Val Ward; Trainer-Val Ward; Jockey-Robert Thornton; SP-12/1
3RD-Nomadic 4-11-00 Owner-Des Sharkey; Trainer-Noel Meade IRE; Jockey-Richard Dunwoody; SP-14/1
25 ran, Time-3m 57.1s, Dist-1.25, 1.75 10/3 Fav Zafarabad (4th)
1997-WINNER-COMMANCHE COURT 4-11-00 Owner-Dermot Desmond; Trainer-Ted Walsh IRE; Jockey-Norman Williamson; SP-9/1
2ND-Circus Star 4-11-00 Owner-The Ringmasters; Trainer-David Nicholson; Jockey-Richard Johnson; SP-40/1
3RD-Shooting Light 4-11-00 Owner-John Brown; Trainer-Pat Murphy; Jockey-Richard Dunwoody; SP-7/1
28 ran, Time-4m 0.2s, Dist-1, 1.25 9/2 Fav White Sea (9th)
1996-WINNER-PADDY'S RETURN 4-11-00 Owner-Paddy O'Donnell; Trainer-Ferdy Murphy; Jockey-Richard Dunwoody; SP-10/1
2ND-Mistinguett 4-10-09 Owner-John Duggan; Trainer-Nigel Twiston-Davies; Jockey-Carl Llewellyn; SP-14/1
3RD-Hatta Breeze 4-10-09 Owner-Jenny Mould; Trainer-David Nicholson; Jockey-Richard Johnson; SP-14/1
29 ran, Time-4m 1.4s, Dist originally 4, hd, 1.75
Magical Lady (2nd) disqualified 6/1 Fav Debutante Days (f)
JCB TRIUMPH HURDLE ROLL OF HONOUR
(JCB Triumph Hurdle since 2002, Elite Racing Club Triumph Hurdle from 1997-2000, Daily Express Triumph Hurdle 1965-1996, previously run at Hurst Park. Held at Cheltenham's April meeting from 1965-67)

Year Winner Age/Wt Jockey Trainer Owner SP Ran
2007 Katchit 4-11-00 Robert Thornton Alan King DSJP Syndicate 11/2 23
2006 Detroit City 4-11-00 Richard Johnson Philip Hobbs Terry Warner 7/2F 17
2005 Penzance 4-11-00 Robert Thornton Alan King Elite Racing Club 9/1 23
2004 Made In Japan 4-11-00 Richard Johnson Philip Hobbs Terry Evans 20/1 23
2003 Spectroscope 4-11-00 Barry Geraghty Jonjo O'Neill Gay Smith 20/1 27
2002 Scolardy 4-11-00 Charlie Swan Willie Mullins IRE David Flynn 16/1 28
2001 No Race (Foot and Mouth)
2000 Snow Drop 4-10-09 Thierry Doumen Francois Doumen FR John Martin 7/1F 28
1999 Katarino 4-11-00 Mick Fitzgerald Nicky Henderson Robert Waley-Cohen 11/4F 23
1998 Upgrade 4-11-00 Carl Llewellyn Nigel Twiston-Davies Matt Archer & Jean Broadhurst 14/1 25
1997 Commanche Court 4-11-00 Norman Williamson Ted Walsh IRE Dermot Desmond 9/1 28
1996 Paddy's Return 4-11-00 Richard Dunwoody Ferdy Murphy Paddy O'Donnell 10/1 29
1995 Kissair 4-11-00 Jonathon Lower Martin Pipe Terry Benson 16/1 26
1994 Mysilv 4-10-09 Adrian Maguire David Nicholson Million In Mind Partnership (3) 2/1F 28
1993 Shawiya 4-10-09 Charlie Swan Michael O'Brien IRE Miss G Maher 12/1 25
1992 Duke Of Monmouth4-11-00 Mark Richards Simon Sherwood Ali Saeed 33/1 30
1991 Oh So Risky 4-11-00 Paul Holley David Elsworth Oh So Risky Syndicate 14/1 27
1990 Rare Holiday 4-11-00 Brendan Sheridan Dermot Weld IRE Dr Michael Smurfit 25/1 30
1989 Ikdam 4-11-00 Nigel Coleman Richard Holder LBI Law (873) Ltd 66/1 27
1988 Kribensis 4-11-00 Richard Dunwoody Michael Stoute Sheikh Mohammed 6/1 26
1987 Alone Success 4-11-00 Steve Smith Eccles Nicky Henderson Sheikh Amin Dahlawi 11/1 29
1986 Solar Cloud 4-11-00 Peter Scudamore David Nicholson Ann McEwen 40/1 28
1985 First Bout 4-11-00 Steve Smith Eccles Nicky Henderson Fahad Al Athel 5/1 27
1984 Northern Game 4-11-00 Tommy Ryan Edward O'Grady IRE Frank Conroy 20/1 30
1983 Saxon Farm 4-11-00 Mark Perrett Stan Mellor A Birchall 12/1 30
1982 Shiny Copper 4-11-00 Allen Webb Dina Smith Doug Tyler 66/1 29
1981 Baron Blakeney 4-11-00 Paul Leach Martin Pipe Wheatley Leisure Ltd 66/1 29
1980 Heighlin 4-11-00 Steve Jobar David Elsworth Woodside Engineers Ltd 40/1 26
1979 Pollardstown 4-11-00 Philip Blacker Stan Mellor Georgina Tulloch 12/1 28
1978 Connaught Ranger 4-11-00 John Burke Fred Rimell Jim McCaughey 25/1 14
1977 Meladon 4-11-00 Tommy Carberry Adrian Maxwell IRE Mrs N Flynn 6/1 30
1976 Peterhof 4-11-00 Jonjo O'Neill Mick Easterby H Gould 10/1 23
1975 Royal Epic 4-11-00 Fred McKenna Vernon Cross Robert Read 20/1 28
1974 Attivo 4-11-00 Robert Hughes Cyril Mitchell Peter O'Sullevan 4/5F 21
1973 Moonlight Bay 4-11-00 Johnnie Haine Ryan Price Meg Mullion 85/40F 18
1972 Zarib 4-11-00 Bill Smith Fred Rimell Mrs A Hornby 16/1 16
1971 Boxer 4-11-03 Jimmy Uttley Ron Smyth Lord Blakenham 100/30JF 18
1970 Varma 4-11-04 Brian Barker Mick Masson Charles Clore 100/7 31
1969 Coral Diver 4-11-04 Terry Biddlecombe Fred Rimell Bryan Jenks 3/1F 26
1968 England's Glory 4-11-00 Jimmy Uttley Staff Ingham Mrs M Sherman 9/2 16
1967 Persian War 4-11-08 Jimmy Uttley Brian Swift Henry Alper 4/1 13
1966 Black Ice 4-11-04 Bobby Beasley Arthur Thomas A Crowther 9/2 11
1965 Blarney Beacon 4-11-04 Geordie Ramshaw Ron Smyth Freddie Laker 8/1 7
JCB TRIUMPH HURDLE FACTS AND FIGURES
1. The JCB Triumph Hurdle was formerly run at Hurst Park and transferred to Cheltenham in 1965 on the closure of the London course.

2. JCB, which supports the contest for the seventh time this year, is only the race's third sponsor. The Elite Racing Club was due to back the race for a fifth time in 2001 when The Festival was cancelled, while the Daily Express sponsored from 1965 to 1996. The race was originally run at the April Meeting but was transferred to The Festival in 1968.
3. The JCB Triumph Hurdle has been one of the most competitive races of The Festival. The 2006 field of 17 was by far the smallest since Connaught Ranger beat 13 rivals in 1978 - the recent introduction of the Fred Winter Juvenile Handicap Hurdle has meant that the JCB Triumph Hurdle now attracts the very best four-year-olds. The race regularly reached the safety factor, reduced from 28 to 24 in 2004. In fact, the 14 runners in Connaught Ranger's year probably had more to do with the transfer of the race to April following the abandonment of racing on Gold Cup day than any loss of its competitive nature. The smallest field was for its first running at Cheltenham in 1965, when seven runners took part. The largest field was 31 in 1970.

4. Since the race has been at Cheltenham, there has only once been an odds-on winner of the Triumph Hurdle. This was Attivo, owned by former BBC TV commentator Sir Peter O'Sullevan, in 1973 at 4/5. The longest-priced winners were Baron Blakeney, Shiny Copper and Ikdam at 66/1 in 1981, 1982 and 1989.

5. Two horses have gone on from winning the JCB Triumph Hurdle to victory in the Smurfit Kappa Champion Hurdle. Persian War won the Triumph in 1967, and reeled off three Champion Hurdles from 1968-70, while Kribensis won the Triumph in 1988 and the Champion Hurdle in 1990.

6. The JCB Triumph Hurdle has a good record for home-trained winners. French-trained raiders won it on four consecutive occasions at Hurst Park from 1950-53, again in 1955 and with Snow Drop in 2000. There have only been six Irish successes (1977,1984,1990, 1993, 1997 and 2002). No trainer has been able to dominate the race and the late Fred Rimell and Nicky Henderson are the only trainers to have won it three times.

7. Among jockeys, Jimmy Uttley was successful three times. Fred Winter, Steve Smith Eccles and Richard Dunwoody had two winners as have current riders Richard Johnson and Robert Thornton, but perhaps the most interesting name is that of Lester Piggott, who won the race on King Charlemagne when run at Hurst Park in 1954.

8. The fastest time for the winning horse is 3m 51.20s, recorded in 2006 by Detroit City. The previous best was 3m 52.90s, set by Snow Drop in 2000.

9. It has a justifiable reputation for being one of the more unpredictable contests at The Festival - there have been three 66/1 winners and only eight successful favourites since 1965.

10. It was in the 1981 JCB Triumph Hurdle that Martin Pipe, the 15-time champion jump trainer who retired at the end of the 2005/06 season, enjoyed his first Festival success with the 66/1 shot Baron Blakeney.

11. Three fillies have been successful; Snow Drop in 2000, Mysilv in 1994 and Shawiya in 1993.