Sublimity Superb in Champion Hurdle
13/03/07
1st (10) Sublimity 16-1
2nd (3) Brave Inca 11-2
3rd (2) Afsoun 28-1
10 ran
Also: 6-4 Fav Detroit City
NR: Acambo
Trainer John Carr had long sung the praises of Sublimity and the seven-year-old - backed by owner Bill Hennessy at odds of 600/1 downwards - lived up to his star billing when a brilliant three-length victory from Brave Inca in the Smurfit Kappa Champion Hurdle.
Sublimity (near sid


© racing-images.co.uk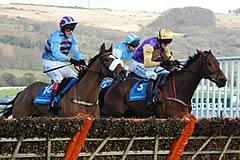 "Everything went according to plan, they went too fast for their own good and everything played into our hands. We were the best Flat horse and had the speed," said Carr, who trains just 30 horses at his Co Kildare stable. "I knew when they went that terrible gallop, he'd go close with his finishing speed.


"I'd have been disappointed if he'd run badly and these are what dreams are made of. I was sat on a seat next to someone and I think he must have thought I was a bad man as I watched the race!

"He was great value and the owner had a small amount on at 600/1 on the exchanges before Christmas and backed him all the way down.


"His owner has had horses for the last 40 years so this is great for him. He was a good horse on the Flat for (Sir Michael) Stoute and won the Doncaster Mile. We bought him in Newmarket (for 32,000gns in October 2004) and the first day he ran we got the money back

"We were thinking about going for the County Hurdle if the top weight stayed in as we thought he'd be a bit of a certainty. But we decided the horse could be hurt or not around next year so we'd have a go at the Champion.


"Unfortunately we stopped milking cows last year - the cows are an easier job than this, I think!"

It was also a first Festival success for Sublimity's 26-year-old jockey Philip Carberry, whose brother Paul and sister Nina are both no strangers to success at Cheltenham.


"I've never ridden a horse like him before and can't imagine there being one better," said Carberry. "I was very lucky to be on a horse like this, I always knew he had huge potential and it was crunch time from the last onwards. But he went away from the last and battled well. We had a dream run throughout and I even had the luxury of taking a pull down the hill.


"For the last couple of years we've thought he was very good and although it was not a great race he won at Navan, it was the way that he did it that was so impressive. He's only seven and improving and maturing all the time.


"I've won some big races but the Champion Hurdle means an awful lot. Cheltenham is like the All Ireland Final.


"I was getting so excited before the race because I thought he would actually win! He's just a very, very good horse, the best horse I've ever ridden and probably ever will. He's class and better over hurdles than he was on the Flat.

"In fairness to him, he hasn't shown evidence that he could win the Champion Hurdle on the track, but at home he just keeps on surprising every time he worked, because he is actually that good. It's just been a dream to ride him. Thanks to Rob Hennessy and John Carr for letting me keep the ride on him. It's a great team. John had him in top order for the race."


Sublimity is A1 for locals at the A1

Irish businessman Bill Hennessy, his son Robbie, and the team at trainer John Carr's yard in Maynooth will be the toast of Ireland this evening after their horse won the Smurfit Kappa Champion Hurdle.


The greatest cheers will be coming from the A1 pub at Artane in Dublin, which is owned by Bill Hennessy. Explaining the name, Hennessy said: "It was originally called the Ardleigh Inn, but after a direction sign went up with the letters A I, the locals began calling it the A1, and the name stuck."

Hennessy also runs a hearing aid manufacturing business that supplied the name to one of rock music's best-known vocalists. The Dublin-based business is called Bonavox, and U2 frontman Bono used it to create his own soubriquet.


Of their big-race winner, Hennessy said: "There was a virus in the yard at Christmas and Sublimity got the worse of it - there was a time when we thought we were going to lose him."

Recalling the event, Carr said: "It was around the 10th of December when I went down to evening stables and Sublimity had a temperature of 105.5. I loaded him onto the lorry and set off on the 30-mile journey to the veterinary hospital in Dublin. Fortunately he cooled down in the lorry and his temperature was 103 when he arrived, but he stayed in for a couple of days.


"We had bought a horse at the Horses-in-Training Sale a few weeks earlier and he had a right bad dose that affected the yard."

Describing his yard and saying he once rode as an amateur, Carr added: "I train on a farm and keep a few horses - the horses are increasing and the cattle are reducing, but I've got about 30 horses in full work at the moment.


"A year ago we came over here with Sublimity for the Supreme Novices' Hurdle and people said I was mad in the head to spoil his handicap mark, but I knew he was better than that. He was a very good horse on the Flat for Sir Michael Stoute, and won a Listed race and was only beaten two and a half lengths in a Group 2.


"We went to Newmarket to buy a horse and never thought this one would be in our price range, but he had run poorly on his previous start at Newbury and we got him for 32,000gns."

Carr backed his winner at a very appealing 600-1. He said: "He was a huge price on the exchanges before Christmas and the staff in the yard, family and friends had little bets on him. But that was just to give me a bit of support."

SMURFIT KAPPA CHAMPION HURDLE FACTS

1. The Champion Hurdle was inaugurated in 1927, with a value to the winner of £365. The race was abandoned in 1931 due to persistent frost, in 1943 and 1944 because of the Second World War, and in 2001 because of foot and mouth disease.


2. There have only been two sponsors of this great race since its inception. This statistic conceals a dramatic turn of events in 1990, when a major banking group, whose intended sponsorship was to raise the added value of the race by 66 per cent to £120,000, withdrew before its first running. The Smurfit Group stepped in at that point and has remained a loyal sponsor ever since. In 2007, the race will have total prize money of £360,000, up from £340,000 in 2006. Kappa was added to the title in 2006 to reflect the company's new corporate identity.


3. The largest field has been 24 (1964 and 1991) and the smallest three (1932). The first five runnings of the race saw a total of only 24 runners between them.


4. The Champion Hurdle is a contest for multiple winners. Peter Easterby won the race most often as a trainer, with five victories from three horses, Saucy Kit (1967), Night Nurse (1976 and 1977) and Sea Pigeon (1980 and 1981). Vic Smyth and Fred Winter both had four wins, and a further five trainers have captured the hurdling crown on three occasions.


5. Among jockeys, Tim Molony won the race most often with four victories, on Hatton's Grace (1951) and Sir Ken (1952, 1953 & 1954). Fred Winter, Jimmy Uttley, Steve Smith Eccles and most recently Charlie Swan were each successful three times.

6. The most successful owner is still Dorothy Paget, who won the race four times thanks to Insurance (1932, 1933), Solford (1940) and Distel (1946).


7. Istabraq, successful in the three Champion Hurdles from 1998 to 2000, was retired after failing to become the first horse to win the race four times in 2002. The four other three-time winners are Hatton's Grace (1949-51), Sir Ken (1952-54), Persian War (1968-70) and See You Then (1985-87).


8. The race has been won seven times by entires, but only twice by mares - Dawn Run (1984) and Flakey Dove (1994).


9. Four greys have won, the most recent being Rooster Booster in 2003. The others were Kribensis in 1990, Victor Norman in 1936, and Our Hope in 1938. Only one roan horse has won the Champion Hurdle, Anzio in 1962.


10. Istabraq's success in 2000 in a time of 3 minutes 48.1 seconds beat the previous Champion Hurdle record time, set by Make A Stand in 1997, of 3 minutes 48.4 seconds.


11. Dessie Hughes, who trained Hardy Eustace to win in 2004 and 2005, is only the fourth person to have both ridden and trained a Smurfit Champion Hurdle winner, having partnered Monksfield in 1979. The others to have achieved this double are Fred Winter, Fred Rimell and Gerry Wilson.