cheltenham festival / 2009 news /
Punjabi Takes Champion Hurdle Glory
10/03/09
1st (17) Punjabi 22/1
2nd (6) Celestial Halo 17/2
3rd (20) Binocular 6/4 fav
Punjabi
© racing-images.co.uk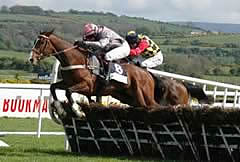 Trainer Nicky Henderson saddled the red-hot 6/4 market leader Binocular in the Smurfit Kappa Champion but while the favourite ran a gallant race to finish third, it was his 22/1 stablemate Punjabi who took the honours.
There was an epic battle up the Cheltenham hill as Barry Geraghty drove Punjabi to beat Celestial Halo by a neck with Binocular just a head behind him in third.
Henderson, who saddled See You Then to win the same race three times from 1985 to 1987, said: "This race is special. It goes back to the great days of See You Then, which were very, very special, and it's nice to be back with horses that can do this sort of thing.
"He's always been a very talented horse and Barry gets on with him very well. Both Punjabi and Binocular have run tremendous races. It's very special to see them both there. Binocular is a year younger and I still think he's a horse with a big future - AP said he might just have had a bit of a blow from the horse. But the horse is young and I wouldn't be surprised if he has his day.
"It was desperate when Celestial Halo was between them because you think that you have two chances but you still have one to beat. They were three tough horses, I'd got two of them but didn't like the fact the other one was there!"
Betting exchange WBX offered a £1 million bonus for any horse winning the Fighting Fifth Hurdle at Newcastle, Christmas Hurdle at Kempton and the Smurfit Kappa Champion and - but for a fall at Kempton - Punjabi would have landed the prize.
"We've had no problems since he fell at the second last at Kempton and I fear that cost him £1 million - it was probably the most expensive fall in the history of racing although I'm not saying he would have won," added Henderson, the leading current Festival trainer with 32 successes.
"It then looked a funny prep that he had at Wincanton but we warned everybody beforehand that the ground wouldn't be ideal and he needs an awful lot of work but by last week we were fairly confident we were where we needed to be with him. He's still only a six-year-old and probably improving.
"I'm delighted for Ray (Tooth), he's been with us since the year dot and needless to say this is the best he's had."
Geraghty, who had won The Irish Independent Arkle Chase on Forpadydeplasterer, added: "Happy days, happy days. It was a great performance. I thought that I had Ruby well covered turning in and I didn't go for all until after the last but Celestial Halo ran on really well and my horse was all out. I rode out Punjabi during the week and he felt brilliant.
"I tipped a Nicky Henderson one-two and Ruby's got in the middle but it's great. It's brilliant and it's my first winner for Nicky at The Festival as well.
"When I went through the race, I thought he was the forgotten horse on this ground and at this trip. Champion Hurdles and Gold Cups are what it's all about and it's nice to do this in my first year with Nicky. He's a lovely little horse, he's so good and passive."
Owner Raymond Tooth, one of the country's leading divorce lawyers, said: "It's unbelievable, I couldn't believe it. It was like slow motion in the last 100 yards and I didn't think that we were going to do it but he's just held on. It's unbelievable.
"It's my first winner at The Festival and I hope that there will be many more but this is a fantastic draw. I'm sure I will wake up in a minute!
"He was a forgotten horse but he would have won £1million if he hadn't fallen at Kempton and he would have won there - he was cantering. This makes up for it.
"Nicky told me on Friday that Punjabi was going terribly well and people seemed to have forgotten about him but he had an excellent chance. There was all the talk of Binocular but there you are."
Bloodstock agent Anthony Bromley, not only bought the winner Punjabi but also Celestial Halo and Binocular.
"I've never bought a Champion Hurdle winner before, let alone having the first three home," said Bromley. "They came from very different places - Punjabi ran on the flat for Geraldine Rees (whose father John Wilson bred the horse) and we bought him for 42,000 guineas at the 2006 Horses In Training Sale at Tattersalls."
Position

Horse
Trainer
Jockey
Weight
Starting Price
Beaten Distance
1

Punjabi
N J Henderson
B J Geraghty
11st 10lbs
22 - 1
Winner
2

Celestial Halo
P F Nicholls
R Walsh
11st 10lbs
17 - 2
Neck
3

Binocular
N J Henderson
A P McCoy
11st 10lbs
6 - 4
Head
4

Crack Away Jack
Miss E C Lavelle
N Fehily
11st 10lbs
16 - 1
2 1/4 lengths
5

Muirhead
N Meade
D J Condon
11st 10lbs
33 - 1
2 3/4 lengths
6

Katchit
A King
R Thornton
11st 10lbs
12 - 1
Neck
7

Snap Tie
P J Hobbs
R Johnson
11st 10lbs
40 - 1
8 lengths
8

Jered
N Meade
D J Casey
11st 10lbs
33 - 1
3 1/4 lengths
9

Hardy Eustace
D T Hughes
P W Flood
11st 10lbs
100 - 1
1/2 length
10

Won In The Dark
Miss S Harty
D N Russell
11st 10lbs
33 - 1
3 lengths
11

Osana
D Pipe
A J McNamara
11st 10lbs
13 - 2
3/4 length
12

Whiteoak
D McCain Jnr
J M Maguire
11st 3lbs
16 - 1
3 1/4 lengths
13

Blue Bajan
Andrew Turnell
G Lee
11st 10lbs
80 - 1
3 1/4 lengths
14

Sentry Duty
N J Henderson
A Tinkler
11st 10lbs
33 - 1
5 lengths
15

Sublimity
R A Hennessy
P A Carberry
11st 10lbs
20 - 1
14 lengths
16

Alph
R A Teal
C Bolger
11st 10lbs
250 - 1
7 lengths
17

Harchibald
N Meade
P Carberry
11st 10lbs
33 - 1
3/4 length
18

Brave Inca
C A Murphy
D Elsworth
11st 10lbs
25 - 1
3 1/4 lengths
19

Ashkazar
D Pipe
T J Murphy
11st 10lbs
14 - 1
2 1/2 lengths
20

Ebaziyan
W P Mullins
P Townend
11st 10lbs
50 - 1
2 3/4 lengths
21

River Liane
T Cooper
N P Madden
11st 10lbs
125 - 1
10 lengths
na

Cybergenic
Paul Murphy
K Mercer
11st 10lbs
250 - 1

na

Othermix
T R George
P J Brennan
11st 10lbs
100 - 1

Non Runner

Sizing Europe
H De Bromhead
Denis O'Regan
11st 10lbs


SMURFIT KAPPA CHAMPION HURDLE FACTS
1. The Champion Hurdle was inaugurated in 1927, with a value to the winner of £365. The race was abandoned in 1931 due to persistent frost, in 1943 and 1944 because of the Second World War, and in 2001 because of foot and mouth disease.
2. There have only been two sponsors of this great race since its inception. This statistic conceals a dramatic turn of events in 1990, when a major banking group, whose intended sponsorship was to raise the added value of the race by 66 per cent to £120,000, withdrew before its first running. The Smurfit Group stepped in at that point and has remained a loyal sponsor ever since. In 2009, the race will have total prize money of £370,000. Kappa was added to the title in 2006 to reflect the company's new corporate identity.
3. The largest field has been 24 (1964 and 1991) and the smallest three (1932). The first five runnings of the race saw a total of only 24 runners between them. The current safety limit is 28.
4. The Champion Hurdle is a contest for multiple winners. Peter Easterby won the race most often as a trainer, with five victories from three horses, Saucy Kit (1967), Night Nurse (1976 and 1977) and Sea Pigeon (1980 and 1981). Vic Smyth and Fred Winter both had four wins, and a further five trainers have captured the hurdling crown on three occasions.
5. Among jockeys, Tim Molony won the race most often with four victories, on Hatton's Grace (1951) and Sir Ken (1952, 1953 & 1954). Fred Winter, Jimmy Uttley, Steve Smith Eccles and most recently Charlie Swan were each successful three times.
6. The most successful owner is still Dorothy Paget, who won the race four times thanks to Insurance (1932, 1933), Solford (1940) and Distel (1946).
7. Istabraq, successful in the three Champion Hurdles from 1998 to 2000, was retired after failing to become the first horse to win the race four times in 2002. The four other three-time winners are Hatton's Grace (1949-51), Sir Ken (1952-54), Persian War (1968-70) and See You Then (1985-87).
8. The race has been won seven times by entires, but only twice by mares - Dawn Run (1984) and Flakey Dove (1994).
9. Four greys have won, the most recent being Rooster Booster in 2003. The others were Kribensis in 1990, Victor Norman in 1936, and Our Hope in 1938. Only one roan horse has won the Champion Hurdle, Anzio in 1962.
10. Istabraq's success in 2000 in a time of 3 minutes 48.1 seconds beat the previous Champion Hurdle record time, set by Make A Stand in 1997, of 3 minutes 48.4 seconds.
11. Dessie Hughes, who trained Hardy Eustace to win in 2004 and 2005, is only the fourth person to have both ridden and trained a Smurfit Kappa Champion Hurdle winner, having partnered Monksfield in 1979. The others to have achieved this double were Fred Winter, Fred Rimell and Gerry Wilson.
[more]