cheltenham festival / 2013 news / races /
World Hurdle 2013 - Analysis
14/03/13
Paul Carberry paid a waiting game on Solwhit in the Ladbrokes World Hurdle, stalking Celestial Halo before taking the lead after the last to score by two and a half lengths.
Solwhit


© racing-images.co.uk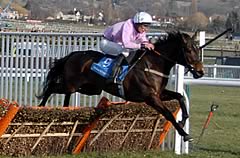 "The English have been dominating this race for a long time and there was also the French horse Baracouda, so it's great to ride an Irish winner. Solwhit is a class horse over two miles and he stayed this trip," said Carberry.

"Charles said that I should sit sixth or seventh and attack at the last. He said that it wasn't that he didn't think Solwhit would stay but that I should come with just the one run at the last. I switched inside coming down the hill and I sort of had to switch him back because I didn't want to use him up to get in front of the horse in front of me.

"Celestial Halo was on my outside coming to the last and I was able to use him a bit to keep my horse going because I knew he would idle a bit if he got to the front. He jumped the last and kept going.

"It's a brilliant training performance to get him back and he travelled great the whole way."

Carberry had to be passed fit to ride because of a shoulder injury and added: "I got a bad bang on the shoulder the other day, it just hurt my ligaments and tendons.

"I had a couple of shots in it yesterday which didn't work but my owner doctor, who is very good, came over this morning, and gave me an injection and it worked. Fortunately the racecourse doctor passed me fit to ride."
'I HAVE NO DOUBT HE'D HAVE BEATEN BIG BUCK'S LAST YEAR' - BYRNES

Winning trainer Charles Byrnes has nursed the sometimes luckless Solwhit through a tendon injury and was relieved and delighted to see his stable star record his seventh Grade One victory two years after his original tilt at the Ladbrokes World Hurdle was thwarted.

The Co Limerick-based trainer said: "He was Davy Russell's ride but Davy couldn't ride anyway because he was booked for Bog Warrior and now he's been stood down. Paul (Carberry) was a really good deputy though and we felt he would really suit the horse.

"I'd really like to thank Keith Shous, who rides him at home, and all the staff - they've done a great job. I'm glad the Festival hasn't been a complete Willie Mullins show!

"He got two and a half miles really well at Aintree and Davy always thought he'd stay - he was being aimed at this race when he got injured two years ago. He's never had much luck at Cheltenham - he was coughing in the weeks running up to his run in the Champion Hurdle and then he got a leg.

"It was a tendon injury, not a bad one but they always take at least a year and a half to mend. He's nine now and we'll aim him at this race again next year. I've no doubt he would have beaten Big Buck's if he's been here last year - the form of that race wasn't too strong.

"He won't go to Aintree now, it will either be Punchestown or the French Champion Hurdle for his next run. He's owned by a group of four people from Wexford (the Top Of The Hill Syndicate) and they are tremendous owners. He's won seven Grade One races for them now and he's definitely the best horse I've ever trained."

With Davy Russell currently under observation in Cheltenham General Hospital with a collapsed lung, the hunt is on for a replacement for the trainer's runner tomorrow.

Byrnes said: "I have a lovely horse for tomorrow's Albert Bartlett Novices' Hurdle, Our Vinnie, but I haven't got a jockey for him."

Paul Carberry, who secured his first Grade One victory at the Cheltenham Festival, said: "I had a bang on the shoulder when I fell here on Tuesday so I couldn't ride yesterday. It's an old injury which has popped up again but my doctor gave me an injection this morning so I'm feeling a lot better and that's a real tonic.

"I've been runner-up in the Gold Cup and the Champion Hurdle but I'm not usually riding the big horses in the big races so this is the top, it's great to get a Grade One win here.

"I should have been riding Monksland in this race but he was pulled out last week so this was a great spare ride to have.

"They were slow to start but then they went a right gallop and I knew I had a good chance when I could see horses in front of me coming off the bridle."

Looking ahead to tomorrow's feature race, the Betfred Gold Cup, Carberry added: "I'm riding Monbeg Dude and he's punching above his weight a bit but the rain that's supposed to come should help him."
[more]
LADBROKES WORLD HURDLE PAST RESULTS
2012-WINNER-BIG BUCK'S 9-11-10 Owner-The Stewart Family; Trainer-Paul Nicholls; Jockey-Ruby Walsh; SP- 5/6F
2ND-Voler La Vedette 8-11-03 Owner-Mrs M Brophy; Trainer-Colm Murphy IRE; Jockey-Andrew Lynch; SP-20/1
3RD-Smad Place 5-11-10 Owner-Mrs Peter Andrews; Trainer-Alan King; Jockey-Robert Thornton; SP-20/1
11 ran, Time-5m 44.20s; Dist-1¾, 7
2011-WINNER-BIG BUCK'S 8-11-10 Owner-The Stewart Family; Trainer-Paul Nicholls; Jockey-Ruby Walsh; SP- 10/11F
2ND-Grands Crus 6-11-10 Owner-Roger Stanley & Yvonne Reynolds III; Trainer-David Pipe; Jockey-Tom Scudamore; SP-7/2 3RD-Mourad 6-11-10 Owner Teahon Consulting Limited; Trainer-Willie Mullins IRE; Jockey-Paul Townend; SP-8/1
13 ran, Time-5m 50.80s; Dist-13⁄4, 23⁄4
2010-WINNER-BIG BUCK'S 7-11-10 Owner-The Stewart Family; Trainer-Paul Nichols; Jockey-Ruby Walsh; SP-5/6 Fav
2ND-Time For Rupert 6-11-10 Owner-Littlecote Racing Partnership; Trainer-Paul Webber; Jockey-Will Kennedy; SP-16/1
3RD-Powerstation 10-11-10 Owner-Fat Frog Syndicate; Trainer-Eamon O'Connell IRE; Jockey-Andrew McNamara; SP-33/1
14 ran, Time-5m 49.40s; Dist-3.25, 11
2009-WINNER-BIG BUCK'S 6-11-10 Owner-The Stewart Family; Trainer-Paul Nicholls; Jockey-Ruby Walsh; SP-6/1
2ND-Punchestowns 6-11-10 Owner-Judy Wilson; Trainer-Nicky Henderson; Jockey-Barry Geraghty; SP-100/30
3RD-Powerstation 9-11-10 Owner-Fat Frog Syndicate; Trainer-Eamon O'Connell IRE; Jockey-Andrew McNamara; SP-25/1
14 ran, Time 5m 57.00s; Dist 1.75, 17 10/11 Fav Kasbah Bliss (4th)
2008-WINNER-INGLIS DREVER 9-11-10 Owner-Andrea & Graham Wylie; Trainer-Howard Johnson; Jockey-Denis O'Regan; SP-11/8 Fav
2ND-Kasbah Bliss 6-11-10 Owner-Henri De Pracomtal; Trainer-Francois Doumen FR; Jockey-Christophe Pieux; SP-9/1
3RD-Kazal 7-11-10 Owner- Joseph Comerford; Trainer-Eoin Griffin IRE; Jockey-Barry Geraghty; SP-12/1
17 ran, Time-5m 52.90s; Dist-1, 7
2007-WINNER-INGLIS DREVER 8-11-10 Owner-Andrea & Graham Wylie; Trainer-Howard Johnson; Jockey-Paddy Brennan; SP-5/1
2ND-Mighty Man 7-11-10 Owner-Joss Hanbury; Trainer-Henry Daly; Jockey-Richard Johnson; SP-100/30
3RD-Blazing Bailey 5-11-10 Owner-Three Line Whip; Trainer-Alan King; Jockey-Robert Thornton; SP-8/1
14 ran, Time-5m 46.50s; Dist-3/4, 4 2/1 Fav Black Jack Ketchum (Fell)
2006-WINNER-MY WAY DE SOLZEN 6-11-10 Owner-B Winfield, A Longman, J Wright & C Fenton; Trainer-Alan King; Jockey-Robert Thornton; SP-8/1
2ND-Golden Cross 7-11-10 Owner-P Johnson; Trainer-Michael Halford IRE; Jockey-Johnny Murtagh; SP-5/1
3RD-Mighty Man 6-11-10 Owner-Joss Hanbury; Trainer-Henry Daly; Jockey-Richard Johnson; SP-4/1 Fav
20 ran, Time-5m 38.40s; Dist-hd, 4
2005-WINNER-INGLIS DREVER 6-11-10 Owner-Andrea & Graham Wylie; Trainer-Howard Johnson; Jockey-Graham Lee; SP-5/1
2ND-Baracouda 10-11-10 Owner-J P McManus; Trainer-Francois Doumen FR; Jockey-Tony McCoy; SP-6/5 Fav
3RD-Rule Supreme 9-11-10 Owner-John Fallon; Trainer-Willie Mullins IRE; Jockey-David Casey; SP-4/1
12 ran, Time-5m 48.40s; Dist-3, 3/4
2004-WINNER-IRIS'S GIFT 7-11-10 Owner-Robert Lester; Trainer-Jonjo O'Neill; Jockey-Barry Geraghty; SP-9/2
2ND-Baracouda 9-11-10 Owner-J P McManus; Trainer-Francois Doumen FR; Jockey-Thierry Doumen; SP-8/11 Fav
3RD-Crystal D'Ainay 5-11-10 Owner-Tony & Jeni Fisher; Trainer-Alan King; Jockey-Robert Thornton; SP-8/1
10 ran, Time-5m 49.80s; Dist-1½, 13
2003-WINNER-BARACOUDA 8-11-10 Owner-J P McManus; Trainer-Francois Doumen FR; Jockey-Thierry Doumen; SP-9/4 Jt Fav
2ND-Iris's Gift 6-11-10 Owner-Robert Lester; Trainer-Jonjo O'Neill; Jockey-Barry Geraghty; SP-7/1
3RD-Limestone Lad 11-11-10 Owner-James Bowe; Trainer-James Bowe IRE; Jockey-Paul Carberry; SP-9/4 Jt Fav
11 ran, Time-5m 41.25s; Dist- 3/4, 5
2002-WINNER-BARACOUDA 7-11-10 Owner-J P McManus; Trainer-Francois Doumen FR; Jockey-Thierry Doumen; SP-13/8 Fav
2ND-Bannow Bay 7-11-10 Owner-Linda Shanahan and Sue Magnier; Trainer-Christy Roche IRE; Jockey-Charlie Swan; SP-2/1
3RD-It Takes Time 8-11-10 Owner-David Johnson; Trainer-Martin Pipe; Jockey-Tony McCoy; SP-12/1
16 ran, Time-6m 01.70s; Dist-nk, 13
2001 Cancelled
2000-WINNER-BACCHANAL 6-11-10 Owner-Lady Lloyd-Webber; Trainer-Nicky Henderson; Jockey-Mick Fitzgerald; SP-11/2
2ND-Limestone Lad 8-11-10 Owner-James Bowe; Trainer-James Bowe IRE; Jockey-Shane McGovern; SP-3/1
3RD-Behrajan 5-11-10 Owner-The Behrajan Partnership; Trainer-Henry Daly; Jockey-Richard Johnson; SP-8/1
10 ran, Time-5m 36.60s; Dist-1, 3 5/2 Fav Lady Rebecca (6th)
1999-WINNER-ANZUM 8-11-10 Owner-The Old Foresters Partnership; Trainer-David Nicholson; Jockey-Richard Johnson; SP-40/1
2ND-Le Coudray 5-11-10 Owner-J P McManus; Trainer-Aidan O'Brien IRE; Jockey-Charlie Swan; SP-2/1 Jt-Fav
3RD-Lady Rebecca 7-11-05 Owner-Kinnersley Optimists; Trainer-Venetia Williams; Jockey-Norman Williamson; SP-3/1
12 ran, Time-5m 51.7s; Dist-nk, 2½ 2/1 Jt-Fav Deano's Beeno (9th)
1998-WINNER-PRINCEFUL 7-11-10 Owner-Robert Hitchins; Trainer-Jenny Pitman; Jockey-Rodney Farrant; SP-16/1
2ND-Splendid Thyne 6-11-10 Owner-John Glavanoni; Trainer-Terry Casey; Jockey-Warren Marston; SP-10/1
3RD-Ocean Hawk 6-11-10; Owner-Matt Archer & Jean Broadhurst; Trainer-Nigel Twiston-Davies; Jockey-Carl Llewellyn; SP-5/1 9 ran, Time-5m 45.9s; Dist-2, 4 6/4 Fav Paddy's Return (5th)
1997-WINNER-KARSHI 7-11-10 Owner-Lord Vestey; Trainer-Henrietta Knight; Jockey-Jamie Osborne; SP-20/12ND-Anzum 6-11-10 Owner-The Old Foresters Partnership; Trainer-David Nicholson; Jockey-Richard Johnson; SP-25/1
3RD-Paddy's Return 5-11-10 Owner-Paddy O'Donnell; Trainer-Ferdy Murphy; Jockey-Richard Hughes; SP-20/1
17 ran, Time-5m 43.9s, Dist-2½, 2 9/2 Fav Escartefigue (5th)
1996-WINNER-CYBORGO 6-11-10 Owner-County Stores (Somerset) Ltd; Trainer-Martin Pipe; Jockey-David Bridgwater; SP-8/1
2ND-Mysilv 6-11-05 Owner-Elite Racing Club; Trainer-Charlie Egerton; Jockey-Jimmy McCarthy; SP-16/1
3RD-What A Question 8-11-05 Owner-Joy Valentine; Trainer-Mouse Morris IRE; Jockey-Conor O'Dwyer; SP-33/1
19 ran, Time-5m 47.3s, Dist-3/4, 10 4/1 Fav Derrymoyle (4th)
LADBROKES WORLD HURDLE ROLL OF HONOUR
(Ladbrokes World Hurdle from 2005, bonusprint.com Stayers' Hurdle 2004, Bonusprint Stayers' Hurdle 1991-2003, Waterford Crystal Stayers' Hurdle 1978-90, Lloyds Bank Hurdle 1972-77)
Year Winner Age/Wt Jockey Trainer Owner SP Ran
2012 Big Buck's 9-11-10 Ruby Walsh Paul Nicholls The Stewart Family 5/61F 11
2011 Big Buck's 8-11-10 Ruby Walsh Paul Nicholls The Stewart Family 10/11F 13
2010 Big Buck's 7-11-10 Ruby Walsh Paul Nicholls The Stewart Family 5/6F 14
2009 Big Buck's 6-11-10 Ruby Walsh Paul Nicholls The Stewart Family 6/1 14
2008 Inglis Drever 9-11-10 Denis O'Regan Howard Johnson Andrea & Graham Wylie 11/8F 17
2007 Inglis Drever 8-11-10 Paddy Brennan Howard Johnson Andrea & Graham Wylie 5/1 14
2006 My Way De Solzen 6-11-10 Robert Thornton Alan King B Winfield, A Longman, J Wright, C Fenton 8/1 20
2005 Inglis Drever 6-11-10 Graham Lee Howard Johnson Andrea & Graham Wylie 5/1 12
2004 Iris's Gift 7-11-10 Barry Geraghty Jonjo O'Neill Robert Lester 9/2 10
2003 Baracouda 8-11-10 Thierry Doumen Francois Doumen FR J P McManus 9/4JF 11
2002 Baracouda 7-11-10 Thierry Doumen Francois Doumen FR J P McManus 13/8F 16
2001 No Race (Foot and Mouth)
2000 Bacchanal 6-11-10 Mick Fitzgerald Nicky Henderson Lady Lloyd-Webber 11/2 10
1999 Anzum 8-11-10 Richard Johnson David Nicholson Old Foresters Partnership 40/1 12
1998 Princeful 7-11-10 Rodney Farrant Jenny Pitman Robert Hitchins 16/1 9
1997 Karshi 7-11-10 Jamie Osborne Henrietta Knight Lord Vestey 20/1 17
1996 Cyborgo 6-11-10 David Bridgwater Martin Pipe County Stores (Somerset) Holdings 8/1 19
1995 Dorans Pride 6-11-10 Shane Broderick Michael Hourigan IRE Tom Doran 11/4F 11
1994 Balasani 8-11-10 Mark Perrett Martin Pipe Mark Smith 9/2JF 14
1993 Shuil Ar Aghaidh7-11-05 Charlie Swan Paddy Kiely IRE Mrs Paddy Kiely 20/1 12
1992 Nomadic Way 7-11-10 Jamie Osborne Barry Hills Robert Sangster 15/2 17
1991 King's Curate 7-11-10 Mark Perrett Stan Mellor C J Ells 5/2F 15
1990 Trapper John 6-11-10 Charlie Swan Mouse Morris IRE Jill Fanning 15/2 22
1989 Rustle 7-11-10 Michael Bowlby Nicky Henderson Robert Waley-Cohen 4/1 21
1988 Galmoy 9-11-10 Tommy Carmody John Mulhern IRE Miss D Threadwell 2/1F 16
1987 Galmoy 8-11-10 Tommy Carmody John Mulhern IRE Miss D Threadwell 9/2 14
1986 Crimson Embers 11-11-10 Stuart Shilston Fulke Walwyn Sally Smart 12/1 19
1985 Rose Ravine 6-11-05 Ricky Pusey Fulke Walwyn Sally Smart 5/1F 22
1984 Gaye Chance 9-11-10 Sam Morshead Mercy Rimell Mary Curtis 5/1 14
1983 A Kinsman 7-11-12 Geordie Dun John Brockbank Mrs John Brockbank 50/1 21
1982 Crimson Embers 7-11-12 Stuart Shilston Fulke Walwyn Sally Smart 2/1F 11
1981 Derring Rose 6-11-12 John Francome Fred Winter Peter Savill 3/1 14
1980 Mountrivers 6-11-12 Tommy Ryan Edward O'Grady IRE B Burser 7/1 19
1979 Lighter 6-11-12 Philip Blacker John Edwards G Smith 14/1 14
1978 Flame Gun 6-11-12 Mr Niall Madden Edward O'Grady IRE Mary Kenny 14/1 13
1977 Town Ship 6-11-12 Tommy Carberry Peter Easterby Pat Muldoon 5/2 11
1976 Bit Of A Jig 8-11-12 Dessie Hughes Mick O'Toole IRE Mrs Mick O'Toole 2/1F 12
1975 Brown Lad 9-11-12 Tommy Carberry Jim Dreaper IRE Mrs Peter Burrell 7/4F 12
1974 Highland Abbe 8-11-12 Richard Smith Les Kennard Mrs K Hankey 15/2 15
1973 Moyne Royal 8-11-12 David Mould Arthur Pitt E Cook 10/1 8
1972 Parlour Moor 8-11-12 Macer Gifford Tom Jones Charlotte Monckton 13/2 11