cheltenham festival / 2011 news /
Big Buck's World Hurdle Hat-Trick
17/03/11
1 Big Buck's 10/11 Fav
2 Grands Crus 7/2
3 Mourad 8/1
NR: Celestial Halo (IRE)
13 ran Distances: 1¾l, 2¾l, ½l
TIME 5m 50.80s (slow by 9.80s)
Big Buck's received a champion's welcome as he returned to the Cheltenham winner's enclosure following a record third successive Ladbrokes World Hurdle victory and 11th consecutive win.
Big Buck's


© racing-images.co.uk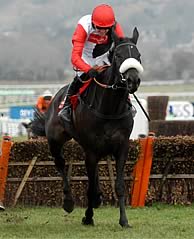 Ruby Walsh waited patiently aboard the eight-year-old, a well-backed 10/11 favourite, and saw off Grands Crus to score by a length and three-quarters.

Winning trainer Paul Nicholls said: "We were a bit worried about the ground today and the tactics. They weren't going to go a gallop and we knew what Grands Crus was going to do. We just improvised a little bit today and made sure that he was right. We were always going to be more positive and use our speed and I was worried that there might not be too much pace.

"I was nervous because he hasn't run on that ground and he wins by staying but class is what he's got and that was awesome today. I made sure he was very fit because I think he used to kid me and have a blow during his races. His class showed going up that hill and you can ride him anyway you like, he's a real champion.

"(Grand Crus' trainer) David (Pipe) was the first person to shake my hand - he's a great guy - and the best horse has won on the day. It was an awesome performance from horse and jockey and that was probably a career best from Big Buck's.

"The horse is awesome, it's hard to explain but he's brilliant. The cheer he got just showed how much he meant to the crowd. It's good for racing and he'll probably go to Aintree now and be back here next year. At 7am this morning he was galloping round the box when my head man Clifford (Baker) went to feed him and he knew he was racing today.

Ladbrokes quote Big Buck's at Evens to win the 2012 Ladbrokes World Hurdle and Nicholls added: "We'll have to try and make it four next year and he's still a young horse. One thing for certain is that he won't be going chasing now."

Ruby Walsh added: "He's an aeroplane! What a bad mistake to make to drop my stick halfway to the last hurdle. It was my own fault because I was trying to figure out where they were behind me and only half-watching what I was doing. It was schoolboy-like.

"I knew that I had loads of horse left but I knew that it was going to be tactical. The obvious thing for every one to do was to follow me but this horse has grown so much mentally that he no longer needs to be in behind - he can stretch them from the front.

"This horse had an entry in the Arkle once and I have always thought that he could run a big race in the Champion Hurdle. We were definitely lucky to get away with it today - it's not my greatest hour in the saddle, anyway. He is a wonderful horse and he got me out today.

"He's just different and, in a hurdle race, he is as close to unbeatable as you can be. He's like Cigar or one of those horses on the Flat - he is just incredible.

"In fairness to the guys who were riding today, they knew exactly what to do - they decided that they weren't going quick and they weren't coming near me. They have got their tactics spot on but he is so bloody good, it doesn't matter.

"You are riding a Champion Hurdle or Gold Cup horse in a staying hurdle and he is just an incredible, incredible horse. He is just different. He's just a wonderful horse and it's a pleasure to be riding him.

"He didn't have to be at his peak for his last two runs at Newbury but Paul had him spot on today and it will be back to Aintree now.

"I dropped my stick going to the last and then I was a bit nervous. He doesn't want to be racing on his own so I wanted to be middle-ish so I had the option of where to go. I played a waiting game from the front! Those other jockeys are intelligent guys and they weren't going to just hand the race to me. Geniuses are always quirky and he's one of those.

"The people who come to Cheltenham like to see great racehorses and are real supporters. They know what they saw today and just appreciate a horse like Big Buck's."

Owner Andy Stewart added: "I watched it with Paul and he said that there was no pace on and we were never going to win another race! It's all absolute nonsense and, coming over the last, Paul was riding the horse and we are thrilled. Ruby was cool as a cucumber and it has been a fantastic privilege to own a horse like this. Big Buck's is special, the horse of a lifetime."
Position

Horse
Trainer
Jockey
Weight
Starting Price
Beaten Distance
1

Big Buck's
P F Nicholls
R Walsh
11st 10lbs
10 - 11
Winner
2

Grands Crus
D Pipe
T Scudamore
11st 10lbs
7 - 2
1 3/4 length
3

Mourad
W P Mullins
P Townend
11st 10lbs
8 - 1
2 3/4 lengths
4

Cross Kennon
Jennie Candlish
A O'Keeffe
11st 10lbs
50 - 1
1/2 length
5

Rigour Back Bob
E J O'Grady
Andrew J McNamara
11st 10lbs
80 - 1
1/2 length
6

Berties Dream
P J Gilligan
A E Lynch
11st 10lbs
50 - 1
2 3/4 lengths
7

Any Given Day
D McCain Jnr
J M Maguire
11st 10lbs
66 - 1
Short Head
8

Fiveforthree
W P Mullins
D J Casey
11st 10lbs
12 - 1
3/4 length
9

Restless Harry
R Dickin
H Oliver
11st 10lbs
40 - 1
1/2 length
10

Powerstation
E O'Connell
D N Russell
11st 10lbs
50 - 1
6 lengths
11

Souffleur
P Bowen
T J O'Brien
11st 10lbs
100 - 1
15 lengths
12

Zaynar
N J Henderson
B J Geraghty
11st 10lbs
12 - 1
3/4 length
13

Ashkazar
D Pipe
T J Murphy
11st 10lbs
22 - 1
30 lengths
Non Runner

Celestial Halo
P F Nicholls
Harry Skelton
11st 10lbs
-

GRAND CRUS RAN "RACE OF HIS LIFE"

An epic finish to the Landbrokes World Hurdle saw Grand Crus outbattled by three-time winner Big Buck's by a length and three-quarters.


His trainer David Pipe said: "He's run the race of his life. Big Buck's is the best staying hurdler there's been for years so we can't be disappointed with that."

Jockey Tom Scudamore said: "I'm very proud of the whole team who have worked so hard. We've been beaten by a great horse, only one other horse has won three World Hurdles and he's the first to do three in a row.

"The best compliment we can pay Big Buck's is that he will go home tonight and know he's had a hard race.

"The whole race has gone to plan and we turned up today in tip-top condition, it just wasn't to be. We live to fight another day and hopefully he can do it when he goes chasing next season."

Willie Mullins, trainer of third-placed Mourad and Fiveforthree, who finished eighth, said: "I'm delighted with both of them. Mourad's still only six and that's young for a stayer. He'll get stronger and come back next year.

"I imagine he'll go to Punchestown next."

A delighted Jennie Candlish, who watched stable star Cross Kennon make much of the running before staying on well for fourth, said: "I'm absolutely thrilled. All I wanted was for him to come back safe and sound - that's always all that matters - but I'm so pleased that we're here in the winner's enclosure for a big race like this.

"He ran his race back to front from how he normally does but he just grinds it out and never knows when he's beaten. It's wonderful, he's had a great season. The nice thing about running in a good race like this is just being a part of it. We're all thrilled and we're off to celebrate!"
[more]
LADBROKES WORLD HURDLE FACTS
1. The Ladbrokes World Hurdle is one of the youngest races at The Festival. Known as the Stayers' Hurdle up to and including 2004, it was only introduced with its current race conditions in 1972. Before that, it was known as the Spa Hurdle.
2. The Ladbrokes World Hurdle has been run on the Tuesday, Wednesday and Thursday of the meeting. It moved to its current Thursday slot in 1993.
3. Its first year of sponsorship was 1972, under the title of the Lloyds Bank Hurdle. There have been four sponsors of the race, Waterford Crystal from 1978 to 1990 and Bonusprint from 1991 to 2004. 2005 was the first year of Ladbrokes' sponsorship and prize money currently stands at £260,000.
4. The Ladbrokes World Hurdle used to be a favourite with the Irish, who have won it nine times, most recently in 1995 with Dorans Pride. Baracouda provided a first success for France in 2002 and followed up in 2003. In 2004 and 2005, he was runner-up behind Iris's Gift and Inglis Drever respectively, while in 2006 he ran fifth behind My Way De Solzen. Baracouda's trainer Francois Doumen also saddled Kasbah Bliss to finish second in 2008 and fourth in 2009.
5. In 2008, Inglis Drever created history by becoming the first horse to win the contest three times. He was successful in 2005, missed the 2006 race due to injury before returning to land both the 2007 and 2008 renewals. There have been four dual winners - Crimson Embers (1982 & 1986), Galmoy (1987 & 1988), Baracouda (2002 & 2003) and Big Buck's (2009 & 2010).
6. Howard Johnson (trainer of Inglis Drever) and the late Fulke Walwyn - with three wins apiece - are the only trainers to have won the contest more than twice. The race was dominated in the mid-1980s by Crimson Embers, trained by Walwyn, and the winner in 1982 and 1986. Indeed, Crimson Embers would have been awarded the race in the stewards' room in 1985 had his rider not declined to give evidence to the enquiry afterwards, but the trainer won the race anyway with Rose Ravine. The owner, Sally Smart, was ambivalent about the result - she owned both horses!
7. Gaye Chance, the winner in 1984, was a full-brother to the 1983 Champion Hurdle winner Gaye Brief. Both horses were trained by Mercy Rimell.
8. No horse has managed to win both the Stan James Champion Hurdle and the Ladbrokes World Hurdle.
9. A total of 12 favourites have been successful.
10. The smallest field to go to post was eight in 1973 while the largest was 22 in both 1985 and 1990. The current safety limit is 24.
11. Tommy Carberry, Stuart Shilston, Tommy Carmody, Mark Perrett, Charlie Swan, Jamie Osborne and Thierry Doumen each recorded two victories while Ruby Walsh is the only current jockey to have partnered more than one winner following his victories on Big Buck's in 2009 and 2010. The three-time winner Inglis Drever was partnered by different jockeys for each of his victories – Graham Lee (2005), Paddy Brennan (2007) and Denis O'Regan (2008)