Cheltenham 2006 / running order & results /
THE LADBROKES WORLD HURDLE
1st (15) My Way de Solzen 8-1
2nd (9) Golden Cross 5-1
3rd (12) Mighty Man 4-1 Fav
20 ran
Also: 33-1 Fire Dragon 4th
NR: Royal Paradise, Asian Maze
HE DID IT MY WAY
The feature contest of day three of The Festival, the £230,000 Ladbrokes Hurdle went to My Way De Solzen for trainer Alan King and jockey Robert Thornton.
The winner held on by a head from Irish raider Golden Cross to record a memorable neck success in the premier contest for three-mile hurdlers.
Alan King commented afterwards: "Apart from the last few strides, it was very smooth all the way round.
"He's jumped brilliantly and I'm happy for all the team - this is just wonderful.
"I was worried about the ground before racing and while I thought it was quicker than ideal, there was no jar and it was not so bad that I never considered not running him.
"This is a seriously good horse. I wouldn't have swapped him for anything going into the race and I'm not just saying that now.
"He's a delight to train as he is so straightforward. It was also nice to see 'Chocolate' outriding the Flat jockey [Johnny Murtagh]."
Looking ahead to the future, King added: "I don't know where we go from here. He could run again this season, maybe at Punchestown, if the ground was right.
"In time, he is going to make one hell of a three-mile chaser although I don't know if that will be next year. We will sit down and discuss it over the summer.
"He was bought by Anthony Bromley when he only had two runs, one of which was a second to Ambobo."
Bookmaker reaction varied. My Way De Solzen is available for next year's Ladbrokes World Hurdle at 8/1 (William Hill), 10/1 (Stan James) and 5/1 (Boylesports).
JOCKEY UNSURE BUT NOT THE TRAINER
Robert Thornton, jockey of My Way de Solzen, was unsure about running the Ladbroke World Hurdle winner: "The ground was quicker than ideal, but he's handled it well and the jumping was awesome. When I walked the course before I was wondering about running him, but Alan was never in doubt."
Alan King, trainer of My Way de Solzen, said: "Choc [Robert Thornton] said to me, 'Are you sure you want to run?' I said I didn't think it was quick enough to take him out. That's the great thing with Choc, the horses always come first.
"I think I'd have been shot [by the owners] if I'd taken him out. If he had been racing tomorrow [Friday] though there could have been a problem. He certainly wouldn't have come if it had got faster."
Neither King nor Thornton was worried about My Way de Solzen and Golden Cross racing close together after the last. "I could hear them slapping and kicking behind me, but I didn't think there was a problem," said Thornton. King agreed: "There was no stewards, (inquiry) called, was there?"
King hasn't mapped out any further races this reason for My Way de Solzen yet. "We've got lots of options, the weather is the key," he said. He will not necessarily stay with three-mile events. "He's not a slow horse and I wouldn't have my doubts about bringing him back to two and a half miles. He's a seriously good horse," he said.
My Way de Solzen is likely to eventually go chasing, but King ruled out any attempt at the Arkle. " We could only consider that if the ground was heavy and it never is here. If and when he goes chasing, it will be over two and a half miles plus."
King praised the quartet of owners, headed by Jerry Wright. "There are very good friends and were instrumental in helping me set up on my own six years ago"
JERRY WRIGHT (JOINT-OWNER OF THE WINNER MY WAY DE SOLZEN)
"This is unbelievable! We were worried about the ground and Alan was deliberating over whether to run him but he's done it well. Choc knew he'd have to make use of him on this ground but he stays and stays and it was a tremendous ride."
ROBERT THORNTON (JOCKEY ON THE WINNER)
"That's brilliant! He handled the ground but he's not at his best on that surface. I could hear them all slapping and kicking behind me up the hill and it was just a case of keeping my head down and keep on going. It's been a fantastic week."
JOHNNY MURTAGH (JOCKEY ON THE SECOND GOLDEN CROSS)
"I'm sick. I haven't felt as sick in a long time. I thought I had it - I jumped the last well and really thought this horse was going to win.
"He's a great horse and didn't miss one hurdle. Every time I asked him he jumped well. I'm very disappointed he didn't come out on the right side of the photo."
Baracouda


© racing-images.co.uk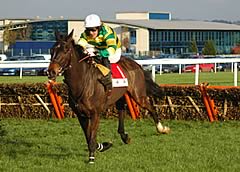 J P McMANUS (OWNER OF THE FIFTH BARACOUDA)
"Tony (McCoy)said he thought he ran his heart out. He could have done with them going a stride faster but I think it's obvious he's past his best now."
FRANCOIS DOUMEN (TRAINER OF THE FIFTH BARACOUDA)
"He ran well today but would have preferred softer ground. I would hate to make a decision on his future now. We'll look at things tomorrow. It's the first time he hasn't finished in the first two and I feel sorry."
Golden takes silver
After Golden Cross and jockey Johnny Murtagh had been beaten a mere head into second in the Ladbrokes World Hurdle, Curragh trainer Michael Halford said: "It's so near yet so far - there's a world of difference in finishing second, but I was thrilled with the horse and the jockey.
"It was a great effort on both their parts, and while I'd have been thrilled if he'd won it was a great effort and there are no hard luck stories. Johnny said in another few strides he might have got there. One had to come out the wrong side and it was a pity it was him."
Golden Cross had chased home Brave Inca and Macs Joy earlier this season and Halford was considering a Smurfit Kappa Champion Hurdle challenge, but he said: "The plan was always to come here, so the races he had fitted in because he needed runs. We wanted to run him over three miles at Christmas, but he didn't scope well, so we waited.
"We did think about a Champion Hurdle challenge, because he had improved on his Flat form, and if the ground had come up testing then maybe, but he needed to finish closer in the AIG Hurdle than he did. The Champion was just a precaution in the back of my head - it was my intention to come here."
Golden Cross suffered an overreach cut to his near foreleg, and Halford said: "We won't know how bad it is until we clean it up, but I don't think it's serious. If it's okay he could go for the two-and-a-half miler at Aintree, or maybe go to Punchestown."
Commenting further on Murtagh - who said later he did not envisage riding over hurdles again this season - Halford said: "Johnny puts his heart and soul into everything and he doesn't like being second. He said at Christmas he didn't want to ride over hurdles again, but we had a chat and a few days later he changed his mind and was only too willing to carry on."
LADBROKES WORLD HURDLE
Grade 1 (Class 1) 3m New Course £230,000 guaranteed For 4yo+11st 1lb; 5yo+ 11st 10lb Allowances fillies and mares 7lb Entries 50 pay £265 First forfeit 36 pay £530 Confirmed 25 pay £265 Penalty value 1st £131,146; 2nd £49,197; 3rd £24,633; 4th £12,282; 5th £6,164; 6th £3,082
1 MY WAY DE SOLZEN (FR) (Ben Winfield, A Longman, J Wright & C Fenton) Alan King 6-11-10 Robert Thornton 8/1
2 GOLDEN CROSS (IRE) (P Johnson) Michael Halford IRE 7-11-10 Johnny Murtagh 5/1
3 MIGHTY MAN (FR) (Joss Hanbury) Henry Daly 6-11-10 Richard Johnson 4/1f
4 FIRE DRAGON (IRE) (Gay Smith) Jonjo O'Neill 5-11-10 Tony Dobbin 33/1
5 BARACOUDA (FR) (J P McManus) Francois Doumen FR 11-11-10 Tony McCoy 9/2
6 EMOTIONAL MOMENT (IRE) (Watercork Syndicate) Tom Taaffe IRE 9-11-10 Ruby Walsh
7 STARZAAN (IRE) (Ben Arbib) Hughie Morrison 7-11-10 Paul Carberry
8 PATRIARCH EXPRESS (A Muir) Sue Smith 9-11-10 Dominic Elsworth
9 AMBOBO (USA) (Sean Mulryan) Arnaud Chaille-Chaille FR 6-11-10 Barry Geraghty
10 IT'S JUST HARRY (James Blackshaw) Charles Egerton 9-11-10 Paddy Brennan
11 WESTENDER (FR) (Matt Archer & The Late Jean Broadhurst) Martin Pipe 10-11-10 Timmy Murphy
12 CRYSTAL D'AINAY (FR) (Tony Fisher & Jeni Fisher) Alan King 7-11-10 Wayne Hutchinson
13 NO REFUGE (IRE) (Andrea & Graham Wylie) Howard Johnson 6-11-10 Graham Lee
14 ATTORNEY GENERAL (IRE) (Wally Sturt) Jim Old 7-11-10 Jason Maguire
15 DAVENPORT MILENIUM (IRE) (P M Racing Syndicate) Willie Mullins IRE 10-11-10 David Casey
16 BLUE CANYON (FR) (J P McManus) Francois Doumen FR 8-11-10 Conor O'Dwyer
17 MISTANOORA (Nigel Twiston-Davies) Nigel Twiston-Davies 7-11-10 Carl Llewellyn
F SH BOOM (T G K Construction Ltd) Steve Brookshaw 8-11-10 Liam Heard
P MILLENIUM ROYAL (FR) (J Vasicek) Francois Doumen FR 6-11-10 Mick Fitzgerald
P HOLY ORDERS (IRE) (A McLuckie) Willie Mullins IRE 9-11-10 Davy Condon - fractured left hind leg (humanely put down)
Non-runners: Royal Paradise, Asian Maze
20 ran:
Time: 5m 36.39 (Race record: previous best 5m 36.60 recorded by Bacchanal in 2000)
Distances: hd, 4, 3, 2 ½, 1 1/4, 7, 5, 5, 1 3/4, sh, 7, 2 ½, dist, 3, 3, 12
Breeder: C Ricous-Guerin & Jacques Guerin
Breeding: b g Assessor (IRE) - Agathe de Solzen (FR)
Tote: Win; £8.20 Places; £3.00, £2.10, £2.20 Exacta; £30.10
LADBROKES WORLD HURDLE FACTS
1. The Ladbrokes World Hurdle is one of the youngest races at The Festival. Known as the Stayers' Hurdle up to and including 2004, it was only introduced with its current race conditions in 1972. Before that, it was known as the Spa Hurdle.
2. The Ladbrokes World Hurdle has been run on the Tuesday, Wednesday and Thursday of the meeting. It moved to its current Thursday slot in 1993.
3. Its first year of sponsorship was 1972, under the title of the Lloyds Bank Hurdle. There have been four sponsors of the race, Waterford Crystal from 1978 to 1990 and Bonusprint from 1991 to 2004. 2005 was the first year of Ladbrokes' sponsorship and prize money currently stands at £230,000, up £30,000 on last year.
4. The Ladbrokes World Hurdle is a favourite with the Irish, who have won it nine times, most recently in 1995 with Dorans Pride. Baracouda provided a first success for France in 2002 and followed up again in 2003. In 2004, he was runner-up to Iris's Gift and again last year to Inglis Drever.
5. The late Fulke Walwyn is the only trainer to have won it more than twice. The race was dominated in the mid-eighties by Crimson Embers, trained by Walwyn, and the winner in 1982 and 1986. Indeed, Crimson Embers would have been awarded the race in the stewards' room in 1985 had his rider declined to give evidence to the enquiry afterwards, but the trainer won the race anyway with Rose Ravine. The owner, Pam Smart, was ambivalent about the result - she owned both horses!
6. Gaye Chance, the winner in 1984, was a full-brother to the 1983 Champion Hurdle winner Gaye Brief. Both horses were trained by Mercy Rimell.
7. No horse has managed to win both the Smurfit Champion Hurdle and the Ladbrokes World Hurdle.
8. A total of 10 favourites have been successful.
9. The smallest field to go to post was eight in 1973 while the largest was 22 in both 1985 and 1990.
10. There have been three dual winners - Crimson Embers (1982 & 1986), Galmoy (1987 & 1988) and Baracouda (2002 & 2003). No horse has won the race three times.
11. Tommy Carberry, Stuart Shilston, Tommy Carmody, Mark Perrett, Charlie Swan, Jamie Osborne and Thierry Doumen are the most successful jockeys, each recording two victories. No current jockey has won more than once.
12. The Ladbrokes World Hurdle forms part of the British Horseracing Board's 63-race Order Of Merit competition and Inglis Drever, successful at Cheltenham last season, landed the £250,000 first prize.
LADBROKES WORLD HURDLE PAST RESULTS
2005-WINNER-INGLIS DREVER 6-11-10 Owner-Andrea & Graham Wylie; Trainer-Howard Johnson; Jockey-Graham Lee; SP-5/1
2ND-Baracouda 10-11-10 Owner-J P McManus; Trainer-Francois Doumen FR; Jockey-Tony McCoy; SP-6/5 Fav
3RD-Rule Supreme 9-11-10 Owner-John Fallon; Trainer-Willie Mullins IRE; Jockey-David Casey; SP-4/1
12 ran, Time-5m 48.40s; Dist-3, 0.75
2004-WINNER-IRIS'S GIFT 7-11-10 Owner-Robert Lester; Trainer-Jonjo O'Neill; Jockey-Barry Geraghty; SP-9/2
2ND-Baracouda 9-11-10 Owner-J P McManus; Trainer-Francois Doumen FR; Jockey-Thierry Doumen; SP-8/11 Fav
3RD-Crystal D'Ainay 5-11-10 Owner-Tony & Jeni Fisher; Trainer-Alan King; Jockey-Robert Thornton; SP-8/1
10 ran, Time-5m 49.80s; Dist-1.5, 13
2003-WINNER-BARACOUDA 8-11-10 Owner-J P McManus; Trainer-Francois Doumen FR; Jockey-Thierry Doumen; SP-9/4 Jt Fav
2ND-Iris's Gift 6-11-10 Owner-Robert Lester; Trainer-Jonjo O'Neill; Jockey-Barry Geraghty; SP-7/1
3RD-Limestone Lad 11-11-10 Owner-James Bowe; Trainer-James Bowe IRE; Jockey-Paul Carberry; SP-9/4 Jt Fav
11 ran, Time-5m 41.25s; Dist- 0.75, 5
2002-WINNER-BARACOUDA 7-11-10 Owner-J P McManus; Trainer-Francois Doumen FR; Jockey-Thierry Doumen; SP-13/8 Fav
2ND-Bannow Bay 7-11-10 Owner-Linda Shanahan and Sue Magnier; Trainer-Christy Roche IRE; Jockey-Charlie Swan; SP-2/1
3RD-It Takes Time 8-11-10 Owner-David Johnson; Trainer-Martin Pipe; Jockey-Tony McCoy; SP-12/1
16 ran, Time-6m 01.70s; Dist-nk, 13
2001 Cancelled
2000-WINNER-BACCHANAL 6-11-10 Owner-Lady Lloyd-Webber; Trainer-Nicky Henderson; Jockey-Mick Fitzgerald; SP-11/2
2ND-Limestone Lad 8-11-10 Owner-James Bowe; Trainer-James Bowe IRE; Jockey-Shane McGovern; SP-3/1
3RD-Behrajan 5-11-10 Owner-The Behrajan Partnership; Trainer-Henry Daly; Jockey-Richard Johnson; SP-8/1
10 ran, Time-5m 36.60s; Dist-1, 3 5/2 Fav Lady Rebecca (6th)
1999-WINNER-ANZUM 8-11-10 Owner-The Old Foresters Partnership; Trainer-David Nicholson; Jockey-Richard Johnson; SP-40/1
2ND-Le Coudray 5-11-10 Owner-J P McManus; Trainer-Aidan O'Brien IRE; Jockey-Charlie Swan; SP-2/1 Jt-Fav
3RD-Lady Rebecca 7-11-05 Owner-Kinnersley Optimists; Trainer-Venetia Williams; Jockey-Norman Williamson; SP-3/1 12 ran, Time-5m 51.7s; Dist-nk, 2.5 2/1 Jt-Fav Deano's Beeno (9th)
1998-WINNER-PRINCEFUL 7-11-10 Owner-Robert Hitchins; Trainer-Jenny Pitman; Jockey-Rodney Farrant; SP-16/1
2ND-Splendid Thyne 6-11-10 Owner-John Glavanoni; Trainer-Terry Casey; Jockey-Warren Marston; SP-10/1
3RD-Ocean Hawk 6-11-10; Owner-Matt Archer & Jean Broadhurst; Trainer-Nigel Twiston-Davies; Jockey-Carl
Llewellyn; SP-5/1 9 ran, Time-5m 45.9s; Dist-2, 4 6/4 Fav Paddy's Return (5th)
1997-WINNER-KARSHI 7-11-10 Owner-Lord Vestey; Trainer-Henrietta Knight; Jockey-Jamie Osborne; SP-20/1
2ND-Anzum 6-11-10 Owner-The Old Foresters Partnership; Trainer-David Nicholson; Jockey-Richard Johnson; SP-25/1
3RD-Paddy's Return 5-11-10 Owner-Paddy O'Donnell; Trainer-Ferdy Murphy; Jockey-Richard Hughes; SP-20/1
17 ran, Time-5m 43.9s, Dist-2.5, 2 9/2 Fav Escartefigue (5th)
1996-WINNER-CYBORGO 6-11-10 Owner-County Stores (Somerset) Ltd; Trainer-Martin Pipe; Jockey-David Bridgwater; SP-8/1
2ND-Mysilv 6-11-05 Owner-Elite Racing Club; Trainer-Charlie Egerton; Jockey-Jimmy McCarthy; SP-16/1
3RD-What A Question 8-11-05 Owner-Joy Valentine; Trainer-Mouse Morris IRE; Jockey-Conor O'Dwyer; SP-33/1
19 ran, Time-5m 47.3s, Dist- 0.75, 10 4/1 Fav Derrymoyle (4th)
1995-WINNER-DORANS PRIDE 6-11-10 Owner-Tom Doran; Trainer-Michael Hourigan IRE; Jockey-Shane Broderick; SP-11/4 Fav
2ND-Cyborgo 5-11-10 Owner-County Stores (Somerset) Holding Ltd; Trainer-Martin Pipe; Jockey-Richard Dunwoody; SP-3/1
3RD-Simpson 10-11-10 Owner-M S Jarvis; Trainer-Jim Old; Jockey-Tom Grantham; SP-10/1
11 ran, Time-6m 03.3s, Dist-5, 5
1994-WINNER-BALASANI 8-11-10 Owner-Mark Smith; Trainer-Martin Pipe; Jockey-Mark Perrett; SP-9/2 Jt Fav
2ND-Avro Anson 6-11-10 Owner-Brian Skirton; Trainer-Maurice Camacho; Jockey-Mark Dwyer; SP-8/1
3RD-Minella 8-11-10 Owner-John Nallen; Trainer-Aidan O'Brien IRE; Jockey-Trevor Horgan; SP-7/1
14 ran, Time-5m 48.4s, Dist-sh, 2.5 (original finishing order)
(Avro Anson finished first, disqualified and placed second for interference)
LADBROKES WORLD HURDLE ROLL OF HONOUR
(Ladbrokes World Hurdle from 2005, bonusprint.com Stayers' Hurdle 2004, Bonusprint Stayers' Hurdle 1991-2003, Waterford Crystal Stayers' Hurdle 1978-90, Lloyds Bank Hurdle 1972-77)
Year Winner Age/Wt Jockey Trainer Owner SP Ran
2005 Inglis Drever 6-11-10 Graham Lee Howard Johnson Andrea & Graham Wylie 5/1 12
2004 Iris's Gift 7-11-10 Barry Geraghty Jonjo O'Neill Robert Lester 9/2 10
2003 Baracouda 8-11-10 Thierry Doumen Francois Doumen FR J P McManus 9/4JF 11
2002 Baracouda 7-11-10 Thierry Doumen Francois Doumen FR J P McManus 13/8F 16
2001 No Race (Foot and Mouth)
2000 Bacchanal 6-11-10 Mick Fitzgerald Nicky Henderson Lady Lloyd-Webber 11/2 10
1999 Anzum 8-11-10 Richard Johnson David Nicholson Old Foresters Partnership 40/1 12
1998 Princeful 7-11-10 Rodney Farrant Jenny Pitman Robert Hitchins 16/1 9
1997 Karshi 7-11-10 Jamie Osborne Henrietta Knight Lord Vestey 20/1 17
1996 Cyborgo 6-11-10 David Bridgwater Martin Pipe County Stores (Somerset) Holdings 8/1 19
1995 Dorans Pride 6-11-10 Shane Broderick Michael Hourigan IRE Tom Doran 11/4F 11
1994 Balasani 8-11-10 Mark Perrett Martin Pipe Mark Smith 9/2JF 14
1993 Shuil Ar Aghaidh7-11-05 Charlie Swan Paddy Kiely IRE Mrs Paddy Kiely 20/1 12
1992 Nomadic Way 7-11-10 Jamie Osborne Barry Hills Robert Sangster 15/2 17
1991 King's Curate 7-11-10 Mark Perrett Stan Mellor C J Ells 5/2F 15
1990 Trapper John 6-11-10 Charlie Swan Mouse Morris IRE Jill Fanning 15/2 22
1989 Rustle 7-11-10 Michael Bowlby Nicky Henderson Robert Waley-Cohen 4/1 21
1988 Galmoy 9-11-10 Tommy Carmody John Mulhern IRE Miss D Threadwell 2/1F 16
1987 Galmoy 8-11-10 Tommy Carmody John Mulhern IRE Miss D Threadwell 9/2 14
1986 Crimson Embers 11-11-10 Stuart Shilston Fulke Walwyn Pam Smart 12/1 19
1985 Rose Ravine 6-11-05 Ricky Pusey Fulke Walwyn Pam Smart 5/1F 22
1984 Gaye Chance 9-11-10 Sam Morshead Mercy Rimell Mary Curtis 5/1 14
1983 A Kinsman 7-11-12 Geordie Dun John Brockbank Mrs John Brockbank 50/1 21
1982 Crimson Embers 7-11-12 Stuart Shilston Fulke Walwyn Sally Smart 2/1F 11
1981 Derring Rose 6-11-12 John Francome Fred Winter Peter Savill 3/1 14
1980 Mountrivers 6-11-12 Tommy Ryan Edward O'Grady IRE B Burser 7/1 19
1979 Lighter 6-11-12 Philip Blacker John Edwards G Smith 14/1 14
1978 Flame Gun 6-11-12 Mr Niall Madden Edward O'Grady IRE Mary Kenny 14/1 13
1977 Town Ship 6-11-12 Tommy Carberry Peter Easterby Pat Muldoon 5/2 11
1976 Bit Of A Jig 8-11-12 Dessie Hughes Mick O'Toole IRE Mrs Mick O'Toole 2/1F 12
1975 Brown Lad 9-11-12 Tommy Carberry Jim Dreaper IRE Mrs Peter Burrell 7/4F 12
1974 Highland Abbe 8-11-12 Richard Smith Les Kennard Mrs K Hankey 15/2 15
1973 Moyne Royal 8-11-12 David Mould Arthur Pitt E Cook 10/1 8
1972 Parlour Moor 8-11-12 Macer Gifford Tom Jones Miss Charlotte Monkton 13/2 11