cheltenham festival / 2009 news /
Big Buck's Powers to Ladbrokes World Hurdle Victory
12/03/09
1 (2) Big Buck's 6-1
2 (11) Punchestowns 10-3
3 (10) Powerstation 25-1
Kasbah Bliss (C Pieux blue cap)
the beaten odds-on favourite
© racing-images.co.uk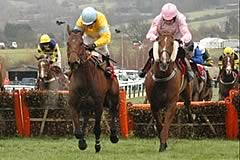 A thrilling Ladbrokes World Hurdle saw Big Buck's from Paul Nicholls' stable beat the Nicky Henderson-trained Punchestowns.

The pair had finished first and second in the Byrne Group Cleeve Hurdle at Cheltenham in January, when Punchestowns had conceded 8lb. At level weights Punchestowns still found Big Buck's too good in the £260,000 Grade One race, and Nicholls was keen to underline Walsh's role in the horse's advance to champion staying hurdler.
Nicholls said: "We need that man on board, which is one reason why we didn't continue chasing with him [Big Buck's ran over fences in the Hennessy Cognac Gold Cup and unseated Sam Thomas - since then he has stuck to hurdling]. Now he's won this race we don't have to worry about chasing for a while. Ruby is in top form and a great team player. While Kauto Star is as good as he is why take him on with this horse? I don't see why we can't win this again next year."
Kasbah Bliss, trained in France by Francois Doumen, started 10/11 favourite after a blinding victory at Haydock, but could finish only fourth. Nicholls said: "Big Buck's is improving and the better ground was always going to suit him. Kasbah Bliss looked good, but there is a world of difference between here and Haydock, especially on this better ground.
"I know we were worse off at the weights with Punchestowns, but if you watch a video of their race here in January and know him at home you would know he only does just enough. He'll go chasing again one day and may run in a [totesport] Gold Cup one day. We rushed him last year [over fences] when two miles was too quick for him and he wasn't the bravest despite winning two races. His confidence for chasing will come in time."
Big Buck's was bred in France and bought by bloodstock agent Anthony Bromley, who also purchased Master Minded, winner for Nicholls of yesterday's Seasons Holidays Queen Mother Champion Chase.
Ruby Walsh, riding his fifth winner of the meeting, added: "I never jumped a hurdle down the back but I was delighted to see Christophe (Pieux on Kasbah Bliss) arriving on the outside because I was supposed to try to keep behind him. This horse has a huge engine but it is just getting it out of him because he's a bit quirky.
"When I got to Barry (Geraghty on Punchestowns) he just came on the bridle and I have seen him and thought "Jesus, he's coming again". We fluffed the last but I always knew I would get him back. This is an unbelievable meeting and he's a cracking horse."
Position

Horse
Trainer
Jockey
Weight
Starting Price
Beaten Distance
1

Big Buck's
P F Nicholls
R Walsh
11st 10lbs
6 - 1
Winner
2

Punchestowns
N J Henderson
B J Geraghty
11st 10lbs
10 - 3
1 3/4 length
3

Powerstation
E O'Connell
A J McNamara
11st 10lbs
25 - 1
17 lengths
4

Kasbah Bliss
F Doumen
C Pieux
11st 10lbs
10 - 11
1 3/4 length
5

Mighty Man
H D Daly
S Thomas
11st 10lbs
28 - 1
5 lengths
6

Whatuthink
O McKiernan
D N Russell
11st 10lbs
100 - 1
Head
7

Mobaasher
P F Nicholls
Christian Williams
11st 10lbs
33 - 1
4 1/2 lengths
8

Blazing Bailey
A King
R Thornton
11st 10lbs
28 - 1
2 1/4 lengths
9

Fair Along
P J Hobbs
R Johnson
11st 10lbs
14 - 1
1 3/4 length
10

No Refuge
J Howard Johnson
Denis O'Regan
11st 10lbs
100 - 1
4 1/2 lengths
11

Pettifour
N A Twiston-Davies
P J Brennan
11st 10lbs
66 - 1
5 lengths
12

Tazbar
K G Reveley
J Reveley
11st 10lbs
33 - 1
16 lengths
13

Shakervilz
W P Mullins
P Townend
11st 10lbs
50 - 1
3 1/4 lengths
14

Afsoun
N J Henderson
D Elsworth
11st 10lbs
100 - 1
27 lengths
STEWART TAKES LADBROKES BUCK'S
Following the victory of Big Buck's in the Ladbrokes World Hurdle, owner Andy Stewart said: "Going back to the time after the Hennessy when Paul said he was going to send this horse back hurdling, I said he was going bonkers until the time he beat Can't Push It over hurdles.
"I guess if he'd have won the Hennessy he'd have been running tomorrow in the Gold Cup but going over hurdles has been a very good idea. He wouldn't get close to Kauto Star or Neptune Collonges so maybe he'd come back for the Gold Cup when he's eight or nine.
"I'm pleased to take Ladbrokes' money for a change and we'll come back and have a go again next year.
"He ran off top weight in the Jewson last year and you couldn't find him so I guess you couldn't really make this up. Ruby (Walsh) is a genius as far as timing is concerned."
Stewart's son Paul broke his back in a snowboarding accident during the winter and the owner added: "This win means an enormous amount to me as this week was all about getting my son out of hospital. Paul's going to stay until the last race tomorrow and he's made great progress, not only physically, but also in adjusting mentally to the fact that he's not fully mobile. Both he and my other son Mark are big enthusiasts and that's why the horses run as the Stewart Family.
"We run My Will in the Gold Cup tomorrow but our main hope for him is Liverpool and the Grand National meeting - I'd be delighted if he could come fifth tomorrow."
Paul Nicholls added: "We were probably trying to make him into an Arkle horse last year when he wasn't one.
"The big key to this horse is Ruby Walsh but with Kauto at the top of his game there was no point running Big Buck's over fences when Ruby wouldn't be on board. We left Big Buck's in the Gold Cup until the last minute just in case Kauto trod on a stone or something.
"We wanted Ruby on him for his experience for as much as anything. I didn't criticise Sam (Thomas) about what happened in the Hennessy, just explained what happened. We said to keep inside on the rail but he ended up outside. Ruby just has that much more experience at race riding in these situations and this is not an easy ride, he's a quirky horse.
"I don't see why he won't run again this season, Aintree would suit him well, but I haven't really thought about it - all things are possible. But if Andy is in agreement we'll take the same route again next year.
"He's just a careful jumper and the mistake he made at the last probably helped him because it meant that he didn't hit the front too soon."
Looking ahead to tomorrow's Gold Cup, Nicholls added: "I'm not even considering getting the first five, it's an impossible task and the most important thing is to win the race.
"Kauto Star has had a brilliant prep, he's in great form at home, Neptune Collonges is A1 but I'm worried about the ground, Star De Mohaison will come into it if the ground is good, I honestly can't say how Denman will run while My Will will run his race but the Grand National is his aim."
[more]
Big Buck's Profile
Age: 6
Form: 12121371-U11
Owner: The Stewart Family
Trainer: Paul Nicholls
Expected jockey: Ruby Walsh
Cheltenham Odds: World Hurdle ante-post – 9/2
A mixed bag of performances in novice chases last season, including a couple of efforts where he looked a very difficult ride, but his campaign ended on a high when hammering Battlecry at Aintree. Well-backed for the Hennessy Cognac Gold Cup on his reappearance at Newbury in November, but was probably on course for second place at best when blundering at the last fence and unseating Sam Thomas, prompting his trainer to suggest that the horse went better for Ruby Walsh than any other rider. Went some way to supporting those comments when winning twice returned to hurdles at Cheltenham in January, most notably defeating fellow World Hurdle hope Punchestowns in the Cleeve His extra apostrophe was given to him by his French breeder, whose command of English grammar was evidently lacking, but those that have snapped up big prices about him foiling the likes of Kasbah Bliss and Punchestowns in the World Hurdle won't be quibbling over spellings if they end up in the money.
LADBROKES WORLD HURDLE FACTS
1. The Ladbrokes World Hurdle is one of the youngest races at The Festival. Known as the Stayers' Hurdle up to and including 2004, it was only introduced with its current race conditions in 1972. Before that, it was known as the Spa Hurdle.
2. The Ladbrokes World Hurdle has been run on the Tuesday, Wednesday and Thursday of the meeting. It moved to its current Thursday slot in 1993.
3. Its first year of sponsorship was 1972, under the title of the Lloyds Bank Hurdle. There have been four sponsors of the race, Waterford Crystal from 1978 to 1990 and Bonusprint from 1991 to 2004. 2005 was the first year of Ladbrokes' sponsorship and prize money currently stands at £260,000.
4. The Ladbrokes World Hurdle used to be a favourite with the Irish, who have won it nine times, most recently in 1995 with Dorans Pride. Baracouda provided a first success for France in 2002 and followed up again in 2003. In 2004 and 2005, he was runner-up behind Iris's Gift and Inglis Drever respectively, while in 2006 he ran fifth behind My Way De Solzen.
5. Last year, Inglis Drever created history by becoming the first horse to win the contest three times. He was successful in 2005, missed the 2006 race due to injury before returning to land both the 2007 and 2008 renewals. There have been three dual winners - Crimson Embers (1982 & 1986), Galmoy (1987 & 1988) and Baracouda (2002 & 2003).
6. Howard Johnson (trainer of Inglis Drever) and the late Fulke Walwyn - with three wins apiece - are the only trainers to have won the contest more than twice. The race was dominated in the mid-1980s by Crimson Embers, trained by Walwyn, and the winner in 1982 and 1986. Indeed, Crimson Embers would have been awarded the race in the stewards' room in 1985 had his rider not declined to give evidence to the enquiry afterwards, but the trainer won the race anyway with Rose Ravine. The owner, Sally Smart, was ambivalent about the result - she owned both horses!
7. Gaye Chance, the winner in 1984, was a full-brother to the 1983 Champion Hurdle winner Gaye Brief. Both horses were trained by Mercy Rimell.
8. No horse has managed to win both the Smurfit Kappa Champion Hurdle and the Ladbrokes World Hurdle.
9. A total of 11 favourites have been successful.
10. The smallest field to go to post was eight in 1973 while the largest was 22 in both 1985 and 1990. 17 ran last year and current safety limit is 24.
11. Tommy Carberry, Stuart Shilston, Tommy Carmody, Mark Perrett, Charlie Swan, Jamie Osborne and Thierry Doumen are the most successful jockeys, each recording two victories. No current jockey has won the race more than once. The three-time winner Inglis Drever was partnered by different jockeys for each of his victories – Graham Lee (2005), Paddy Brennan (2007) and Denis O'Regan (2008).
[more]