cheltenham festival / 2010 news /
Buck's in World Domination
18/03/10
1 Big Buck's 5/6 Fav
2 Time For Rupert 16/1
3 Powerstation 33/1
14 ran
Big Buck's


© racing-images.co.uk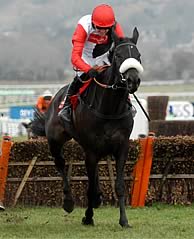 Punters finally had something to cheer about at the 2010 Festival when 5/6 favourite Big Buck's, a banker this week for many, stormed three and a quarter lengths clear of Time For Rupert to take the Labrokes World Hurdle for a second consecutive year.

The success was welcomed by jockey Ruby Walsh and trainer Paul Nicholls, who have had several notable reverses including when odds-on Master Minded finished only fourth in yesterday's Seasons Holiday Queen Mother Champion Chase.

"I was very nervous beforehand," admitted Nicholls. "Master Minded was not good enough but we knew this horse had a big chance.

"He was very good today, I think it was his best ever performance and win number three next year is the plan. We might do fences one day, you never say never, but at the moment there is no point when he is so good at this.


"He's a totally different horse on the track than at home and he didn't work very well on Saturday morning, but that's normal for him. He's a character that you just have to kid along and get right. He's a bit like Denman and you sometimes wonder how they can be so good when you look at them at home..


"We have sort of worked out that he is best fresh so have kept him for this. You always worry that you are going to get left in front too soon but he travelled well."

Walsh added: "Time For Rupert is a fair horse and he beat me in a handicap at Aintree last year, but it's a long way from that to here. I wanted to have a bit of company, I didn't want to be my own too early. It's a joy to be riding him, he travelled super and is just a very good horse."

Owner Andy Stewart added: "He never came off the bridle and I think there were some good horses behind him

"There are four of us in our family and as far as I'm concerned the most important thing is that they are all here.


"My son Paul was in a wheelchair at last year's Festival (following a skiing accident) and he is here today walking with sticks. Hopefully next year he will be back here walking without them."
Position

Horse
Trainer
Jockey
Weight
Starting Price
Beaten Distance
1

Big Buck's
P F Nicholls
R Walsh
11st 10lbs
5 - 6
Winner
2

Time For Rupert
P R Webber
W Kennedy
11st 10lbs
16 - 1
3 1/4 lengths
3

Powerstation
E O'Connell
A J McNamara
11st 10lbs
33 - 1
11 lengths
4

Karabak
A King
A P McCoy
11st 10lbs
15 - 2
1/2 length
5

Ebadiyan
P O Brady
J Cullen
11st 10lbs
66 - 1
1/2 length
6

Oscar Dan Dan
T Mullins
P Carberry
11st 10lbs
80 - 1
2 1/2 lengths
7

Tidal Bay
J Howard Johnson
Denis O'Regan
11st 10lbs
8 - 1
1/2 length
8

Cousin Vinny
W P Mullins
Paul Townend
11st 10lbs
25 - 1
3 lengths
9

Lie Forrit
W Amos
C I Gillies
11st 10lbs
40 - 1
12 lengths
10

Fair Along
P J Hobbs
R Flint
11st 10lbs
50 - 1
4 lengths
11

Katchit
A King
R Thornton
11st 10lbs
14 - 1
11 lengths
12

War Of Attrition
M F Morris
D N Russell
11st 10lbs
20 - 1
4 1/2 lengths
13

Cape Tribulation
J M Jefferson
P Kinsella
11st 10lbs
50 - 1
25 lengths
pulled up

Sentry Duty
N J Henderson
B J Geraghty
11st 10lbs
12 - 1

PRESS CONFERENCE QUOTES FROM ANDY STEWART AND PAUL NICHOLLS - THE OWNER AND TRAINER OF THE LADBROKES WORLD HURDLE WINNER BIG BUCK'S
Andy Stewart: "His last piece of work wasn't impressive but he did not hit a flat spot in the race today. Well if he did, nobody saw it!
"When we won last year, my son Paul was in a wheelchair and this year he managed to walk up to the podium which was what he wanted to do. The Sunday after the Grand National he goes off to Miami for further treatment. The Spinal Research sponsorship will continue for the rest of the year and the charity is doing lots of research. I will be helping with the purchase of two machines to go to Stoke Mandeville Hospital. Life has been kind to us and I would like everyone to have access to the kind of treatment Paul has received in America.

"I thought Paul (Nicholls) was bonkers at the time when he suggested that Big Buck's should go back over hurdles after he unseated Sam Thomas in the Hennessy last season, but he has seen off the likes of Punchestowns and Kasbah Bliss and I think he could be one of the best staying hurdlers we have seen."
Paul Nicholls: "I was slightly worried about the ground today but when I looked at his form again I noticed that he has won twice on similar ground at Aintree.
"His last piece of work was moderate, but that's just the way he is. He gives you a few sleepless nights, but is a very talented horse. He is a bit like Denman in that doesn't always show much at home but is different when he gets to the racecourse.

"You always worry when short-priced favourites get beaten and obviously it was disappointing with Master Minded yesterday, but the sport has to move forward.

"In this game, you never say never but there is no point in Big Buck's going back over fences when he is so good over hurdles. He will now go to Aintree and hopefully follow the same path back to Cheltenham next year. In that respect he is an easy horse to train as his route is mapped out.

"Looking ahead to the Gold Cup tomorrow, Kauto Star is amazing and just keeps coming back. Obviously, Denman had a setback at Newbury last time but he did a really hard piece of work this morning as he always does the day before the Gold Cup.
"Kauto Star will love this ground and Denman has good enough form on the ground too.
"Obviously, Denman has had a breathing operation and I think Paul Barber and Harry Findlay are wrong to say he wants heavy ground.

"Denman is a totally different horse to 12 months ago. He will look a lot tighter when you see him in the parade ring tomorrow."
TIME FOR RUPERT BEST OF THE REST
"This was meant to be a quiet year. We thought we'd win one on a mark of about 145 and have a quiet time," said trainer Paul Webber, after Time For Rupert upped his game once more to finish in second place in the Ladbrokes World Hurdle, beaten just three and a quarter lengths by odds-on favourite Big Buck's.

"He's run a fantastic race. He's always given us the impression that he's improving about seven or eight pounds at a time. I thought that we would still be seven pounds short of Big Buck's but he's got closer than even that," added Webber.

"William (Kennedy) has given him an inch-perfect ride. Absolutely no excuses just delighted to be as close to Big Buck's as that and 11 lengths back to the third? It was a tremendous performance.

"Davy Russell [on War Of Attrition] said to Will when he pushed on, 'Aren't we going a bit soon?' and Will said 'You can wait for Big Buck's, I'm not going to.' We had a plan to set sail at the bit on the top and try and nick a length, but we couldn't nick enough.

"All this horse does is gallop. He hasn't got Big Buck's speed and our only chance was to stretch everybody as much as possible.

"We have to think about Liverpool, but I guess Big Buck's wouldn't mind that either. We'll see how he comes out of this race. I think next year - if that monster's around - we'll go jumping fences," stated the trainer.
POWERSTATION LIGHTS UP FOR O'CONNELL AT THE FESTIVAL
Cheltenham brings out the best in ten-year-old Powerstation, as proven again today when he finished third in the Ladbrokes World Hurdle - he filled the same position 12 months ago, and the winner on each occasion was Big Buck's.

Four times Powerstation has run at the track, and while yet to reach the winner's spot his record is now two seconds (at non-Festival fixtures) and two thirds.

Formerly trained by Michael John Phillips, Powerstation was bought by his current trainer, Eamonn O'Connell, 18 months ago when he gained a trainer's licence.

O'Connell said: "We've been unlucky to run up against a great stayer in Big Buck's, and it was the same problem with Black Jack Ketchum when he was a novice.

"I've only been training for a year and a half. I've worked with horses over the years and decided to give it a go myself, but further back I loaded bags for Aer Lingus at Shannon Airport and did that for 17 years.

"I've got 13 horses at home, so to have a horse like Powerstation is unbelievable. He's a tough horse and performs well any time of the year. He's a particularly good horse over three miles on decent ground.

"He's might go to Punchestown or for the French Champion Hurdle over three miles one furlong."

TIDAL DIDN'T ENJOY IT
Tidal Bay, the 11/2 second favourite, could fare no better than seventh in the Grade One Ladbrokes World Hurdle.

His trainer Howard Johnson said: "He just didn't seem to enjoy it today and ran with his head up, although he did run on at the end.

"We will take him home and have a look over him. He could maybe go to Aintree depending how he is."
LADBROKES WORLD HURDLE FACTS
1. The Ladbrokes World Hurdle is one of the youngest races at The Festival. Known as the Stayers' Hurdle up to and including 2004, it was only introduced with its current race conditions in 1972. Before that, it was known as the Spa Hurdle.
2. The Ladbrokes World Hurdle has been run on the Tuesday, Wednesday and Thursday of the meeting. It moved to its current Thursday slot in 1993.

3. Its first year of sponsorship was 1972, under the title of the Lloyds Bank Hurdle. There have been four sponsors of the race, Waterford Crystal from 1978 to 1990 and Bonusprint from 1991 to 2004. 2005 was the first year of Ladbrokes' sponsorship and prize money currently stands at £260,000.

4. The Ladbrokes World Hurdle used to be a favourite with the Irish, who have won it nine times, most recently in 1995 with Dorans Pride. Baracouda provided a first success for France in 2002 and followed up again in 2003. In 2004 and 2005, he was runner-up behind Iris's Gift and Inglis Drever respectively, while in 2006 he ran fifth behind My Way De Solzen. Baracouda's trainer Francois Doumen also saddled Kasbah Bliss to finish second in 2008 and fourth last year when starting the hot 10/11 favourite.
5. In 2008, Inglis Drever created history by becoming the first horse to win the contest three times. He was successful in 2005, missed the 2006 race due to injury before returning to land both the 2007 and 2008 renewals. There have been three dual winners - Crimson Embers (1982 & 1986), Galmoy (1987 & 1988) and Baracouda (2002 & 2003).
6. Howard Johnson (trainer of Inglis Drever) and the late Fulke Walwyn - with three wins apiece - are the only trainers to have won the contest more than twice. The race was dominated in the mid-1980s by Crimson Embers, trained by Walwyn, and the winner in 1982 and 1986. Indeed, Crimson Embers would have been awarded the race in the stewards' room in 1985 had his rider not declined to give evidence to the enquiry afterwards, but the trainer won the race anyway with Rose Ravine. The owner, Sally Smart, was ambivalent about the result - she owned both horses!
7. Gaye Chance, the winner in 1984, was a full-brother to the 1983 Champion Hurdle winner Gaye Brief. Both horses were trained by Mercy Rimell.
8. No horse has managed to win both the Smurfit Kappa Champion Hurdle and the Ladbrokes World Hurdle.
9. A total of 11 favourites have been successful.
10. The smallest field to go to post was eight in 1973 while the largest was 22 in both 1985 and 1990. 14 ran last year and current safety limit is 24.
11. Tommy Carberry, Stuart Shilston, Tommy Carmody, Mark Perrett, Charlie Swan, Jamie Osborne and Thierry Doumen are the most successful jockeys, each recording two victories. No current jockey has won the race more than once. The three-time winner Inglis Drever was partnered by different jockeys for each of his victories – Graham Lee (2005), Paddy Brennan (2007) and Denis O'Regan (2008).
[more]