Ladbrokes World Hurdle 15/03/07
1st (4) Inglis Drever 5-1
2nd (7) Mighty Man 10-3
3rd (2) Blazing Bailey 8-1
14 ran
Also: 2-1 Fav Black Jack Ketchum, 22-1 United 4th
NR: Asian Maze
Inglis Drever on Top of the World 15/03/07
Inglis Drever became the fourth dual winner of the Ladbrokes World Hurdle when adding today's race to the one he won in 2005 - he missed the 2006 running through injury.
Inglis Drever
© racing-images.co.uk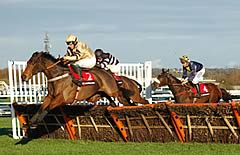 Trainer Howard Johnson said the Northumberland Plate - aka The Pitmen's Derby - is now on the eight-year-old's agenda. Johnson said: "When I bought him I always wanted to win the Pitmen's Derby at Newcastle. I may run him in that and then turn him away - and Graham [Wylie, the horse's owner] would be right up for it, too."
Inglis Drever was under pressure at the top of the hill, but led at the final bend. Johnson said: "He's a horse that tends to come on and off the bridle, but I said to Paddy as soon as you come down that hill and get a bit of light he'll pick up.

"I want to give all credit to Ginny Wright who works for me and does him in the yard. He's a funny little horse, because some days he won't swim and some days he won't go on the scales and he'll just stop along the road, but that's the way he likes to be. Ginny's done him right on the button. She's a brilliant lass with horses.

"We haven't had a racecourse gallop with the horses because it's been so wet - we've just done them at home, but I knew when he was 495 kilos last week I had him right. When he won two years ago he was about the same.

"It's nice to come down here and win two out of the last three runnings [his No Refuge was unplaced last year]. As you know, he was injured last year after falling [in a race at Chepstow]. I would say out of all the horses I've trained that this horse, Grey Abbey and Direct Route have been the best. After today, this horse is probably number one.

"In the last season or two, I've bought too many ex-Flat horses and they need good ground - that's maybe why we just haven't clicked lately, but luckily the weather's come right for this meeting. I also want to give credit to Alec Dent, my head lad. I said to him, I'll look after you if we have a winner at Cheltenham, and I will.

"This makes it all worthwhile. Hopefully, he might come back next year before he gets too old like me."
Andrea Wylie, joint owner with her husband Graham,added: "I think I'm more exhausted than the horse through jumping up and down! We were worried about Paddy because he had a fall yesterday but he's OK. This was more nerve-racking than last time and to do it twice is unbelievable."
Jockey Paddy Brennan, overjoyed at the success, said: "Unbelievable! I've never felt as much pressure as I felt today, because I knew how good he was, and Howard Johnson and Graham Wylie knew how good he was. It's some relief, and he's some horse. It's some training performance to get him back to this level. Horses were coming to me, but I felt he'd pull out more and more."
Position

Horse
Trainer
Jockey
Weight
Starting Price
Beaten Distance
1

Inglis Drever
J Howard Johnson
P J Brennan
11st 10lbs
5 - 1
Winner
2

Mighty Man
H D Daly
R Johnson
11st 10lbs
10 - 3
3/4 length
3

Blazing Bailey
A King
R Thornton
11st 10lbs
8 - 1
4 lengths
4

United
Mrs L Wadham
L Aspell
11st 3lbs
22 - 1
9 lengths
5

Kasbah Bliss
F Doumen
A Duchene
11st 10lbs
12 - 1
3 lengths
6

Strangely Brown
E McNamara
D J Casey
11st 10lbs
50 - 1
8 lengths
7

Natal
P F Nicholls
R Walsh
11st 10lbs
16 - 1
7 lengths
8

Labelthou
Miss E C Lavelle
B Fenton
11st 3lbs
20 - 1
2 1/2 lengths
9

Lough Derg
D Pipe
T Scudamore
11st 10lbs
40 - 1
9 lengths
10

Over The Creek
D Pipe
T J Murphy
11st 10lbs
100 - 1
3/4 length
11

Fire Dragon
Jonjo O'Neill
N Fehily
11st 10lbs
50 - 1
4 lengths
12

Overstrand
Dr R D P Newland
S P Jones
11st 10lbs
20 - 1
17 lengths
13

Temoin
N J Henderson
M A Fitzgerald
11st 10lbs
25 - 1
distance
na

Black Jack Ketchum
Jonjo O'Neill
A P McCoy
11st 10lbs
2 - 1

Non Runner

Asian Maze
Thomas Mullins
R M Power
11st 3lbs


LADBROKES WORLD HURDLE FACTS
1. The Ladbrokes World Hurdle is one of the youngest races at The Festival. Known as the Stayers' Hurdle up to and including 2004, it was only introduced with its current race conditions in 1972. Before that, it was known as the Spa Hurdle.
2. The Ladbrokes World Hurdle has been run on the Tuesday, Wednesday and Thursday of the meeting. It moved to its current Thursday slot in 1993.

3. Its first year of sponsorship was 1972, under the title of the Lloyds Bank Hurdle. There have been four sponsors of the race, Waterford Crystal from 1978 to 1990 and Bonusprint from 1991 to 2004. 2005 was the first year of Ladbrokes' sponsorship and prize money currently stands at £250,000, up £20,000 on last year.

4. The Ladbrokes World Hurdle used to be a favourite with the Irish, who have won it nine times, most recently in 1995 with Dorans Pride. Baracouda provided a first success for France in 2002 and followed up again in 2003. In 2004 and 2005, he was runner-up behind Iris's Gift and Inglis Drever respectively, while last year he ran fifth behind My Way De Solzen.

5. The late Fulke Walwyn is the only trainer to have won it more than twice. The race was dominated in the mid-eighties by Crimson Embers, trained by Walwyn, and the winner in 1982 and 1986. Indeed, Crimson Embers would have been awarded the race in the stewards' room in 1985 had his rider not declined to give evidence to the enquiry afterwards, but the trainer won the race anyway with Rose Ravine. The owner, Pam Smart, was ambivalent about the result - she owned both horses!
6. Gaye Chance, the winner in 1984, was a full-brother to the 1983 Champion Hurdle winner Gaye Brief. Both horses were trained by Mercy Rimell.

7. No horse has managed to win both the Smurfit Champion Hurdle and the Ladbrokes World Hurdle.

8. A total of 10 favourites have been successful.

9. The smallest field to go to post was eight in 1973 while the largest was 22 in both 1985 and 1990. 20 ran last year.

10. There have been three dual winners - Crimson Embers (1982 & 1986), Galmoy (1987 & 1988) and Baracouda (2002 & 2003). No horse has won the race three times.

11. Tommy Carberry, Stuart Shilston, Tommy Carmody, Mark Perrett, Charlie Swan, Jamie Osborne and Thierry Doumen are the most successful jockeys, each recording two victories. No current jockey has won the race more than once.

12. The Ladbrokes World Hurdle forms part of the British Horseracing Board's 65-race Order Of Merit competition. Royal Shakespeare and Monkerhostin shared the £200,000 first prize last season.