cheltenham festival / 2008 news /
Inglis Drever World Hurdle Hat-Trick
13/03/08
1st (7) Inglis Drever 11-8 Fav
2nd (8) Kasbah Bliss 9-1
3rd (9) Kazal 12-1
17 ran
Also: 13-2 Blazing Bailey 4th
Inglis Drever became the most successful staying hurdler in the history of the Cheltenham Festival when winning the Ladbrokes World Hurdle for a record third time.
Inglis Drever (Dennis O`Regan left) takes the last in the Ladbrokes World Hurdle and heads off up his favourite hill to nail a record third victory in the race, beating off Kasbah Bliss (C Pieux blue cap) with Kazal (Barry Geraghty pink) in third.
© racing-images.co.uk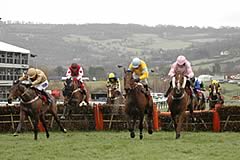 The nine-year-old did not have the clearest run during the race, but when he saw daylight in the finishing straight he had too much pace for his rivals, and eventually beat Kasbah Bliss and Kazal by a length and seven lengths.
Owner Graham Wylie said: "Maybe one day I'll realise what he's done, but it is all so emotional now. I just sat quietly in the stand and watched and watched - and he had so many traffic problems. But when he came over the last he was too good for them.
"He's a street fighter, who never knows when he's beaten, and he loves the attention he gets in the winner's enclosure.
"I was very quiet until the last and than I went crackers. Can I just say what a great performance by Howard Johnson. I'm chuffed for him, for the yard, for the horse and for Denis. We knew the horses were in good form and we stayed calm and quiet throughout the week. I'm very proud and happy."
Trainer Howard Johnson went to church this morning, continuing a lucky routine that has stood him in good stead in recent years. He said: "It's all been worthwhile, all the hard work. My daughter Lucy went out this morning back at home and the daffodils were out, and the same thing happened in 2005 when I had three winners. She sent us a picture of the flowers on her phone and we took it as a good sign."
Talk of Inglis Drever's retirement was not completely dispelled after the race, and Johnson said: "He's only nine, but I don't want anything to happen to him. If we've got a chance in the Order of Merit we might go to my lucky course Aintree. We might come back here for one more next year but there is not many races left in him. This is near enough the greatest training performance of my life and I'm very proud."
"He can be tailed off in a gallop at home, then hit the hill and run past horses, and he does the same here. You can always tell when he's coming with a run because he puts his head on one side and his eyes pop out.
"I said to Denis, stay on the inside no matter what happens, because he'll take you there when it matters.
"He missed a year and its come good. All credit to the horse first and then Andrea and Graham have been great supporters of the yard. It's just unbelievable!
"He's one of the toughest horses, next to Direct Route, I've trained. He's come good today which is great. I've been getting a bit of stick from certain press men which I didn't take very nicely, to be honest. A few people have been writing articles in the Racing Post which I didn't take nicely too. I've always had faith in the horse."
Denis O'Regan, riding his second Festival winner after Tidal Bay in the opener, commented: "What a horse! What a horse! I can't believe it, three in a row! I never panicked, we were never in trouble.
He just took off. Howard said beforehand that we wouldn't want to get there before the last. I was a bit down at the last but he did a good jump at the last and he did the rest himself. What a fantastic week to get on these two horses."
Ginni Wright, Inglis Drever's groom, said: "It's so nerve-wracking when you know you've got probably the best horse in the race and he felt so fantastic at home. He felt even better here this morning leading him out and yet you know there are so many things that can go wrong – all these hurdles and fantastic horses in the race but he's done it.
"It doesn't make for easy viewing. My heart is going so fast – I hope the paramedics are well trained in cardiac arrest! My legs are like jelly and I've no stomach left but it's all worth it. I knew once he jumped the last hurdle just in front, I always start my run then because, if there's a horse sitting on his back side, they'll not pass him. And yet again, just behind another horse he would probably make you feel he wouldn't do it.
"He had to fight. They are all fantastic horses – there were no bad horses in the race or at Cheltenham . Top horses and top jockeys. But the one who deserved to win it most has won it today.
"You can never get used to bringing in winners here. I'm not a party girl – I party with the crowd. They make it for me, for the horse and for everyone. This is my party."
Trainer Howard Johnson paid tribute to his stable star Inglis Drever after the nine-year-old became the first horse ever to win three Ladbrokes World Hurdles.
"He loves to come up hills, he loves to do that at home and loves it here and you can tellhe's enjoying it because he cocks his jaw and his eyes pop out when he's running well. As I've often said he's like a terrier, he's like a little Jack Russell - a bit like me," said Johnson.
"I suppose I've had to be like a terrier in here. It's not bad to have come from being a sheep farmer and cattle dealer to having two winners at Cheltenham this year. It's been hard at times, I've been kicked and got tinnitus which gives me a buzz in my ear all the time, but it makes it easy to get up in the morning with owners like Andrea and Graham Wylie.
"There's been a little bit of tension with how the horses have been running but we were more positive after Tidal Bay winning on Tuesday.
"If he's got a chance in the Order of Merit I might go to Aintree if the ground is good to soft, but if not we'll turn him out and if he's still loving racing then we'll keep him going next season. But he wouldn't have any more than three runs next season - Newbury, the Cleeve and then here. The problem is finding another one like him. I know Sir Mark (Prescott), who sold him to us, will have send us a fax when we get home, he's a top man."
Johnson has changed his stable jockey a couple of times in recent seasons but hopes Inglis Drever's rider Denis O'Regan will still be attached to his Co Durham stable next season.
"Denis will still be there next season if he wants to be," added Johnson. "I'm still pally with Paddy Brennan, who didn't settle in the north and is much happier now he's based in the south, but not with Graham Lee but that's because he won't speak to me. But Graham has looked after Denis very well since he came over here."
Denis O'Regan added: "I'm just delighted to be here in the year of Inglis Drever although in a way this was the hardest year to be riding because of him having won twice before. I had great faith in Howard that he would get the horses here spot on this week and he has got them here in one piece and it's a privilege to ride them.
"He didn't hit a flat spot today, just got into a bit of trouble at the top of the hill and it was always in the back of my mind that the boss had said to me that there was no need to be in front going over the last. But I winged the last in front then came up the outside because I knew there was better ground there from when I walked the course. I was worried half way around by the French rider (Christophe Pieux) because he was knocking the whole place down going round.
"This is only my third visit to the Cheltenham Festival and I realise that I'm a very lucky fellow - I'm only 25 next week and I've been very jammy."
Owner Graham Wylie, who bought Inglis Drever for 110,000 guineas at the 2003 Tattersalls Horses In Training Sale, added: "He was my third-ever horse. My first was Lord Transcend, who won three or four, then Royal Rosa and then this one so that really got me the bug. But I will leave all decisions to Howard and if he wants to retire the horse I'll go along with that. Denis has ridden a great race but let's not forget Paddy Brennan and Graham Lee who have also won on him.
DOUMEN DREAMS OF FUTURE BLISS
The nine-year-old Inglis Drever may have stolen the moment with his third victory in the Ladbrokes World Hurdle, but trainer Francois Doumen was dreaming of a future belonging to six-year-old Kasbah Bliss, after his horse's sterling effort, which came so close to upsetting the favourite.
"I always look to the future, even at my age, and I think with my horse we have one that could be the future, and maybe next year," he said.
What cheered Doumen particularly was the attitude of Kasbah Bliss as Inglis Drever came to make his challenge. "I think he had a very good reaction when he saw the other horse arriving - he fought back."
Doumen suggested that the ground did not help his horse. "We were getting worried beforehand about the ground which was sticky and not ideal for my horse, but I don't want to concentrate too much on that. I don't want to make excuses," he said.
They were, he admitted, beaten by "some horse".
KAZAL DELIGHTS GRIFFIN
Irish trainer Eoin Griffin was over the moon with the effort of 12/1 shot Kazal, who finished third in the Ladbrokes World Hurdle behind Inglis Drever and Kasbah Bliss.
Griffin said: "I am delighted with Kazal, absolutely thrilled.
"This was the horse's first try at this level and he has acquitted himself well.
"What can you say about Inglis Drever? What a horse he is. I hope if we come back next year he might have retired by then!
"Turning for home, I thought we might have it. He is a really battling and strong horse. Even when he was headed, I thought he might come back but it just proved too much for him.
"Barry (Geraghty) thought that better ground would have just helped him a bit. He now hopefully heads to Punchestown and the ground should suit him there."