cheltenham festival / 2011 news /
Reigning Champion Binocular Heads 31 on Course for Stan James Champion Hurdle 20/01/11
Binocular heads 31 entries for the 2011 renewal of the £370,000 Stan James Champion Hurdle, the highlight of Centenary Day at The Festival on Tuesday, March 15.
Binocular


© racing-images.co.uk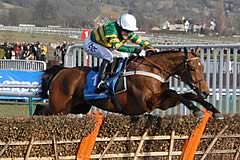 The seven-year-old is the 5/2 favourite with Stan James to retain his crown having powered to a stunning three and a half length success over Khyber Kim (25/1 with Stan James) last year and is one of five entries for trainer Nicky Henderson. The J P McManus-owned Binocular confirmed his well-being with an authoritative victory in the Christmas Hurdle at Kempton on January 15 and is set to make his next appearance at the same venue on February 5. Henderson's entries also include the last two winners of the JCB Triumph Hurdle, Soldatino (33/1) and Zaynar (50/1), exciting French import Solix (50/1) as well as Oscar Whisky (14/1), who finished fourth in last season's Supreme Novices' Hurdle and made a winning return to action in the Cheltenham & Three Counties Club Hurdle at Cheltenham on New Year's Day. If any of the quintet were to prevail and hand Henderson a sixth Stan James Champion Hurdle success on March 15, Centenary Day, it would make the master of Seven Barrows the most successful handler in the championship race's history.
Menorah


© racing-images.co.uk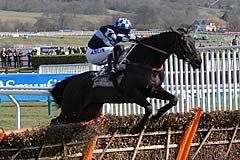 Strong opposition to Binocular comes from last year's Supreme Novices' Hurdle victor Menorah (5/1), who is unbeaten in three outings at Cheltenham having returned to the course this year to record victories in the Greatwood Handicap Hurdle under top weight at The Open and in the StanJames.com International in December, when he proved four and a half lengths too strong for last year's Weatherbys Champion Bumper victor Cue Card (25/1). Donald McCain has two entries headed by the unbeaten Peddlers Cross (5/1), last year's Neptune Investment Management Novices' Hurdle victor who had Binocular back in third when taking the re-arranged stanjames.com Fighting Fifth Hurdle at Newbury on November 27, a race in which Starluck (50/1) took the runner-up spot. Peddlers Cross is set to put his credentials on the line on Saturday at Haydock Park in the stanjames.com Champion Hurdle Trial while McCain could also be represented at Cheltenham by Overturn (25/1), who finished second to Binocular at Kempton on January 15.
A strong Irish entry of seven is headed by the Willie Mullins-trained Hurricane Fly (5/1), a six-time Grade One winner who has recorded facile victories over Solwhit (33/1) on his last two outings, the most recent coming in the Grade One Festival Hurdle at Leopardstown on December 29. The Irish entry also includes Dunguib (16/1), winner of the Weatherbys Champion Bumper in 2009 but not seen out so far this season.
Mille Chief


© racing-images.co.uk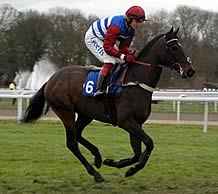 Trainer Alan King tasted Stan James Champion Hurdle glory with Katchit in 2008 and has three chances this time around with Mille Chief (20/1), Walkon (40/1) and Salden Licht (100/1). Mille Chief was a decent juvenile last season and recently recorded a decisive victory in a Sandown handicap hurdle on January 8 while Walkon, the 2009 JCB Triumph Hurdle runner-up, has not been seen out since landing a Grade One event at Aintree in April, 2009. Salden Licht, a Listed winner on the Flat in France in his younger days, was the ready winner of a handicap hurdle at Exeter on January 1 on his latest appearance.
King revealed today: "I think that the plan will be for Mille Chief to head to Wincanton for the Kingwell Hurdle on February 19. I had thought of returning to Sandown for the Contenders' Hurdle two weeks earlier but I wouldn't want to take Binocular on, so the Kingwell, which we won with Katchit in 2008, is the most likely option.
"I was thrilled with him at Sandown but there is still a long way to go with him. I was very worried about the heavy ground there – he's a very good actioned horse – and I think that he won despite of the going. He's gone up 13lb for that win but you have to run horses. His big day was supposed to be the Ladbroke Hurdle at Ascot in December but that fixture was lost and I had to run him somewhere.
"Walkon will go to Haydock on Saturday for the stanjames.com Champion Hurdle Trial. It was always the target for him and he is going to need the run but we have to start him somewhere. He is a big, gross horse who is hard to get fit and he hasn't run for the best part of two years.
"He severed part of his tendon when he won at Aintree and missed all of last season. It's great to get him back to a racecourse but he is going to be rusty.
"He's in the Stan James Champion Hurdle and the Ladbrokes World Hurdle but we need to see where we are with him. It could be a case of just ducking and diving this season and going chasing with him next year.
"Salden Licht will head to Newbury for the totesport Trophy (February 12). He's rated 152 now, which is not to far off Mille Chief, but he is a year older than Mille Chief and it always gets more difficult the older they get. He is still a very good horse and he won well at Exeter. I don't know whether he is up to Champion Hurdle standard but he is a decent horse and we will know more after Newbury."
THE STAN JAMES CHAMPION HURDLE
Class 1, Grade One, £370,000 Total Prize Fund. Cheltenham, 3.20pm, Tuesday, March 15, two miles and half a furlong. For four-year-olds and upwards which are allotted a rating of 130 or more by the senior BHA Head of Handicapping following a review of the horses entered and taking account of races run up to and including March 8 - horses which are not qualified for a rating in GB, IRE or FR may also be entered (such horses may be eligible providing the Handicapper is satisfied that the horse's racecourse performances up to and including March 8 would merit a minimum rating of 130 - the decision of the BHA Head of Handicapping shall be final). Weights: 4yo: 11st 2lb; 5yo+: 11st 10lb; fillies & mares allowed 7lb. Entries closed January 18, entries revealed January 19 (31 entries). Scratchings deadline February 15, £18,500 supplementary stage & six-day confirmation stage March 9, final declaration 10.00am, March 13. Form figures supplied by Weatherbys and are correct up to and including the racing of Monday, January 17.
Form Horse Age Owner Trainer
1213-P1 ALAIVAN (IRE) 5 Thomas Barr Edward O'Grady IRE
21-3036 BARIZAN (IRE) 5 P Conway & John Lee Jones Evan Williams
5311-31 BINOCULAR (FR) 7 J P McManus Nicky Henderson
1021-52 BLACKSTAIRMOUNTAIN (IRE) 6 Susannah Ricci Willie Mullins IRE
14-P4(6)U BYGONES OF BRID (IRE) 8 James Callow Karen McLintock
4F-F333 CELESTIAL HALO (IRE) 7 The Stewart Family Paul Nicholls
1-11144 CLERK'S CHOICE (IRE) 5 Michael Banks Michael Banks
11-1625 CRISTAL BONUS (FR) 5 Robin Geffen Evan Williams
11-112 CUE CARD 5 Jean Bishop Colin Tizzard
111136- DUNGUIB (IRE) 8 Dan Harnett/Lily Lawlor Philip Fenton IRE
1112-06 GET ME OUT OF HERE (IRE) 7 J P McManus Jonjo O'Neill
1/131-11 HURRICANE FLY (IRE) 7 George Creighton & Rose Boyd Willie Mullins IRE
51121-4 KHYBER KIM 9 Caroline Mould Nigel Twiston-Davies
1212-11 MENORAH (IRE) 6 Diana Whateley Philip Hobbs
B11-521 MILLE CHIEF (FR) 5 McNeill Family Alan King
361120- NOTUS DE LA TOUR (FR) 5 D Bradshaw, J Dale, Peter Deal, John Smee, Wilf Walsh David Pipe
1/1114-1 OSCAR WHISKY (IRE) 6 Walters Plant Hire Ltd Nicky Henderson
111-212 OVERTURN (IRE) 7 Tim Leslie Donald McCain
11111-1 PEDDLERS CROSS (IRE) 6 Tim Leslie Donald McCain
20/0120- RONALDO DES MOTTES (FR) 6 K & D Ives David Pipe
1132-1 SALDEN LICHT 7 Dai Griffiths Alan King
11-1113 SILVINIACO CONTI (FR) 5 Potensis Limited Paul Nicholls
42111- SOLDATINO (FR) 5 Simon Munir Nicky Henderson
2-25014 SOLIX (FR) 5 Michael Buckley Nicky Henderson
162-122 SOLWHIT (FR) 7 Top Of The Hill Syndicate Charles Byrnes IRE
1225-23 STARLUCK (IRE) 6 Andrew Wates Alan Fleming
0/223-41 SUBLIMITY (FR) 11 Bill Hennessy Robbie Hennessy IRE
1013-04 THOUSAND STARS (FR) 7 Hammer & Trowel Syndicate Willie Mullins IRE
3140-11 TOCCA FERRO (FR) 6 Sarah Prior and Tim Syder Emma Lavelle
121121/- WALKON (FR) 6 McNeill Family Alan King
1233-44 ZAYNAR (FR) 6 Men In Our Position Nicky Henderson
31 entries
7 Irish-trained
STAN JAMES CHAMPION HURDLE FACTS
1. The Champion Hurdle was inaugurated in 1927, with a value to the winner of £365. The race was abandoned in 1931 due to persistent frost, in 1943 and 1944 because of the Second World War, and in 2001 because of foot and mouth disease.
2. There have only been three sponsors of this great race since its inception. Waterford Crystal backed the contest from 1978 to 1990 while the Smurfit Group sponsored the race from 1991 to 2010. Stan James is the new sponsor in 2011.
3. The largest field has been 24 (1964 and 1991) and the smallest three (1932). The first five runnings of the race saw a total of only 24 runners between them. The current safety limit is 28.
4. The Stan James Champion Hurdle is a contest for multiple winners. Peter Easterby and Nicky Henderson are the race's most successful trainers, with five wins each. Easterby's victories came courtesy of Saucy Kit (1967), Night Nurse (1976 and 1977) and Sea Pigeon (1980 and 1981). Nicky Henderson's five victories so far have come with See You Then (1985, 1986 and 1987), Punjabi (2009) and Binocular (2010).
5. Among jockeys, Tim Molony won the race most often with four victories, on Hatton's Grace (1951) and Sir Ken (1952, 1953 & 1954). Tony ( A P) McCoy is the most successful current jockey with three wins aboard Make A Stand (1997), Brave Inca (2006) and Binocular (2010).
6. The most successful owners are Dorothy Paget, who won the race four times thanks to Insurance (1932, 1933), Solford (1940) and Distel (1946), and J P McManus, who owned triple winner Istabraq (1998, 1999 and 2000) and Binocular (2010).
7. Istabraq, successful in the three Champion Hurdles from 1998 to 2000, was retired after failing to become the first horse to win the race four times in 2002. The four other three-time winners are Hatton's Grace (1949-51), Sir Ken (1952-54), Persian War (1968-70) and See You Then (1985-87).
8. The race has been won seven times by entires, but only twice by mares - Dawn Run (1984) and Flakey Dove (1994).
9. Four greys have won, the most recent being Rooster Booster in 2003. The others were Kribensis in 1990, , Our Hope in 1938 and Victor Norman in 1936. Only one roan horse has won the Champion Hurdle, Anzio in 1962.
10. Istabraq's success in 2000 in a time of 3 minutes 48.1 seconds beat the previous Champion Hurdle record time, set by Make A Stand in 1997, of 3 minutes 48.4 seconds.
11. Dessie Hughes, who trained Hardy Eustace to win in 2004 and 2005, is only the fourth person to have both ridden and trained a Stan James Champion Hurdle winner, having partnered Monksfield in 1979. The others to have achieved this double were Fred Winter, Fred Rimell and Gerry Wilson.
12. As part of the Stan James sponsorship, the bookmaker is backing three races leading to the Stan James Champion Hurdle:
November 27, 2010 – The StanJames.com Fighting Fifth Hurdle – Newbury (due to abandonment of Newcastle) – won by Peddlers Cross
December 11, 2010 – The StanJames.com International Hurdle – Cheltenham – won by Menorah
January 22, 2011 – The StanJames.com Champion Hurdle Trial – Haydock Park
[more]