cheltenham festival / 2010 news /
Binocular Just Champion
16/03/10
1 Binocular 9/1
2 Khyber Kim 7/1
3 Zaynar 15/2
12 ran
Binocular


© racing-images.co.uk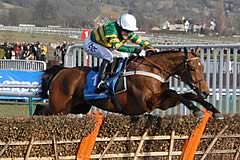 Last year's Smurfit Kappa Champion Hurdle runner-up Bincolular - who looked set to miss this year's running after a disappointing season - not only turned up at Cheltenham this afternoon but came back to his very best under Tony McCoy to beat Khyber Kim in a great finish.

The six-year-old underwent extensive veterinary examination in both Britain and Ireland before he was confirmed at a starter in the race last week by trainer Nicky Henderson.

"When he was beaten last year we said we'd come back in 12 months' time and win this year but we have not had an easy passage," said Henderson. "We were 9/10ths of the way to taking him out of this year's race but a lot of work has been undertaken by a lot of people on both sides of the Irish Sea to get him here. We ironed a few things out and his jumping was the real difference today.

"I think A P (McCoy) was the first to say that he was not firing on all cylinders and we'd got to the point of writing off the season."
The victory was Henderson's fifth in the Smurfit Kappa Champion Hurdle, making him jointly - with Peter Easterby - the most successful trainer in the race's history.

Owner J P McManus added: "I'd given up all hope so have only really been sweating since last week - I'd torn up my tickets. They are all tough to win but I did think he looked great before the race and Nicky really had him in peak condition.

"Nicky worked the oracle and brought him back and I just wondered if it was for real. I'm so pleased because he believed so much in this horse. I knew the horse was in safe hands.

"But my first thoughts after the race are with (businessman and trainer) John Mulhern, who passed away yesterday. He was with us at Cheltenham every year and I just wish he was here today to see this."
Tony McCoy added: "He had such a bad start to the season and didn't jump and didn't finish in his races. You get a bit despondent and down when that happens. After jumping two hurdles today he felt for the first time like he had when winning at Ascot last year. He was jumping like a champion hurdler should.

"Today he showed everybody what I felt that day at Ascot, he showed what a good horse he is. I thought he'd win a Supreme Novices' and then last year's Champion so I'm so pleased now he has won.

"When he's like that he's very easy and straightforward to ride. I've only got the feeling like this once before and I'm so happy for the horse, I've always thought the world of him. I'm delighted for him because I couldn't believe he didn't win the Champion Hurdle last year.

"J P said to go and sit on him so I went down on Wednesday and rode him as fast as I've ridden any horse schooling. I frightened myself we went so fast and thought that he was good enough to run. I went back to ride him on Friday but Wednesday had made my mind up."
Position

Horse
Trainer
Jockey
Weight
Starting Price
Beaten Distance
1

Binocular
N J Henderson
A P McCoy
11st 10lbs
9 - 1
Winner
2

Khyber Kim
N A Twiston-Davies
P J Brennan
11st 10lbs
7 - 1
3 1/2 lengths
3

Zaynar
N J Henderson
A Tinkler
11st 10lbs
15 - 2
6 lengths
4

Celestial Halo
P F Nicholls
R Walsh
11st 10lbs
7 - 1
2 1/2 lengths
5

Starluck
A Fleming
T J Murphy
11st 10lbs
14 - 1
Nose
6

Solwhit
C Byrnes
D N Russell
11st 10lbs
6 - 1
6 lengths
7

Medermit
A King
R Thornton
11st 10lbs
11 - 1
3/4 length
8

Jumbo Rio
E J O'Grady
A J McNamara
11st 10lbs
50 - 1
4 1/2 lengths
9

Punjabi
N J Henderson
B J Geraghty
11st 10lbs
15 - 2
1 1/4 length
10

Go Native
N Meade
P Carberry
11st 10lbs
11 - 4
Head
11

Raise Your Heart
Ms J Morgan
J Cullen
11st 10lbs
100 - 1
Neck
12

Won In The Dark
Miss S J Harty
G Lee
11st 10lbs
40 - 1
19 lengths
MCCOY "I AM NOT AS MISERABLE AS YOU THINK"
Binocular, a horse who was not going to run at one stage, made one of the greatest comebacks to win the 2010 Smurfit Kappa Champion Hurdle in tremendous style under 14-time champion jockey Tony McCoy.

The rider, who is retained by Binocular's owner J P McManus, said: "You never saw a horse go so fast as this fellow (when he was worked to see if he should run in the Smurfit Kappa Champion Hurdle following extensive tests showed that there was nothing wrong with the horse).

"I wanted to see if the real Binocular was going to show up. I rode Zaynar, the third favourite, at the same time and there was no comparison. So I was clear about which horse I wanted to ride in the Champion Hurdle.

"I am delighted for J P and Norah (McManus). Racing is so lucky to have a family with so much enthusiasm for Jump racing. I don't know why they let me ride them but they do.
"I am not as miserable as you think am I?"
McCoy also said: "I think at long last, the real Binocular showed up. I schooled him at Nicky's on Wednesday morning and I wouldn't have thought that he had seen another horse go as fast over five hurdles.

"I wanted to see whether he was going to jump the way he has done and for some reason he jumped really well and, while I am not knocking Zaynar, I rode him 10 minutes later and there was no real doubt as to which one I was going to ride here.
"Binocular just had such a bad start to the season - he didn't jump, travel or finish at Newcastle and did the same at Kempton. I was very unimpressed at Sandown and he just didn't feel himself.
"Today I jumped two hurdles and it was the first time that I felt that I was riding the horse I rode at Ascot last season. You just watch him today and he just clips the top bar all of the way round - he hurdles like a Champion Hurdler should. For some reason, the Binocular that I thought was always there showed up.
"When he is like that, he is a very easy and straightforward horse to ride and he is a real fast jumper. I have only got that feeling off him once before, at Ascot.
"I am so happy for the horse because, every time that I have ridden him, I have thought the world of him, and I can't believe that he didn't win this race last year. He did not have a great lead-up to the race.

"You get a bit despondent and you feel for the horse a bit because lots of other people are knocking him and you know that there is something that is stopping the real Binocular being as good as he can be.

"I was just hoping he would come right - I am so happy for J P and Norah (McManus). This was a better feeling than I have ever had on a horse.

"Coming down the hill, I said to Ruby, how I am going and he replied Khyber Kim was cantering behind but send Binocular on.

"It is hard to win at The Festival. I don't think I have had such a torrid time (in recent years) as everybody else thinks. But this is everything."
SMURFIT KAPPA CHAMPION HURDLE FACTS
1. The Champion Hurdle was inaugurated in 1927, with a value to the winner of £365. The race was abandoned in 1931 due to persistent frost, in 1943 and 1944 because of the Second World War, and in 2001 because of foot and mouth disease.
2. There have only been two sponsors of this great race since its inception. This statistic conceals a dramatic turn of events in 1990, when a major banking group, whose intended sponsorship was to raise the added value of the race by 66 per cent to £120,000, withdrew before its first running. The Smurfit Group stepped in at that point and has remained a loyal sponsor ever since. In 2009, the race will have total prize money of £370,000. Kappa was added to the title in 2006 to reflect the company's new corporate identity.
3. The largest field has been 24 (1964 and 1991) and the smallest three (1932). The first five runnings of the race saw a total of only 24 runners between them. The current safety limit is 28.
4. The Champion Hurdle is a contest for multiple winners. Peter Easterby won the race most often as a trainer, with five victories from three horses, Saucy Kit (1967), Night Nurse (1976 and 1977) and Sea Pigeon (1980 and 1981). Vic Smyth and Fred Winter both had four wins. Nicky Henderson has also had four victories with See You Then (1985, 1986 and 1987) and Punjabi (2009) and is the most successful current trainer. A further five trainers have captured the hurdling crown on three occasions.
5. Among jockeys, Tim Molony won the race most often with four victories, on Hatton's Grace (1951) and Sir Ken (1952, 1953 & 1954). Fred Winter, Jimmy Uttley, Steve Smith Eccles and most recently Charlie Swan were each successful three times.
6. The most successful owner is still Dorothy Paget, who won the race four times thanks to Insurance (1932, 1933), Solford (1940) and Distel (1946).
7. Istabraq, successful in the three Champion Hurdles from 1998 to 2000, was retired after failing to become the first horse to win the race four times in 2002. The four other three-time winners are Hatton's Grace (1949-51), Sir Ken (1952-54), Persian War (1968-70) and See You Then (1985-87).
8. The race has been won seven times by entires, but only twice by mares - Dawn Run (1984) and Flakey Dove (1994).
9. Four greys have won, the most recent being Rooster Booster in 2003. The others were Kribensis in 1990, Victor Norman in 1936, and Our Hope in 1938. Only one roan horse has won the Champion Hurdle, Anzio in 1962.
10. Istabraq's success in 2000 in a time of 3 minutes 48.1 seconds beat the previous Champion Hurdle record time, set by Make A Stand in 1997, of 3 minutes 48.4 seconds.
11. Dessie Hughes, who trained Hardy Eustace to win in 2004 and 2005, is only the fourth person to have both ridden and trained a Smurfit Kappa Champion Hurdle winner, having partnered Monksfield in 1979. The others to have achieved this double were Fred Winter, Fred Rimell and Gerry Wilson.
[more]