cheltenham festival / 2010 news /
Punters Focus on Festival Races in Absence of Jump Action
04/01/10
With no jump racing this afternoon and little prospect of any for the next few days, horse racing punters were still out in force today placing ante post bets on the Cheltenham Festival.
Master Minded


© racing-images.co.uk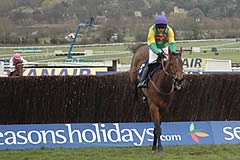 Coral reported a number of horses being backed, with Denman and Master Minded both cut for their Cheltenham targets after one high staking telephone punter placed a substantial bet on the pair at 2-1 and 13-8 respectively. Coral now offer 7-4 Denman from 2-1 for the Gold Cup and 6-4 from 13-8 Master Minded for the Champion Chase.
Captain Cee Bee continued to be popular for the Arkle Tophy today and Coral cut him to 5-1 joint favourite for the race a position he shares with Sizing Europe.
In the Champion Hurdle the reigning champion was well backed today forcing Coral to cut him to 10-1 from 12-1 to retain his crown.
"With just the one domestic fixture at Wolverhampton it has been very quiet in our shops today, but surprisingly it has been one of our busiest days of ante post betting we have had since the start of the Jump season," said Simon Clare, Coral Spokesman.
**Smurfit Kappa Champion Hurdle
4-1 Zaynar, 9-2 Solwhit, 6-1 Go Native, 8-1 Binocular, 9-1 Celestial Halo, 10-1 Khyber Kim, Punjabi, 16-1 Starluck, Dunguib, Mikael D'Haguenet, 20-1 Voler La Vedette, Sublimity,
**Totesport Gold Cup
11-8 Kauto Star, 2-1 Denman, 14-1 Imperial Commander, 20-1 Cooldine, What A Friend, 25-1 Joncol , 33-1 Carruthers, Money Trix, 40-1 Albertas Run, Barbers Shop, Madison Du Berlais, Notre Pere,
**Ladbrokes World Hurdle
4-7 Big Buck's, 7-1 Karabak, 10-1 Diamond Harry, 14-1 Mighty Man, Whiteoak, 16-1 Sentry Duty, 20-1 Oscar Dan Dan, Powerstation, 25-1 Katchit, Lie Forrit, Mourad, Fair Along,
**Queen Mother Champion Chase
6-4 Master Minded, 8-1 Big Zeb, 9-1 Forpadydeplasterer, 10-1 Kalahari King, Petit Robin, Twist Magic, 14-1 Well Chief, Golden Silver, Barker,
**Supreme Novices Hurdle
11-8 Dunguib, 10-1 Menorah, 14-1 Pepe Simo, 16-1 General Miller, 20-1 Bellvano, Oscar Whisky, Washington Irving, 25-1 Hollo Ladies, Lios A Choill, Loosen My Load, Salden Licht, Saludos, Some Present
**Irish Independent Arkle Trophy
5-1 Sizing Europe, Captain Cee Bee, 7-1 Somersby, Tataniano, 12-1 Mikael D'Haguenet, Riverside Theatre, Long Run, 16-1 Osana, 20-1 Cousin Vinny, Sports Line, Take The Breeze
**Neptune Investment Management Novices' Hurdle
8-1 Quel Esprit, 10-1 Shinrock Paddy, Quantitiveeasing, 12-1 General Miller, 14-1 Manyriverstocross, Royal Charm, Tell Massini, 16-1 Finian's Rainbow, Ghizao, Reve De Sivola, 20-1 Rite Of Passage, Some Present
**RSA Chase
4-1 Punchestowns, 5-1 Long Run, 8-1 Mikael D'Haguenet, 10-1 Diamond Harry, Pandorama, 12-1 Weird Al, 14-1 Weapon's Amnesty, 16-1 Bensalem, 20-1 Inchidaly Rock,
**Ryanair Chase
9-2 Poquelin, 6-1 Barbers Shop, Tranquil Sea, Voy Por Ustedes, 7-1 Imperial Commander, 12-1, , Planet Of Sound, 14-1 Forpadydeplasterer, Deep Purple, 16-1 Kalahari King, Schindlers Hunt,
**Triumph Hurdle
10-1 Mille Chief, Pistolet Noir, 14-1 Alaivan, Carlito Brigante, Royal Mix, 16-1 Westlin' Winds, 25-1 Zaidpour, Advisor, Barwell Bridge, Braveheart Move, Cross Appeal, Notus De La Tour, 33-1 Barizan, Jump City, Mohanad, Mosstown, Remember Now, Spunk, Sunwise, Veiled