cheltenham festival / 2009 news / champion hurdle

Smurfit Kappa Champion Hurdle 2009 - Analysis
10/03/09
1st (17) Punjabi 22/1
2nd (6) Celestial Halo 17/2
3rd (20) Binocular 6/4 fav
Punjabi, who brought trainer Nicky Henderson his first Smurfit Kappa Champion Hurdle win in 22 years, had anything but a straightforward preparation for this year's race.
Punjabi
© racing-images.co.uk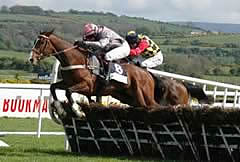 "He had a history of being perhaps sharp, he was only really a miler when he came to us and we did have a little spin on the flat and win a couple of races as a miler last year. But enough was enough. We had to treat him like a Champion Hurdle contender," said the trainer.
Henderson scheduled just three outings before the Champion Hurdle, but in the second of those, in the Stan James Christmas Hurdle at Kempton, he came down at the second last. "He got a cut in his hind leg and was in his box for three weeks. It was just right on the front of his joint and if you didn't leave him motionless every time he was going to walk he would open it," said Henderson.
The injury was followed by snow-storms which put the horse behind schedule. In his pre-Cheltenham race, the Kingwell Hurdle at Wincanton, the lack of work told, the horse finishing only third to Ashkazar. "It didn't look awe-inspiring, it was desperate ground, but we had to do it and the race did its job," explained the trainer.
""He's a very pleasant person, very talented. We don't school him [now] because he knows what he's doing blindfold," added the trainer.
Barry Geraghty, who is having a dream first season as the stable jockey, described his race tactics. "I always had Celestial Halo in front of me and Binocular alongside me, so I knew where my two main dangers were. It was just a case of when I took it up. He jumped the last better than Celestial halo and I had to commit and he battled all the way. The last 50 yards were touch and go," said Geraghty.
Henderson also trained the third-placed Binocular, who started a very warm favourite at 6/4. "We have to be pleased with the way that Binocular run. When we were in the snow and and we really were in the snow, that's when we should have been working him. You have to be 110% fit for these races and when you're only 99%... I have a sneaky feeling that he took a blow coming to the last," said Henderson.
Celestial Halo
© racing-images.co.uk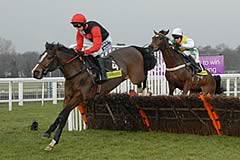 HALO OVER CELESTIAL AFTER GALLANT SECOND - BERRY OFFERS NO BINOCULAR EXCUSES - LAVELLE THRILLED

Paul Nicholls came within a neck of training his first Smurfit Kappa Champion Hurdle when Celestial Halo finished runner-up to Punjabi.

Twelve months ago Celestial Halo provided owner Andy Stewart with an initial Festival win when taking the JCB Triumph Hurdle. He said: "That was great. We thought Nicky Henderson would train the winner, but we got the wrong horse [Binocular was favourite], so well done to Punjabi's owner Raymond Tooth.

"Our horse never shirked it and Ruby [Walsh] said that if he'd flown the last the neck might have gone the other way, but that's racing. He was my first Festival winner and my first [Smurfit Kappa] Champion Hurdle runner - he'll be back next year."

Paul Nicholls had considered Celestial Halo a chaser of the future, but after today's effort that plan is on hold. Nicholls said: "If he'd finished sixth today we'd have been going chasing, because he's schooled over a fence, but after that we'll be sticking to hurdles.

"I knew that at Sandown [when second to Binocular] we had him where we wanted him and there would be plenty of improvement. We had him ready today.

"The rain helped, but he jumped well, he travelled and he's getting stronger. He got tight to the last and I thought 'we're in trouble', but then he got going again. It's a huge run from a five-year-old. It's gutting to get beaten after a run like that."

Stewart was thinking of Aintree for his horse, but Nicholls is less sure. He said: "We ran him at Aintree last year and he was beaten after a hard race here. He's had a hard race today so we'll see how he is, but we might call it a day for the season."

The 6/4 favourite Binocular was a further head back in third, but Frank Berry, racing manager to owner J P McManus, offered no excuses.

He commented: "I don't think the ground made any difference today. The horse jumped great and has stayed on. He is only five and will be back for another day. We couldn't be happier without winning."

J P McManus commented himself: "There is always a bit of disappointment but there was no hard luck story. He got a good run throughout the race and you cannot have any excuses - he was beaten fair and square. But he is in one piece and hopefully we will back next year."

Last year''s Fred Winter Juvenile Novices' Handicap Hurdle victor Crack Away Jack took fourth place and his trainer Emma Lavelle was very satisfied.


The Andover handler commented: "I am absolutely thrilled. Better ground would have helped him today but that's probably about the same for some of the other horses today.

"He will be going over fences next season - that's was always going to be his game and it is absolutely fantastic what he has achieved over hurdles."

Pointing to the number one spot in the winner's enclosure, Lavelle said: "Hopefully, that is where we will be after the Arkle next year!"

OSANA "FELT FLAT"
KATCHIT "STILL A RACEHORSE" BUT MAY NEED FURTHER

Last year's runner-up Osana proved a disappointment, trailing in 11th place. The seven-year-old faded quickly after racing prominently early on.

His jockey Andrew McNamara said: "We were always under pressure. He wasn't travelling well enough. It was not surprise when he fell away."

Trainer David Pipe added: "Andrew said he felt flat out all the way. He's one we may step up in trip."

The 2008 Smurfit Kappa Champion Hurdle hero Katchit took sixth place this time around and his rider Robert Thornton remarked: "He's run well to be honest with you. I've finished sixth and probably only beaten five or six lengths. He's still a racehorse, but he's probably not a two-miler now."




SMURFIT KAPPA CHAMPION HURDLE RESULTS

2008-WINNER-KATCHIT 5-11-10 Owner-D S J P Syndicate; Trainer-Alan King; Jockey-Robert Thornton; SP-10/1
2ND-Osana 6-11-10 Owner-Thomas Barr; Trainer-David Pipe; Jockey-Tom Scudamore; SP-9/2
3RD-Punjabi 5-11-10 Owner-Raymond Tooth; Trainer-Nicky Henderson; Jockey-Barry Geraghty; SP-25/1
15 ran, Time-4m 8.10s; Dist-1, 5 2/1 Fav Sizing Europe (14th)

2007-WINNER-SUBLIMITY 7-11-10 Owner-Bill Hennessy; Trainer-John Carr IRE; Jockey-Philip Carberry; SP-16/1
2ND-Brave Inca 9-11-10 Owner-Novices Syndicate; Trainer-Colm Murphy IRE; Jockey-Ruby Walsh; SP-11/2
3RD-Afsoun 5-11-10 Owner-Trevor Hemmings; Trainer-Nicky Henderson; Jockey-Mick Fitzgerald; SP-28/1
10 ran, Time-3m 55.70s; Dist-3, nk 6/4 Fav Detroit City (6th)

2006-WINNER-BRAVE INCA 8-11-10 Owner-Novices Syndicate; Trainer-Colm Murphy IRE; Jockey-Tony McCoy; SP-7/4 Fav
2ND-Macs Joy 7-11-10 Owner-Mac's J Racing Syndicate; Trainer-Jessica Harrington IRE; Jockey-Barry Geraghty; SP-13/2
3RD-Hardy Eustace 9-11-10 Owner-Lar Byrne; Trainer-Dessie Hughes IRE; Jockey-Conor O'Dwyer; SP-11/2
18 ran. Time-3m 50.00s; Dist-1, 3½

2005-WINNER-HARDY EUSTACE 8-11-10 Owner-Lar Byrne; Trainer-Dessie Hughes IRE; Jockey-Conor O'Dwyer; SP-
7/2 Jt Fav
2ND-Harchibald 6-11-10 Owner-Des Sharkey; Trainer-Noel Meade IRE; Jockey-Paul Carberry; SP-7/1
3RD-Brave Inca 7-11-10 Owner-Novices Syndicate; Trainer-Colm Murphy IRE; Jockey-Barry Cash; SP-10/1
14 ran, Time-3m 51.50s; Dist-nk, nk 7/2 Jt Fav Back In Front (9th)

2004-WINNER-HARDY EUSTACE 7-11-10 Owner-Lar Byrne; Trainer-Dessie Hughes IRE; Jockey-Conor O'Dwyer; SP-33/1
2ND-Rooster Booster 10-11-10 Owner-Terry Warner; Trainer-Philip Hobbs; Jockey-Richard Johnson; SP-11/8 Fav
3RD-Intersky Falcon 7-11-10 Owner-Interskyracing.com & Jacqui O'Neill; Trainer: Jonjo O'Neill; Jockey-Liam Cooper; SP-8/1
14 ran, Time-3m 54.50s; Dist-5, 4

2003-WINNER-ROOSTER BOOSTER 9-12-00 Owner-Terry Warner; Trainer-Philip Hobbs; Jockey-Richard Johnson; SP-9/2
2ND-Westender 7-12-00 Owner-Matt Archer & Jean Broadhurst; Trainer-Martin Pipe; Jockey-Rodi Greene; SP-33/1
3RD-Rhinestone Cowboy 7-12-00 Owner-Sue Magnier; Trainer-Jonjo O'Neill; Jockey-Norman Williamson; SP-5/2
Fav 17 ran, Time-3m 54.70s; Dist-11, 3

2002-WINNER-HORS LA LOI III 7-12-00 Owner-Paul Green; Trainer-James Fanshawe; Jockey-Dean Gallagher; SP-10/1
2ND-Marble Arch 6-12-00 Owner-Martin Wilson, Rory Sweet and Mary Wilson; Trainer-Hughie Morrison; Jockey-Ruby Walsh; SP-25/1
3RD-Bilboa 5-11-09 Owner-Jorg Vasicek; Trainer-Francois Doumen FR; Jockey-Thierry Doumen; SP-14/1
15 ran, Time-3m 53.80s; Dist- 3, ½ 2/1 Fav Istabraq (pu)

2001 Cancelled

2000-WINNER-ISTABRAQ 8-12-00 Owner-J P McManus; Trainer-Aidan O'Brien IRE; Jockey-Charlie Swan; SP-8/15 Fav
2ND-Hors La Loi III 5-12-00 Owner-Paul Green; Trainer-Francois Doumen FR; Jockey-Dean Gallagher; SP-11/1
3RD-Blue Royal 5-12-00 Owner-Lynn Wilson; Trainer-Nicky Henderson; Jockey-Mick Fitzgerald; SP-16/1
12 ran, Time-3m 48.10s; Dist-4, nk

1999-WINNER-ISTABRAQ 7-12-00 Owner-J P McManus; Trainer-Aidan O'Brien IRE; Jockey-Charlie Swan; SP-4/9 Fav
2ND-Theatreworld 7-12-00 Owner-Sue Magnier; Trainer-Aidan O'Brien IRE; Jockey-Tommy Treacy; SP-16/1 3RD-French Holly 8-12-00 Owner-Kieran Flood; Trainer-Ferdy Murphy; Jockey-Andrew Thornton; SP-11/2
14 ran, Time 3m 56.7s; Dist-3½, 2½

1998-WINNER-ISTABRAQ 6-12-00 Owner-J P McManus; Trainer-Aidan O'Brien IRE; Jockey-Charlie Swan; SP-3/1 Fav
2ND-Theatreworld 6-12-00 Owner-Sue Magnier; Trainer-Aidan O'Brien IRE; Jockey-Tommy Treacy; SP-20/1
3RD-I'm Supposin 6-12-00 Owner-Nicholas Cooper; Trainer-Richard Rowe; Jockey-Richard Dunwoody; SP-6/1
18 ran, Time 3m 49.1s; Dist-12, 1

1997-WINNER-MAKE A STAND 6-12-00 Owner-Peter Deal; Trainer-Martin Pipe; Jockey-Tony McCoy; SP-7/1
2ND-Theatreworld 5-12-00 Owner-Sue Magnier; Trainer-Aidan O'Brien IRE; Jockey-Norman Williamson; SP-33/1
3RD-Space Trucker 6-12-00 Owner-Elaine Queally; Trainer-Jessica Harrington IRE; Jockey-John Shortt; SP-9/2
17 ran, Time-3m 48.4s, Dist-5, ¾ 7/2 Fav Large Action (pu)

1996-WINNER-COLLIER BAY 6-12-00 Owner-Wally Sturt; Trainer-Jim Old; Jockey-Graham Bradley; SP-9/1
2ND-Alderbrook 7-12-00 Owner-Ernie Pick; Trainer-Kim Bailey; Jockey-Richard Dunwoody; SP-10/11 Fav
3RD-Pridwell 6-12-00 Owner-Jones, Berstock and Fleet Partnership; Trainer-Martin Pipe; Jockey-Chris Maude;
SP-33/1 16 ran, Time-3m 59.0s, Dist-2½, 6

1995-WINNER-ALDERBROOK 6-12-00 Owner-Ernie Pick; Trainer-Kim Bailey; Jockey-Norman Williamson; SP-11/2
2ND-Large Action 7-12-00 Owner-Brian Stewart-Brown; Trainer-Oliver Sherwood; Jockey-Jamie Osborne; SP-4/1 Jt Fav
3RD-Danoli 7-12-00 Owner-Dan O'Neill; Trainer-Tom Foley IRE; Jockey-Charlie Swan; SP-4/1 Jt Fav
14 ran, Time-4m 03.1s, Dist-5, 2

[more]