Ascot Gold Cup

Group 1, Ascot 16:20
£405,315 added,
4yo plus,
2m 4f, Class 1  
Thursday 18th June 2015

1 Trip To Paris 12/1
2 Kingfisher 5/1
3 Forgotten Rules 5/2F
NR: Biographer, Kalann (IRE)
12 ran Distances: 1¼l, nk, ½l
TIME 4m 22.61s (slow by 2.61s)

Trip To Paris and Graham Lee took the glory in the Gold Cup
Trip To Paris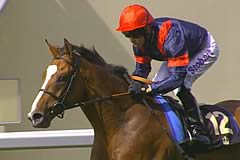 Newmarket-based Ed Dunlop, enhancing his reputation as a trainer of stayers, won today's Gold Cup with Trip To Paris.

The Graham Lee-ridden winner, a 12/1 shot, won with something in hand, scoring by one and a quarter lengths and a neck from Kingfisher and the 5/2 favourite Forgotten Rules. Victory for Dunlop followed that of his father, John, who trained Ragstone to win Royal Ascot's oldest race in 1974.

Trip To Paris, who is only four, is owned by La Grange Partnership. He was bought by Dunlop at Tattersalls in Newmarket for the relatively small sum of 20,000gns, at a two-year-old breeze-up sale, a type of auction suited to speedy juveniles and rarely a source of horses with Gold Cup pretensions. He looks a successor to his stablemate, nine-year-old Red Cadeaux, a famous traveller who has been second in three Melbourne Cups and who has won nearly £5m in prize money.

Dunlop, whose runner was supplemented for the Gold Cup by his owners at a cost of £35,000, said: "It's a helluva story and credit must go to the owners. Those who know me know I'm not the most adventurous when it comes to stumping up £35,000, particularly when I own a bit of the horse. He ran very well in the King George V Handicap here last year, but we felt he might have the right turn of foot and temperament to be a stayer. At Ripon he won a trial for Chester [over two miles] and then he won the Chester Cup, and I thought he was a little unlucky at Sandown [when second] when they went very slow and sprinted.

"Graham Lee has been a big part of this - I thought it was a great ride, although I was bemoaning him going around the outside for a bit until he sensibly got to the inside rail where he quickened well.

"He's made phenomenal progress this season - he was on a mark of 88 at the start of the season and ran in last year's Shergar Cup, where the jockey was run away with and made the running. Then he was a bit disappointing and we gelded him and put him away. He's won four of six this year and is one of the most improved horses in training.

"His owners are all very sporting and put up with me - some have been with me since the start. There are seven of us in the partnership."
Asked where the Gold Cup win ranks in his career, Dunlop said: "Near the top. It's an incredible day, and one of my greatest days as a trainer. My father and mother had the Gold Cup on their dining table, so to actually win it is a dream come true. I was always brought up by my parents to regard the Gold Cup as the highlight of this meeting. It's been a difficult season for my staff, so to win this turns it all around.

"The guy leading him up today is Steve Nicholson, who also looks after Red Cadeaux, and until today he always said, 'he [Trip To Paris] is not coming on the same plane as Cadeaux', but after today we'll see. The Australians, the clever ones, said you ought not be running in the Gold Cup because you'll spoil his mark for the Melbourne Cup, but I think his owners will want to do it now. Why not?

"He's a stayer that can really quicken - he was unlucky in the Rosebery Handicap [over 11 furlongs in March] earlier this year, so he's got a turn of foot.

Andrew White, a financial advisor and member of La Grange Partnership, said of the winner: "He was good at two and three, but this year he's just been on the up and up. It's hard to describe.

"This race featured in a half-hearted discussion at lunch before the Chester Cup - even until last Friday we didn't know for sure what we were going to do, but here we are. It's a syndicate and we're all in it for the fun, and we're having fun now. We've had offers to sell him, but decided to stick with him. Let's enjoy the moment and think about Melbourne later."

Dermot Weld felt 5/2 favourite Forgotten Rules may not have stayed after he finished a creditable third in the Gold Cup behind the winner Trip To Paris. The son of Nayef was cantering under jockey Pat Smullen turning into the home straight and took the lead two furlongs out before finding no more in the closing stages.
Weld suggested that the two and a half mile trip may have been too far for the gelding. He said: "I think this distance is as far as he wants to go really. He has been a winner at two miles and I thought he probably just didn't quite get home. He has still run a big race.

"He battled again when headed and he fights back because that is the sort of horse he is but the distance is the reason I think. There is a big difference between two miles and two and a half miles. He was cantering at two miles and that is why I think he didn't see out the trip."

The Irish handler did not blame the fast ground for today's defeat but he believes the horse will be a different proposition on better ground. He remarked: "It was a close call about running on the ground but we can't blame that. On the day, we have just been beaten by the better horse.

"He is significantly better on soft ground, he cruises on it and that is what he would have favoured today. With all that said, he ran all the way to the line and he has finished third in a Gold Cup."

Weld does not have a specific target for the horse going forward and added: "We will review the whole thing and see where we go next."

Kingfisher, trained by Aidan O'Brien was an eye-catching second, having met trouble in the home straight. Once he found daylight under hat-trick seeking Ryan Moore, the son of Galileo flew home to finish one and a quarter lengths behind winner Trip To Paris and a neck ahead of third, Forgotten Rules. O'Brien said: "He ran a great race so we have to be happy. We were just delighted with him."

Simenon was running in his third consecutive Gold Cup and stayed on well to take fourth. His trainer Willie Mullins said: "It was great to come back a third year in a row and get some nice prize money. It is fantastic to get into the winner's enclosure and he has run a fantastic race."
Gold Cup (British Champions Series) (Group 1)
£405,315 added, 4yo plus, 2m 4f, Class 1
12 ran
Going: Good to Firm
Dr
Dist
Horse SP
Jockey Weight
Trainer
Age
1st
(13)
Trip To Paris (IRE) 12/1
G Lee
9-0
E A L Dunlop
4
2nd
(5)
1&frac14
Kingfisher (IRE) 5/1
R L Moore
9-0
A P O'Brien
4
3rd
(10)
nk
Forgotten Rules (IRE) 5/2f
P J Smullen
9-2
D K Weld
5
4th
(9)
&frac12
Simenon (IRE) 14/1
James Doyle
9-2
W P Mullins
8
5th
(4)
hd
Bathyrhon (GER) 14/1
M Guyon
9-2
Mme P Brandt
5
6th
(14)
1&frac14
Scotland (GER) 20/1
Jim Crowley
9-0
A M Balding
4
7th
(7)
nk
Mizzou (IRE) 7/2
W Buick
9-0
L M Cumani
4
8th
(1)
&frac12
Forever Now 25/1
L Dettori
9-0
J H M Gosden
4
9th
(3)
1&frac14
Havana Beat (IRE) 25/1
David Probert
9-2
A M Balding
5
10th
(6)
37
Windshear 33/1
S M Levey
9-0
R Hannon
4
11th
(12)
nk
Vent De Force 10/1
R Hughes
9-0
H Morrison
4
12th
(11)
99
Tac De Boistron (FR) 8/1
M Harley
9-2
M Botti
8
NR
(8)
Biographer 33/1
G Baker
9-2
D R Lanigan
6
NR
(2)
Kalann (IRE) 50/1
Andrea Atzeni
9-2
Miss S J Harty
8
THE GOLD CUP - Past Results
2014-WINNER-LEADING LIGHT 4-9-00 Owner-Derrick Smith, Sue Magnier & Michael Tabor; Trainer-Aidan O'Brien IRE; Jockey- Joseph O'Brien; SP-10/11F *fin 3RD promoted to
2ND-Missunited 7-8-13 Owner-Vanessa Hutch; Trainer-Michael Winters IRE; Jockey-Jim Crowley; SP-40/1 *fin 4TH promoted to
3RD-Brown Panther 6-9-02 Owner-Andrew Black & Owen Promotions Ltd; Trainer-Tom Dascombe; Jockey- Richard Kingscote; SP-5/1
13 ran; Time-4m 21.09s; Dist-nk, sh, 4½ (original finishing order) Estimate finished second but was subsequently disqualified after failing a post-race test
2013-WINNER-ESTIMATE 4-8-11 Owner-The Queen; Trainer-Sir Michael Stoute; Jockey-Ryan Moore; SP-7/2 Fav
2ND-Simenon 6-9-02 Owner-Wicklow Bloodstock Limited; Trainer-Willie Mullins IRE; Jockey-Johnny Murtagh; SP-5/1
3RD-Top Trip 4-9-00 Owner-J Vasicek; Trainer-Francois Doumen FR; Jockey-Mickael Barzalona; SP-7/1
14 ran; Time-4m 20.51s; Dist-nk, 1
2012-WINNER-COLOUR VISION 4-9-00 Owner-Godolphin; Trainer-Saeed bin Suroor; Jockey-Frankie Dettori; SP-6/1
2ND-Opinion Poll 6-9-02 Owner-Godolphin; Trainer-Mahmood Al Zarooni; Jockey-Mickael Barzalona; SP-5/1
3RD-Saddler's Rock 4-9-00 Owner-Michael O'Flynn; Trainer-John Oxx IRE; Jockey-Johnny Murtagh; SP-9/2
9 ran; Time-4m 42.05s; Dist-½, nk 4/5 Fav Fame And Glory (7th)
2011-WINNER-FAME AND GLORY 5-9-02 Owner-Derrick Smith/Sue Magnier/Michael Tabor/Fitri Hay; Trainer-Aidan
O'Brien IRE; Jockey-Jamie Spencer; SP-11/8 Fav
2ND-Opinion Poll 5-9-02 Owner-Godolphin; Trainer-Mahmood Al Zarooni; Jockey-Mickael Barzalona; SP-16/1
3RD-Brigantin 4-9-00 Owner-Team Valor; Trainer-Andre Fabre FR; Jockey-Pierre-Charles Boudot; SP-16/1
15 ran; Time-4m 37.51s; Dist-3, 4½
2010-WINNER-RITE OF PASSAGE 6-9-02 Owner-Dr Ronan Lambe; Trainer-Dermot Weld IRE; Jockey-Pat Smullen;
SP-20/1
2ND-Age Of Aquarius 4-9-00 Owner-Sue Magnier, Michael Tabor, Derrick Smith, Eduard Mordukhovitch; Trainer-Aidan
O'Brien IRE; Jockey-Johnny Murtagh; SP-8/1
3RD-Purple Moon 7-9-02 Owner-Craig Bennett; Trainer-Luca Cumani; Jockey-Kieren Fallon; SP-12/1
12 ran; Time-4m 16.92s; Dist-nk, 6 11/4 Fav Ask (5th)
2009-WINNER-YEATS 8-9-02 Owner-Sue Magnier & Diane Nagle; Trainer-Aidan O'Brien IRE; Jockey-Johnny Murtagh;
SP-6/4 Fav
2ND-Patkai 4-9-00 Owner-Ballymacoll Stud; Trainer-Sir Michael Stoute; Jockey-Ryan Moore; SP-9/2
3RD-Geordieland 8-9-02 Owner-A Taylor, K Conlan, D Carberry; Trainer-Jamie Osborne; Jockey-Shane Kelly; SP-11/4
9 ran; Time-4m 20.73s; Dist-3½, 15
2008-WINNER-YEATS 7-9-02 Owner-Sue Magnier & Diane Nagle; Trainer-Aidan O'Brien IRE; Jockey-Johnny Murtagh;
SP-11/8 Fav
2ND-Geordieland 7-9-02 Owner-Mountgrange Stud; Trainer-Jamie Osborne; Jockey-Shane Kelly; SP-15/2
3RD-Coastal Path 4-9-00 Owner-Khalid Abdullah; Trainer-Andre Fabre-FR; Jockey-Stephane Pasquier; SP-2/1
10 ran, Time-4m 21.14s, Dist-5, 4½,
2007-WINNER-YEATS 6-9-02 Owner-Sue Magnier & Diane Nagle; Trainer-Aidan O'Brien IRE; Jockey-Michael Kinane;
SP-8/13 Fav
2ND-Geordieland 6-9-02 Owner-Mountgrange Stud; Trainer-Jamie Osborne; Jockey-Jamie Spencer; SP-12/1
3RD-Le Miracle 6-9-02 Owner-Gestut Hachtsee; Trainer-Werner Baltromei GER; Jockey-Dominique Boeuf; SP-50/1
14 ran, Time 4m 20.78s, Dist 1½, 3½
2006-WINNER-YEATS 5-9-02 Owner-Sue Magnier & Diane Nagle; Trainer-Aidan O'Brien IRE; Jockey-Kieren Fallon;
SP-7/1
2ND-Reefscape 5-9-02 Owner-Khalid Abdullah; Trainer-Andre Fabre FR; Jockey-Christophe Soumillon; SP-100/30
3RD-Distinction 7-9-02 Owner-Highclere Thoroughbred Racing Ltd; Trainer-Sir Michael Stoute; Jockey-Michael Kinane;
SP-5/2 Fav
12 ran, Time-4m 20.45s, Dist-4, hd
2005-WINNER-WESTERNER 6-9-02 Owner-Ecurie Wildenstein; Trainer-Elie Lellouche FR; Jockey-Olivier Peslier; SP-7/4
Fav
2ND-Distinction 6-9-00 Owner-Highclere Thoroughbred Racing Ltd; Trainer-Sir Michael Stoute; Jockey-Johnny Murtagh;
SP-33/1
3RD-Vinnie Roe 7-9-02 Owner-Seamus Sheridan; Trainer-Dermot Weld IRE; Jockey-Pat Smullen; SP-9/2
17 ran, Time-4m 19.49s, Dist- nk, 5 (Run at York)
2004-WINNER-PAPINEAU 4-9-00 Owner-Godolphin; Trainer-Saeed bin Suroor; Jockey-Frankie Dettori; SP-5/1
2ND-Westerner 5-9-02 Owner-Ecurie Wildenstein; Trainer: Elie Lellouche FR; Jockey-Gerald Mosse; SP-13/2
3RD-Darasim 6-9-02 Owner-Markus Graff; Trainer-Mark Johnston; Jockey-Joe Fanning; SP-28/1
13 ran, Time-4m 20.90s, Dist-1½, 2½ 5/4 Fav Mr Dinos (6th)
2003-WINNER-MR DINOS 4-9-00 Owner-Constantinos Shiacolas; Trainer-Paul Cole; Jockey-Kieren Fallon; SP-3/1
2ND-Persian Punch 10-9-02 Owner-Jeff Smith; Trainer-David Elsworth; Jockey-Martin Dwyer; SP-20/1
3RD-Pole Star 5-9-02 Owner-D I Russell; Trainer-James Fanshawe; Jockey-Pat Eddery; SP-12/1
12 ran, Time: 4m 20.15s, Dist-6, ¾ 5/2 Fav Mamool (5th)