Yeats Makes Gold Cup History
19/06/08

1st (7) Yeats 11-8 Fav
2nd (4) Geordieland 15-2
3rd (8) Coastal Path 2-1
10 ran
Also: 16-1 Allegretto 4th
NR: 1
Yeats entered the record books when becoming the just the second horse to land a hat-trick of wins in the Group One Gold Cup at Royal Ascot. Under a confident Johnny Murtagh, the seven-year-old made his move with more than half a mile to run before stretching clear of first third placed Coastal Path and then shrugging off the challenge of Geordieland.
Yeats


© racing-images.co.uk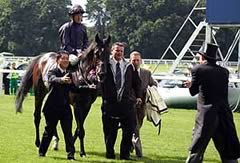 Trainer Aidan O'Brien said: "It's unbelievable that he was able to come back and win another one. He's an amazing horse. We made a decision last year that we'd only give him one run before it this year and I was very sure over the last year that I'd made the wrong decision because he was putting up weight hand over fist.
"He's gone very lazy. He's only doing what he needs to do. But Andrew and David (Hickey) are involved everyday and they were very happy that he was really well. All credit to them. Johnny and Seamie (Heffernan) rode him in his work and they were very happy. He wasn't getting any lighter but is getting older and wiser.
"He travelled very strong through the race. In all fairness to Johnny, he said he was going to let him take his time and let his rhythm build up. When he felt he was building, he was going to let him go.
"All that was going through my mind was that he was heavy, but he didn't look as heavy in the ring beforehand. When he started building turning in, he was between two of them I was happy enough. Into the straight he was lazy but I can't see any horse who would be able to stay off the bridle with him. He's a unique horse.
"I can't put the win into words. When he came back and won one Gold Cup, I couldn't believe it but them to come back and win another and another is hard to believe
"We always dreamed when we started off, that we would be able to get horses to compete in these races and that was always our dream. And when you get horses like we've been getting over the last couple of years is unbelievable. I'm just so lucky to be in a position that I'm in, working with so many special people with special horses.
"He's moving great and has never pulled out like an old horse. He's still very fresh and has a great personality. You can see when he pulled up he was bucking and kicking.
"You'd better speak to the boss about coming back next year. I don't know when the time is going to come for his genes to be preserved and that is the reality because we have never had a horse with as big a pair of lungs of as big a heart as he has. These are physical things and not things you believe in. His lungs are massive and his heart is massive. With most horses when you go a mile and a half they are at the end but this fella after going a mile and a half his heart is only just getting going up to 180 beats which is unbelievable.
"I'm staying in London tonight - I promised Anne Marie and the kids. So we're going to a show tonight."
Position

Horse
Trainer
Jockey
Weight
Starting Price
Beaten Distance
1

Yeats
A P O'Brien
J Murtagh
9st 2lbs
11 - 8
Winner
2

Geordieland
J A Osborne
S W Kelly
9st 2lbs
15 - 2
5 lengths
3

Coastal Path
A Fabre
S Pasquier
9st 0lbs
2 - 1
4 1/2 lengths
4

Allegretto
Sir Michael Stoute
R L Moore
8st 13lbs
16 - 1
1 3/4 length
5

Sagara
Saeed bin Suroor
K McEvoy
9st 0lbs
25 - 1
Short Head
6

Regal Flush
Saeed bin Suroor
L Dettori
9st 0lbs
11 - 1
1/2 length
7

Thundering Star
M F De Kock
K Shea
9st 2lbs
33 - 1
1 1/2 length
8

Diamond Quest
A M Balding
Martin Dwyer
9st 2lbs
50 - 1
27 lengths
9

Le Miracle
W Baltromei
D Boeuf
9st 2lbs
28 - 1
distance
10

Finalmente
S A Callaghan
M J Kinane
9st 2lbs
28 - 1
3 3/4 lengths
NonRunner

Baddam
Ian Williams
DOUBTFUL
9st 2lbs


MAGNIER NOT GOING TO RUSH YEATS DECISION
In the aftermath of the Group One Gold Cup, bookmakers were quick to chalk up Yeats for next year's race with general quotes of 3/1 being handed out.
However, part-owner John Magnier isn't going to rush the decision, saying: "We sat out to try to win the third Gold Cup and we've done that now. So we'll have a discussion with the Nagles (part-owner David and Diane), the lads in the yard and the veterinary team at the end of the year and see what is the right thing to do for the horse.
"He'll be eight next year so it would be like a grandad getting married! I don't know. He was probably more impressive today than he ever was. It'll be interesting but it'll be a hard call. Rather than decide today, we just want to dot he right thing.
"We have to take everything into account. From the point of view of racing, you need horses like him."
MURTAGH "ABSOLUTELY DELIGHTED"
Meanwhile Johnny Murtagh, who looks certain to win the London Clubs International Charity Trophy for being the leading jockey at Royal Ascot this week, was suitably delighted with Yeats' performance.
The rider said: "He stays the trip well and has the heart of a lion and I knew that he would kill them. He's a great horse and I've been lucky to have already won two Gold Cups but this lad is different, he has got that extra little touch of class to come back here and win a third one.
"I'm just absolutely delighted to be part of the team. There's a lot of teamwork and Aidan O'Brien is a brilliant trainer and a brilliant man and I am grateful to be associated with him, Ballydoyle and the whole Coolmore operation.
"When Geordieland came upsides I was thinking I was going to make it hard for him and he's going to have to get it a little bit harder than at York . I knew my lad would not give up he galloped right out to the line.
"He gave a second burst of energy. He's a class act. He doesn't ride like a seven-year-old. He was kicking afterwards and is a very fresh horse. Aidan knows him so well.
"The press lads were ringing me during the week, but I didn't want to say anything about my chances. I just wanted to let the week unfold. Anything is possible here."
GEORDIE'S KING GEORGE OPTION
Trainer Jamie Osborne will mull over whether to send Gold Cup runner-up Geordieland for an audacious bid for King George VI & Queen Elizabeth Stakes glory.
Last month's Yorkshire Cup winner produced a huge display before just buckling under to the brilliance of Yeats late on.
It was the second year on the trot that the seven-year-old had finished second to Yeats in the staying race of the season.
Osborne said: "It was an exciting race and got my ticker going a bit! He has relaxed and run a great race. Shane Kelly gave him a great ride and we have been beaten again by a better horse at this trip. Yeats is an awesome horse over this trip.
"We might drop him back to a mile-and-a-half. He's in the King George and we might give him a crack at it. We've only run him over staying trips - we've never given him the opportunity to do anything but that.
"This horse has so many gears and so much class. I think he is in great form at the moment and it might be the moment to try it. I'm not saying he will win, but he has got that class to travel well in it."
Geordieland's jockey Shane Kelly said: "Just briefly on turning in I thought we might go and beat Yeats. But in the last furlong he has just shown his class."
Teddy Grimthorpe, racing manager to Khalid Abdulla, owner of third-placed Coastal Path, added: "He ran a super race and was probably just a bit immature at the moment for a race like this. He came there with every chance, got a run but is just a bit immature yet for this.
"But we'll bring him back here for this race next year. There are plenty of staying races for him for the rest of the year although not many over two and a half miles so he'll have to step back in trip."
Allegretto showed her running in the Henry II Stakes at Sandown where she was last to be all wrong as she stayed on into fourth place.
Cheveley Park Stud owner Chris Richardson said: "She hated that ground at Sandown but put that run behind her. She ran a fantastic race in a fantastic race - a vintage race.
"She didn't quite settle for Ryan Moore early on. It was a sedate pace and she is the sort of filly who could do with a bit more tempo.
"I should think she will go for the Goodwood Cup again, we'll see how she comes out of this."