Yeats Achieves Greatness
18/06/09
1 Yeats 6/4 Fav
2 Patkai 9/2
3 Geordieland 11/4
9 ran
Yeats


© racing-images.co.uk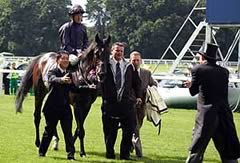 Yeats raced into the record books by becoming the first horse in history to claim the Gold Cup at Royal Ascot for a fourth time.
Aidan O'Brien's eight-year-old (6-4 favourite) was settled in behind the early leaders, but Johnny Murtagh sent him to the front well before the turn for home and he quickly put distance between himself and his rivals.
Patkai was the only one to come out of the pack and make inroads up the home straight, but Yeats found plenty for pressure to record a momentous victory by three and a half lengths, with Geordieland a further 15 lengths adrift.
O'Brien said: "Unbelievable - that's all I can say. I was so sick this morning as I really believed this couldn't happen. History is very hard to change. We knew we had a wonderful horse, but usually fairytales don't come true.
"You dream and dream and dream. We were in this position and we never would be again - great things can happen. I want to say a big thanks to everyone involved.
"Johnny had a lot of pressure on his shoulders and the way he handled it, and the way he rode it, it was something else. I couldn't believe it.
"He's an unbelievable horse and we knew there would never be another one of him. I've never felt pressure for any race before, and this horse was the only time."
Murtagh added: "Muhammad Ali told everyone he was the greatest and he was, and Yeats has shown everyone today that he is the ultimate heavyweight champion.
"I had no doubts. After Navan (where he was well beaten) I looked at Aidan and he told me 'he'll be grand for Ascot'. He loves fast ground, he loves Royal Ascot and he comes alive here.
"This is one the greatest days of my riding career and the feeling I had coming past the line for the horse alone was incredible. For the horse to win four Ascot Gold Cups is fantastic. It's good for racing, and Yeats is everything that's positive about racing."
Position

Horse
Trainer
Jockey
Weight
Starting Price
Beaten Distance
1

Yeats
A P O'Brien
J Murtagh
9st 2lbs
6 - 4
Winner
2

Patkai
Sir Michael Stoute
R L Moore
9st 0lbs
9 - 2
3 1/2 lengths
3

Geordieland
J A Osborne
S W Kelly
9st 2lbs
11 - 4
15 lengths
4

Sagara
S Suroor
T E Durcan
9st 2lbs
50 - 1
3 1/4 lengths
5

Eastern Anthem
S Suroor
Ahmed Ajtebi
9st 2lbs
25 - 1
1 3/4 length
6

Hindu Kush
D Nicholls
Jim Crowley
9st 0lbs
40 - 1
4 lengths
7

Centennial
J H M Gosden
J Fortune
9st 0lbs
33 - 1
12 lengths
na

Veracity
S Suroor
L Dettori
9st 2lbs
13 - 2

na

Washington Irving
J Howard Johnson
P Mulrennan
9st 0lbs
50 - 1

O'BRIEN SALUTES HIS 'UNIQUE HORSE' AS YEATS GALLOPS INTO HISTORY BOOKS
It was the result that racegoers had flocked to Royal Ascot to see and Yeats did not disappoint his legion of fans, striding out for the line from the home turn under Johnny Murtagh to record an historic fourth consecutive win in the Ascot Gold Cup. His three-and-a-half length victory was a body blow to the bookies with the extraordinary eight-year-old starting as 6/4 favourite after being backed down from 5/2.

Visibly shell-shocked, trainer Aidan O'Brien paid tribute to his staying star, saying: "It's unbelievable - that's all I can say. It's a dream. All morning I was feeling so sick - I was just thinking that this couldn't happen. He's an unbelievable, amazing horse. He's gone very lazy and clever in his work at home. He's made of different stuff and I just can't believe it - of course he's only flesh and blood but to do this four times."
He continued: "Johnny gave him an unbelievable ride with such confidence. The pressure he must have been under but he had it worked out in his head how he wanted to do it and where he wanted to go. Going for home early in a race like this takes some doing.

"The only time I've felt this much pressure was with (three-time Champion Hurdler) Istabraq and when we got over him I thought it would never happen again but this was like Istabraq. Obviously he was going back for his fourth Champion Hurdle and we know what happened, and then his fifth, and it didn't happen. I was afraid of the disappointment for everybody if this didn't happen.
"It's not for no reason that this has never been done before. This is just a unique horse."
In typically self-effacing fashion, the trainer added: "I can't tell you how privileged I feel: it's the people who are directly involved that make it happen - like the lad who rides him every day, Davey (Hickey) who looks after him, and Johnny, who rides him in his races, the people who deal with him directly every day. I'm just standing back watching it but obviously for myself and Anne-Marie and all the lads and everybody at Ballydoyle, we just feel so privileged to be involved with this horse."
On the subject of whether Yeats would return to contest a fifth Gold Cup next year, O'Brien was pessimistic, saying: "I don't think so - it's not my decision but the genes he has and the fact that it's proven at home that his lung capacity is way greater than any other horse make it unlikely. If anything was ever to happen to him we know we can't replace him. He's not a gelding so we can tap into those genes. Sue (Magnier) and the boss and David and Diane (Nagle) will make the decision but he's so unique I would be afraid of racing him after this.
"For everybody this means more than anything. It's something that's never been done before. If you started to dream about it you'd say 'just pull yourself together and don't be dreaming nonsense, that's ridiculous' and that's the feeling of a morning. Everyone's been saying this was going to happen but these things don't happen and this is a very, very special day."
Asked how he planned to celebrate, O'Brien replied: "I'll just follow the crowd and sit in behind. I'm not going to make the running this time."
MAGNIER: 'IT DOESN'T GET ANY BETTER THAN THIS'
Coolmore supremo John Magnier and his wife Sue co-own Yeats with the horse's breeders David and Diane Nagle. While Sue was watching from home in Ireland with her mother Jacqueline O'Brien, her husband was at Ascot to witness Yeats' history-making fourth Gold Cup win.

"We're all delighted and proud to be associated with him but you can see that the people genuinely like this horse so we're lucky for once that we didn't send him off to stud when he was three or four. It's great the way it's all worked out," said Magnier.

"I think Aidan was of the view that with an eight-year-old horse you can only ask him so many questions so many times. I think he was very much pointing him at this race and it wasn't until his last two pieces of work that we really started getting the good vibes from Aidan.

"Even before the race I walked the course with Aidan and said 'what do you think?' and he said 'he's never been better' and he really believed it. It looks like it's getting easier for Yeats every year which is amazing."
Asked whether the son of Sadler's Wells would now be retired for a career at stud, he said:
"We'll have to have a word with David and see what he and Diane want to do and see what the vets think but history was against him coming here today - he's an eight-year-old horse and we just want to do the right thing for him now as well as for the game. There comes a time when it's not right for them to go on any more and I wouldn't want to say one way or the other for the moment."
As to his targets for the remainder of the season, Magnier suggested a possible tilt at the Goodwood Cup, saying: "Why would you stop now with a horse that's enjoying himself like he has done today? The people love seeing him and we love going racing with him. We'd have to think about Goodwood where they look after us very well too.

"It doesn't get any better than this. He's been around a long time and we see a lot of him. It's as good as it gets in this game. To get a horse ready at this time in his life - and he's a colt, not a gelding - is some training performance."
Referring to Yeats' prospect as a stallion on the Coolmore roster, Magnier added: "Not everybody wants to use Gold Cup winners but we need stamina in the stud as well and he's special. I know that there are some serious breeders that have said to me that they want to use this horse. He will get the chance at stud, that's for sure, so if he's good enough, he'll come through it, if he's not, he won't."
MURTAGH PRAISES ASCOT, A SPECIAL PLACE
Jockey Johnny Murtagh, who has been aboard Yeats for his last two Gold Cup victories, said of today's win: "I felt something very special going past the line - the brewing of the crowd for the last furlong carried the horse home. I've never experienced anything like it. It's probably the greatest day of my racing career.

"I wasn't nervous - I was confident in the horse. Seamus (Heffernan) rides him work all the time and he said 'he's just coming' and then I rode him one day last week and I was very impressed - he doesn't feel like an eight-year-old, he felt much the same as he did last year."
Murtagh, who was leading jockey at last year's meeting and is heading the list again this year, added: "He's a very uncomplicated horse - we dropped in behind Frankie (on Veracity) and I rode him much the same way as I did last year. I wanted to really put it up to them so I asked him early and he came home well. Halfway up the straight I could sense them coming and so could he and he just went on again.

"I sensed the crowd and I knew they felt this was something special but this is a special place. The world is in turmoil at the moment but when you see the crowd and you see people's faces when the horses come back into the parade ring there's such a feeling of happiness. If you could bottle it, it would be something special.

"Everything that's good in racing was on show today."