Declaration Of War Battles to Queen Anne Victory
18/06/13
1 Declaration Of War 15/2
2 Aljamaaheer 8/1
3 Gregorian 16/1
13 ran Distances: żl, Żl, 2l
TIME 1m 38.48s (fast by 0.52s)
Declaration Of War gained his first Group One win when landing today's Queen Anne Stakes for trainer Aidan O'Brien and his jockey son Joseph.
The victory was also a stunning triumph for part-owner Joseph Allen, who bred Declaration Of War and now owns 40% of him in a Coolmore partnership involving Messrs Magnier, Tabor and Smith.
Allen said: "I'm in bliss! It's my first win at Ascot, it's a wonderful day, my wife's here and I could not be happier. And I have great partners.
"I bred the sire of this horse, War Front, and I still have this colt's dam, Tempo West, who has a filly foal full-sister to this horse at foot. She is now back in front to War Front.
"This is a very difficult game to really sustain yourself. As I was once told, to stay ahead you need great partners, and these guys [Magnier, Tabor and Smith] have been in the game a long time and add so much to it. I think this horse now has a great future at stud, but where he stands I will leave to John Magnier, who knows so much more than I do."
Declaration Of War was only fifth on his most recent outing in the Group One Lockinge Stakes at Newbury last month, but Aidan O'Brien said: "We always thought the world of this horse. He had a very easy run the first time [this season] at Leopardstown and we thought he was ready for a Group One, but obviously he wasn't. I hadn't trained him hard enough for it. He is a big powerhouse capable of taking training and I didn't get that right.
"Joseph found out in the Lockinge he had a lot of speed, and we rode him that way today."
Asked if the winner might take in the Coral-Eclipse Stakes next over ten furlongs, O'Brien said: "No, I would rather see him go back in trip, rather than up in trip. He travelled very strongly today."
Joseph O'Brien added: "I was going very well and I went into the gap – it got a little bit tight but I was going exceptionally well. He quickened up and idled when he got there.
"We thought that he was a very good horse going into Newbury, when we were a little bit disappointed, but we had a few things and Dean, who rides him out, and all of the lads in the yard have done a great job.
"I have a few nice rides for the week and it's nice to start off on a good foot."
Queen Anne Stakes (British Champions Series) (Group 1) (Str)
£350,000 added, 4yo plus, 1m, Class 1
13 ran
Going: Good
Position

Horse
Trainer
Jockey
Weight
Starting Price
Beaten Distance
1

Declaration Of War
A P O'Brien
J P O'Brien
9st 0lbs
15 - 2
Winner
2

Aljamaaheer
R Varian
P Hanagan
9st 0lbs
8 - 1
3/4 length
3

Gregorian
J H M Gosden
T P Queally
9st 0lbs
16 - 1
1/2 length
4

Elusive Kate
J H M Gosden
William Buick
8st 11lbs
15 - 2
2 lengths
5

Trade Storm
D M Simcock
J P Spencer
9st 0lbs
12 - 1
Head
6

Libranno
R Hannon
P Cosgrave
9st 0lbs
100 - 1
1 1/4 length
7

Chil The Kite
H Morrison
R L Moore
9st 0lbs
16 - 1
Head
8

Penitent
D O'Meara
D Tudhope
9st 0lbs
33 - 1
Head
9

Sovereign Debt
M L W Bell
A Kirby
9st 0lbs
16 - 1
1 1/2 length
10

Trumpet Major
R Hannon
R Hughes
9st 0lbs
25 - 1
2 3/4 lengths
11

Animal Kingdom
H Motion
John Velazquez
9st 0lbs
5 - 4
2 lengths
12

Monsieur Chevalier
P J O'Gorman
D Holland
9st 0lbs
100 - 1
Nose
13

Gabrial
R A Fahey
K Fallon
9st 0lbs
33 - 1
9 lengths
Animal Kingdom out for a stroll around Upper Lambourn
© @AnitaMotion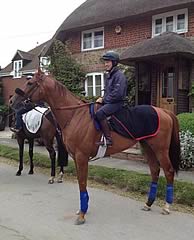 ANIMAL KINGDOM DISAPPOINTS
Graham Motion, trainer of the 5/4 favourite Animal Kingdom who finished 11th of the 13 runners, said: "I am disappointed obviously.
"Johnny (Velazquez) had to fight him a little bit early, which made me worry, and said at the half-mile pole he started to ask him to run and there wasn't much there. He said it rode a bit softer than it walked but I cannot really use that as an excuse.
"I would say that is probably it for the horse (last run). I think the experience has been tremendous and if I ever had the opportunity to do it again then I would absolutely.
"Animal Kingdom trained great – I was really happy with him. This is what I always cautioned. It is so different – the fact that he was keen early and he did not really have any cover. He is used to being tucked in and when you are out in the open like that, it is a different ball-game.
"I think the draw (13) made it very awkward for him to be honest. I didn't anticipate it would be but I think in hindsight it was.
"I am sorry it did not work out – it is disappointing for everyone. There was such a good reception for him. It would have been great to see him do his stuff but he clearly didn't today.
"I always had reservations about what we were dealing with – it became a very awkward post (draw) and Johnny had difficulty getting him to settle early. I think that it is probably what hurt Animal Kingdom the most. If he had been drawn in the middle it would have been easier.
"I don't want to offer too many excuses. I am sorry it has ended this way – we are deflated. A lot of effort has gone into this – David Lanigan and his crew and our crew – it has been a lot of work – that's racing.
"Everyone was predicting him to win but they have to run the race."
John Velazquez added: "He was keen and just didn't relax. When I let him down, he gave me no run at all.
"He just didn't have it at all today."

THE QUEEN ANNE STAKES
Past Results
2012-WINNER-FRANKEL 4-9-00 Owner-Khalid Abdullah; Trainer-Sir Henry Cecil; Jockey-Tom Queally; SP-1/10 Fav
2ND-Excelebration 4-9-00 Owner-Derrick Smith, Sue Magnier & Michael Tabor; Trainer-Aidan O'Brien IRE; Jockey-Joseph
O'Brien; SP-5/1
3RD-Side Glance 5-9-00 Owner-Qatar Racing Limited; Trainer-Andrew Balding; Jockey-Jimmy Fortune; SP-33/1
11 ran, Time-1m 37.85s; Dist 11, nk
2011-WINNER-CANFORD CLIFFS 4-9-00 Owner-The Heffer Syndicate, Michael Tabor & Derrick Smith; Trainer-Richard
Hannon; Jockey-Richard Hughes; SP-11/8
2ND-Goldikova 6-8-13 Owner-Wertheimer et Frere; Trainer-Freddy Head FR; Jockey-Olivier Peslier; SP-5/4 Fav
3RD-Cityscape 5-9-00 Owner-Khalid Abdullah; Trainer-Roger Charlton; Jockey-Ryan Moore; SP-14/1
7 ran, Time-1m 38.38s; Dist: 1, 1¾
2010-WINNER-GOLDIKOVA 5-8-11 Owner-Wertheimer et Frere; Trainer-Freddy Head FR; Jockey-Olivier Peslier; SP-11/8
Fav
2ND-Paco Boy 5-9-00 Owner-The Calvera Partnership No 2; Trainer-Richard Hannon; Jockey-Richard Hughes; SP-11/4
3RD-Dream Eater 5-9-00 Owner-Jeff Smith; Trainer-Andrew Balding; Jockey-Jimmy Fortune; SP-50/1
10 ran, Time-1m 37.74s; Dist: nk, 3¼
2009-WINNER- PACO BOY 4-9-00 Owner-The Calvera Partnership No 2; Trainer-Richard Hannon; Jockey-Richard Hughes;
SP-100/30
2ND-Cesare 8-9-00 Owner-Cheveley Park Stud Ltd; Trainer-James Fanshawe; Jockey-Johnny Murtagh; SP-11/1
3RD-Aqlaam 4-9-00 Owner-Hamdan Al Maktoum; Trainer-William Haggas; Jockey-Richard Hills; SP-10/1
9 ran, Time-1m 39.31s; Dist: 1½, ½. 9/4 Fav Gladiatorus (6th)
2008-WINNER-HARADASUN 5-9-00 Owner-Frank Tagg/Sue Magnier/Frank Meduri/Garry Moffitt; Trainer-Aidan O'Brien
IRE; Jockey-Johnny Murtagh; SP-5/1
2ND-Darjina 4-8-11 Owner-Princess Zahra Aga Khan; Trainer-Alain De Royer-Dupre FR; Jockey-Christophe Soumillon; SP-
5/1
3RD-Finsceal Beo 4-8-11 Owner-Michael Ryan; Trainer-Jim Bolger IRE; Jockey-Kevin Manning; SP-9/2 Fav
11 ran, Time-1m 38.98s, Dist: hd, ¾
2007-WINNER-RAMONTI 5-9-00 Owner-Godolphin; Trainer-Saeed bin Suroor; Jockey-Frankie Dettori; SP-5/1
2ND-Jeremy 4-9-00 Owner-Betty Moran; Trainer-Sir Michael Stoute; Jockey-Ryan Moore; SP-14/1
3RD-Turtle Bowl 5-9-00 Owner-B van Dalfsen; Trainer-Francois Rohaut FR; Jockey-Olivier Peslier; SP-33/1
8 ran, Time-1m 37.21s, Dist: sh, sh 10/11 Fav George Washington (4th)
2006-WINNER-AD VALOREM 4-9-00 Owner-Sue Magnier & Bob Ingham; Trainer-Aidan O'Brien IRE; Jockey-Kieren Fallon;
SP-13/2
2ND-Court Masterpiece 6-9-00 Owner-Gainsborough Stud; Trainer-Ed Dunlop; Jockey-Jamie Spencer; SP-11/2
3RD-Proclamation 4-9-00 Owner-Godolphin; Trainer-Saeed bin Suroor; Jockey-Frankie Dettori; SP-2/1
7 ran, Time-1m 40.0s, Dist: 1½, nk 7/4 Fav Peeress (4th)
2005-WINNER-VALIXIR 4-9-00 Owner-H H Aga Khan; Trainer-Andre Fabre FR; Jockey-Christophe Soumillon; SP-4/1
2ND-Rakti 6-9-00 Owner-Gary Tanaka; Trainer-Michael Jarvis; Jockey-Philip Robinson; SP-5/6 Fav
3RD-Starcraft 5-9-00 Owner-The Australian Syndicate; Trainer-Luca Cumani; Jockey-Darryll Holland; SP-7/1
10 ran, Time-1m 36.64s Dist: 1½, ½ (Run at York)
2004-WINNER-REFUSE TO BEND 4-9-00 Owner-Godolphin; Trainer-Saeed bin Suroor; Jockey-Frankie Dettori; SP-12/1
2ND-Soviet Song 4-8-11 Owner-Elite Racing Club; Trainer-James Fanshawe; Jockey-Johnny Murtagh; SP-6/1
3RD-Salselon 5-9-00 Owner-Scuderia Briantea Srl; Trainer-Luca Cumani; Jockey-Darryll Holland; SP-12/1
16 ran, Time-1m 39.14s Dist: nk, ¾ 5/2 Fav Six Perfections (6th)
2003-WINNER-DUBAI DESTINATION 4-9-00 Owner-Godolphin; Trainer-Saeed bin Suroor; Jockey-Frankie Dettori;
SP-9/2
*2ND-Right Approach 4-9-00 Owner-The Queen; Trainer-Sir Michael Stoute; Jockey-Kieren Fallon; SP-20/1
3RD-Where Or When 4-9-00 Owner-John Humphreys (Turf Accountants Ltd); Trainer-Terry Mills; Jockey-Kevin Darley; SP-
8/1
10 ran, Time-1m 38.56s Dist: 4, ¾ 8/13 Fav Hawk Wing (7th)
*Tillerman originally finished second but was disqualified after failing a post-race urine test