Goldikova Imperious in Queen Anne
15/06/10
1 Goldikova 11/8F
2 Paco Boy 11/4
3 Dream Eater 50/1
Royal Ascot got off to a fantastic start when the greatest mare of recent years, Goldikova, won her ninth Group or Grade One when holding off the fast-finishing Paco Boy by a neck to land the Queen Anne Stakes.
The five-year-old, who justified 11/8 favouritism, delighted both her trainer Freddie Head and jockey Olivier Peslier with this latest win.
"This is one of the greatest moments of my life, winning at Royal Ascot is such a fantastic thing and especially with a mare like that," said Head.
"I was very scared when Paco Boy came there, I didn't know what we had in hand and didn't know if she'd respond and keep going.
"I thought she was in the best form she had been going into today's race and she showed it there. I thought today and last year's Jacques Le Marois were her two best runs and she was in the same form as she was before that race but this is not like winning at Deauville. That's at home but coming over here is more difficult.
"Olivier is the rider and he does what he wants and she was relaxed through the race and then had a perfect run through, perhaps she got there a bit early in the end.
"She's very special and it's rare that you can ride a horse of that calibre in so many different ways. You can come early with her like today or you can wait like she did in America. She keeps on fighting and finding something and was not even blowing five minutes after the race.
"I expect she will go to Deauville for the two races, the Prix Rothschild and Prix Jacques Le Marois, that she won last year. The Breeders' Cup is the main target but we would love to win the Jacques Le Marois again."
Before training, Head rode the 10-time Group One winner Miesque and he added: "I couldn't say she is better than Miesque but she is tougher than her. Miesque was a brilliant two-year-old and three-year-old but Goldikova was a longer time in getting going but she has kept going for longer. You wouldn't be able to come too soon on Miesque like you can with this mare."
Peslier added: "Today I am so happy for the team - the owner, trainer and jockey - and it is a dream to win nine Group Ones. She has won in Newmarket, America, France and now Ascot, she has won everywhere in the world in all the best races.
"I just started off and waited to see what happened and maybe I came there a bit early but I kept a little bit of power for the final furlong. I knew Paco Boy would wait a long time and when I looked behind me, I saw no horses near and at the furlong pole I just had to keep going."
Position

Horse
Trainer
Jockey
Weight
Starting Price
Beaten Distance
1

Goldikova
F Head
O Peslier
8st 11lbs
11 - 8
Winner
2

Paco Boy
R Hannon
R Hughes
9st 0lbs
11 - 4
Neck
3

Dream Eater
A M Balding
J Fortune
9st 0lbs
50 - 1
3 1/4 lengths
4

Zacinto
Sir Michael Stoute
R L Moore
9st 0lbs
20 - 1
3/4 length
5

Dalghar
A De Royer Dupre
C P Lemaire
9st 0lbs
14 - 1
2 lengths
6

Rip Van Winkle
A P O'Brien
J Murtagh
9st 0lbs
4 - 1
1 1/2 length
7

Ouqba
B W Hills
R Hills
9st 0lbs
16 - 1
4 lengths
8

Cat Junior
B J Meehan
L Dettori
9st 0lbs
50 - 1
15 lengths
9

Calming Influence
M Al Zarooni
Ahmed Ajtebi
9st 0lbs
40 - 1
18 lengths
PulledUp

Pipedreamer
K A Ryan
J P Spencer
9st 0lbs
33 - 1

TIME VERY FAST IN QUEEN ANNE STAKES
The opening race, the Queen Anne Stakes, was run in 1m 37.74s by the winner Goldikova, just 0.53s outside Ramonti's course record achieved in the same race in 2007.
PACO BOY JUST DENIED QUEEN ANNE DOUBLE BY FLYING FRENCH FILLY
Paco Boy


© racing-images.co.uk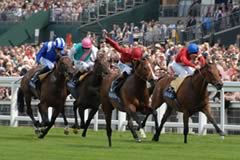 Paco Boy left all trailing in his wake in the Queen Anne Stakes of 2009 but, despite a valiant final-furlong effort, could not quite reel in France's superstar filly Goldikova this year, with the favourite and second-favourite finishing just as the betting had predicted.

"We're very, very pleased, he's run a super race. I think he thinks he's won," said Richard Hannon Jr, assistant trainer to his father Richard, after Paco Boy was beaten just a neck in the Royal Ascot opener.

"Richard (Hughes) did say to me that he thought he had her (Goldikova) but we just didn't quite get there, with Goldikova just keeping going. She is probably the best race mare we have ever seen.

"Richard rode him perfectly - you have to ride Paco Boy like that as he has that one burst of speed. We'll have to see where we go next but I imagine we'll be taking Goldikova on again."

Andrew Balding was similarly thrilled with the effort of Dream Eater, who ran on very strongly in the closing stages to finish three-and-a-quarter lengths behind Paco Boy in third.

Balding said: "He's always been a high class horse and he looked like he was up against it today but he's run a smashing race."

Balding, who has tasted international Group race success with the likes of Phoenix Reach and Vanderlin, now has an overseas trip in mind for Dream Eater later in the year.

He confirmed: "Hopefully, we can find one for him to win now but his main target will be Hong Kong in December. He was only two lengths behind Paco Boy last year at Sandown, admittedly getting three pounds, but he's had a wind operation and he has definitely improved."