QUEEN ANNE STAKES
(GROUP 1) (CLASS 1) (4yo+)
16/06/09
1 Paco Boy 10/3
2 Cesare 11/1
3 Aqlaam 10/1
9 ran
Paco Boy Proves Doubters Wrong
Always travelling comfortably in behind the leaders, all Richard Hughes had to do was press the button over a furlong out for the admirable Paco Boy (red cap) to stride clear of the rejuvinated Cesare (Johnny Murtagh blue cap) and Aqlaam (Richard Hills blue cap) with Main Aim (Ryan Moore pink cap) close up in fourth (Queen Anne Stakes, Ascot 16-06-09)


© racing-images.co.uk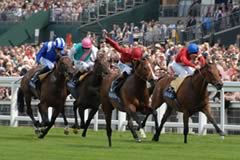 Richard Hannon, trainer of the winner Paco Boy, said: "I think that has put a few old jokers to bed! If he didn't stay a mile today, then he stayed it better than the others, anyway.
"At Newbury, I didn't think that he was quite right. He came home and he had an infection in his foot and I didn't think that he was moving quite right. We had to take a chance in the Lockinge but now we have had a chance to get him right and I couldn't be more delighted for the little horse.
"I don't know what the plan is now. We've got the Prix de la Foret, of course, and we were going to whip back to the July Cup if things didn't happen here, but we will have to have a rethink, I suppose."
Richard Hughes, the winning jockey, added: "I felt sorry for the horse - he arrived there a furlong out at Newbury and I was more surprised than anyone that he actually got there because we got him home and he had poison in his foot.
"So he had a good reason and everyone was there slamming the little horse - he deserves everything he gets now.
"A child could ride him when he is right. At Newbury, he was hanging and he wasn't happy. He was pulling and that's not Paco Boy.
"Today he just settled, eased up there - it was like a bit of work - and the only worry was that I was a little bit longer kicking than I had to be, but he was electric today.
"I felt sorry for this horse, with people knocking him. They can't just accept he's a top class horse!"
DISAPPOINTING RESULT FOR GODOLPHIN
The two Godolphin horses, the 9/4 favourite Gladiatorus and Alexandros, finished sixth and eighth.
Saeed bin Suroor, the Godolphin trainer, commented: "They ran disappointingly."
Ahmed Ajtebi, Gladiatorus's rider, said: "He was not half the horse he was in Dubai. He seemed a different horse."
Frankie Dettori explained: "Alexandros did not feel 100 per cent when going to post and in the latter stages of the race it seemed that something was pinching him. I eased him right down when he was beaten."
FATHER AND SON-IN-LAW FULL OF PRAISE FOR THEIR 'LITTLE HORSE'
Paco Boy silenced those who doubted his ability to stay a mile when cruising to an impressive length-and-a-half victory in the Queen Anne Stakes.
His trainer Richard Hannon said: "If he doesn't stay a mile then he stayed better than the others. It doesn't bother me if other people knock him. We know he's a good horse. At Newbury (after the Lockinge Stakes) he wasn't moving very well after the race and we've tried to get him right again. I couldn't be more delighted with the little horse."
Looking ahead to options for Paco Boy, who is owned by the Calvera Partnership 2, later in the season, he added: "He could now go to the Prix de la Foret or possibly even the July Cup. There are so many options - the Sussex or the Prix Jacques le Marois. If I get my way with the owners, he won't go to America (for the Breeders' Cup)."
Hannon's son-in-law and winning jockey Richard Hughes said: "I couldn't be more pleased. I've had months of people crabbing the horse and saying he doesn't get a mile, but he's proved them all wrong. I just had to turn him on a mile and a half from home and he came alive under me.

"I wasn't worried about Gladiatorus going off so fast - it's hard to get home at Ascot up that hill. For once I was happy to be on a little horse as I was able to squeeze him through the gap. He's such an easy horse to ride."

RELIEF FOR HUGHES
"Relief, relief, thank God," said jockey Richard Hughes, after Paco Boy dispelled any doubts that he might not stay a mile, by winning the Queen Anne Stakes, with an impressive surge in the final two furlongs.
"It felt like being on the ropes. He'd gone to Newbury and I knew the horse wasn't right then. Always after a bad run, you feel a little worried," said Hughes.
"[In the final stages] I didn't think we could get there, then he turns it on like a machine. I'm just thrilled for the horse," said Hughes.
Position

Horse
Trainer
Jockey
Weight
Starting Price
Beaten Distance
1

Paco Boy
R Hannon
R Hughes
9st 0lbs
10 - 3
Winner
2

Cesare
J R Fanshawe
J Murtagh
9st 0lbs
11 - 1
1 1/2 length
3

Aqlaam
W J Haggas
R Hills
9st 0lbs
10 - 1
1/2 length
4

Main Aim
Sir Michael Stoute
R L Moore
9st 0lbs
5 - 1
1/2 length
5

Dream Eater
A M Balding
F Norton
9st 0lbs
20 - 1
4 lengths
6

Gladiatorus
S Suroor
Ahmed Ajtebi
9st 0lbs
9 - 4
13 lengths
7

Arabian Gleam
J Noseda
S Sanders
9st 0lbs
25 - 1
3 1/4 lengths
8

Alexandros
S Suroor
L Dettori
9st 0lbs
13 - 2
19 lengths
9

Mac Love
Stef Liddiard
M Fenton
9st 0lbs
33 - 1
3 3/4 lengths
FANSHAWE DELIGHTED WITH CESARE
The eight-year-old Cesare ran a superb race on his seasonal comeback to go down by just a length and a half when second to Paco Boy in the opening Queen Anne Stakes.
"Horses like him are so few and far between, because he has had his problems but always comes back," said Cesare's trainer James Fanshawe. "He had a foot problem last year and then did a splint back in March. All being well I'd imagine he'll have his next run in the Summer Mile back here."
Chris Richardson, managing director to owners Cheveley Park Stud, said: "The horse just loves this place and I'm delighted for James. He has done a fantastic job to get the horse to run so well here first time out and it's a real compliment to his team."
William Haggas was equally pleased with the run of last season's Jersey Stakes winner Aqlaam to bounce back from a disappointing run on his seasonal debut in the Lockinge Stakes at Newbury.
"I'm so thrilled and really delighted that he's on his way back," said Haggas. "I knew we were not there yet but he's coming along now and we can put that first run of the year behind us. He's getting better but he's not there yet.
"When you have a horse injured like him it is difficult to get them back so I'm really pleased and there are no plans at the moment, I'll discuss it with Richard (Hills)."
Fourth-placed Main Aim is likely to step back in distances. "We were very pleased but I'd say he'll go back to the trips he's been winning over," said trainer Sir Michael Stoute. "You couldn't say he didn't get the mile but he's just more effective over shorter trips."