Royal Ascot



Ramonti Ends Godolphin Group 1 Blues
19/06/07
1st 6 Ramonti 5/1
2nd 3 Jeremy 14/1
3rd 7 Turtle Bowl 33/1
The Godolphin stable enjoyed a British first Group 1 success in nearly two years when Ramonti fought back to beat Jeremy by a short-head under in-form jockey Frankie Dettori in the Queen Anne Stakes.

"They went by me but I knew he'd stay further and come back." said Dettori. "I had to get serious so I might get a suspension.

"It's been a while since we won a Group 1 in England and I'm thrilled for the boss. Of our Godolphin runners this week I thought this was our main chance of winning.

"I didn't know so much about the horse in the Lockinge but I subsequently spoke to my friend Endo Botti who had ridden him in Italy and he told me to ride him like a tough horse.

"It's very hard at Group 1 level to make all the running but from three out I tried to stretch them but Jeremy passed me by a length. We came back and as I passed the line and I thought maybe I've won but couldn't really tell."
Trainer Saeed bin Suroor added: "We needed that badly - it's taken us a long time to win a Group 1, it's a bit up and down like a stock market! He was a bit unlucky when he was second at Newbury but everything was better for him today and Frankie gave him a great ride. We had a feeling that he was good enough to win today."
It was Godolphin's first British Group 1 win since Punctilious landed the 2005 Yorkshire Oaks and racing manager Simon Crisford said: "That was a vintage Frankie special. Group 1 wins are always fantastic and that's what we aim for and we love racing here more than anywhere. When you perform at the level we do, it's frustrating if you're not winning the big races and we're lucky to have a very understanding patron.

"We were being realistic coming into the race and you could pick holes in his form - we valued the Lockinge less than this race - and there was also George Washington there. When we bought this horse we didn't anticipate that he'd be winning this, we thought of him more as an overseas horse.

"We haven't considered a programme for him, he could step up in distance or could go for something like the Jacques Le Marois."
The winning time of 1 minute 37.21 seconds was a course record.
STOUTE AND ROHAUT HAPPY
Trainer Sir Michael Stoute was happy with the performance of Jeremy in the Queen Anne Stakes, beaten a short-head by Ramonti, although he believed the colt could have won had he kept to a true line in the final furlong.

The master of Freemason Lodge said: "I thought he would win when he took it up but then he just lugged to the right.

"I would say that was the best run of his career.

"I'm not sure where we will go next with him. He seems equally effective over seven furlongs or a mile."
A further short-head back in third was Turtle Bowl and his trainer Francois Rohaut was very satisfied.

The French handler said: "I am very pleased.

"That was my first Royal Ascot runner and it was like a dream. Turtle Bowl has run a hell of a race.

"He will now go for the Prix Jacques le Marois at Deauville."
O'BRIEN ON GEORGE
George Washington


© racing-images.co.uk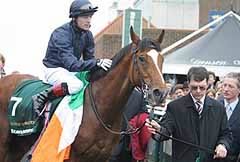 Aidan O'Brien was more than satisfied with the comeback performance of George Washington in the Queen Anne Stakes.

The Danehill colt, now four, was returning to action after initially being retired to stud duties and finished a close-up fourth to Ramonti.

Ballydoyle trainer O'Brien said: "He ran a great race. He was a bit fresh in his race early on but he was coming home really well. He needs plenty of early pace in his races to help him relax.
"That was very encouraging. You would be very encouraged watching that. He has all options open. Mick was delighted with him."
4.20pm QUEEN ANNE STAKES (GROUP ONE)
£250,000 guaranteed, one mile, For 4yo+ Weights colts and geldings 9st; fillies 8st 11lb Allowances southern hemisphere allowance 4yo 1lb Entries 33 pay £700 First Forfeit 17 pay £800 Second Forfeit 1 pay £20,000 Confirmed 9 pay £500 Penalty value 1st £152,170.40; 2nd £57,673.60; 3rd £28,863.60; 4th £14,391.60; 5th £7,209.20; 6th £3,618
1 RAMONTI (FR) (Godolphin) Saeed bin Suroor 5-9-00t Frankie Dettori [2] 5/1
2 JEREMY (USA) (Elizabeth Moran) Sir Michael Stoute 4-9-00 Ryan Moore [6] 14/1
3 TURTLE BOWL (IRE) (B Van Dalfsen) Francois Rohaut FR 5-9-00t Olivier Peslier [3] 33/1
4 GEORGE WASHINGTON (IRE) (Sue Magnier, Michael Tabor, Derrick Smith) Aidan O'Brien IRE 4-9-00 Michael Kinane [8] 10/11f
5 CESARE (Cheveley Park Stud) James Fanshawe 6-9-00 Johnny Murtagh [4]
6 RACINGER (FR) (P Goral) Freddie Head FR 4-9-00 Christophe Soumillon [5]
7 RED EVIE (IRE) (Terry Neill) Michael Bell 4-8-11 Jamie Spencer [7]
8 NOTABILITY (IRE) (Godolphin) Saeed bin Suroor 5-9-00 Kerrin McEvoy [1]
8 ran
Distances: sh, sh, hd, 3/4, 1 3/4, 1/2, 10
Time: 1m 37.21s (course record - previous course record 1m 39.83s)
Breeding: b h Martino Alonso (IRE) - Fosca (USA) (El Gran Senor (USA))
Breeder: S. P. A. Siba
Totes: Win: £5.20 Places: £1.40; £3.90; £3.30 Exacta: £58.38
Winning trainer:-Name: bin Suroor, Saeed Trains at Newmarket for Godolphin, the racing entity of Sheikh Mohammed, whose horses winter in Dubai and race worldwide. First Winner In England: Classic Cliche (Dante Stakes, May 17, 1995, York) British Classic wins: (11) Stan James 2000 Guineas (1996 Mark of Esteem, 1999 Island Sands), Stan James 1000 Guineas (1998 Cape Verdi, 2002 Kazzia), Vodafone Oaks (1995 Moonshell; 2002 Kazzia); Vodafone Derby (1995 Lammtarra); Ladbrokes St Leger (1995 Classic Cliche; 1998 Nedawi; 1999 Mutafaweq; 2004 Rule Of Law) Other major wins include: Gold Cup (1996 Classic Cliche; 1998 Kayf Tara, 2000 Kayf Tara, 2004 Papineau), Eclipse (1995,1996 Halling; 1998 Daylami; 2004 Refuse To Bend), Juddmonte International Stakes (1995 & 1996 Halling, 2001 Sakhee, 2004 Sulamani), King George VI and Queen Elizabeth Diamond Stakes (1995 Lammtarra; 1997 & 1998 Swain, 1999 Daylami, 2004 Doyen), Lockinge Stakes (1998 Cape Cross, 1999 Fly To The Stars, 2000 Aljabr), Nunthorpe Stakes (1995 So Factual), Prince of Wales's Stakes (1998 Faithful Son, 2000 Dubai Millennium, 2001 Fantastic Light, 2002 Grandera), Queen Elizabeth II Stakes (1996 Mark Of Esteem, 1999 Dubai Millennium, 2001 Summoner), Stanley Leisure Sprint Cup (1999 Diktat), Sussex Stakes (1999 Aljabr, 2001 Noverre), Tattersalls Gold Cup (2001 Fantastic Light), Vodafone Coronation Cup (1999 Daylami, 2001 Mutafaweq) Canada: Canadian International Stakes (2000 Mutafaweq, 2004 Sulamani) France: Prix du Jockey Club (2005 Shamardal), Poule d'Essai des Poulains (1995 Vettori; 2000 Bachir; 2001 Noverre, 2005 Shamardal), Prix de l'Arc de Triomphe (1995 Lammtarra, 2001 Sakhee, 2002 Marienbard); Prix du Moulin de Longchamp (2001 Slickly, 2006 Librettist), Prix de la Salamandre (1998 Aljabr), Prix Jean Prat (1998 Almutawakel), Prix Maurice de Gheest (1999 Diktat), Prix d'Ispahan (1996 Halling, 2002 Best Of The Bests), Prix Vermeille (2003 Mezzo Soprano), Prix Jacques le Marois (1999 Dubai Millennium, 2000 Muhtathir, 2006 Librettist) Hong Kong: Hong Kong Cup (2000 Fantastic Light), Hong Kong Mile (2004 Firebreak) Ireland: Irish St Leger (1998 & 1999 Kayf Tara), Irish Champion Stakes (1994 Cezanne; 1998 Swain, 1999 Daylami, 2001 Fantastic Light, 2002 Grandera), Irish 2000 Guineas (2000 Bachir, 2005 Dubawi) Italy: Derby Italiano (1998 Central Park, 1999 Mukhalif) Japan: Yasuda Kinen (1995 Heart Lake, Keio Hai Spring Cup (1996 Heart Lake), Singapore: Singapore Airlines International Cup (2002 Grandera) UAE: Dubai World Cup (2000 Dubai Millennium, 2002 Street Cry, 2003 Moon Ballad, 2006 Electrocutionist), Dubai Sheema Classic (2003 Sulamani) United States: Arlington Million (2003 Sulamani), Beverley D Stakes (2004 Crimson Palace), Breeders Cup Turf (1999 Daylami, 2001 Fantastic Light), Flower Bowl Invitational Stakes (2002 Kazzia), Man O' War Stakes (1998 Daylami; 2000 Fantastic Light), San Juan Capistrano Invitational Handicap (1995 Red Bishop), Turf Classic Invitational (2003 Sulamani) Wins in a season in Britain (1995-2006): 14: 48: 41: 38: 41: 22: 24: 21: 23: 115: 78; 70 Wins in 2007: 12 First Royal Ascot win: So Factual (June 22, 1995 - Cork and Orrery Stakes) Royal Ascot wins (28): Golden Jubilee Stakes (1995 So Factual), Queen Anne Stakes (1996 Charnwood Forest, 1997 Allied Forces, 1998 Intikhab, 1999 Cape Cross, 2003 Dubai Destination, 2004 Refuse To Bend, 2007 Ramonti), Gold Cup (1996 Classic Cliche, 1998 Kayf Tara, 2000 Kayf Tara, 2004 Papineau), Chesham Stakes (1996 Shamikh), Hardwicke Stakes (1997 Predappio, 2004 Doyen), Windsor Castle Stakes (1997 Asfurah), Prince of Wales's Stakes (1998 Faithful Son, 2000 Dubai Millennium, 2001 Fantastic Light, 2002 Grandera), Ribblesdale Stakes (1998 Bahr, 1999 Fairy Queen, Punctilious) King Edward VII Stakes (1999 Mutafaweq), Queen's Vase (2002 Mamool, 2004 Duke Of Venice), Jersey Stakes (2004 Kheleyf), St James's Palace Stakes (2005 Shamardal)Other details: Champion trainer 1996, 1998, 1999, 2004. Completed full set of classic wins following Cape Verdi's victory in the 1998 1000 Guineas.
Winning jockey:-Name: Dettori, Lanfranco.Born: 15/12/70 in Milan, Italy First winner: Rif (Turin, Italy, November 16, 1986), First British winner: Lizzy Hare (Goodwood June 9, 1987) First Success: Rif (Turin, Italy, November 16, 1986) Other Achievements: Received Bill Shoemaker Award for outstanding performance by a jockey at 2006 Breeders' Cup at Churchill Downs British Classic wins; (12) Vodafone Derby (2007 Authorized), Vodafone Oaks (1994 Balanchine, 1995 Moonshell, 2002 Kazzia); St Leger (1995 Classic Cliche, 1996 Shantou, 2005 Scorpion, 2007 Sixties Icon), 2000 Guineas (1996 Mark of Esteem, 1999 Island Sands), 1000 Guineas (1998 Cape Verdi, 2002 Kazzia) Irish Classic wins: Irish Oaks (2001 Lailani, 2003 Vintage Tipple), Irish Derby (1994 Balanchine), Irish 2000 Guineas (2000 Bachir, 2005 Dubawi), Irish St Leger (1999 Kayf Tara) French Classic wins: Prix du Jockey-Club (1992 Polytain, 2005 Shamardal, 2007 Lawman), Poule d'Essai des Poulains (1995 Vettori, 2000 Bachir, 2005 Shamardal), Prix Diane Hermes (2007 West Wind) Other major wins include: Coral-Eclipse Stakes (1998 Daylami; 2004 Refuse To Bend), Juddmonte International (1996 Halling, 1997 Singspiel, 2001 Sakhee), King George VI and Queen Elizabeth Diamond Stakes (1995 Lammtarra, 1998 Swain,1999 Daylami, 2004 Doyen), Queen Elizabeth II Stakes (1990 Markofdistinction; 1996 Mark of Esteem, 1999 Dubai Millennium), Sussex Stakes (1991 Second Set, 1999 Aljabr, 2001 Noverre); Vodafone Coronation Cup (1996 Swain, 1997 Singspiel, 1999 Daylami, 2001 Mutafaweq) Dubai: Dubai World Cup (2000 Dubai Millennium, 2003 Moon Ballad, 2006 Electrocutionist) France: Grand Prix de Saint-Cloud (2005 Alkaased), Prix de l'Abbaye (1993, 1994 Lochsong, 2004 Var), Prix Jacques le Marois (1999 Dubai Millennium, 2000 Muhtathir, 2006 Librettist), Prix de la Foret (2006 Caradak); Prix du Cadran (2006 Sergeant Cecil), Prix de l'Arc de Triomphe (1995 Lammtarra, 2001 Sakhee, 2002 Marienbard), Prix du Moulin (2001 Slickly, 2006 Librettist) Germany: Deutsches Derby (1991 Temporal) Ireland: Irish Champion Stakes (1998 Swain, 1999 Daylami, 2001 Fantastic Light, 2002 Grandera) Japan: Japan Cup (1996 Singspiel, 2002 Falbrav, 2005 Alkaased) North America: Breeders' Cup Filly & Mare Turf (2006 Ouija Board), Breeders' Cup Juvenile (2004 Wilko), Breeders' Cup Mile (1994 Barathea), Breeders' Cup Turf (1999 Daylami, 2006 Red Rocks), Canadian International Stakes (2000 Mutafaweq) Wins 1987-2006: 8, 22, 75^, 141, 94, 101, 149, 233*, 216*, 123, 176, 132, 132, 47, 94, 69, 101, 195*, 87, 131 ^Champion apprentice *Champion jockey Wins in 2007: 27 Royal Ascot wins: (39) First Royal Ascot win: Queen Anne Stakes (June 19, 1990 Markofdistinction) Major Royal Ascot wins: Gold Cup (1992 & 93 Drum Taps, 1998 Kayf Tara, 2004 Papineau), St James's Palace (1997 Starborough), King's Stand Stakes (1994 Lochsong), Prince of Wales's Stakes (2001 Fantastic Light, 2002 Grandera), Golden Jubilee Stakes (1995 So Factual), Queen Anne Stakes (1990 Markofdistinction, 1997 Allied Forces, 1998 Inktikhab, 2003 Dubai Destination, 2004 Refuse To Bend, 2007 Ramonti), Albany Stakes (2006 Sander Camillo) Leading rider at Royal Ascot: 1997(4 wins); 1998(7 wins); 1999 (4 wins); 2003 (3 wins); 2004 (6 wins)