Fabulous Kauto the Betfair Star
19/11/11
1 Kauto Star 6/1
2 Long Run 6/5F
3 Weird Al 7/1
6 ran Distances: 8l, 2l, 8l
TIME 5m 54.30s (slow by 4.30s)
Kauto Star claimed his 15th Grade One success when landing the £200,000 Grade One Betfair Chase for the fourth time with a brilliant performance at Haydock Park.
Kauto Star


© racing-images.co.uk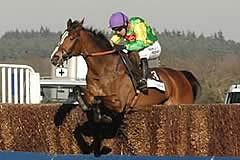 The 11-year-old, who also won the Betfair Chase in 2006, 2007 and 2009, made virtually all the running under Ruby Walsh as he saw off all comers in the three-mile event. Last season's Gold Cup winner Long Run, who was let down by a series of jumping errors, got closest to Kauto Star but even he could only get within eight lengths of Kauto Star.
An ecstatic crowd gave three cheers to Kauto Star as he entered the winner's enclosure and there was a standing ovation for the winner, a horse who can truly be described as an all-time great. One eager racegoer even shouted "Bring on Frankel!" He was returned at 6/1 - his longest-ever SP since he arrived in Britain from France seven years ago.
His emotional trainer Paul Nicholls said afterwards: "I think that was my best-ever winner. Kauto was just awesome today. We left no stone unturned in his preparation. Today was his Gold Cup.
"I took some flack about running him today, but I told everyone he had never been better. Some people, not proper journalists, were saying that he should be retired but they were just talking utter bullshit. You could put a line through his run at Punchestown last season - any horse can run badly at the end of the season. Deep down I knew the horse was in great form and he looked superb today. The horse hasn't got where he is without being fantastic.
"Last season, he was just making a bit of a noise, which we never really found out the cause of. For whatever reason, he hasn't made the noise at all this season. I am just full of pride, not relief. His win today was great for racing. He just keeps coming back.
"All those people who said he should be retired - well, I just hope they eat their words now and apologise. I absolutely love this horse and always have his best interests in mind.
"We had always wanted to make the running with him and be positive with him. It was always the plan to go off in the lead today, we just didn't tell everyone - we have to keep something to ourselves. I promise you though, I haven't thought beyond today about what we will do next with him.
"I always thought if we were going to beat Long Run, it would be today although when I saw Long Run in the paddock I thought he looked great. Kauto Star is 11 now, but horses have won good races at 12 and older. We will just take it one step at a time with him. He has had a hard race today, but like after one of his King George wins, he was hardly blowing afterwards.
"I will never forget today, ever. Today is about Kauto Star - he showed he's just a very, very special horse."
Owner Clive Smith added: "Obviously his two Gold Cup wins were very exiting but to win the Betfair Chase for a fourth time is fantastic.
"I must have been asked 100 times about his chance today but I just told everyone that he was fully wound up. I know Paul was pondering a bit, but I have always thought that we should go for the King George again. He is in great form and the race is five weeks away.
"After the point we were at with him at Punchestown last season, for him to come back to his very best today is just fantastic."
Jockey Ruby Walsh said: "We just walked out on to the track and I went on.
"I had them all behind me and I first of all got Time For Rupert off the bridle and then Long Run.
"After we got after the last he was thinking about things but just kept going - I thought I would puke if he stopped halfway up the run-in."
In his long and distinguished career, Kauto Star has also won the Cheltenham Gold Cup twice (2007 and 2009) as well as Kempton's King George VI Chase on four occasions (2006, 2007, 2008 and 2009). Sponsor William Hill make him 4/1 (from 16/1) for the Boxing Day showpiece this year.
Position

Horse
Trainer
Jockey
Weight
Starting Price
Beaten Distance
1

Kauto Star
P F Nicholls
R Walsh
11st 7lbs
6 - 1
Winner
2

Long Run
N J Henderson
Mr S Waley-Cohen
11st 7lbs
6 - 5
8 lengths
3

Weird Al
D McCain Jnr
T J Murphy
11st 7lbs
7 - 1
2 lengths
4

Diamond Harry
Nick Williams
J Reveley
11st 7lbs
7 - 2
8 lengths
5

Time For Rupert
P R Webber
W Kennedy
11st 7lbs
6 - 1
7 lengths
PulledUp

Pure Faith
P Bowen
T J O'Brien
11st 7lbs
66 - 1

THE TRAINERS OF THE SECOND, THIRD & FOURTH IN THE BETFAIR CHASE

Nicky Henderson is the trainer of 2011 Cheltenham Gold Cup winner Long Run who finished second to his old rival Kauto Star in today's Betfair Chase.

He said: "I was just saying to Robert (Waley-Cohen - the horse's owner) that it was a bit like Long Run's first run last year, which of course seemed to put the edge on him.

"He did stay on but it was disappointing that he came off the bridle when he did. He jumped great until a couple of errors crept in on the far side and then all of a sudden he wasn't going as well as he should have been.

"He stayed on very well from there - it looked like we had half a chance approaching the last but he had done too much by then.

"I suspect we will be meeting Kauto Star again at Christmas (in the £180,000 King George VI Chase at Kempton Park on Boxing Day). I think that is all we can do.

"There is no doubt that this run will do him good. He jumped very well and then made a couple of silly errors - otherwise he was very good. I've got a run into him.

"I am delighted to see that horse (Kauto Star) back - there is now all to play for. It is good for racing - it is great for us though it is disappointing to get beat. We have time to get our own back."

Donald McCain, trainer of the third Weird Al, said: "He has run grand. We came here not knowing that he was up to this level but he has run great.

"There will be a long break because he is definitely a better horse fresh. We won't be racing over Christmas - we will wait for the spring.

"We have plenty of time to decide where we are going but at least we know he can compete at this level.

"He would probably appreciate better ground than this so there is no great hurry. To get where he did today was magic.

" I think Kauto Star is a fantastic horse - I was saying before that one of the greatest races I have ever seen was this old horse and Imperial Commander here a couple of years ago - it is fantastic to see him back."

Nick Williams, trainer of the fourth Diamond Harry, said: "He ran well for a long way but turning in it looked like he would not make it.

"He just ran out of petrol after a long time off. There has been a long gap since his last race and the injury last spring are probably factors.

"As long as he recovers from his run here in time, we will go for the King George."