Cheltenham Gold Cup 16/03/07
1st (8) Kauto Star 5-4 Fav
2nd (4) Exotic Dancer 9-2
3rd (19) Turpin Green 40-1
18 ran
Also: 25-1 Monkerhostin 4th
Kauto Star
© racing-images.co.uk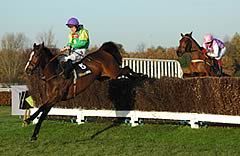 Kauto is the Gold Cup Star
16/03/07
Kauto Star started a red-hot 5/4 favourite for the totesport Cheltenham Gold Cup and came home two and a half lengths to be crowned not just the winner of jump racing's Blue Riband, but the best modern-day chaser.

"That was good," said an understated trainer Paul Nicholls. "We never really had any doubts beforehand and we had done nothing with him since Kempton before he ran at Newbury last time. We've got him very fit and relaxed since then.

"He was going so well that I think he just lost his concentration at the last but he never looked like falling. I don't know what goes through his mind when he does that but he's not tired."
Jockey Ruby Walsh said that he had not felt pressure before the race. "It's part of the job we're in and I only play a very small part - it's Paul and the team who had done the work and they had him spot on today.

"He's a great horse and had been very well prepared. The more I looked at the race beforehand the more I thought he would win - as Tony Martin said to me last night the only thing that would beat us was bad luck.

"I wasn't worried about the loose horse, who was a bit in front of me. I was following State Of Play. All I wanted was to make sure he settled and he did and I was worried that I hit the front too soon. But it was mighty!"
Nicholls' head lad Clifford Baker added: "It's a sensational day. This is my third Gold Cup, after See More Business and Charter Party, when I was with David Nicholson. But I think this horse is a bit more special.

"I've been dreaming for days and days about this race and how the horse should be ridden. This is down to Team Ditcheat - the most important thing has been keeping the horse right."
Owner Clive Smith - who also scooped the best part of a £1 million bonus put up by Betfair for the win - added: "The money will go but the Gold Cup will always be with me. I don't know what Paul's plans are but I'd quite like to do nothing with him now!
"I can't tell you excited I am. I was just pleased that he popped over his fences as we got nearer and nearer the finish. After two out I thought he would definitely win, I think he just teased us at the last and then he was clear.

"I've had horses since 1987 so for 20 years I had hoped that one day I might win this. I'm pleased as punch."
Bloodstock agent Anthony Bromley - who also bought third-placed Turpin Green and fourth-placed Monkerhostin - purchased Kauto Star for Smith for 400,000 euros in the summer of 2004.

"At the time he was the most expensive horse I'd bought and I said to them that I hoped he might be a King George horse but he started off over two miles. I was not sure what his distance would be at the time," said Bromley, who has also enjoyed success this week with My Way De Solzen, Voy Por Ustedes and Taranis.
Position

Horse
Trainer
Jockey
Weight
Starting Price
Beaten Distance
1

Kauto Star
P F Nicholls
R Walsh
11st 10lbs
5 - 4
Winner
2

Exotic Dancer
Jonjo O'Neill
A P McCoy
11st 10lbs
9 - 2
2 1/2 lengths
3

Turpin Green
N G Richards
A Dobbin
11st 10lbs
40 - 1
2 1/2 lengths
4

Monkerhostin
P J Hobbs
R Johnson
11st 10lbs
25 - 1
5 lengths
5

Cane Brake
T J Taaffe
D J Casey
11st 10lbs
20 - 1
3/4 length
6

State of Play
Evan Williams
Paul Moloney
11st 10lbs
8 - 1
1/2 length
7

L'ami
F Doumen
M A Fitzgerald
11st 10lbs
16 - 1
1 1/4 length
8

Neptune Collonges
P F Nicholls
L Heard
11st 10lbs
50 - 1
Short Head
9

Kingscliff
R H Alner
R Walford
11st 10lbs
40 - 1
1/2 length
10

Forget The Past
M J P O'Brien
B J Geraghty
11st 10lbs
25 - 1
2 1/2 lengths
11

The Listener
R H Alner
D Jacob
11st 10lbs
14 - 1
2 1/2 lengths
12

My Will
P F Nicholls
S Thomas
11st 10lbs
16 - 1
8 lengths
13

Beef Or Salmon
M Hourigan
A J McNamara
11st 10lbs
16 - 1
8 lengths
14

Sybellius D'artaix
R Chotard
J M Davies
11st 10lbs
250 - 1
distance
na

Idle Talk
D McCain Jnr
J M Maguire
11st 10lbs
50 - 1

na

Bob Bob Bobbin
C L Tizzard
J Tizzard
11st 10lbs
100 - 1

na

Halcon Genelardais
A King
R Thornton
11st 10lbs
25 - 1

na

Marble Garden
R Chotard
J Kington
11st 10lbs
250 - 1

Non Runner

Racing Demon
Miss H C Knight
T J Murphy
11st 10lbs


RACING HAILS A SUPERSTAR
"And maybe now you'll all believe he is a superstar." That was Paul Nicholls message to the Doubting Thomases among the media as, together with owner Clive Smith and jockey Ruby Walsh, the champion trainer reflected on a brilliant performance from Kauto Star in the Totesport Cheltenham Gold Cup.

Nicholls said:"That wasn't bad for a horse who can't jump and doesn't stay. I have never had any doubt that Kauto Star was the real deal.

"Today was the day that mattered - not the Aon Chase at Newbury, where all the talk was about his last fence mistake.

"We had been chopping and changing distances earlier in the season, and he was a bit too racey at Newbury, having been given a break after the King George VI Chase.

"We restricted him to just two canters between Kempton and Newbury, and he was probably not fit enough there, but we have stoked plenty of work into him since the Aon, and he was fit to fight for his life today.

"He was brilliant out there, and it was only a minor mistake at the last, where he just had a lapse in concentration.

"It takes an exceptional horse to win a Tingle Creek, King George and Gold Cup in the same season, and Kauto Star is exceptional.

"I get annoyed when I read a lot of this criticism about Kauto Star, and even this morning they were giving him some stick on Racing UK.

"He has won six races on the trot - what more do they want? That will be it for this season, and next year we will plan our whole season around defending our crown here in March.

"Denman put the doubters right on Wednesday, and now Kauto has put them firmly in their box."
Kauto Star is 2-1 with the Tote to retain his crown next year, with Denman second-favourite at 6-1.

Inevitably, the stablemates will meet one day, but Ruby Walsh was not going to be drawn on which one he would choose.

He said:"You only have to look at Kicking Kick and War of Attrition to know what can go wrong in racing, so why think about it now. There is plenty of water to run under the bridge between now and next March."
Nicholls, echoing those sentiments, said:"They will meet one day, but it certainly won't be at Kempton. That course would suit Denman, who will probably go to Leopardstown, leaving Kauto Star for the King George, but let us enjoy the moment and worry about that problem when it arises.

"However, the one race I do want to win en route to the Gold Cup next year is the Tingle Creek Chase at Sandown. He has won it twice and I would love to make it three."
Walsh reckons the fact that Kauto Star settled so well was the key factor in the victory. He said:"Even in the parade Clifford Baker, who knows him better than anyone, told me that he had never known him so relaxed, and that gave me even more confidence.

"Once I got him settled I knew it was just a matter of when I wanted to press the button, and, though I was worried for a second when I pulled off the rail and saw AP (McCoy) go there, all was ok in the end.

"We could not be certain about his stamina for the final quarter-mile, but either they stay or they don't. He pinged two out and then it was a case of do or die and it was time to go.

"Kauto Star has come of age. He can be a bit lairy in front, but he was electric at his fences today.
"Winning the Grand National on Papillon for my father was fantastic, but this is equally special. The Gold Cup has always been the race in which the best horse wins - it is the championship race and I am absolutely thrilled to have finally won it. Kauto Star is a true champion. He has done it over all distances."
[more]