Long Run Jumps to Gold Cup Glory
18/03/11
1 Long Run 7/2 Fav
2 Denman 8/1
3 Kauto Star 5/1
NR: Albertas Run (IRE)
13 ran Distances: 7l, 4l, nse
TIME 6m 29.70s (fast by 9.30s)
Nicky Henderson ended a 33-year wait by landing the totesport Cheltenham Gold Cup with the Sam Waley-Cohen-ridden Long Run.
Long Run
© racing-images.co.uk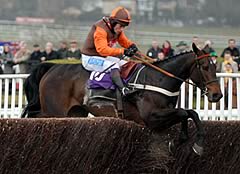 The jockey was the first since Jim Wilson in 1981 to win the race as an amateur and the horse is the first six-year-old to land the blue riband since Mill House in 1963.
Long Run was the pretender to the crown of previous winners Kauto Star, Denman and Imperial Commander, who all reopposed.
Waley-Cohen was coolness personified aboard Long Run and allowed his mount to stretch seven-lengths clear of Denman up the hill, with Kauto Star another four lengths back in third.
An emotional Henderson said: "It has taken a few years and this race has eluded us a bit but we haven't really had any real chances. This is a very good horse and he has proved it today.
"The Champion Hurdle has always been kind to us but this race hasn't, although we have never had a chaser like this.
"The Gold Cup and the Grand National are the two races we have been missing and it is nice to get one of them in the bag.
"Kauto Star may not have been at his best when we beat him in the King George but Long Run has beaten them all today and he is a justifiable Gold Cup winner.
"I thought he may struggle to get out into the clear but once he did I knew he would stay and Sam has given him a wonderful ride.
"It is a tough race and everyone wants to win it. Sam has gone in there against the big boys and the big horses and done a great job.
"I had a huge bet two weeks ago that I wouldn't have a winner this week but this is a good horse.
"I don't want this to sound like the Oscars but there are so many people to thank and I have a great team. Robert (Waley-Cohen, Sam's father and Long Run's owner) and his family have been with the yard for donkey years and I am pleased for them.
"The horse deserves this as it was a proper race. All the big boys were there and it will always be a battle but Sam gave him a beautiful ride.
"Sam doesn't get the practice all the other jockeys get every day as he has another job and he has worked so hard for this and it is very special.
"He had to go round all the big horses who were all there turning for home.
"This horse is only six-years-old and while he may not be getting better he is certainly young enough to come back."
Long Run is 3-1 with sponsors totesport to retain his crown in the 2012 renewal of the Gold Cup.
Denman
© racing-images.co.uk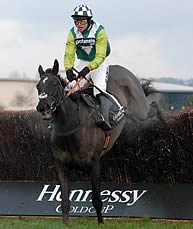 NICHOLLS SO PROUD OF THE OLD GUARD

Paul Nicholls trained the first three home in the 2008 Totesport Gold Cup and today he had to make do with filling the three minor places with Denman, Kauto Star and What A Friend but he was nevertheless delighted with the performance of his team.

The champion trainer said: "I wasn't expecting very much today but you have to hand it to them, that was an awesome horse race. The best horse on the day won and these three have run amazing races. It's just unbelievable.

"Both Kauto Star and Denman are now 11 and Kauto has just lost that little kick coming off the bend but we were commited. All of those people who said he should be retired can eat their words now.

"We didn't win it but we weren't expecting to. We thought they'd run well and they have done. We were just beaten by a younger set of legs but all credit to the horses to come back and run so well. We wouldn't have run them if we didn't think they could give a good account of themselves and I'm mighty proud of them."

Paul Barber, the owner of runner-up Denman, has seen his 2008 Gold Cup winner run at the Cheltenham Festival in six consecutive years. He said: "That was lovely. I have a dry throat, a dry mouth. He ran another great race but was just beaten by a younger horse. That's six visits here and he's never been out of the first two.

"He heard that cheer when he came in and he thought it was for him -mind you, he got almost as loud a cheer as the winner."

Clive Smith, the owner of Kauto Star, was similarly impressed with his veteran dual Gold Cup winner's performance in third.

He said: "What a run. Ruby was able to dictate the pace and he had every chance coming around the turn. He's 11 now but that was still a wonderful performance and I'm so proud of him."

Manchester United manager Sir Alex Ferguson was at Cheltenham to watch What A Friend, whom he part-owns with Ged Mason, finish fourth.

He said: "The winner was fantastic but our fella ran really, really well and I'm delighted.

"This is a tough place to be but to be involved in a race like this is special. We need time to assess the race but I think on reflection this could be one of the best Gold Cups ever. I've been here a few times and it's a fantastic spectacle."
Fourth race -placed horses quotes totesport Cheltenham Gold Cup
Position

Horse
Trainer
Jockey
Weight
Starting Price
Beaten Distance
1

Long Run
N J Henderson
Mr S Waley-Cohen
11st 10lbs
7 - 2
Winner
2

Denman
P F Nicholls
S Thomas
11st 10lbs
8 - 1
7 lengths
3

Kauto Star
P F Nicholls
R Walsh
11st 10lbs
5 - 1
4 lengths
4

What A Friend
P F Nicholls
D Jacob
11st 10lbs
25 - 1
Nose
5

Midnight Chase
N P Mulholland
T Scudamore
11st 10lbs
9 - 1
8 lengths
6

Tidal Bay
J Howard Johnson
B Hughes
11st 10lbs
16 - 1
3 3/4 lengths
7

Pandorama
N Meade
P Carberry
11st 10lbs
14 - 1
Short Head
8

Neptune Collonges
P F Nicholls
R Thornton
11st 10lbs
33 - 1
3 1/2 lengths
9

Carruthers
M Bradstock
Matthew Batchelor
11st 10lbs
66 - 1
34 lengths
Pulled Up

China Rock
M F Morris
B J Geraghty
11st 10lbs
25 - 1

Pulled Up

Imperial Commander
N A Twiston-Davies
P J Brennan
11st 10lbs
4 - 1

Pulled Up

Kempes
W P Mullins
A P McCoy
11st 10lbs
9 - 1

Pulled Up

Weird Al
Ian Williams
J M Maguire
11st 10lbs
20 - 1

Non Runner

Albertas Run
Jonjo O'Neill
R Johnson
11st 10lbs
-

[more]