cheltenham festival / 2013 news / races /
Quevega Queen of Mares for a Fifth Time
12/03/13
1 Quevega 8/11 Fav
2 Sirene D'Ainay 33/1
3 Swincombe Flame 40/1
19 ran Distances: 1½l, 2l, 3l
TIME 4m 55.46s (slow by 16.96s)
Quevega made it a remarkable five-timer in the OLBG Mares' Hurdle with a thrilling victory at the Cheltenham Festival.
Quevega


© racing-images.co.uk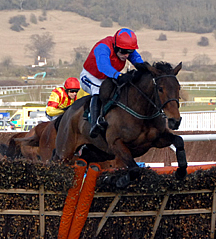 She came from a difficult position to land the spoils and equal the 1930s Gold Cup hero Golden Miller's record of winning the same race five years in a row, in the process completing a first-day treble for trainer Willie Mullins and jockey Ruby Walsh.
Almost knocked over at the top of the hill, Quevega still had plenty to do at the last, where French raider Sirene D'Ainay looked to have the race in the bag, but the 8-11 favourite finally got going and flew up the hill, passing many rivals to get her head in front in the last 100 yards and win by a length and a half.
Walsh said: "We were very, very lucky. I'm not sure if she stood on herself or clipped heels with something else, but she was on the floor at the top of the hill - she nodded and I nearly fell over her ears.
"When she stood back up then, the boys were gone, and I had to sit and suffer down the hill, but she has a tremendous little engine. She has a wonderful attitude and you'd have to say she's trained by a genius.
"In fairness to her, she jumped the last and, my God, did she battle. I would have won very easily but for what happened at the top of the hill - when your luck is in, your luck is in."
Mullins added: "We thought we had the team in great order coming over. She is a fantastic mare. She's just so good and changes gear when she wants to.
"Ruby rode her with a lot of confidence. I thought he was five or six lengths out of his ground but when he slipped her wide, she found another gear. Once the last hurdle opened up for her you could see her putting her head down and you knew if she jumped the last she was going to make it.
"She's very good - very precious. To be associated with a horse that wins five times at the Festival, you don't dream of those things.
"I used to read about horses like Golden Miller in those racing books when I was young, but those horses are once in a lifetime - once in a century. I'm privileged to be part of it."
OLBG Mares' Hurdle (Grade 2)
£85,000 added, 4yo plus, 2m 4f, Class 1
19 ran
Going: Soft (Good to Soft in places; Cross Country: Soft)
Position

Horse
Trainer
Jockey
Weight
Starting Price
Beaten Distance
1

Quevega
W P Mullins
R Walsh
11st 5lbs
8 - 11
Winner
2

Sirene D'ainay
E Clayeux
J Plouganou
11st 5lbs
33 - 1
1 1/2 length
3

Swincombe Flame
Nick Williams
D A Jacob
11st 0lbs
40 - 1
2 lengths
4

Shadow Eile
Mrs D A Love
Andrew J McNamara
11st 5lbs
66 - 1
3 lengths
5

Kauto Shiny
T R George
P J Brennan
11st 5lbs
100 - 1
Short Head
6

Prima Porta
Evan Williams
Paul Moloney
11st 0lbs
40 - 1
1 1/2 length
7

Kentford Grey Lady
Miss E C Lavelle
N Fehily
11st 0lbs
12 - 1
1/2 length
8

Shop Dj
Peter Fahey
A P Crowe
11st 0lbs
33 - 1
2 lengths
9

Une Artiste
N J Henderson
B J Geraghty
11st 5lbs
11 - 2
1 length
10

Kaffie
K C Bailey
S Twiston-Davies
11st 0lbs
100 - 1
8 lengths
11

Miss Milborne
Jamie Snowden
Harry Skelton
11st 0lbs
150 - 1
3 1/2 lengths
12

Cloudy Spirit
R Hollinshead
D C Costello
11st 0lbs
100 - 1
Head
13

Alasi
P R Webber
D Elsworth
11st 5lbs
33 - 1
Neck
14

She Ranks Me
D McCain Jnr
J M Maguire
11st 5lbs
33 - 1
2 1/4 lengths
15

Swing Bowler
D Pipe
T J Murphy
11st 0lbs
7 - 1
11 lengths
16

Lady Kathleen
P R Webber
D F O'Regan
11st 0lbs
150 - 1
25 lengths
17

Epee Celeste
M C Chapman
G J Galligan
11st 0lbs
200 - 1
5 lengths
18

Stone Light
Miss V Williams
Aidan Coleman
11st 0lbs
100 - 1
2 lengths
OLBG MARES' HURDLE FACTS & FIGURES BACKGROUND INFORMATION
This year sees the sixth running of the Grade Two OLBG Mares' Hurdle (for the David Nicholson Trophy). The race is named in memory of the legendary Cotswold-based jockey and trainer, who passed away in August, 2006. OLBG, the online sports betting community, sponsored for the first time in 2012.
"The Duke" enjoyed five successes at The Festival as a jockey between 1963 and 1973, but is best known for his 17 victories as a trainer, including successes in the Sportingbet Queen Mother Champion Chase (1994 & 1995 Viking Flagship), Ladbrokes World Hurdle (Anzum 1999) and Betfred Cheltenham Gold Cup (1988 Charter Party).
Nicholson became the first trainer for more than 50 years to saddle three winners in a day at The Festival when Putty Road (Neptune Investment Management Novices' Hurdle), Viking Flagship (Sportingbet Queen Mother Champion Chase) and Kadi (Byrne Group Plate) all triumphed on March 15, 1995.
FIELD SIZE
A record 21 horses lined up in the 2009 renewal, while the smallest field of 13 went to post in 2008. The race has a safety limit of 24.
MULTIPLE WINNERS
Quevega dominates the roll of honour, having captured four of the five runnings to date - 2009, 2010, 2011 and 2012. If successful this year, she would become only the second horse to win a race five times at the Cheltenham Festival, with the other being Golden Miller, who won the Cheltenham Gold Cup between 1932 and 1936.
MOST SUCCESSFUL TRAINER
Willie Mullins has saddled Quevega to all four of her victories, with Donald McCain the only other trainer to have won the race in 2008 with Whiteoak.
MOST SUCCESSFUL JOCKEY
Quevega has been ridden by Ruby Walsh on each of her four victories in the OLBG Mares' Hurdle.
BETTING
Quevega has been sent off favourite for all four of her successes and was the shortest-priced winner in 2012 at odds of 4/7. Whiteoak sprung a surprise in 2008 as she scored at 20/1.
OVERSEAS-TRAINED WINNERS
Irish-handler Willie Mullins has saddled four of the five winners courtesy of Quevega.
DID YOU KNOW?
As well as sponsoring this race, OLBG also supports the OLBG.com Mares' Handicap Hurdle at Cheltenham's April Meeting alongside the OLBG Mare of the Month Award, which rewards the trainer of the mare deemed to have delivered the most outstanding performance of the month as judged by an expert panel. The monthly prize is an award of £1,000 to be shared amongst the staff in the winning stable along with a memento for the trainer.
DAVID NICHOLSON MARES' HURDLE PAST RESULTS
2012-WINNER-QUEVEGA 8-11-05 Owner-Hammer & Trowel Syndicate; Trainer-Willie Mullins IRE; Jockey-Ruby Walsh; SP- 4/7 Fav
2ND Kentford Grey Lady 6-11-00 Owner-Ian Bare; Trainer-Emma Lavelle; Jockey-Noel Fehily; SP-14/1
3RD Golden Sunbird 8-11-03 Owner-Jim Mernagh; Trainer-Paul Nolan IRE; Jockey-Robbie Power; SP-66/1
19 ran, Time-4m 51.30s Dist-4, nk
2011-WINNER-QUEVEGA 7-11-05 Owner-Hammer & Trowel Syndicate; Trainer-Willie Mullins IRE; Jockey-Ruby Walsh; SP-5/6 Fav
2ND Sparky May 6-11-05 Owner-Bill Muddyman; Trainer-Pat Rodford; Jockey-Keiran Burke; SP-4/1
3RD Ocean Transit 6-11-00 Owner-Ocean's Five; Trainer-Richard Price; Jockey-David Bass; SP-50/1
14 ran, Time-4m 48.08s Dist-10, 1
2010-WINNER-QUEVEGA 6-11-05 Owner-Hammer & Trowel Syndicate; Trainer-Willie Mullins IRE; Jockey-Ruby Walsh; SP-6/4 Fav
2ND Carole's Legacy 6-11-00 Owner-Paul Murphy; Trainer-Nicky Henderson; Jockey-Andrew Tinkler; SP-20/1
3RD Voler La Vedette 6-11-05 Owner-Mrs M Brophy; Trainer-Colm Murphy IRE; Jockey-Barry Geraghty; SP-9/4
17 ran, Time-4m 45.40s Dist-4½, 1¼
2009-WINNER-QUEVEGA 5-11-03 Owner-Hammer & Trowel Syndicate; Trainer-Willie Mullins IRE; Jockey-Ruby Walsh; SP-2/1 Fav
2ND United 8-11-05 Owner-R B Holt; Trainer-Lucy Wadham; Jockey-Dominic Elsworth; SP-100/30
3RD Aura About You 6-11-00 Owner-Jim Mernagh; Trainer-Paul Nolan IRE; Jockey-Alain Cawley; SP-28/1 21 ran, Time-4m 55.20s Dist-14, sh
2008-WINNER-WHITEOAK 5-11-00 Owner-Brendan Richardson; Trainer-Donald McCain Jnr; Jockey-Jason Maguire; SP-20/1
2ND Refinement 9-11-05 Owner-Michael Tabor; Trainer-Jonjo O'Neill; Jockey-Tony McCoy; 10/1
3RD Chomba Womba 7-11-05 Owner-Richard & Lizzie Kelvin Hughes; Trainer-Nicky Henderson; Jockey-Mick Fitzgerald; SP-100/30 Fav
13 ran, Time-5m 1.40s Dist-sh, 2½