Whiteoak Lands Nicholson Thriller
14/03/08
1st (12) Whiteoak 20-1
2nd (4) Refinement 10-1
3rd (2) Chomba Womba 10-3 Fav
13 ran
Also: 7-1 Gaspara 4th
Rapidly improving Whiteoak (Jason Maguire) made up ground hand over fist coming into the straight leading at the final hurdle from Chomba Womba (Mick Fitzgerald).
© racing-images.co.uk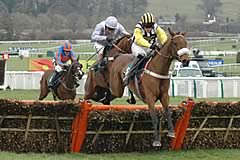 The Donald McCain-trained Whiteoak fought back against a determined Refinment and Tony McCoy to prevail in a photo finish for the inaugural David Nicholson Mares Hurdle.
Despite the five-year-old's 20/1 starting price, McCain admitted that the success was not a complete surprise. "I've always thought a lot of her and she probably got there too soon because she just does enough in front, although today she got there and went again," said McCain.
"I thought Refinement was going to get there and would have been a little disappointed but she was unbelieveable and came again.
"Her form was there, she was just beaten by Tazbar - the best novice in there - and when she won at Ascot everyone said the southern horses hadn't run to form which was frustrating. If I'd done my job properly she'd be unbeaten this season."
Winning rider Jason Maguire added: "She's very tough, we were headed on the run-in and she fought back. She's not got a straightforward head carriage and the worry beforehand was today's trip because she has so much speed."
REFINEMENT JUST TOUCHED OFF
Refinement
© racing-images.co.uk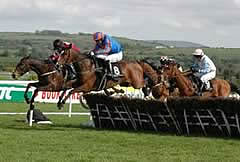 Trainer Jonjo O'Neill was in philosophical mood after Refinement went down by a short-head to Whiteoak in the opening Grade Two David Nicholson Mares Hurdle. The two and a half mile race was being run for the first time.
Refinement looked as if she had down enough to win with a great run from the last under Tony McCoy, but appeared to stop when she hit the front and allowed Whiteoak to get back up.
The master of Jackdaws Castle commented: "Refinement is just a bit lazy and just pulled up when she hit the front.
"She has still run a blinder and is a great mare.
"She always puts everything in, it's just she thinks she's done enough when she hits the front."
Tony McCoy was subsequently banned for four days for his excessive use of the whip.
Coming down the hill, the likeliest winner had appeared to be Chomba Womba, with jockey Mick Fitzgerald looking to have plenty in hand before the tank quickly emptied as she came up the hill.
"Possibly she just didn't get home and the ground may have gone against her," said trainer Nicky Henderson.
"You have to have so much luck and there was a couple of hurdles that the horse didn't get right. There was a little interference which changed her rhythm, but that's what this game is about," added the owner, Richard Kelvin Hughes.
Gaspara, from the David Pipe stable, had set the early tempo, but stayed on a one pace for fourth. Nevertheless, jockey Tom Scudamore was very positive. "She ran a great race and didn't go down without a fight," he said.
Gaspara
© racing-images.co.uk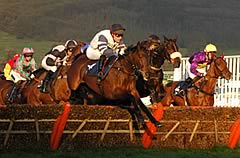 THE DAVID NICHOLSON MARES HURDLE RACE
Class 1, Grade 2, £100,000 Total prize fund, 12.30pm, Friday, March 14, 2008. Two miles about four and a half furlongs. For four-year-olds and upwards, Fillies and Mares only. Weights: 4-y-o 10st 5lb; 5-y-o and upwards 11st. Penalties: after September 30, 2006, a winner of a Class 2 weight-for-age hurdle race or Class 1 handicap hurdle race 3lb; of a class 1 weight-for-age hurdle race 5lb. Entries closed February 26 (31 entries), entries revealed February 28, six-day confirmations March 8, final declaration 10.00am Thursday, March 13, 2008. Form figures supplied by Weatherbys and are correct up to and including the racing of Monday, February 25, 2008. Does not include point-to-point form.

Form Horse Age Owner Trainer
0/1113-P AMARETTO ROSE 7 Shade Oak Stud Nicky Henderson
00F121 AMBER BROOK (IRE) 7 The Yes No Wait Sorries Nigel Twiston-Davies
4110-14 ANNIE'S ANSWER (IRE) 8 R G Makin Jane Makin
14 ARTLESS (USA) 5 Andrea & Graham Wylie Howard Johnson
324-111 BLAEBERRY 7 Lady Bland Emma Lavelle
13-33P5 CEOPERK (IRE) 9 Willjoman Partnership David Wintle
00P023 CHICAGO VIC (IRE) 9 Timothy Cahill Eric McNamara IRE
213-111 CHOMBA WOMBA (IRE) 7 Mr & Mrs Richard Kelvin Hughes Nicky Henderson
4102 DARAZ ROSE (IRE) 7 Mrs L J Robins Norma Pook
144 DOUBLY GUEST 4 The Ting Tong Partnership Nicky Henderson
120-FP0 EN LA CRUZ (FR) 5 Sir Robert Ogden Jonjo O'Neill
5140-2P FIRST FEERIE (FR) 5 N M Watts & N P Horsfall Noel Chance
06///2133- IRST THOUGHT 10 Oliver Carter Oliver Carter
12-2333 GASPARA (FR) 5 P McMahon David Pipe
14-13P6 HELENS VISION 5 W D Morris Helen Lewis
212121 KRUGUYROVA (FR) 5 Ronald Brimacombe Charles Egerton
321531 LA VECCHIA SCUOLA (IRE) 4 John Connor Graham Brown Jim Goldie
10-12F1 LABELTHOU (FR) 9 GDM Partnership Emma Lavelle
404-146 LOUNAOS (FR) 5 Martine Griffin Eoin Griffin IRE
32-33P1 MAGICAL LEGEND 7 R H Kerswell Liam Corcoran
11-1016 MISSIS POTTS 7 James & Jean Potter Philip Hobbs
063-312 MY PETRA 5 Mr & Mrs Richard Kelvin Hughes Nicky Henderson
0-51120 MY VALLEY (IRE) 6 Ballyboggan Racing Syndicate Pat Fahy IRE
100-113 ONE GULP 5 Bobby McAlpine Paul Webber
3-12366 PISTOL FLASH (IRE) 6 John Mulhern John Mulhern IRE
31-6123 REFINEMENT (IRE) 9 Michael Tabor Jonjo O'Neill
F130-55 SHATABDI (IRE) 6 Robert Waley-Cohen Nicky Henderson
441-0PP SILVER CHARMER 9 Brian, Gwen, Terri & Kelly Griffiths Stuart Howe
2-12212 SWEET KILN (IRE) 9 James Bowe Michael Bowe IRE
322-122 THEATRE GIRL 5 Let's Live Racing Alan King
0-23121 WHITEOAK (IRE) 5 Brendan Richardson Donald McCain Jnr
31 Entries
5 Irish-Trained
David Nicholson Mares Hurdle Race – Analysis
The inaugural running of the David Nicholson Mares Hurdle, an extended two and a half mile hurdle on Friday, March 14 at Cheltenham, has attracted a strong entry of 31, including five from Ireland.
With five entered, Nicky Henderson has the most engaged at this stage and his team is headed by Chomba Womba, who has won her three starts since being bought for £160,000 at a sale at Cheltenham racecourse in April, having won five races in Ireland. Her most recent success came in a Grade Two mares' event at Doncaster, where she was stepping back from two and a half miles to an extended two miles. On that occasion, she was three quarters of a length too good for Alan King's staying-on Theatre Girl, while Annie's Answer finished fourth.
Henderson's team also includes Amaretto Rose, a winner of four of her seven career starts who was pulled-up on her first run since finishing third in last year's Anglo Irish Bank Supreme Novices' Hurdle, while My Petra, Shatabdi and Doubly Guest complete his team. My Petra has been successfully campaigned over fences this season, following up a beginners' chase victory with a good second to The Irish Independent Arkle Chase favourite Noland.
David Pipe has entered tough performer Gaspara, who rattled off a quartet of wins last season, culminating in success in the Fred Winter Juvenile Novices' Handicap Hurdle at The Festival. She has yet to score this season, but has run some good races in defeat.
The Irish-trained quintet is headed by Michael Bowe's prolific winner Sweet Kiln and Eoin Griffin's Lounaos. The former's most recent of her nine wins came at Leopardstown in the Grade Two Christmas Hurdle, while Lounaos was a winner at Limerick on Boxing Day before finishing fourth in the Irish Champion Hurdle at Leopardstown for the second year in a row.
The challenging team is completed by Eric McNamara's Chicago Vic, Pat Fahy's My Valley and John Mulhern's Pistol Flash.
Others of note from home are Emma Lavelle's Labelthou and Jonjo O'Neill's pair of Refinement and En La Cruz, while Philip Hobbs has entered Missis Potts.
DAVID NICHOLSON MARES HURDLE RACE FACTS AND FIGURES
1. This year sees the inaugural running of the Grade Two David Nicholson Mares Hurdle, named in memory of the legendary Cotswold-based jockey and trainer, who passed away in August, 2006.

2. "The Duke" enjoyed five successes at The Festival as a jockey between 1963 and 1973, but is best known for his 17 victories as a trainer, including successes in the Seasons Holidays Queen Mother Champion Chase (1994 & 1995 Viking Flagship), Ladbrokes World Hurdle (Anzum 1999) and totesport Gold Cup (1988 Charter Party).

3. Nicholson became the first trainer for more than 50 years to saddle three winners in a day at The Festival when Putty Road (Ballymore Properties Novices' Hurdle), Viking Flagship (Seasons Holidays Queen Mother Champion Chase) and Kadi (Racing Post Plate) all triumphed on March 15, 1995.