cheltenham festival / 2012 news /
Quevega the Festival Queen
13/03/12
1 Quevega 4/7 Fav
2 Kentford Grey Lady 14/1
3 Golden Sunbird 66/1
NR: Belle De Fontenay (FR)
19 ran Distances: 4l, nk, nk
TIME 4m 51.27s (slow by 12.77s)
Quevega's place among racing's great mares took another step up today when she won her fourth race at the Festival.
Quevega


© racing-images.co.uk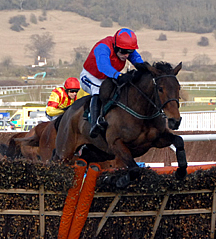 All her victories have come in the David Nicholson Mares' Hurdle, sponsored this year by OLBG, and she has been ridden each time by Ruby Walsh for trainer Willie Mullins and owners the Hammer And Trowel Syndicate. Her win today was some consolation for the Mullins' stable, which had seen odds-on favourite Hurricane Fly beaten in the Stan James Champion Hurdle and then lost Scotsirish after he was put down during the Glenfarclas Chase.
Quevega rarely runs often, and this was her seasonal debut. Mullins said: "She's an extraordinary mare to come out every year without a previous run, and to do it like she did today is amazing. They were tightly packed coming down the hill, and my mother asked Ruby how he held his nerve. He said, 'Well, I had nowhere else to go'.
"She has a beautiful temperament. Every day I send her out to do something and she does it willingly. If she does too much work she lets me know the following day - she doesn't eat up and she has her own way of doing things.
"When she's like that I back off her and let her come back into form."
Mullins is often asked why he doesn't run Quevega in the Ladbrokes World Hurdle, and it was an obvious question again. He said: "If you own a horse that good's enough to win at Cheltenham you run it in the race it's good enough to win. If she had run in other races she might have finished second or third and not won four times at the Festival. I know she can win the Stayers' Hurdle in Ireland, but this race is made for her at this meeting.
"Someone said something about breeding from her and I said, 'look, I'll buy you a foal, I'll buy you two, but let's keep her in training'. Her owners are racehorse owners rather than breeders and she's in good order so why not carry on and come back next year."
Winning jockey Ruby Walsh said: "She jumped well and picked up well. She was straightforward today. There was no pace on and she travelled well. She runs in whichever race suits her best, so do you run her in this as an odds-on shot or go for the World Hurdle and be an 8/1 chance? That makes no sense to me."
Position

Horse
Trainer
Jockey
Weight
Starting Price
Beaten Distance
1

Quevega
W P Mullins
R Walsh
11st 5lbs
4 - 7
Winner
2

Kentford Grey Lady
Miss E C Lavelle
N Fehily
11st 0lbs
14 - 1
4 lengths
3

Golden Sunbird
P Nolan
R M Power
11st 3lbs
66 - 1
Neck
4

Alasi
P R Webber
D Elsworth
11st 5lbs
20 - 1
Neck
5

Shop Dj
Peter Fahey
D N Russell
11st 5lbs
10 - 1
Neck
6

Cloudy Spirit
R Hollinshead
T J Murphy
11st 0lbs
33 - 1
1/2 length
7

Ixora
Jamie Snowden
T J O'Brien
11st 0lbs
50 - 1
3/4 length
8

Kells Belle
N J Henderson
B J Geraghty
11st 5lbs
33 - 1
Head
9

Swincombe Flame
Nick Williams
W Kennedy
11st 0lbs
10 - 1
Short Head
10

Our Girl Salley
Mrs P Dobbs
A E Lynch
11st 5lbs
20 - 1
1/2 length
11

What A Charm
A L T Moore
P Carberry
11st 3lbs
40 - 1
1/2 length
12

Dorabelle
D McCain Jnr
J M Maguire
11st 0lbs
100 - 1
2 3/4 lengths
13

Tempest River
B I Case
Aidan Coleman
11st 0lbs
100 - 1
1 length
14

Dare To Doubt
W P Mullins
P Townend
11st 5lbs
40 - 1
1 1/4 length
15

Violin Davis
P F Nicholls
D A Jacob
11st 5lbs
28 - 1
2 lengths
16

The Strawberry One
D W P Arbuthnot
D F O'Regan
11st 0lbs
100 - 1
14 lengths
17

Terre Du Vent
T R George
P J Brennan
11st 0lbs
20 - 1
3 lengths
18

Candelita
J Hughes
M D Grant
11st 0lbs
150 - 1
3/4 length
19

Himayna
F Sheridan
Giles Hawkins
11st 0lbs
200 - 1
64 lengths
Non Runner

Belle De Fontenay
George Baker
Non Runner
11st 0lbs
-

GREY LADY BEST OF THE REST

Emma Lavelle, trainer of runner-up Kentford Grey Lady, said:

"I couldn't be prouder of her. She's put her head down and galloped all the way to the line and as far as she is concerned, she's won her race. Perhaps she'd have been better off with a faster-run race, but the same could probably be said of Quevega. There's nothing wrong with coming second to a legend and being best of the rest is pretty good."

"She'll carry on racing, rather than going to stud. Ian [Bare, the mare's owner and breeder] is nearly 82 and he wants to have a horse to go to the races with. Noel [Fehily, jockey] said that the sooner she jumps a fence the better."

Kentford Grey Lady is a six-year-old daughter of recently-deceased St Leger hero Silver Patriarch.

OLBG MARES' HURDLE RACE FACTS AND FIGURES

1. This year sees the fifth running of the Grade Two OLBG Mares' Hurdle (for the David Nicholson Trophy). The trophy is named in memory of the legendary Cotswold-based jockey and trainer, who passed away in August, 2006. OLBG.com sponsors for the first time in 2012.

2. "The Duke" enjoyed five successes at The Festival as a jockey between 1963 and 1973, but is best known for his 17 victories as a trainer, including victories in the sportingbet.com Queen Mother Champion Chase (1994 & 1995 Viking Flagship), Ladbrokes World Hurdle (Anzum 1999) and Betfred Cheltenham Gold Cup (1988 Charter Party).

3. Nicholson became the first trainer for more than 50 years to saddle three winners in a day at The Festival when Putty Road (Neptune Investment Management Novices' Hurdle), Viking Flagship (sportingbet.com Queen Mother Champion Chase) and Kadi (Byrne Group Plate) all triumphed on March 15, 1995.

4. The remarkable mare Quevega, owned by the Hammer & Trowel Syndicate and trained by Willie Mullins in Ireland, has won the last three runnings in great style when sent off favourite each time. She goes for a fourth victory this year.

DAVID NICHOLSON MARES' HURDLE PAST RESULTS

2011-WINNER-QUEVEGA 7-11-05 Owner-Hammer & Trowel Syndicate; Trainer-Willie Mullins IRE; Jockey-Ruby Walsh; SP-5/6 Fav
2ND Sparky May 6-11-05 Owner-Bill Muddyman; Trainer-Pat Rodford; Jockey-Keiran Burke; SP-4/1
3RD Ocean Transit 6-11-00 Owner-Ocean's Five; Trainer-Richard Price; Jockey-David Bass; SP-50/1 14 ran, Time-4m 48.08s Dist-10, 1

2010-WINNER-QUEVEGA 6-11-05 Owner-Hammer & Trowel Syndicate; Trainer-Willie Mullins IRE; Jockey-Ruby Walsh; SP-6/4 Fav
2ND Carole's Legacy 6-11-00 Owner-Paul Murphy; Trainer-Nicky Henderson; Jockey-Andrew Tinkler; SP-20/1
3RD Voler La Vedette 6-11-05 Owner-Mrs M Brophy; Trainer-Colm Murphy IRE; Jockey-Barry Geraghty; SP-9/4
17 ran, Time-4m 45.40s Dist-4½, 1¼

2009-WINNER-QUEVEGA 5-11-03 Owner-Hammer & Trowel Syndicate; Trainer-Willie Mullins IRE; Jockey-Ruby Walsh; SP-2/1 Fav
2ND United 8-11-05 Owner-R B Holt; Trainer-Lucy Wadham; Jockey-Dominic Elsworth; SP-100/30
3RD Aura About You 6-11-00 Owner-Jim Mernagh; Trainer-Paul Nolan IRE; Jockey-Alain Cawley; SP-28/1 21 ran, Time-4m 55.20s Dist-14, sh

2008-WINNER-WHITEOAK 5-11-00 Owner-Brendan Richardson; Trainer-Donald McCain Jnr; Jockey-Jason Maguire; SP-20/1
2ND Refinement 9-11-05 Owner-Michael Tabor; Trainer-Jonjo O'Neill; Jockey-Tony McCoy; 10/1
3RD Chomba Womba 7-11-05 Owner-Richard & Lizzie Kelvin Hughes; Trainer-Nicky Henderson; Jockey-Mick Fitzgerald; SP-100/30 Fav
13 ran, Time-5m 1.40s Dist-sh, 2½