cheltenham festival / 2011 news /
Buena Vista Doubles Up in Pertemps
17/03/11
1 Buena Vista 20/1
2 Son Amix 16/1
3 Sivota 9/1
4 Knockara Beau 33/1
NR: Working Title (IRE)
23 ran Distances: 4l, hd, 10l
TIME 5m 40.10s (fast by 0.90s)
A seventh visit to the Festival ended in another victory for Buena Vista, who won the Pertemps Final for the second year.
Buena Vista


© racing-images.co.uk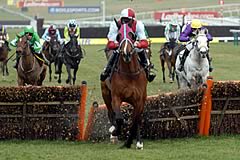 Trainer David Pipe said the ten-year-old could well be back for the race in 2012, when he would bid to emulate Willie Wumpkins, winner three times from 1979 to 1981 under amateur Jim Wilson.

Conor O'Farrell rode Buena Vista, who last year was partnered by Hadden Frost. Pipe said: "Why not aim to come back again? He's won off 138, and I thought from that mark he had a lot to do, so we put Conor on to take 5lb off his back.

"For the last two years the ground has come right for him, but he's always been a class horse. He's been in very good form at home, but you wouldn't expect a ten-year-old to be improving.

"Why hasn't he won this season? He's been running on soft ground, and simply can't perform on it. He ran a cracker on good ground over fences at Wincanton when second off a mark of 133, but they put him up to 140 so we had to go back hurdling.

"It's a superb tribute to the horse that he's come back to the Festival seven times, and been placed in the Supreme, placed in this race, and now the winner twice. He got a great reception from the crowd, but that is what you get in National Hunt racing.

"It is fantastic for the his owners and the late Jean Broadhurst who is looking down and for my dad and myself. He is not too bad for the young jockeys either - Hadden Frost claimed 3lb when winning on him last year and now Conor O'Farrell claiming 5lb. Conor has given him a superb ride."
Position

Horse
Trainer
Jockey
Weight
Starting Price
Beaten Distance
1

Buena Vista
D Pipe
Conor O'Farrell
10st 8lbs
20 - 1
Winner
2

Son Amix
T Cooper
P Carberry
10st 6lbs
16 - 1
4 lengths
3

Sivota
W P Mullins
R Walsh
10st 7lbs
9 - 1
Head
4

Knockara Beau
G A Charlton
Jan Faltejsek
11st 12lbs
33 - 1
10 lengths
5

Queiros Bleu
H de Bromhead
A E Lynch
10st 4lbs
33 - 1
Neck
6

Barwell Bridge
W J Greatrex
W Hutchinson
10st 8lbs
25 - 1
2 1/2 lengths
7

Viking Blond
N A Twiston-Davies
P J Brennan
10st 7lbs
40 - 1
1 length
8

Heavenly Blues
T M Walsh
Ms K Walsh
10st 4lbs
40 - 1
3 lengths
9

Tarablaze
P J Hobbs
T J O'Brien
10st 8lbs
20 - 1
1 3/4 length
10

Don't Push It
Jonjo O'Neill
A P McCoy
10st 5lbs
14 - 1
Head
11

Rivage d'or
D T Hughes
Bryan J Cooper
10st 7lbs
10 - 1
Short Head
12

Micheal Flips
Andrew Turnell
Nick Scholfield
11st 2lbs
20 - 1
Neck
13

Chartreux
D Pipe
T Scudamore
10st 3lbs
6 - 1
1 1/2 length
14

Kayf Aramis
N A Twiston-Davies
S Twiston-Davies
10st 12lbs
20 - 1
7 lengths
15

Gwanako
P F Nicholls
Mr R Mahon
10st 10lbs
25 - 1
3 1/2 lengths
16

Barafundle
Jennie Candlish
A O'Keeffe
10st 10lbs
8 - 1
9 lengths
17

Mobaasher
Miss V Williams
A Coleman
11st 4lbs
33 - 1
14 lengths
18

Duke Of Lucca
P J Hobbs
R Johnson
11st 4lbs
25 - 1
9 lengths
19

Alfie Spinner
Nick Williams
D Jacob
10st 8lbs
12 - 1
6 lengths
20

Essex
D Cullen
P Townend
10st 9lbs
100 - 1
7 lengths
21

Pause And Clause
Miss E C Lavelle
Jack Doyle
10st 12lbs
33 - 1
Head
22

Mr Moonshine
Mrs S J Smith
H Oliver
10st 9lbs
40 - 1
Nose
Pulled Up

Lush Life
N J Henderson
B J Geraghty
10st 12lbs
10 - 1

Non Runner

Working Title
N J Henderson
Jeremiah McGrath
11st 5lbs
-

O'FARRELL'S A WINNER ON HIS FIRST RIDE AT THE FESTIVAL


Twenty-one-year-old Conor O'Farrell had a dream introduction to Prestbury Park, steering the David Pipe-trained Buena Vista to the horse's second consecutive victory in the Pertemps Final.

O'Farrell, from Co Kilkenny, said: "This is unbelievable, it's my first ever ride at the Festival. Mr Pipe's been very good to me since I came over from Ireland. He's given me some great opportunities and I'm glad to be able to take advantage of them.

"For a horse of his age he's wonderful round here. He comes alive in the spring and he jumped from hurdle to hurdle."

A graduate of the Kildare Racing Academy, O'Farrell worked for John 'Shark' O'Hanlon and rode out for Charlie Swan before joining the Pipe stable last November.

He added: "This is a dream come true, it's all any jockey wants to do, to ride a winner at the Cheltenham Festival."

Ten-year-old Buena Vista was ridden to victory last year by Hadden Frost, who was also enjoying his first Festival win.
FACTS AND FIGURES
The Pertemps Final (Handicap Hurdle) was introduced to The Festival in 1974, replacing the George Duller Handicap Hurdle. Until 1993, it was run under the Coral banner. Other sponsors since then have been American Express (1993), Hamlet Cigars (1994 & 1996), Astec Vodafone (1995), Hamlet Extra Mild Cigars (1997), Unicoin Homes (1998) and Stakis Casinos (1999). Ladbrokes inherited sponsorship in 2000 after acquiring Stakis Casinos and Pertemps took over in 2002.
The Pertemps Final (Handicap Hurdle) is the final of the Pertemps series. Nine qualifiers have been scheduled this season at Cheltenham (October 15), Kempton (November 1), Auteuil (November 7), Exeter (November 19), Sandown (December 4), Cagnes Sur Mer (December 20), Wincanton (December 26), Leopardstown (January 9), Cagnes Sur Mer (January 9), Warwick (January 15), Pau (January 16), Huntingdon (January 26), Punchestown (January 30), Pau (February 4), Carlisle (February 9) and Haydock (February 19).
The smallest field was 17 in 1976 when Good Prospect won at 10/1.
Willie Wumpkins won in three consecutive years from 1979-81 when 11,12 &13. He died in 1995 at the ripe old age of 27.
Forgive 'N' Forget is the only totesport Cheltenham Gold Cup winner to have won what is now the Pertemps Final, beating 22 rivals in 1983 and going on to take the Gold Cup two years later.
There have been two 50/1 winners in the past six years, with Creon in 2004 and Kadoun in 2006 scoring for the bookies.
Previous Results
PERTEMPS FINAL (HANDICAP HURDLE)
2010-WINNER-BUENA VISTA 9-10-01 Owner-Matt Archer & the late Jean Broardhurst; Trainer-David Pipe; Jockey-Hadden Frost; SP-16/1 2ND-Prince Erik 6-10-08 Owner-Dr Ronan Lambe; Trainer-Dermot Weld IRE; Jockey-Robbie Power; SP-16/1 3RD-Chamirey 7-10-04; Owner-Sir Robert Ogden; Trainer-Alan King; Jockey-Wayne Hutchinson; SP-28/1 4TH-Cross Kennon 6-10-03 Owner-P & Mrs G Clarke; Trainer-Jennie Candlish; Jockey-Alan Keeffe; SP-16/1 24 ran, Time-5m 49.10s, Dist-5, hd, 1½ 11/4 Fav Alfie Sherrin (12th)
2009-KAYF ARAMIS 7-10-05 Owner-Isobel Phipps Coltman; Trainer-Venetia Williams; Jockey-Aidan Coleman; SP-16/1
2ND-Buena Vista 8-10-09 Owner-Matt Archer & the late Jean Broadhurst; Trainer-David Pipe; Jockey-Tom Scudamore; SP-10/1
3RD-Pennek 6-10-11; Owner-H D Read; Trainer-Alan King; Jockey-Robert Thornton; SP-9/1
4TH-The Sliotar 8-10-00 Owner-Roger Brookhouse; Trainer-David Pipe; Jockey-Danny Cook; SP-33/1 22 ran, Time-6m 2.70s, Dist-2, nk, 1¼ 7/1 Fav Ballydub (12th)
2008-WINNER-BALLYFITZ 8-10-08 Owner-Fred & Wayne Mills; Trainer-Nigel Twiston-Davies; Jockey-Paddy Brennan; SP-18/1
2ND-Miko De Beauchene 8-10-08 Owner-Andrew Wiles; Trainer-Robert & Sally Alner; Jockey-Robert Walford; SP-7/1 Jt Fav
3RD-According To Pete 7-10-06 Owner-P Nelson; Trainer-Malcolm Jefferson; Jockey-Fergus King; SP-33/1
4TH-Mobaasher 5-11-01 Owner-Seasons Holidays; Trainer-Paul Nicholls; Jockey-Ruby Walsh; SP-12/1 24 ran, Time-6m 2.13s; Dist-3, 2¼, nk 7/1 Jt Fav Robin Du Bois (8th)
2007-WINNER-OSCAR PARK 8-10-09 Owner-George Ward; Trainer-David Arbuthnot; Jockey-Tom Doyle; SP-14/1
2ND-Material World 9-10-09 Owner-Southern Bloodstock; Trainer-Suzy Smith; Jockey-Colin Bolger; SP-14/1
3RD-Adamant Approach 13-10-13 Owner-Greenstar Syndicate; Trainer-Willie Mullins IRE; Jockey-Paddy Mullins; SP-16/1
4TH-Mistanoora 8-10-00 Owner-Nigel Twiston Davies; Trainer-Nigel Twiston-Davies; Jockey-Tony Evans; SP-33/1
24 ran, Time-5m 46.20s, Dist-½, 3½, ½ 13/2 Fav Kadoun (18th)
2006-WINNER-KADOUN 9-11-07 Owner-J P McManus; Trainer-Michael O'Brien IRE; Jockey-Tom Ryan; SP-50/1
2ND-Hordago 6-10-02 Owner-S Braddish; Trainer-Eric McNamara IRE; Jockey-Brian Byrnes; SP-10/1
3RD-Oodachee 7-11-05 Owner-Modreeny Syndicate; Trainer-Charlie Swan; Jockey-David Casey; SP-10/1
4TH-Liberman 8-10-08 Owner-David Johnson; Trainer-Martin Pipe; Jockey-Jamie Mackay; SP-20/1
24 ran, Time-5m 46.90s, Dist-1.5, 3.5, 1.25 4/1 Oulart (8th)
2005-WINNER-OULART 6-10-02 Owner-Ged Pierse; Trainer-Dessie Hughes IRE; Jockey-Paul Carberry; SP-10/1
2ND-Mioche D'Estruval 5-10-00 Owner-Joe Moran; Trainer-Martin Pipe; Jockey-Tom Scudamore; SP-66/1
3RD Quick 5-11-00 Owner-Kinsford Champagne Partnership; Trainer-Martin Pipe; Jockey-Andrew Glassonbury; SP-50/1
4TH-Touch Closer 8-10-07 Owner-Vicky Scott; Trainer-Vicky Scott; Jockey-Mick Fitzgerald; SP-66/1
22 ran, Time-5m 52.90s, Dist-2, 4, 1.25 7/2 Fav Ravenswood (15th)
2004-WINNER-CREON 9-10-00 Owner-J P McManus; Trainer-Jonjo O'Neill; Jockey-Timmy Murphy; SP-50/1
2ND-G V A Ireland 6-10-05 Owner-Donal O'Buachalla; Trainer-Francis Flood IRE; Jockey-Fran Flood; SP-14/1
3RD-Alexanderthegreat 6-11-06 Owner-The Irish Connection; Trainer-Paul Nicholls 6-11-06; Jockey-Ruby Walsh 25/1
4TH-His Nibs 7-10-08 Owner-John Galvanoni; Trainer-Venetia Williams; Jockey-Richard Johnson; SP-25/1
24 ran, Time-6m 16.30s; Dist-.5, 1, .5 4/1 Fav Keepatem (7th)
2003-WINNER-INCHING CLOSER 6-11-02 Owner-Nicola Spence; Trainer-Jonjo O'Neill; Jockey-Barry Geraghty; SP-6/1 Fav
2ND Royal Emperor 7-11-06 Owner-Widdop Wanderers; Trainer-Sue Smith; Jockey-Dominic Elsworth; SP-14/1
3RD Tribal Venture 5-10-06 Owner-Network Training III; Trainer-Ferdy Murphy; Jockey-Davy Russell; SP-33/1
4TH Ravenswood 6-11-03 Owner-David Johnson; Trainer-Martin Pipe; Jockey-Tom Scudamore; SP-7/1
24 ran, Time-6m 21.00s; Dist-sh, 12, 1.75
2002-WINNER-FREETOWN 6-11-02 Owner-Susan Blumberg and S Nairn; Trainer-Len Lungo; Jockey-Tony Dobbin; SP-20/1
2ND-Surprising 7-10-04 Owner-Martin St Quinton; Trainer-Philip Hobbs; Jockey-Richard Johnson; SP-12/1
3RD-Montreal 5-10-07 Owner-David Johnson; Trainer-Martin Pipe; Jockey-Ruby Walsh; SP-25/1
4TH-Native Emperor 6-10-09 Owner-Exors of the late Robert Hitchins; Trainer-Jonjo O'Neill; Jockey-Liam Cooper; SP-10/1 24 ran, Time-6m 16.780s; Dist-4, hd, 5 7/2 Fav Calladine (14th)
2001 - No Race (Foot and Mouth Disease)
2000-WINNER-RUBHAHUNISH 9-11-02 Owner-Lone Star Racing Partnership; Trainer-Nigel Twiston-Davies; Jockey-Carl Llewellyn; SP-8/1
2ND-Take Five 7-10-00 Owner-J P McManus; Trainer-John Kiely IRE; Jockey-Norman Williamson; SP-7/1
3RD-Font Romeu 7-10-06 Owner-Pond House Gold; Trainer-Martin Pipe; Jockey-Barry Fenton; SP-14/1
4TH-Darapour 6-10-04 Owner-J P McManus; Trainer-Aidan O'Brien IRE; Jockey-Charlie Swan; SP-4/1Fav
24 ran, Time 6m 3.40s Dist-3.5, 3, sh
1999-WINNER-GENEROSA 6-10-01 Owner-Trish Hyde; Trainer-John Hassett IRE; Jockey-Norman Williamson; SP-12/1
2ND-Melody Maid 7-10-03 Owner-R Parish, B Griffiths, G Rogers, R Newman; Trainer-Nicky Henderson; Jockey-Mick Fitzgerald; SP-12/1
3RD-Galant Moss 5-10-07 Owner-Chris, Basil & Rosie Batterham II; Trainer-Martin Pipe; Jockey-Tony McCoy; SP-3/1 Fav
4TH-Shannon Gale 7-10-00 Owner-J P McManus; Trainer-Christy Roche IRE; Jockey-Fran Berry; SP-7/1
24 ran, Time 6m 17.9s Dist-5,1.25,1
1998-WINNER-UNSINKABLE BOXER 9-10-12 Owner-Paul Green; Trainer- Martin Pipe; Jockey-Tony McCoy; SP-5/2 Fav
2ND-Tompetoo 7-10-09 Owner-Pettifer Pettifer Ltd; Trainer-Nigel Twiston Davies; Jockey-Carl Llewellyn; SP-9/2
3RD-Spendid 6-10-10 Owner-Mrs Adair Catherwood; Trainer-David Nicholson; Jockey-Adrian Maguire; SP-12/1
4TH-Metastasio 6-10-10 Owner-F Mallon; Trainer-Gerry McArdle IRE; Jockey-Harry Rogers; SP-14/1
24 ran, Time 6m 12.2s Dist-4, .75, 2
1997-WINNER-PHARANEAR 7-11-09 Owner-Stainless Threaded Fasteners Ltd; Trainer-David Nicholson; Jockey-Mr Robert Thornton; SP-14/1
2ND-Yahmi 7-10-13 Owner-Wally Sturt; Trainer-Jim Old; Jockey-Jamie Osborne; SP-7/2 Fav
3RD-Danjing 5-10-11 Owner-Knight Hawks Partnership; Trainer-Martin Pipe; Jockey-Tony McCoy; SP-33/1
4TH-Haile Derring 7-10-06 Owner-Mrs V Stockdale; Trainer-Nigel Twiston-Davies; Jockey-Tom Jenks; SP-9/1 24 ran, Time-6m 24.2s, Dist-2, 5, 1
PERTEMPS FINAL (HANDICAP HURDLE) ROLL OF HONOUR
(Pertemps Final since 2002, Ladbrokes Casinos Final 2001-2000, Stakis Casinos Final 1999, Unicoin Homes Gold Card Handicap Hurdle 1998, Hamlet Extra Mild Cigars Gold Card Final 1997, Hamlet Cigars Gold Card Handicap Hurdle Final 1996 & 1994, Astec Vodafone Gold Card (Final) 1995, American Express Gold Card Final 1993, Coral Golden Final 1978-1992, Joe Coral Golden Hurdle Final 1974-78)
Year Winner Age/Wt Jockey Trainer Owner SP Ran
2010 Buena Vista 9-10-01 Hadden Frost David Pipe Matt Archer & The Late Jean Broadhurst 16/1 24
2009 Kayf Aramis 7-10-05 Aidan Colemen Venetia Williams Isobel Phipps Coltman 16/1 22
2008 Ballyfitz 8-10-08 Paddy Brennan Nigel Twiston-Davies Fred & Wayne Mills 18/1 24
2007 Oscar Park 8-10-09 Tom Doyle David Arbuthnot George Ward 14/1 24
2006 Kadoun 9-11-07 Tom Ryan Michael O'Brien IRE J P McManus 50/1 24
2005 Oulart 6-10-02 Paul Carberry Dessie Hughes IRE Ged Pierse 10/1 22
2004 Creon 9-10-00 Timmy Murphy Jonjo O'Neill J P McManus 50/1 24
2003 Inching Closer 6-11-02 Barry Geraghty Jonjo O'Neill Nicola Spence 6/1F 24
2002 Freetown 6-11-02 Tony Dobbin Len Lungo Susan Blumberg and S Nairn 20/1 24
2001 No Race (Foot and Mouth)
2000 Rubhahunish 9-11-02 Carl Llewellyn Nigel-Twiston-Davies Lone Star Racing Partnership 8/1 24
1999 Generosa 6-10-01 Norman Williamson John Hassett IRE Mrs Trish Hyde 12/1 24
1998 Unsinkable Boxer 9-10-12 Tony McCoy Martin Pipe Paul Green 5/2F 24
1997 Pharanear 7-11-09 Mr Robert Thornton David Nicholson Stainless Threaded Fasteners Ltd 14/1 24
1996 Great Easeby 6-10-01 Richard McGrath Wilf Storey David Batey 7/1 24
1995 Miracle Man 7-10-11 Peter Hobbs Colin Weedon Patrick Evans 9/2F 23
1994 Tindari 6-10-09 Paul Williams Malcolm Jefferson Yorkshire Racing Club Owners Group 20/1 32
1993 Fissure Seal 7-11-04 Charlie Swan Harry de Bromhead IRE Delton Syndicate 14/1 22
1992 My View 8-10-04 Jason Titley Michael Purcell IRE Mrs Seamus Purcell 33/1 31
1991 Danny Connors 7-10-12 Mark Dwyer Jonjo O'Neill J P McManus 9/1 29
1990 Henry Mann 7-11-09 Tony Mulholland Simon Christian Lynn Wilson 20/1 27
1989 Rogers Princess 7-10-00 Shaun Keightley Martin Tate R C Smith 8/1JF 27
1988 Pragada 5-11-00 Richard Rowe Josh Gifford Mrs M G L McGlone 16/1 29
1987 Taberna Lord 6-11-05 Luke Harvey Jim Wilson R Jackson 10/1 31
1986 Motivator 6-10-07 Graham McCourt Mick Ryan Terry Ramsden 15/2F 31
1985 Von Trappe 8-10-06 Richard Dunwoody Michael Oliver P Clarke 12/1 30
1984 Canio 7-10-09 John Francome Ron Hodges David Ladhams 20/1 31
1983 Forgive N'Forget 6-11-06 Mark Dwyer Jimmy FitzGerald T Kilroe Ltd 5/2F 23
1982 Tall Order 8-10-02 Andy Stringer Louis Foster Louis Foster 15/1 31
1981 Willie Wumpkins 13-10-08 Mr Jim Wilson Jane Pilkington Jane Pilkington 13/2 20
1980 Willie Wumpkins 12-10-07 Mr Jim Wilson Jane Pilkington Jane Pilkington 10/1 19
1979 Willie Wumpkins 11-10-04 Mr Jim Wilson Jane Pilkington Jane Pilkington 25/1 22
1978 Water Colour 9-10-01 Kevin Whyte Martin Tate J Soles 11/1 23
1977 Outpoint 7-11-03 Pat O'Brien Fred Winter Mrs G Abecassis 10/1 27
1976 Good Prospect 7-11-10 Richard Evans John Edwards T Dudley 10/1 17
1975 Saffron Cake 6-10-07 Eddie Wright Les Kennard P Haynes 13/1 24
1974 Kastrup 7-10-03 Graham Thorner David Barons Austin Darlington 10/1 22