cheltenham festival / 2010 news /
Buena Runs Pertemps Rivals Ragged
18/03/10
1 Buena Vista 16/1
2 Prince Erik 16/1
3 Chamirey 28/1
24 ran
Buena Vista


© racing-images.co.uk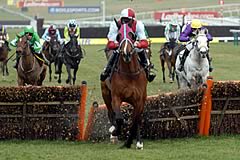 Buena Vista was running at The Festival for the sixth year in succession and after a number of game efforts over the years, most notably a third in the 2006 Supreme Novices' Hurdle and a second in this race last year, finally gained a deserved victory when making nearly all to land the 2010 Pertemps Final Handicap Hurdle.

Partnered by Hadden Frost, riding his first Festival winner, Buena Vista saw off the challenges of first Chamirey and then Prince Erik to score by five lengths at 16/1.

The nine-year-old is owned by Matt Archer, who is based in Cyprus, and the family of the late Jean Broadhurst, who passed away five years ago, and there were tears and lots of emotion in the winner's enclosure.

Successful trainer David Pipe said: "What can I say about this horse? I think this is about the sixth time and he has run in the Bumper, the Supreme and the Arkle over the years.

"Now that he is older, he wants further and I wasn't sure at first whether we should run today or wait for dad's race (the Martin Pipe Conditional Jockeys' Handicap Hurdle) tomorrow.

"The key to this horse is that he wants better ground and when I looked at the weather forecast I decided that we should run today.

"It wasn't the plan to go off in front but Hadden has done the right thing and let him bowl along.

"It's a long way home here when you are out in front but fortunately he kept going.

"He has always been a decent horse and is part of the furniture at Pond House. He is a very straightforward horse. He can be a bit grumpy and keeps himself to himself but loves his grub.

"We didn't have a winner at The Festival last year and have had two seconds this week, so it is a relief to get off the mark."
Position

Horse
Trainer
Jockey
Weight
Starting Price
Beaten Distance
1

Buena Vista
D Pipe
H Frost
10st 4lbs
16 - 1
Winner
2

Prince Erik
D K Weld
R M Power
10st 8lbs
16 - 1
5 lengths
3

Chamirey
A King
W Hutchinson
10st 4lbs
28 - 1
Head
4

Cross Kennon
Jennie Candlish
A O'Keeffe
10st 3lbs
16 - 1
1 1/2 length
5

Kayf Aramis
N A Twiston-Davies
P J Brennan
11st 6lbs
22 - 1
1 1/2 length
6

Smoking Aces
T J Taaffe
P W Flood
10st 6lbs
7 - 1
1 1/2 length
7

Montana Slim
M O'Hare
A E Lynch
10st 9lbs
40 - 1
5 lengths
8

Ainama
N J Henderson
A P McCoy
10st 10lbs
9 - 1
3/4 length
9

Boulavogue
C F Swan
D J Casey
10st 5lbs
25 - 1
2 1/4 lengths
10

South O'The Border
N A Twiston-Davies
A Coleman
10st 6lbs
33 - 1
1 3/4 length
11

Maucaillou
P Nolan
A P Cawley
10st 3lbs
14 - 1
1/2 length
12

Alfie Sherrin
P F Nicholls
R Walsh
11st 1lbs
11 - 4
1/2 length
13

Ballyfitz
N A Twiston-Davies
Mr S Twiston-Davies
11st 8lbs
33 - 1
2 lengths
14

Palypso De Creek
C E Longsdon
T Siddall
10st 5lbs
18 - 1
Nose
15

Mr Thriller
D Pipe
T Scudamore
11st 12lbs
33 - 1
2 1/2 lengths
16

Trenchant
A King
R Thornton
11st 6lbs
25 - 1
1 1/4 length
17

College Daisy
D T Hughes
I J McCarthy
10st 4lbs
50 - 1
30 lengths
18

Special Occasion
P F Nicholls
Nick Scholfield
10st 2lbs
66 - 1
1/2 length
19

Rocco's Hall
E J O'Grady
N P Madden
10st 3lbs
25 - 1
19 lengths
pulled up

Don't Push It
Jonjo O'Neill
Mr Alan Berry
11st 0lbs
28 - 1

pulled up

Time Electric
T Mullins
D N Russell
10st 9lbs
16 - 1

pulled up

Erzen
N J Henderson
B J Geraghty
10st 6lbs
20 - 1

pulled up

Fredo
Ian Williams
J M Maguire
10st 5lbs
16 - 1

pulled up

Silk Affair
M G Quinlan
T J O'Brien
10st 2lbs
33 - 1

HADDEN FROST WINS FOR THE FIRST TIME AT THE FESTIVAL
Hadden Frost, the son of former jockey Jimmy Frost who now trains, emulated his father by winning at The Festival on Buena Vista in the Pertemps Final.

Buena Vista, running in his sixth Festival contest and second in this race last year, benefited from a positive ride.

Frost junior said: "It may have been Buena Vista's sixth run at The Festival but he has always gone close. He is so gallant and gutsy.

"David (Pipe - the trainer) and connections have done well to get him here today - he is a consistent horse - and I would like to thank them for the opportunity to ride this horse.

"The blinkers just woke him up and he jumped well the whole time. You spend your whole childhood dreaming of winning at The Festival and it is just a dream. Then it comes true and you don't know how to describe it.

"The Cheltenham roar is awesome - I want it again.

"We were going really well at the top of the hill and I just kept kicking."
Jimmy Frost rode three winners at The Festival - most notable winning the Champion Hurdle on Morley Street in 1991.
WELD BOWS OUT OF THIS YEAR'S FESTIVAL WITH PRINCE ERIK'S SECOND
Trainer Dermot Weld had his final runner at this year's Festival with Prince Erik in the Pertemps Final Handicap Hurdle, and the horse acquitted himself well, finishing second to Buena Vista, beaten by five lengths.

Weld said: "He stayed on very well, we were delighted with his performance. He followed up his good run at Leopardstown. He ran a lovely race and got a cracking ride from Robbie Power. We just met a horse that was too good for us today.

"I was hoping that the winner might run out of steam coming up the hill, but that doesn't often happen with a Pipe horse. He'll probably go back to a Flat handicap next.

"I'm leaving now because of a busy weekend at The Curragh. The horses have run very well. Elegant Concorde was badly hurt in the bumper yesterday. That was the only problem. I think the favourite came in on him coming up the hill and bumped him against the rails so he's a pretty sore horse," he added.
CHAMIREY PROVES BEST OF KING PAIR
Nothing could live with all-the-way winner Buena Vista in the Pertemps Final, but Chamirey ran a fine race, tracking the leader for much of the race before taking a valuable third place.

Chamirey was ridden by Wayne Hutchinson, because Alan King's stable jockey, Choc Thornton elected to ride Trenchant, who finished sixteenth.

Barry Simpson, racing manager to Chamirey's owner, Sir Robert Ogden, said: "He's run very, very well. Blinkers [applied for the first time] sharpened him up and he jumped very well and accurately.

"He came off the bridle coming down and made a mistake at the second-last which may have cost him second place. I doubt he would have pegged back the winner in any case, but they went an end-to-end gallop and he stayed on.

"Wayne has won on Chamirey before and gave the horse a fine ride. He's a very good and competent jockey. We feared the ground had gone against us and softer ground would be better, but Wayne said the horse loved it."
Commenting on the application of blinkers, Simpson said: "We felt that when he was third at Haydock on his previous start he looked a one-paced type horse. Sometimes you need a bit of help to push him forward. He's a solid horse, but not a spectacular horse, although you can never tell because they change and mature."
FACTS AND FIGURES
1. The Pertemps Final (Handicap Hurdle) was introduced to The Festival in 1974, replacing the George Duller Handicap Hurdle. Until 1993, it was run under the Coral banner. Other sponsors since then have been American Express (1993), Hamlet Cigars (1994 & 1996), Astec Vodafone (1995), Hamlet Extra Mild Cigars (1997), Unicoin Homes (1998) and Stakis Casinos (1999). Ladbrokes inherited sponsorship in 2000 after acquiring Stakis Casinos and Pertemps took over in 2002.
2. The Pertemps Final (Handicap Hurdle) is the final of the Pertemps series, eight qualifiers of which took place at Chepstow (October 21), Auteuil (November 4), Newbury (November 24), Cheltenham (December 8), Wincanton (December 26), Warwick (January 13), Leopardstown (January 14), and Haydock (February 17).
3. The smallest field was 17 in 1976 when Good Prospect won at 10/1.
4. Willie Wumpkins won in three consecutive years from 1979-81 when 11,12 &13. He died in 1995 at the ripe old age of 27.
5. Forgive 'N' Forget is the only totesport Cheltenham Gold Cup winner to have won what is now the Pertemps Final, beating 22 rivals in 1983 and going on to take the Gold Cup two years later.
6. There have been two 50/1 winners in the past four years, with Creon in 2004 and Kadoun in 2006 scoring for the bookies.
Previous Results
PERTEMPS FINAL (HANDICAP HURDLE)
2007-WINNER-OSCAR PARK 8-10-09 Owner-George Ward; Trainer-David Arbuthnot; Jockey-Tom Doyle; SP-14/1
2ND-Material World 9-10-09 Owner-Southern Bloodstock; Trainer-Suzy Smith; Jockey-Colin Bolger; SP-14/1
3RD-Adamant Approach 13-10-13 Owner-Greenstar Syndicate; Trainer-Willie Mullins IRE; Jockey-Paddy Mullins; SP-16/1
4TH-Mistanoora 8-10-00 Owner-Nigel Twiston Davies; Trainer-Nigel Twiston-Davies; Jockey-Tony Evans; SP-33/1
24 ran, Time-5m 46.20s, Dist-½, 3½, ½ 13/2 Fav Kadoun (18th)
2006-WINNER-KADOUN 9-11-07 Owner-J P McManus; Trainer-Michael O'Brien IRE; Jockey-Tom Ryan; SP-50/1
2ND-Hordago 6-10-02 Owner-S Braddish; Trainer-Eric McNamara IRE; Jockey-Brian Byrnes; SP-10/1
3RD-Oodachee 7-11-05 Owner-Modreeny Syndicate; Trainer-Charlie Swan; Jockey-David Casey; SP-10/1
4TH-Liberman 8-10-08 Owner-David Johnson; Trainer-Martin Pipe; Jockey-Jamie Mackay; SP-20/1
24 ran, Time-5m 46.90s, Dist-1.5, 3.5, 1.25 4/1 Oulart (8th)
2005-WINNER-OULART 6-10-02 Owner-Ged Pierse; Trainer-Dessie Hughes IRE; Jockey-Paul Carberry; SP-10/1
2ND-Mioche D'Estruval 5-10-00 Owner-Joe Moran; Trainer-Martin Pipe; Jockey-Tom Scudamore; SP-66/1
3RD Quick 5-11-00 Owner-Kinsford Champagne Partnership; Trainer-Martin Pipe; Jockey-Andrew Glassonbury; SP-50/1
4TH-Touch Closer 8-10-07 Owner-Vicky Scott; Trainer-Vicky Scott; Jockey-Mick Fitzgerald; SP-66/1
22 ran, Time-5m 52.90s, Dist-2, 4, 1.25 7/2 Fav Ravenswood (15th)
2004-WINNER-CREON 9-10-00 Owner-J P McManus; Trainer-Jonjo O'Neill; Jockey-Timmy Murphy; SP-50/1
2ND-G V A Ireland 6-10-05 Owner-Donal O'Buachalla; Trainer-Francis Flood IRE; Jockey-Fran Flood; SP-14/1
3RD-Alexanderthegreat 6-11-06 Owner-The Irish Connection; Trainer-Paul Nicholls 6-11-06; Jockey-Ruby Walsh 25/1
4TH-His Nibs 7-10-08 Owner-John Galvanoni; Trainer-Venetia Williams; Jockey-Richard Johnson; SP-25/1
24 ran, Time-6m 16.30s; Dist-.5, 1, .5 4/1 Fav Keepatem (7th)
2003-WINNER-INCHING CLOSER 6-11-02 Owner-Nicola Spence; Trainer-Jonjo O'Neill; Jockey-Barry Geraghty; SP-6/1 Fav
2ND Royal Emperor 7-11-06 Owner-Widdop Wanderers; Trainer-Sue Smith; Jockey-Dominic Elsworth; SP-14/1
3RD Tribal Venture 5-10-06 Owner-Network Training III; Trainer-Ferdy Murphy; Jockey-Davy Russell; SP-33/1
4TH Ravenswood 6-11-03 Owner-David Johnson; Trainer-Martin Pipe; Jockey-Tom Scudamore; SP-7/1
24 ran, Time-6m 21.00s; Dist-sh, 12, 1.75
2002-WINNER-FREETOWN 6-11-02 Owner-Susan Blumberg and S Nairn; Trainer-Len Lungo; Jockey-Tony Dobbin; SP-20/1
2ND-Surprising 7-10-04 Owner-Martin St Quinton; Trainer-Philip Hobbs; Jockey-Richard Johnson; SP-12/1
3RD-Montreal 5-10-07 Owner-David Johnson; Trainer-Martin Pipe; Jockey-Ruby Walsh; SP-25/1
4TH-Native Emperor 6-10-09 Owner-Exors of the late Robert Hitchins; Trainer-Jonjo O'Neill; Jockey-Liam Cooper; SP-10/1 24 ran, Time-6m 16.780s; Dist-4, hd, 5 7/2 Fav Calladine (14th)
2001 - No Race (Foot and Mouth Disease)
2000-WINNER-RUBHAHUNISH 9-11-02 Owner-Lone Star Racing Partnership; Trainer-Nigel Twiston-Davies; Jockey-Carl Llewellyn; SP-8/1
2ND-Take Five 7-10-00 Owner-J P McManus; Trainer-John Kiely IRE; Jockey-Norman Williamson; SP-7/1
3RD-Font Romeu 7-10-06 Owner-Pond House Gold; Trainer-Martin Pipe; Jockey-Barry Fenton; SP-14/1
4TH-Darapour 6-10-04 Owner-J P McManus; Trainer-Aidan O'Brien IRE; Jockey-Charlie Swan; SP-4/1Fav
24 ran, Time 6m 3.40s Dist-3.5, 3, sh
1999-WINNER-GENEROSA 6-10-01 Owner-Trish Hyde; Trainer-John Hassett IRE; Jockey-Norman Williamson; SP-12/1
2ND-Melody Maid 7-10-03 Owner-R Parish, B Griffiths, G Rogers, R Newman; Trainer-Nicky Henderson; Jockey-Mick Fitzgerald; SP-12/1
3RD-Galant Moss 5-10-07 Owner-Chris, Basil & Rosie Batterham II; Trainer-Martin Pipe; Jockey-Tony McCoy; SP-3/1 Fav
4TH-Shannon Gale 7-10-00 Owner-J P McManus; Trainer-Christy Roche IRE; Jockey-Fran Berry; SP-7/1
24 ran, Time 6m 17.9s Dist-5,1.25,1
1998-WINNER-UNSINKABLE BOXER 9-10-12 Owner-Paul Green; Trainer- Martin Pipe; Jockey-Tony McCoy; SP-5/2 Fav
2ND-Tompetoo 7-10-09 Owner-Pettifer Pettifer Ltd; Trainer-Nigel Twiston Davies; Jockey-Carl Llewellyn; SP-9/2
3RD-Spendid 6-10-10 Owner-Mrs Adair Catherwood; Trainer-David Nicholson; Jockey-Adrian Maguire; SP-12/1
4TH-Metastasio 6-10-10 Owner-F Mallon; Trainer-Gerry McArdle IRE; Jockey-Harry Rogers; SP-14/1
24 ran, Time 6m 12.2s Dist-4, .75, 2
1997-WINNER-PHARANEAR 7-11-09 Owner-Stainless Threaded Fasteners Ltd; Trainer-David Nicholson; Jockey-Mr Robert Thornton; SP-14/1
2ND-Yahmi 7-10-13 Owner-Wally Sturt; Trainer-Jim Old; Jockey-Jamie Osborne; SP-7/2 Fav
3RD-Danjing 5-10-11 Owner-Knight Hawks Partnership; Trainer-Martin Pipe; Jockey-Tony McCoy; SP-33/1
4TH-Haile Derring 7-10-06 Owner-Mrs V Stockdale; Trainer-Nigel Twiston-Davies; Jockey-Tom Jenks; SP-9/1 24 ran, Time-6m 24.2s, Dist-2, 5, 1
PERTEMPS FINAL (HANDICAP HURDLE) ROLL OF HONOUR
(Pertemps Final since 2002, Ladbrokes Casinos Final 2001-2000, Stakis Casinos Final 1999, Unicoin Homes Gold Card Handicap Hurdle 1998, Hamlet Extra Mild Cigars Gold Card Final 1997, Hamlet Cigars Gold Card Handicap Hurdle Final 1996 & 1994, Astec Vodafone Gold Card (Final) 1995, American Express Gold Card Final 1993, Coral Golden Final 1978-1992, Joe Coral Golden Hurdle Final 1974-78)
Year Winner Age/Wt Jockey Trainer Owner SP Ran
2009 Kayf Aramis
2008 Ballyfitz
2007 Oscar Park 8-10-09 Tom Doyle David Arbuthnot George Ward 14/1 24
2006 Kadoun 9-11-07 Tom Ryan Michael O'Brien IRE J P McManus 50/1 24
2005 Oulart 6-10-02 Paul Carberry Dessie Hughes IRE Ged Pierse 10/1 22
2004 Creon 9-10-00 Timmy Murphy Jonjo O'Neill J P McManus 50/1 24
2003 Inching Closer 6-11-02 Barry Geraghty Jonjo O'Neill Nicola Spence 6/1F 24
2002 Freetown 6-11-02 Tony Dobbin Len Lungo Susan Blumberg and S Nairn 20/1 24
2001 No Race (Foot and Mouth)
2000 Rubhahunish 9-11-02 Carl Llewellyn Nigel-Twiston-Davies Lone Star Racing Partnership 8/1 24
1999 Generosa 6-10-01 Norman Williamson John Hassett IRE Mrs Trish Hyde 12/1 24
1998 Unsinkable Boxer 9-10-12 Tony McCoy Martin Pipe Paul Green 5/2F 24
1997 Pharanear 7-11-09 Mr Robert Thornton David Nicholson Stainless Threaded Fasteners Ltd 14/1 24
1996 Great Easeby 6-10-01 Richard McGrath Wilf Storey David Batey 7/1 24
1995 Miracle Man 7-10-11 Peter Hobbs Colin Weedon Patrick Evans 9/2F 23
1994 Tindari 6-10-09 Paul Williams Malcolm Jefferson Yorkshire Racing Club Owners Group 20/1 32
1993 Fissure Seal 7-11-04 Charlie Swan Harry de Bromhead IRE Delton Syndicate 14/1 22
1992 My View 8-10-04 Jason Titley Michael Purcell IRE Mrs Seamus Purcell 33/1 31
1991 Danny Connors 7-10-12 Mark Dwyer Jonjo O'Neill J P McManus 9/1 29
1990 Henry Mann 7-11-09 Tony Mulholland Simon Christian Lynn Wilson 20/1 27
1989 Rogers Princess 7-10-00 Shaun Keightley Martin Tate R C Smith 8/1JF 27
1988 Pragada 5-11-00 Richard Rowe Josh Gifford Mrs M G L McGlone 16/1 29
1987 Taberna Lord 6-11-05 Luke Harvey Jim Wilson R Jackson 10/1 31
1986 Motivator 6-10-07 Graham McCourt Mick Ryan Terry Ramsden 15/2F 31
1985 Von Trappe 8-10-06 Richard Dunwoody Michael Oliver P Clarke 12/1 30
1984 Canio 7-10-09 John Francome Ron Hodges David Ladhams 20/1 31
1983 Forgive N'Forget 6-11-06 Mark Dwyer Jimmy FitzGerald T Kilroe Ltd 5/2F 23
1982 Tall Order 8-10-02 Andy Stringer Louis Foster Louis Foster 15/1 31
1981 Willie Wumpkins 13-10-08 Mr Jim Wilson Jane Pilkington Jane Pilkington 13/2 20
1980 Willie Wumpkins 12-10-07 Mr Jim Wilson Jane Pilkington Jane Pilkington 10/1 19
1979 Willie Wumpkins 11-10-04 Mr Jim Wilson Jane Pilkington Jane Pilkington 25/1 22
1978 Water Colour 9-10-01 Kevin Whyte Martin Tate J Soles 11/1 23
1977 Outpoint 7-11-03 Pat O'Brien Fred Winter Mrs G Abecassis 10/1 27
1976 Good Prospect 7-11-10 Richard Evans John Edwards T Dudley 10/1 17
1975 Saffron Cake 6-10-07 Eddie Wright Les Kennard P Haynes 13/1 24
1974 Kastrup 7-10-03 Graham Thorner David Barons Austin Darlington 10/1 22