The Pertemps Final (Handicap Hurdle) 15/03/07
1st (7) Oscar Park 14-1
2nd (6) Material World 14-1
3rd (3) Adamant Approach 16-1
4th (20) Mistanoora 33-1
24 ran
Also: 13-2 Fav Kadoun
Oscar Cements Ward's Deal With Arbuthnot 15/03/07
A partnership that was reformed earlier this year struck at the Cheltenham Festival today when Oscar Park won the final race on day three of the meeting.

Owner George Ward, a major sponsor of races through his Grunwick Group - which includes names like Bonusprint and Tripleprint - asked trainer David Arbuthnot to train from his Uplands Stables in Compton after Colin Tinkler opted to look for his own yard.
Rhinestone Cowboy finished ninth
© racing-images.co.uk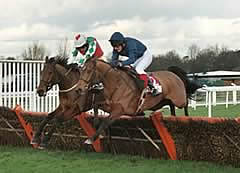 Oscar Park's victory in the Pertemps Final was a first at the Festival for Ward, whose decision to re-engage Arbuthnot was vindicated.

Ward said: "I've had winners at Cheltenham, but never at the Festival. It's a great feeling and a fantastic experience. I've been trying for this over many years and it's been well worth the wait. David used to be my original trainer, and it's great to have him back."
"I'm never had such joy! It's fantastic to win here. [Tom] Doyle is a good jockey and I felt if the horse had it, he would have it. I'm so pleased for the horse because he had a terrible crashing fall at Haydock earlier this year, so it's lovely to see him win."
Arbuthnot, who was also welcoming a first Festival success, said: "George got me started and had horses with me for 12 years in my early days. I was fairly confident today, but was becoming less so as the ground dried up - he's best with some cut.

"His bravery has got him there, as you could see when the other horse [Material World] came at him - she wouldn't have got so close on softer ground. Tom Malone gave him a very good ride - we discussed a plan and Tom followed it to the letter.

"This is my third runner for George since I started there in the middle of January. I moved my horses from Saxon Gate into Uplands just before February, and now have 45 in training of which 20 are for George."
Tom Doyle added "That's brilliant - there's no feeling like it! It what every jockey works for and wants to do. The race went really well - he travelled really sweetly. I was afraid that maybe I'd kicked on a little soon, but when the second horse got to me, he just kept picking up and picking up. He's so tough - he's a real tough horse. What he lacks in ability he makes up for in heart. If every horse had as a big heart it would be an easy game, that's for sure."
Suzy Smith, trainer of runner-up Material World, said: "She just never fails to get into the shake-up. Colin [Bolger] said she was hanging a little, which was a pity and it meant he couldn't drive her out as much as possible.

"She'll go to Aintree again and we'll see what the handicapper does."
Position

Horse
Trainer
Jockey
Weight
Starting Price
Beaten Distance
1

Oscar Park
D W P Arbuthnot
T Doyle
10st 9lbs
14 - 1
Winner
2

Material World
Miss S Smith
C Bolger
10st 12lbs
14 - 1
1/2 length
3

Adamant Approach
W P Mullins
Mr P W Mullins
11st 6lbs
16 - 1
3 1/2 lengths
4

Mistanoora
N A Twiston-Davies
Tony Evans
10st 0lbs
33 - 1
1/2 length
5

Ostfanni
M Todhunter
G Lee
10st 0lbs
28 - 1
3 1/2 lengths
6

Desert Tommy
Evan Williams
S P Jones
10st 0lbs
40 - 1
3 1/2 lengths
7

Monolith
L Lungo
K Mercer
10st 4lbs
10 - 1
2 1/2 lengths
8

Just Beth
G Fierro
D Laverty
10st 0lbs
20 - 1
2 lengths
9

Rhinestone Cowboy
Jonjo O'Neill
Mr J P Magnier
11st 12lbs
12 - 1
1 1/2 length
10

Jockser
J W Mullins
W P Kavanagh
10st 0lbs
11 - 1
1 3/4 length
11

Magnifico
Mrs K Waldron
A Glassonbury
10st 2lbs
100 - 1
4 lengths
12

Freetown
L Lungo
R Walsh
10st 3lbs
16 - 1
1 length
13

Julius Caesar
J Howard Johnson
P J Brennan
10st 0lbs
100 - 1
2 1/2 lengths
14

Attorney General
J A B Old
J M Maguire
10st 8lbs
9 - 1
1 3/4 length
15

Refinement
Jonjo O'Neill
Mr Alan Berry
11st 4lbs
20 - 1
5 lengths
16

Rowley Hill
A King
R Thornton
10st 2lbs
25 - 1
2 1/2 lengths
17

Arrayou
O Sherwood
L Aspell
10st 0lbs
33 - 1
1 1/4 length
18

Kadoun
M J P O'Brien
A P McCoy
11st 5lbs
13 - 2
7 lengths
19

The Last Cast
Evan Williams
T Messenger
10st 0lbs
66 - 1
19 lengths
20

Millenium Royal
F Doumen
A Duchene
11st 12lbs
14 - 1
6 lengths
21

Hirvine
D McCain Jnr
A Dobbin
10st 5lbs
16 - 1
11 lengths
22

His Nibs
A King
W Hutchinson
10st 5lbs
33 - 1
29 lengths
na

Cloudy Bays
C Byrnes
D N Russell
10st 2lbs
14 - 1

na

Nirvana Du Bourg
N J Henderson
M Foley
10st 0lbs
8 - 1


Facts and Figures:
1. The Pertemps Final (Handicap Hurdle) was introduced to The Festival in 1974, replacing the George Duller Handicap Hurdle. Until 1993, it was run under the Coral banner. Other sponsors since then have been American Express (1993), Hamlet Cigars (1994 & 1996), Astec Vodafone (1995), Hamlet Extra Mild Cigars (1997), Unicoin Homes (1998) and Stakis Casinos (1999). Ladbrokes inherited sponsorship in 2000 after acquiring Stakis Casinos and Pertemps took over in 2002.

2. The Pertemps Final (Handicap Hurdle) is the final of the Pertemps series, seven qualifiers of which took place at Chepstow (October 21), Newbury (November 24), Cheltenham (December 8), Wincanton (December 26), Warwick (January 13), Leopardstown (January 14), and Haydock (February 17).

3. The smallest field was 17 in 1976 when Good Prospect won at 10/1.

4. Willie Wumpkins won in three consecutive years from 1979-81 when 11,12 &13. He died in 1995 at the ripe old age of 27.

5. Forgive 'N' Forget is the only totesport Cheltenham Gold Cup winner to have won what is now the Pertemps Final, beating 22 rivals in 1983 and going on to take the Gold Cup two years later.

6. There have been two 50/1 winners in the past three years, with Creon in 2004 and Kadoun last year scoring for the bookies.
PERTEMPS FINAL (HANDICAP HURDLE)
2006-WINNER-KADOUN 9-11-07 Owner-J P McManus; Trainer-Michael O'Brien IRE; Jockey-Tom Ryan; SP-50/1
2ND-Hordago 6-10-02 Owner-S Braddish; Trainer-Eric McNamara IRE; Jockey-Brian Byrnes; SP-10/1
3RD-Oodachee 7-11-05 Owner-Modreeny Syndicate; Trainer-Charlie Swan; Jockey-David Casey; SP-10/1
4TH-Liberman 8-10-08 Owner-David Johnson; Trainer-Martin Pipe; Jockey-Jamie Mackay; SP-20/1
24 ran, Time-5m 46.90s, Dist-1.5, 3.5, 1.25 4/1 Oulart (8th)
2005-WINNER-OULART 6-10-02 Owner-Ged Pierse; Trainer-Dessie Hughes IRE; Jockey-Paul Carberry; SP-10/1
2ND-Mioche D'Estruval 5-10-00 Owner-Joe Moran; Trainer-Martin Pipe; Jockey-Tom Scudamore; SP-66/1
3RD Quick 5-11-00 Owner-Kinsford Champagne Partnership; Trainer-Martin Pipe; Jockey-Andrew Glassonbury; SP-50/1
4TH-Touch Closer 8-10-07 Owner-Vicky Scott; Trainer-Vicky Scott; Jockey-Mick Fitzgerald; SP-66/1
22 ran, Time-5m 52.90s, Dist-2, 4, 1.25 7/2 Fav Ravenswood (15th)
2004-WINNER-CREON 9-10-00 Owner-J P McManus; Trainer-Jonjo O'Neill; Jockey-Timmy Murphy; SP-50/1
2ND-G V A Ireland 6-10-05 Owner-Donal O'Buachalla; Trainer-Francis Flood IRE; Jockey-Fran Flood; SP-14/1
3RD-Alexanderthegreat 6-11-06 Owner-The Irish Connection; Trainer-Paul Nicholls 6-11-06; Jockey-Ruby Walsh 25/1
4TH-His Nibs 7-10-08 Owner-John Galvanoni; Trainer-Venetia Williams; Jockey-Richard Johnson; SP-25/1
24 ran, Time-6m 16.30s; Dist-.5, 1, .5 4/1 Fav Keepatem (7th)
2003-WINNER-INCHING CLOSER 6-11-02 Owner-Nicola Spence; Trainer-Jonjo O'Neill; Jockey-Barry Geraghty; SP-6/1 Fav
2ND Royal Emperor 7-11-06 Owner-Widdop Wanderers; Trainer-Sue Smith; Jockey-Dominic Elsworth; SP-14/1
3RD Tribal Venture 5-10-06 Owner-Network Training III; Trainer-Ferdy Murphy; Jockey-Davy Russell; SP-33/1
4TH Ravenswood 6-11-03 Owner-David Johnson; Trainer-Martin Pipe; Jockey-Tom Scudamore; SP-7/1
24 ran, Time-6m 21.00s; Dist-sh, 12, 1.75
2002-WINNER-FREETOWN 6-11-02 Owner-Susan Blumberg and S Nairn; Trainer-Len Lungo; Jockey-Tony Dobbin; SP-20/1
2ND-Surprising 7-10-04 Owner-Martin St Quinton; Trainer-Philip Hobbs; Jockey-Richard Johnson; SP-12/1
3RD-Montreal 5-10-07 Owner-David Johnson; Trainer-Martin Pipe; Jockey-Ruby Walsh; SP-25/1
4TH-Native Emperor 6-10-09 Owner-Exors of the late Robert Hitchins; Trainer-Jonjo O'Neill; Jockey-Liam Cooper; SP-10/1 24 ran, Time-6m 16.780s; Dist-4, hd, 5 7/2 Fav Calladine (14th)
2001 - No Race (Foot and Mouth Disease)
2000-WINNER-RUBHAHUNISH 9-11-02 Owner-Lone Star Racing Partnership; Trainer-Nigel Twiston-Davies; Jockey-Carl Llewellyn; SP-8/1
2ND-Take Five 7-10-00 Owner-J P McManus; Trainer-John Kiely IRE; Jockey-Norman Williamson; SP-7/1
3RD-Font Romeu 7-10-06 Owner-Pond House Gold; Trainer-Martin Pipe; Jockey-Barry Fenton; SP-14/1
4TH-Darapour 6-10-04 Owner-J P McManus; Trainer-Aidan O'Brien IRE; Jockey-Charlie Swan; SP-4/1Fav
24 ran, Time 6m 3.40s Dist-3.5, 3, sh
1999-WINNER-GENEROSA 6-10-01 Owner-Trish Hyde; Trainer-John Hassett IRE; Jockey-Norman Williamson; SP-12/1
2ND-Melody Maid 7-10-03 Owner-R Parish, B Griffiths, G Rogers, R Newman; Trainer-Nicky Henderson; Jockey-Mick Fitzgerald; SP-12/1
3RD-Galant Moss 5-10-07 Owner-Chris, Basil & Rosie Batterham II; Trainer-Martin Pipe; Jockey-Tony McCoy; SP-3/1 Fav
4TH-Shannon Gale 7-10-00 Owner-J P McManus; Trainer-Christy Roche IRE; Jockey-Fran Berry; SP-7/1
24 ran, Time 6m 17.9s Dist-5,1.25,1
1998-WINNER-UNSINKABLE BOXER 9-10-12 Owner-Paul Green; Trainer- Martin Pipe; Jockey-Tony McCoy; SP-5/2 Fav
2ND-Tompetoo 7-10-09 Owner-Pettifer Pettifer Ltd; Trainer-Nigel Twiston Davies; Jockey-Carl Llewellyn; SP-9/2
3RD-Spendid 6-10-10 Owner-Mrs Adair Catherwood; Trainer-David Nicholson; Jockey-Adrian Maguire; SP-12/1
4TH-Metastasio 6-10-10 Owner-F Mallon; Trainer-Gerry McArdle IRE; Jockey-Harry Rogers; SP-14/1
24 ran, Time 6m 12.2s Dist-4, .75, 2
1997-WINNER-PHARANEAR 7-11-09 Owner-Stainless Threaded Fasteners Ltd; Trainer-David Nicholson; Jockey-Mr Robert Thornton; SP-14/1
2ND-Yahmi 7-10-13 Owner-Wally Sturt; Trainer-Jim Old; Jockey-Jamie Osborne; SP-7/2 Fav
3RD-Danjing 5-10-11 Owner-Knight Hawks Partnership; Trainer-Martin Pipe; Jockey-Tony McCoy; SP-33/1
4TH-Haile Derring 7-10-06 Owner-Mrs V Stockdale; Trainer-Nigel Twiston-Davies; Jockey-Tom Jenks; SP-9/1 24 ran, Time-6m 24.2s, Dist-2, 5, 1