cheltenham festival / 2011 news /
Sizing Australia Heads Irish 1-2-3 in Cross Country
15/03/11
1 Sizing Australia 13/2
2 Garde Champetre 5/1
3 A New Story 12/1
4 Maljimar
NR: King Johns Castle (IRE)
15 ran Distances: 1¼l, 1l, shd
TIME 8m 6.22s (slow by 1.22s)
Henry de Bromhead saddled his second Cheltenham Festival winner as Sizing Australia got the better of Garde Champetre in the Glenfarclas Handicap Chase.
A New Story - victorious in 2010


© racing-images.co.uk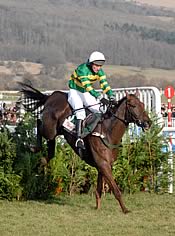 Twelve months on from Sizing Europe's Arkle success, de Bromhead was back in the winner's enclosure as Sizing Australia landed the cross-country event.

Andrew Lynch's mount soon shrugged off the attentions of the gambled-on Maljimar (finished fourth) but had to find plenty in the end to hold the challenge of course specialist Garde Champetre, winner of this race in both 2008 and 2009, by a length and a quarter.

The winning trainer said: "That was amazing and I have lost my voice from shouting him home.
"It was quite a tight finish so I give him a bit of a roar and he was brilliant.

"Andrew gave him a fantastic ride, made plenty of use of him and he has battled on well.

"He was ran in this race the last couple of years. He was hampered last year and finished down the field but we didn't make enough use of him and it was my fault. I told Andrew to ride him how he wanted to today and that is what he did. It just shows that you should leave it up to the jockeys!

"Sizing Australia has been placed on every other run in cross-country races.

"We'll have a look at Punchestown but I'm not sure if he will run in the La Touche Cup as I don't think he stays that four and a half mile trip."

Andrew Lynch added: "We were unlucky last year when we were knocked down turning in but he's very gutsy. He has been placed every time apart from last year and he only a young horse compare to Bolger's runners. He loves it round there and jumps for fun.

"You need to jump very well around the course and they have to adapt to the different jumps. It probably doesn't suit every type of horse but it suits our lad really well.

"It was a messy race last year but Henry said that he jumps so well that I should just keep out of trouble. I heard the commentator say that the favourite was coming and I was just delighted that my lad picked up so well from the back of the last.

"Henry's horses are only just coming into form over the last couple of weeks. There were a lot of horses who were being placed but we had a winner during the week which seemed to boost the confidence back home."
Position

Horse
Trainer
Jockey
Weight
Starting Price
Beaten Distance
1

Sizing Australia
H de Bromhead
A E Lynch
10st 9lbs
13 - 2
Winner
2

Garde Champetre
E Bolger
Miss N Carberry
11st 12lbs
5 - 1
1 1/4 length
3

A New Story
M Hourigan
A P Heskin
10st 10lbs
12 - 1
1 length
4

Maljimar
Nick Williams
D Jacob
10st 3lbs
9 - 2
Short Head
5

Quezac De La Roque
F Cottin
D Cottin
10st 6lbs
20 - 1
1 1/2 length
6

Poker De Sivola
Ferdy Murphy
Ms K Walsh
10st 7lbs
8 - 1
11 lengths
7

Another Jewel
D P Murphy
J L Cullen
10st 4lbs
12 - 1
4 1/2 lengths
8

Dream Alliance
P J Hobbs
T J O'Brien
10st 10lbs
40 - 1
2 1/4 lengths
9

Gullible Gordon
P F Nicholls
Harry Skelton
10st 11lbs
12 - 1
7 lengths
10

Lord Nellerie
D P Nagle
Miss E McCutcheon
10st 4lbs
25 - 1
15 lengths
11

Freneys Well
E Bolger
P Carberry
10st 9lbs
16 - 1
6 lengths
PulledUp

L'Ami
E Bolger
Mr J T McNamara
11st 11lbs
9 - 1

PulledUp

Quolibet
Jonjo O'Neill
Mr Alan Berry
10st 13lbs
50 - 1

RanOut

One Cool Cookie
C F Swan
D N Russell
10st 8lbs
16 - 1

PulledUp

Oscar Bay
J D Frost
Hadden Frost
10st 5lbs
28 - 1

Non
Runner

King Johns Castle
E Bolger
R P McLernon
10st 12lbs
-

Facts And Figures
The Glenfarclas Handicap Chase was introduced to the expanded four-day Festival in 2005.
It is one of three races scheduled over the cross-country course at Cheltenham during the season and follows on from the Glenfarclas Cross Country Chase at The Open in November and the Glenfarclas Cross Country Handicap Chase at The International in December.
In the 2004/05 season, all three races were won by Spot Thedifference.
Cheltenham's cross-country course was established in 1995.
Trainer Enda Bolger and owner J P McManus have teamed up to win four of the six runnings to date with Irish raiders dominating the race and accounting for all six winners.
PAST RESULTS
2010-WINNER-A NEW STORY 12-9-07 Owner-Storey's Over Syndicate; Trainer-Michael Hourigan IRE; Jockey-Adrian Heskin; SP33/1 2ND-L'Ami 11-11-04 Owner-J P McManus; Trainer-Enda Bolger IRE; Jockey-Mr J T McNamara; SP-4/1 3RD-Lacdoudal 11-9-12 Owner-Carol Skan; Trainer-Philip Hobbs; Jockey-Rhys Flint; SP-28/1 4TH-Another Jewel 8-10-00 Owner-F Magee; Trainer-Denis Murphy IRE; Jockey-Davy Condon; SP-16/1 16 ran, Time-8m 18.00s, Dist-2½ , 2¾ , nk 7/4 Fav Garde Champetre (5th)
2009-WINNER-GARDE CHAMPETRE 10-11-12 Owner-J P McManus; Trainer-Enda Bolger IRE; Jockey-Miss Nina Carberry; SP-7/2
2ND-L'Ami 10-11-08 Owner-J P McManus; Trainer-Enda Bolger IRE; Jockey-Mr J T McNamara; SP-7/4 Fav
3RD-Drombeag 11-10-07 Owner-J P McManus; Trainer-Enda Bolger IRE; Jockey-Robert Power; SP-7/1
4TH-A New Story 11-9-11 Owner-Storey's Over Syndicate; Trainer-Michael Hourigan IRE; Jockey-Jack Doyle; SP-14/1 16 ran, Time-8m 47.54s, Dist-1¾, 14, 24
2008-WINNER-GARDE CHAMPETRE 9-10-13 Owner-J P McManus; Trainer-Enda Bolger IRE; Jockey-Miss Nina Carberry; SP-4/1
2ND-Native Jack 14-10-12 Owner-Gerard Burke/Robert Bagnall/N O'Farrell/K Sexton; Trainer-Philip Rothwell IRE; Jockey-Davy Russell; SP-40/1
3RD-A New Story 10-10-08 Owner-Storey's Over Syndicate; Trainer-Michael Hourigan IRE; Jockey-Andrew McNamara; SP-20/1
4TH-Freneys Well 8-10-05 Owner-J P McManus; Trainer-Enda Bolger IRE; Jockey-Mr G Mangan (7); SP-25/1 16 ran, Time-8m 39.52s; Dist-10, 1½ , 4½ 5/2 Fav Wonderkid (6th)
2007-WINNER-HEADS ONTHE GROUND 10-10-02 Owner-J P McManus; Trainer-Enda Bolger IRE; Jockey-Miss Nina Carberry; SP-5/2 Fav
2ND-Silver Birch 10-11-00 Owner-Brian Walsh; Trainer-Gordon Elliott IRE; Jockey-Jason Maguire; SP-14/1
3RD-Le Duc 8-10-10 Owner-The Stewart Family; Trainer-Paul Nicholls; Jockey-Sam Thomas; SP-8/1
4TH-Spot Thedifference 14-11-12 Owner-J P McManus; Trainer-Enda Bolger IRE; Jockey-Mr J T McNamara; SP-6/1
16 ran, Time-8m 43.80s, Dist-3½, 12, 5
2006-WINNER-NATIVE JACK 12-10-08 Owner-Gerard Burke/R J Bagnall/N O'Farrell/K Sexton; Trainer-Philip Rothwell IRE; Jockey-Davy Russell; SP-7/2 Jt Fav
2ND-Spot Thedifference 13-11-12 Owner-J P McManus; Trainer-Enda Bolger IRE; Jockey-Mr J T McNamara; SP-12/1
3RD-Buauiltes And Fadas 11-9-11 Owner-J P McManus; Trainer-Enda Bolger IRE; Jockey-Miss Nina Carberry; SP-6/1
4TH-Il De Boitron 8-10-06 Owner-Clonakilty Racing Club; Trainer-Thomas O'Leary IRE; Jockey-Andrew McNamara; SP-100/1
16 ran, Time-8m 30.10s, Dist-2, 5, 5 7/2 Jt Fav Good Step (6th)
2005-WINNER-SPOT THEDIFFERENCE 12-11-12 Owner-J P McManus; Trainer-Enda Bolger IRE; Jockey-Mr J T McNamara; SP-4/1
2ND-Luzcadou 12-10-13 Owner-A G Chappell; Trainer-Ferdy Murphy; Jockey-Alan O'Keeffe; SP-22/1
3RD-Mrs Be 9-9-12 Owner-J H Burridge; Trainer-Grant Cann; Jockey-Miss Polly Gundry; SP-20/1
4TH-Lord Noelie 12-11-08 Owner-Executive Racing; Trainer-Bridget Nicholls; Jockey-Jason Maguire; SP-14/1
16 ran, Time-8m 44.00s, Dist-2.5, 6, .75 100/30 Fav Comanche War Paint (Fell)
GLENFARCLAS CROSS COUNTRY HANDICAP CHASE
(Glenfarclas Handicap Chase from 2008, BGC Handicap Chase 2008, Sporting Index Handicap Chase 2005-2007, first running in 2005)
Year Winner Age/Wt Jockey Trainer Owner SP Ran
2010 A New Story 12-9-07 Adrian Heskin Michael Horuigan IRE Storey's Over Syndicate 33/1 16
2009 Garde Champetre 10-11-12 Miss Nina Carberry Enda Bolger IRE J P McManus 7/2 16
2008 Garde Champetre 9-10-13 Miss Nina Carberry Enda Bolger IRE J P McManus 4/1 16
2007 Heads Onthe Ground 10-10-02 Miss Nina Carberry Enda Bolger IRE J P McManus 5/2F 16
2006 Native Jack 12-10-08 Davy Russell Philip Rothwell IRE G Burke/R Bagnall/N O'Farrell/K Sexton 7/2JF 16
2005 Spot Thedifference 12-11-12 Mr J T McNamara Enda Bolger IRE J P McManus 4/1 16