cheltenham festival / 2009 news /
Enda Bolger 1,2,3 in the Glenfarclas Cross Country Handicap Steeple Chase 10/03/09
1st (1) Garde Champetre 7/2
2nd (2) L'Ami 7/4 fav
3rd (8) Drombeag 7/1
4th (13) A New Story 14/1
Garde Champetre
© racing-images.co.uk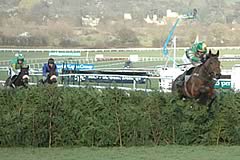 IT'S ONE-TWO-THREE FOR JP
Birthday boy JP McManus enjoyed a unique moment at Cheltenham today when horses he owns filled the first three places in a Festival race.
It is believed to be the first time an owner's colours have finished in that order at the meeting.
McManus's Garde Champetre (7/2), ridden by Nina Carberry, carried top weight of 11st 12lb to victory - last year he won the prize under 10st 13lb.
The runner-up was L'Ami (7/4 fav), the mount of JT McNamara, while Drombeag (7/1) took third carrying Robbie Power. It will surprise no one that the trio were saddled by Enda Bolger, the Limerick-based trainer who monopolises cross-country races.
Since this event was introduced at the Festival in 2005 Bolger has won four of the five runnings. Only Philip Rothwell has broken his stranglehold, thanks to Native Jack in 2006.
In typical style Bolger attributed the victory by Garde Champetre to Carberry, and said: "I'm delighted, but Nina is the factor. She gets on so well with the horse - he's a different animal when she's on his back.
"He was a high-class horse in his youth, but lost his way. I do the training, but Nina is the difference. I'm also very fortunate having the man [JP] behind me, but I just love watching horses jump so it suits the way I train."
Asked if he would be celebrating tonight, Bolger said: "We won't miss it," and when asked about Garde Champetre's effort under top weight, he added: "He must have been a certainty last year. We were scared about the weight because he's not the most robust horse.
"He's really getting the hang of this game and seeing out the trip. I think he'll be a better horse on better ground because he has a real daisy-cutting action."
Garde Champetre is in the John Smith's Grand National with a weight of 10st 2lb, and while Bolger said McManus would have the final word on a challenge, he said: "There's only one National so I'll be pushing for it."
McManus, 58 today, had earlier seen his Wichita Lineman win the William Hill Trophy Handicap Chase, while Binocular carried his colours into third in the Smurfit Kappa Champion Hurdle.
Position

Horse
Trainer
Jockey
Weight
Starting Price
Beaten Distance
1

Garde Champetre
E Bolger
Miss N Carberry
11st 12lbs
7 - 2
Winner
2

L'Ami
E Bolger
Mr J T McNamara
11st 8lbs
7 - 4
1 3/4 length
3

Drombeag
E Bolger
R M Power
10st 7lbs
7 - 1
14 lengths
4

A New Story
M Hourigan
Jack Doyle
10st 0lbs
14 - 1
24 lengths
5

Dix Villez
P Nolan
D N Russell
11st 1lbs
8 - 1
4 lengths
6

Heads Onthe Ground
E Bolger
P Carberry
10st 2lbs
20 - 1
8 lengths
7

Wonderkid
A J Martin
K Whelan
10st 11lbs
25 - 1
9 lengths
8

Benefit Night
Daniel O'Sullivan
B M Cash
10st 6lbs
66 - 1
16 lengths
9

Jaspers Dream
J P Dempsey
N P Madden
10st 1lbs
40 - 1
distance
10

Ivoire De Beaulieu
Ferdy Murphy
K Mercer
10st 0lbs
40 - 1
21 lengths
na

He's The Gaffer
R H Buckler
D Jacob
10st 8lbs
40 - 1

na

Dreux
T Cooper
D J Condon
10st 0lbs
50 - 1

na

Florida Dream
N A Twiston-Davies
David England
10st 0lbs
33 - 1

na

Pass Me By
Miss S Smith
A Coleman
11st 1lbs
25 - 1

na

Puntal
D Pipe
T Scudamore
10st 6lbs
20 - 1

na

Crystal d'Ainay
A King
R Thornton
10st 8lbs
33 - 1

NINA CARBERRY ON GARDE CHAMPETRE
Nina Carberry won the Glenfarclas Cross Country Handicap Steeple Chase over Cheltenham's unique Cross Country course for the third time aboard Garde Champetre. Carberry was also in the saddle when Garde Champetre won this contest last year and scored aboard Heads Onthe Ground in 2007.
Carbbery commented: "He's a great little horse and he absolutely loves this race. I thought L'Ami had me turning in because I gave my fella a squeeze and he wasn't really picking up. I didn't want to help L'Ami coming up the straight so I pulled wide and it helped my lad a bit - it just gave me a chance to get at him without bringing L'Ami on. He did it great.
"It was my plan to follow L'Ami round the course because my lad has just a bit more boot. He's a class horse."
Carbery was enjoying her fourth winner in total at The Festival and remarked: "It gets better as you get older!
"It was great to come back and win on this horse again. There was a bit more pressure this year as we were trying to win the race for a second time.
"I love riding in these cross country races. I first became involved about four years ago when I started working for Enda (Bolger, winning trainer). I started by schooling horses for him and it is great that Enda now has so many good horses from Mr McManus to go for these races."
Carberry, who was recently named as the winner of the 2009 Cheltenham ladies award (which goes to a woman who has contributed significantly to Jump racing), concluded: "You never get tired of winning at The Festival. It has been a great day for the family with Paul (her brother) winning the first race and I am very pleased for all the team at Noel Meade's yard."
J P McMANUS REFLECTS ON THE DAY
Owner J P McManus has enjoyed a great first day to The Festival, with Wichita Lineman winning the William Hill Handicap Chase, while Garde Champetre, L'Ami and Drombeag gave him a fantastic 1-2-3 in the Glenfarclas Cross Country Steeple Chase. Binocular was the one that got away, with the 6/4 favourite finishing a close third in the Smurfit Kappa Champion Hurdle.
McManus remarked : "Binocular ran a great race and just found two that were better than him on the day. He's only five and I am sure that he will be back. You couldn't have any complaints because he got the run of the race and there is still much to look forward to.
"AP gave Wichita Lineman a great ride but he gives so many horses great rides and he doesn't have to be seen to be so forceful. He makes up their mind for them and gets them concentrating on the job. I think that horses love having AP on board because he teaches them.
"It was nice to see all of the horses run well in the Cross Country Chase. I didn't know which of the two, L'Ami and Garde Champetre, to fancy but thankfully the right one won because I had a few quid each way on Garde Champetre. I thought that it was a bet to nothing but the problem is that I didn't have enough on!
"Enda lives where I used to live and he's made these races his life. He's given those horses a new lease of life and they have found another vocation.
"It's great that Cheltenham have these races and that these horses are not forgotten about. I am very much in favour of them.
"Nina has wonderful hands and horses run for her. She's a bit special."
Facts And Figures
1. The BGC Handicap Chase was introduced to the expanded four-day Festival in 2005
2. It is one of three races run over the cross-country course at Cheltenham during the season and follows on from the BGC Cross Country Chase at The Open in November and the BGC Cross Country Chase at the Boylesports International in December.
3. In the 2004/05 season, all three races were won by Spot Thedifference.
4. Cheltenham's cross-country course was established in 1995.
PAST RESULTS
2007-WINNER-HEADS ONTHE GROUND 10-10-02 Owner-J P McManus; Trainer-Enda Bolger IRE; Jockey-Miss Nina Carberry; SP-5/2 Fav
2ND-Silver Birch 10-11-00 Owner-Brian Walsh; Trainer-Gordon Elliott IRE; Jockey-Jason Maguire; SP-14/1
3RD-Le Duc 8-10-10 Owner-The Stewart Family; Trainer-Paul Nicholls; Jockey-Sam Thomas; SP-8/1
4TH-Spot Thedifference 14-11-12 Owner-J P McManus; Trainer-Enda Bolger IRE; Jockey-Mr J T McNamara; SP-6/1
16 ran, Time-8m 43.80s, Dist-3½, 12, 5
2006-WINNER-NATIVE JACK 12-10-08 Owner-Gerard Burke/R J Bagnall/N O'Farrell/K Sexton; Trainer-Philip Rothwell IRE; Jockey-Davy Russell; SP-7/2 Jt Fav
2ND-Spot Thedifference 13-11-12 Owner-J P McManus; Trainer-Enda Bolger IRE; Jockey-Mr J T McNamara; SP-12/1
3RD-Buauiltes And Fadas 11-9-11 Owner-J P McManus; Trainer-Enda Bolger IRE; Jockey-Miss Nina Carberry; SP-6/1
4TH-Il De Boitron 8-10-06 Owner-Clonakilty Racing Club; Trainer-Thomas O'Leary IRE; Jockey-Andrew McNamara; SP-100/1
16 ran, Time-8m 30.10s, Dist-2, 5, 5 7/2 Jt Fav Good Step (6th)
2005-WINNER-SPOT THEDIFFERENCE 12-11-12 Owner-J P McManus; Trainer-Enda Bolger IRE; Jockey-Mr J T McNamara; SP-4/1
2ND-Luzcadou 12-10-13 Owner-A G Chappell; Trainer-Ferdy Murphy; Jockey-Alan O'Keeffe; SP-22/1
3RD-Mrs Be 9-9-12 Owner-J H Burridge; Trainer-Grant Cann; Jockey-Miss Polly Gundry; SP-20/1
4TH-Lord Noelie 12-11-08 Owner-Executive Racing; Trainer-Bridget Nicholls; Jockey-Jason Maguire; SP-14/1
16 ran, Time-8m 44.00s, Dist-2.5, 6, .75 100/30 Fav Comanche War Paint (Fell)
BGC HANDICAP CHASE (CROSS-COUNTRY)
(BGC Handicap Chase from 2008, Sporting Index Handicap Chase 2005-2007, first running in 2005)
Year Winner Age/Wt Jockey Trainer Owner SP Ran
2008 Garde Champetre
2007 Heads Onthe Ground 10-10-02 Miss Nina Carberry Enda Bolger IRE J P McManus 5/2F 16
2006 Native Jack 12-10-08 Davy Russell Philip Rothwell IRE G Burke/R Bagnall/N O'Farrell/K Sexton 7/2JF 16
2005 Spot Thedifference 12-11-12 Mr J T McNamara Enda Bolger IRE J P McManus 4/1 16