cheltenham festival / 2010 news /
Fairytale for Hourigan and Teenager Heskin
16/03/10
1 A New Story 25/1
2 L'Ami 4/1
3 Lacdoudal 28/1
16 ran
A New Story


© racing-images.co.uk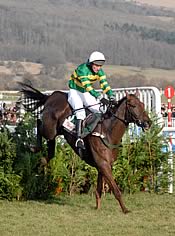 On his 80th outing and four and a half years since his most recent victory, 12-year-old A New Story carried teenager Adrian Heskin to victory in the Glenfarclas Cross-Country Handicap Steeplechase.
Winning trainer Michael Hourigan said: "He's not won since November 2005, but he's kept me in the limelight by finishing placed in races like the Irish National and Becher Chase. His owners [Christy Guerin and Sean Moran from Ennis in County Clare] have owned him since he was a five-year-old and he's taken them all around the world, so to speak.
"He was placed fourth in this race last year sand third the year before, so it was always the plan to come back here again. He doesn't like being in front, but today he didn't seem to mind. He's a character, a star.
"Adrian is very talented and I hope he keeps that talent. He's been with me on and off for five years from school. To win at Cheltenham is one of racing's gold medals. I've not been in here [winners' enclosure] for at least ten years since Deejaydee won the National Hunt Chase [in 1999]."
Hourigan's horse beat the J P McManus-owned L'Ami, but the two men will be sharing a drink at a party tonight. Hourigan said: "J P's won this race a few times, but it was my turn today.
"I've got the horse in the Pertemps Final [on Thursday] but I don't think he'll get in, and he's also in the Midlands National at Uttoxeter on Saturday. He'll run there if he's okay and Adrian will ride."
Asked when he realised he would win, Heskin, 17, from County Cork said: "After I crossed the line - he doesn't do a whole lot in front!
"I've been involved in horses all my life - my father, Michael, has ten or 12 broodmares at home. That's my first ride at Cheltenham and it feels brilliant, magic."
Position

Horse
Trainer
Jockey
Weight
Starting Price
Beaten Distance
1

A New Story
M Hourigan
A P Heskin
10st 0lbs
25 - 1
Winner
2

L'Ami
E Bolger
Mr J T McNamara
11st 4lbs
4 - 1
2 1/2 lengths
3

Lacdoudal
P J Hobbs
R Flint
10st 1lbs
28 - 1
2 3/4 lengths
4

Another Jewel
D P Murphy
D J Condon
10st 0lbs
16 - 1
Neck
5

Garde Champetre
E Bolger
Miss N Carberry
11st 12lbs
7 - 4
1/2 length
6

Freneys Well
E Bolger
R P McLernon
10st 2lbs
14 - 1
2 lengths
7

Drombeag
E Bolger
M P Walsh
10st 0lbs
33 - 1
1/2 length
8

Double Dizzy
R H Buckler
A Glassonbury
10st 0lbs
20 - 1
7 lengths
9

Cornish Sett
P F Nicholls
Nick Scholfield
10st 2lbs
33 - 1
4 1/2 lengths
10

Heads Onthe Ground
E Bolger
P Carberry
10st 0lbs
25 - 1
5 lengths
11

Sizing Australia
H de Bromhead
A E Lynch
10st 2lbs
11 - 2
3/4 length
12

Tawnies
T G O'Leary
P T Enright
10st 0lbs
40 - 1
2 3/4 lengths
13

Preists Leap
T G O'Leary
D N Russell
10st 13lbs
33 - 1
8 lengths
14

Monkerhostin
P J Hobbs
R Johnson
11st 7lbs
11 - 1
3 1/4 lengths
15

Silver Birch
G Elliott
R M Power
10st 3lbs
20 - 1
17 lengths
16

Oceanos des Obeaux
P J Hobbs
T J O'Brien
10st 0lbs
100 - 1
11 lengths
L'AMI AND LACDOUDAL KEEP CONNECTIONS HAPPY
L'Ami - 2nd


© racing-images.co.uk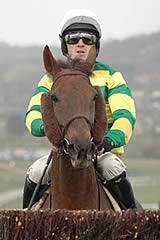 The Glanfarclas Handicap Steeple Chase provided one of the rare occasions when owner J P McManus and trainer Enda Bolger didn't win a cross-country race. Indeed Bolger had won 13 of the 17 previous cross-country races at Cheltenham.
Although providing five of the 16 starters, McManus had to settle for a best placing of second, by the Enda Bolger-trained L'Ami, who was two and a half lengths adrift of the winner A New Story.
But McManus, still basking in the afterglow of his Smurfit Kappa Champion Hurdle win with Binocular, was more than happy.
"We found one better than us today, but L'Ami did us proud," he said.
There were similar vibes from the Lacdoudal camp. Sarah Hobb's, wife of trainer Philip was delighted with the performance of Lacdoudal who was two and three-quarter lengths behind L'Ami.
"What a treasure he is, he doesn't owe us anything. He's been fantastic and Rhys [Flint] had the time of his life on him.
"It was his first cross-country and he loved it. He didn't make a mistake. He needed a turn of foot at the end and he didn't have that.
"We schooled three here the other day - Oceanos des Obeaux, Monkerhostin and Lacdoudal. Monkerhostin and Lacdoudal took to it straight away. And I'm surprised that Monkerhostin didn't run better [he was 14th]," she said.
Facts And Figures
1. The BGC Handicap Chase was introduced to the expanded four-day Festival in 2005
2. It is one of three races run over the cross-country course at Cheltenham during the season and follows on from the BGC Cross Country Chase at The Open in November and the BGC Cross Country Chase at the Boylesports International in December.
3. In the 2004/05 season, all three races were won by Spot Thedifference.
4. Cheltenham's cross-country course was established in 1995.
PAST RESULTS
2007-WINNER-HEADS ONTHE GROUND 10-10-02 Owner-J P McManus; Trainer-Enda Bolger IRE; Jockey-Miss Nina Carberry; SP-5/2 Fav
2ND-Silver Birch 10-11-00 Owner-Brian Walsh; Trainer-Gordon Elliott IRE; Jockey-Jason Maguire; SP-14/1
3RD-Le Duc 8-10-10 Owner-The Stewart Family; Trainer-Paul Nicholls; Jockey-Sam Thomas; SP-8/1
4TH-Spot Thedifference 14-11-12 Owner-J P McManus; Trainer-Enda Bolger IRE; Jockey-Mr J T McNamara; SP-6/1
16 ran, Time-8m 43.80s, Dist-3½, 12, 5
2006-WINNER-NATIVE JACK 12-10-08 Owner-Gerard Burke/R J Bagnall/N O'Farrell/K Sexton; Trainer-Philip Rothwell IRE; Jockey-Davy Russell; SP-7/2 Jt Fav
2ND-Spot Thedifference 13-11-12 Owner-J P McManus; Trainer-Enda Bolger IRE; Jockey-Mr J T McNamara; SP-12/1
3RD-Buauiltes And Fadas 11-9-11 Owner-J P McManus; Trainer-Enda Bolger IRE; Jockey-Miss Nina Carberry; SP-6/1
4TH-Il De Boitron 8-10-06 Owner-Clonakilty Racing Club; Trainer-Thomas O'Leary IRE; Jockey-Andrew McNamara; SP-100/1
16 ran, Time-8m 30.10s, Dist-2, 5, 5 7/2 Jt Fav Good Step (6th)
2005-WINNER-SPOT THEDIFFERENCE 12-11-12 Owner-J P McManus; Trainer-Enda Bolger IRE; Jockey-Mr J T McNamara; SP-4/1
2ND-Luzcadou 12-10-13 Owner-A G Chappell; Trainer-Ferdy Murphy; Jockey-Alan O'Keeffe; SP-22/1
3RD-Mrs Be 9-9-12 Owner-J H Burridge; Trainer-Grant Cann; Jockey-Miss Polly Gundry; SP-20/1
4TH-Lord Noelie 12-11-08 Owner-Executive Racing; Trainer-Bridget Nicholls; Jockey-Jason Maguire; SP-14/1
16 ran, Time-8m 44.00s, Dist-2.5, 6, .75 100/30 Fav Comanche War Paint (Fell)
BGC HANDICAP CHASE (CROSS-COUNTRY)
(BGC Handicap Chase from 2008, Sporting Index Handicap Chase 2005-2007, first running in 2005)
Year Winner Age/Wt Jockey Trainer Owner SP Ran
2009 Garde Champetre
2008 Garde Champetre
2007 Heads Onthe Ground 10-10-02 Miss Nina Carberry Enda Bolger IRE J P McManus 5/2F 16
2006 Native Jack 12-10-08 Davy Russell Philip Rothwell IRE G Burke/R Bagnall/N O'Farrell/K Sexton 7/2JF 16
2005 Spot Thedifference 12-11-12 Mr J T McNamara Enda Bolger IRE J P McManus 4/1 16