cheltenham festival / 2010 news /
Championship Contests Take Shape
18/02/10
The countdown to The Festival steps up a gear today as the fields for the five non-novice Grade One races are pared down following the first scratchings deadline.
Kauto Star


© racing-images.co.uk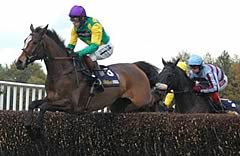 There are no surprise defections in the five races, with the Paul Nicholls-trained pair of Kauto Star and Denman heading the 19 contenders remaining in the eagerly-awaited £475,000 totesport Cheltenham Gold Cup on Friday, March 19. Fans who want to be at Cheltenham to witness this historic contest need to act quickly with the both the Best Mate and Tattersalls enclosures now sold out on the day.
Timeform think that Kauto Star is firmly on target to land his third totesport Cheltenham Gold Cup and award the Clive Smith-owned superstar a rating of 191+, 8lb clear of his stablemate Denman, the 2008 Gold Cup hero who parted company with his new partner Tony McCoy at Newbury on Saturday (February 13). In total, Paul Nicholls is responsible for six of the 19 remaining entries. According to Timeform it could be a two-horse race, with the third-best horse being Imperial Commander, the 2009 Ryanair Chase victor who ran Kauto Star to a nose at Haydock in November, rated 175.
Twist Magic


© racing-images.co.uk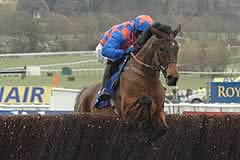 Champion trainer Paul Nicholls also has the two top-rated horses with Timeform among the 17 remaining entries for the £320,000 Seasons Holidays Queen Mother Champion Chase on Wednesday, March 17, in the shape of Master Minded and Twist Magic. Master Minded, also owned by Clive Smith, looked back to his imperious best with a victory at Newbury on Saturday in the Game Spirit Chase and Timeform consider him as having a huge chance to become only the second three-time winner of the Queen Mother Champion Chase (following Badsworth Boy) as he has a rating of 179, 11lb superior to Twist Magic on 168, while Ireland's Big Zeb is on 164.
Big Zeb


© racing-images.co.uk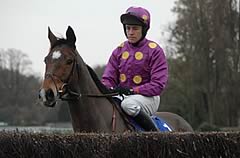 A hugely competitive Ryanair Chase is in prospect on Thursday, March 18 with 33 entries going forward. Golden Silver, runner-up to Big Zeb in a Grade Two event at Punchestown on January 31, has been given a rating of 162 by Timeform, just 1lb ahead of this season's Paddy Power Gold cup hero Tranquil Sea (161), while there are no less than five horses sharing a Timeform rating of 160 - the Queen's Barbers Shop, Herecomesthetruth, Boylesports.com Gold Cup victor Poquelin, last year's third Schindlers Hunt and Voy Por Ustedes, runner-up to Imperial Commander last year having taken the Seasons Holidays Queen Mother Champion Chase in 2007.
Zaynar


© racing-images.co.uk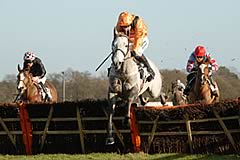 Similarly, Timeform has six of the remaining 24 entries in the £370,000 Smurfit Kappa Champion Hurdle rated between 160 and 165. Irish Champion Hurdle victor Solwhit is on 165, with Zaynar on 165+. Zaynar, who landed the JCB Triumph Hurdle at The Festival in 2009, is due to run at Kelso on Thursday. Celestial Halo and Binocular, second and third respectively in 2009, are both on 164 with last year's victor Punjabi 1lb lower at 163. Khyber Kim, who has won his last two starts, both at Cheltenham, is also rated 162 with last year's Spinal Research Supreme Novices' Hurdle victor Go Native on 161+ and the 2007 victor Sublimity is on 160. The Smurfit Kappa Champion Hurdle is run on Tuesday, March 16, the opening day of The Festival.
Tidal Bay


© racing-images.co.uk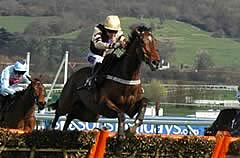 Big Buck's is a hot favourite to record a second victory in the £260,000 Ladbrokes World Hurdle on Thursday, March 18, and this view is clearly echoed by Timeform, which gives the Paul Nicholls-trained contender a rating of 174+, 13lb clear of Karabak on 161 with Tidal Bay, who returned to form in the Grade Two Betfair Cleeve Hurdle at Cheltenham on Festival Trials Day, just below on 160§. A total of 24 contenders remain in the Ladbrokes World Hurdle.
TIMEFORM RATINGS FOR THE FIVE CHAMPIONSHIP RACES
totesport Cheltenham Gold Cup
Kauto Star (FR) 191+
Denman (IRE) 183
Imperial Commander (IRE) 175
Madison du Berlais (FR) 170
Cooldine (IRE) 161
Carruthers (GB) 160
Schindlers Hunt (IRE) 160
Mon Mome (FR) 159
What A Friend (GB) 159
Calgary Bay (IRE) 158
Casey Jones (IRE) 156
Notre Pere (FR) 154+
Taranis (FR) 153
My Will (FR) 153
Albertas Run (IRE) 152§
Tricky Trickster (IRE) 150p
Aran Concerto (IRE) 147
Cerium (FR) 137
Mr Pointment (IRE) ?
Seasons Holidays Queen Mother Champion Chase
Master Minded (FR) 179
Twist Magic (FR) 168
Big Zeb (IRE) 164
Golden Silver (FR) 162
Kalahari King (FR) 162+
Tranquil Sea (IRE) 161
Petit Robin (FR) 158
Barker (IRE) 156
Forpadydeplasterer (IRE) 156
Well Chief (GER) 156
Newmill (IRE) 155
Oh Crick (FR) 155
Sizing Europe (IRE) 154
Fix The Rib (IRE) 153
Free World (FR) 152
Mahogany Blaze (FR) 151
Cornas (NZ) 146
Ryanair Chase
Golden Silver (FR) 162
Tranquil Sea (IRE) 161
Barbers Shop (GB) 160
Herecomesthetruth (IRE) 160
Poquelin (FR) 160+
Schindlers Hunt (IRE) 160
Voy Por Ustedes (FR) 160
Jack The Giant (IRE) 159
Deep Purple (GB) 159
Petit Robin (FR) 158
Our Vic (IRE) 157
Barker (IRE) 156
Chapoturgeon (FR) 156
Forpadydeplasterer (IRE) 156
Newmill (IRE) 155
Planet of Sound (GB) 155+
Scotsirish (IRE) 155
Made In Taipan (IRE) 153
Something Wells (FR) 153
J'Y Vole (FR) 153+
Master Medic (IRE) 152
Albertas Run (IRE) 152§
Rare Bob (IRE) 149
Snowy Morning (IRE) 148
Aran Concerto (IRE) 147
The Fonze (IRE) 147
Deutschland (USA) 145
Consigliere (FR) 144
Panjo Bere (FR) 144
Tartak (FR) 144
Watch My Back (GB) 138
Glencove Marina (IRE) ?
Gwanako (FR) ?
Smurfit Kappa Champion Hurdle
Solwhit (FR) 165
Zaynar (FR) 165+
Binocular (FR) 164
Celestial Halo (IRE) 164
Punjabi (GB) 163
Khyber Kim (GB) 162
Go Native (IRE) 161+
Sublimity (FR) 160
Donnas Palm (IRE) 159
Medermit (FR) 157
Muirhead (IRE) 156
Quevega (FR) 155
Al Eile (IRE) 154
Jumbo Rio (IRE) 154
Won In The Dark (IRE) 154
Starluck (IRE) 153
Blue Bajan (IRE) 152
Dunguib (IRE) 152p
Voler La Vedette (IRE) 150
Ebadiyan (IRE) 145
Raise Your Heart (IRE) 140
Royal And Regal (IRE) 100p
Fiulin (GB) -p
Kargali (IRE)
Ladbrokes World Hurdle
Big Buck's (FR) 174+
Karabak (FR) 161
Tidal Bay (IRE) 160§
Sentry Duty (FR) 158+
Time For Rupert (IRE) 158
Pettifour (IRE) 157
Fair Along (GER) 156
Powerstation (IRE) 156
Mr Thriller (FR) 155
Oscar Dan Dan (IRE) 155
Ebadiyan (IRE) 154
Jumbo Rio (IRE) 154
Katchit (IRE) 154
Cousin Vinny (IRE) 153
Mourad (IRE) 152
War of Attrition (IRE) 152
Lie Forrit (IRE) 151+
Cape Tribulation (GB) 147
Kayf Aramis (GB) 146
Ballyfitz (GB) 144
Elzahann (IRE) 129
Royal And Regal (IRE) 100p
Fiulin (GB) -p
Gone To Lunch (IRE) ?