Denman Destroys Gold Cup Rivals
14/03/08
1st (5) Denman 9-4
2nd (10) Kauto Star 10-11 Fav
3rd (12) Neptune Collonges 25-1
12 ran
Also: 16-1 Halcon Genelardais 4th
NR: Ollie Magern, Racing Demon, Star De Mohaison
Denman (Sam Thomas) takes the last fence on the second circuit in grand style.
© racing-images.co.uk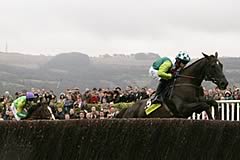 The totesport Cheltenham Gold Cup was a glorious race that matched or even exceeded the pre-race the hype. With the best-laid plans of Denman's owners Harry Findlay and Paul Barber, plus a little help from the weather, coming to spectacular fruition.
"I've had you guys [journalists] in my house all week and I told you what would happen. To say it's gone word-perfect, it's unbelievable. We've had to do everything right to break Kauto Star's heart and that's what we did," said an ecstatic Findlay.
"We discussed the race so many times and we knew what we had to do and it's just brilliant. Sam was awesome. Just like the Hennessy, a lovely lead, four fences and we knew who was going to win. What a great day for the sport."
Barber, the quiet man in the partnership, was equally moved. "Awesome, awesome," he repeated.
Barber, who owned See More Business the totesport Cheltenham Gold Cup winner in 1999 and trainer Paul Nicholls' first success in the race, felt that Denman still had something left after the gruelling three and a quarter miles. "He doesn't do a tap in front, but we knew that," he said.
Sam Thomas, the jockey, had also reported to Nicholls that he had "plenty left" though that was not the view of everyone out of the saddle.
For Nicholls, it was a third totesport Cheltenham Gold Cup, after See More Business and last year's winner Kauto Star and not only did he have the first two home, but Neptune Collonges, in third place, made it a sweep.
"When we schooled Denman on Monday, I've never seen him look better," he said.
Nicholls paid a special compliment to Barber, "a brilliant man who just lets us get on with it."
But it was Findlay who paid credit to the biggest loser of the day. "Ruby [Walsh] I know agonised all year about which one to ride. I know what a tough decision that was for him."
MORE TOTESPORT CHELTENHAM GOLD CUP QUOTES
Sam Thomas, the winning rider on Denman, said: "I'm absolutely lost for words! What a horse! It's a job to know with him how quick he's going sometimes because he travels so well. He's some horse."
"I went through the race in my mind a million times over and it went exactly to plan. I've got a cracking ride off the horse.
"I didn't kick at any stage, he's just such a good horse and travels so well that you could easily go too quick on him because he does everything so easily.
"I just let him do his own thing early on that's the best way to ride him, I think. It's the end of a dream at the moment."
Ruby Walsh, who partnered second Kauto Star, said: "The best horse on the day won. I was struggling passing the stands.
"Sam picked it up on the first down the back straight and I knew I couldn't get to him at that stage. That's horseracing, the best horse on the day won.
"Kauto Star felt that he was never travelling. Denman was going a good old gallop but no quicker than the horses in the Tingle Creek two years ago and you'd be hoping that Kauto should have been able to travel but he didn't and the best horse on the day won."
Asked whether he should have chosen Denman to ride, Walsh replied: "That's probably the most ridiculous question I've ever been asked. You didn't have to ask that. It's racing and sometimes you get it wrong. You can only ride one horse and I picked the wrong one."
Paul Nicholls, the trainer of the first three home, declared : "It's a great performance, good for the whole team. Just brilliant!
"I thought going out on the second circuit that Denman was going really well and he's just good."
SMITH PHILOSOPHICAL ON KAUTO DEFEAT
Kauto Star
© racing-images.co.uk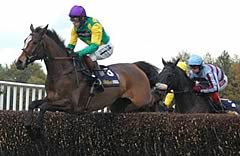 Clive Smith, owner of 10/11 favourite Kauto Star, was in philosophical mood after his charge went down by seven lengths to finish runner-up to stable companion Denman in the totesport Cheltenham Gold Cup.
Smith said of the 2007 totesport Gold Cup winner: "That was a great win for the stable and I extend my congratulations to everyone involved with Denman.
"Denman always just had him at today - he was simply ferocious.
"Ruby (Walsh) said the ground may have just been a bit too tacky for Kauto Star out there today and he did not jump as well as he can out of that ground. He just wasn't his fluent self today.
"I thought he was beaten at the third last and Ruby also said that he thought the horse was not going to win a mile from home.
"There are no excuses. The only slight concern for me would be the fact that he has only finished a short-head in front of Neptune Collonges.
"We will definitely take on Denman again and will come back again next year. Hopefully we can gain our revenge then! There will be another time.
"Kauto Star was not at his best today but then horses are not machines.
"He did sweat up slightly in the parade, but there is no real reason to think that there was anything wrong with him.
"We had talked about also running him at Aintree this season, but I think we will just leave it now and call it a day for this season."
NEPTUNE COMPLETES 1-2-3 FOR NICHOLLS
Neptune Collonges (Mick Fitzgerald) leading Denman (Sam Thomas) and Kauto Star (hidden) on the first circuit in the totesport Cheltenham Gold Cup (14-03-08)
© racing-images.co.uk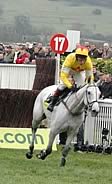 The front-running Neptune Collonges put in what trainer Paul Nicholls called "a career-best performance" to finish third to stablemates Denman and Kauto Star in an epic totesport Cheltenham Gold.
Neptune Collonges' owner John Hales was full of praise for the ride Mick Fitzgerald gave the horse. "We were totally exonerated in getting Mick to ride, he's a true professional and got the horse in a perfect rhythm jumping from fence to fence beautifully.
"He's a very, very good horse and played a wonderful part in the race, he helped make the running.
"Our plan was to come here and win, everybody was going on about the front two and the papers never gave us a mention but we finished a short-head off Kauto Star so that far from splitting the first two. It's all thanks to Fitzy to do that on a track that is not ideally suitable for him. He'll once again go to Punchestown now."
Alan King was pleased with the performance of fourth-placed Halcon Genelardais. "He got caught up in the middle of the race when the pace quickened, the class really showed then," said King.
"I'm thrilled to finish fourth in that race. Something like that is great for racing and a wonderful spectacle for the industry."
[more]