cheltenham 2008 / gold cup result /

totesport Cheltenham Gold Cup 2008
Press Conference Quotes From Paul Nicholls
14/03/08
Kauto Star
© racing-images.co.uk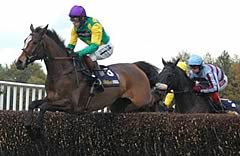 Trainer Paul Nicholls said: "It's going to take a while to sink in. Denman galloped, jumped and never put a foot wrong. He got Kauto on the back foot really - he didn't jump as well as he normally does. Neptune Collonges has run a career best.
"I talked to each jockey as an individual about how they could ride their race to win. It was fairly obvious what we were going to do with Denman. Neptune Collonges was going to have to go flat out the whole way to be fast enough for him.
"Kauto didn't jump as well as he can do. I don't know whether the ground was a bit tacky for him but we're not going to make any excuses for him. Today he got beaten by a better horse. He'll be back here, there will be plenty more races but today wasn't his day.
"As I've said all along with Denman, he has just been progressing. In the Aon Chase he beat nothing. The form wasn't there in the book, but he's just taken that extra step today. Nobody knew if he was capable until he went out there.
"There was no point in me putting my head on the block and saying he'll beat Kauto. There wasn't enough evidence to say that. All I knew was that when I saw him on Monday I've never, ever seen him look better than he did. Paul Barber said to me 'that's the best that horse has ever looked'.
"Denman definitely won't run again this season. I have to discuss it with Clive (Smith) yet about Kauto and Neptune Collonges will probably go to Punchestown for the race he won last season, the Guinness Gold Cup. That suits him and he hasn't had that long a season so he'll probably run again.
"Sam got a cussing after The Tother One from me but I said to him 'just go out there, be chilled, forget about what's happened and do your best.' He's done that he gave him a fantastic ride and all credit to him. He's a young man, there's a lot of pressure and he did it very well. I'm very proud of him.
"Kauto's been beaten and all horses get beaten some time. There's no reason why they won't run again each other again and on different tracks you might get a different result.
"I don't know where we'll go with Denman next. I can't see him running in the Grand National myself but let's hope they're both fit and healthy next season and back here.
On having won three Gold Cups: "I think the best one is always you first one, when See More Business won for Paul (Barber) but the pressure for this one and getting the one-two-three, it just doesn't get any better.
TOTESPORT GOLD CUP PRESS CONFERENCE - QUOTES FROM SAM THOMAS, PAUL BARBER AND HARRY FINDLAY
Denman
© racing-images.co.uk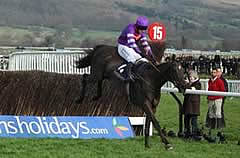 Denman's co-owner Harry Findlay: "Paul Nicholls has done a brilliant job to get the horse in superb condition on the day. But when you know it's against his stable star, the way the whole thing has been handled has just been brilliant. There's no other sport where that rivalry could be played on that sort of level. Racing is a massive benefactor of that.
"The excitement level was so good. We were all buzzing and to watch it unfold. You could feel it in the crowd. They knew Kauto was beaten. It's unique and I'm really proud to be a part of it.
"I've always believed Denman was a left-handed tank. Sam was always going to ride Denman and I was more than happy with that. Sam and Denman get on great. This was a carbon copy of the Hennessy. He was very neat today and that's what won him the race and that's exactly what Kauto wasn't.
"We thought what has happened would happen but I thought we'd break Kauto between the third and second last and if we did win, we'd win by even further. The way it's worked out it's probably even more impressive from Denman.
"He's a serious, serious horse. Who will want to take him on? He's had a ball today, he probably has got tired but he really is very hard on other horses. If I owned another horse, I wouldn't go near Denman. I wouldn't want to take him on over three and a half miles around Newbury on soft ground.
"You can take Kauto on any time, not because of his lack of ability but you can take him on and run again but with Denman, no wonder Ollie Magern came out this morning, say no more. It's not a lot of fun.
"He's had no injuries of any note and if he stays sound he looks like a terrorist."
Asked if Denman will one day eclipse Arkle, Findlay said: "I didn't see Arkle. I've only seen the end of the race when he beat Mill House and that doesn't look that impressive but poeple say Arkle took a keen hold and that takes a hell of a lot out of horses. Denman doesn't have that problem. They are obviously different types of horses. Arkle was more of a flashy horse, more of a Kauto Star but I'd have to guesstimate that Denman is the best since Arkle in terms of the Gold Cup."
Sam Thomas: "He jumped absolutely brilliantly. Once he took it up, he absolutely loves it in front. As soon as he's landed over one fence, he's looking for the next.
"He's one of those horses that you could almost do too much with as he travels and jumps so well. It was great as I was able to settle him for a circuit and he switched off and even when I went on in front he was still nice and relaxed.
"After I'd ridden him a few times to win, I was more than happy to be riding this fellow and I would have chosen him had I had the choice. Second string at Paul's is like first string in a lot of other yards.
"I'm lost for words at the minute. I'm in my own little world."
Paul Barber: "Paul Nicholls eats, sleeps and breathes horses. That's where his greatness comes from: his tremendous enthusiasm. Michael Dickinson said to me yesterday 'what you must do tomorrow is make sure you get an escort for those horses and we managed to get one and the police kindly brought them in this morning in case anything went wrong.
"My ambition in life was to milk 1,000 cows and win a Gold Cup. Now I milk 2,000 cows and I wanted two Gold Cups to go with them."
SPONSORS REPORT JUMP IN TURNOVER
The sponsors fielded increased turnover on this year's totesport Gold Cup as the Denman v Kauto Star clash hit the news pages.
Spokesman Damian Walker said: "Despite two short-priced horses at the front of the market turnover on the totesport Gold Cup was up on last year's race which had a massive field of 18.
Support for Kauto Star was huge and we fielded each-way money on a whole host of horses.
"Pre-race turnover estimates of between £25-30 million on the race are probably about right if our figures are anything to go by.
"The increased interest in this year's race has certainly given the whole sport a lift and we can't wait for the rematch next year."
Denman has taken over the mantle of the best staying steeplechaser in training and is just evens with the sponsors to repeat his victory in next season's totesport Gold Cup. Runner-up Kauto Star is 7-2 and close third Neptune Collonges is 8-1.
Walker said: "Denman is the new force in staying chases and we expect him to be the one to beat again next season. He seemed to break Kauto Star on the second circuit, although the runner-up probably didn't jump as well as usual on the tacky ground. Neptune Collonges has run a stormer in third and is 8-1 third in next year.
"Denman proved easy to back and all the money was for Kauto Star, so the result was a winning one for the sponsors although Denman was a loser in our ante-post book."
DENMAN - SAVIOUR FOR BOOKIES
Bookies were last night toasting Denman's thrilling victory in the Cheltenham Gold Cup - as punters suffered a hammer-blow when hot favourite Kauto Star flopped.
Ladbrokes reckon Denman's victory saved them from their darkest day in Festival history as the nation backed Kauto Star in their masses.
David Williams, spokesman for Ladbrokes said: "Denman was our saviour. We thought the betting and the race would be a lot closer but we were under siege from Kauto Star fans all day.
"In the end, we've come out on top. We were staring down the barrel of a horror result and have dodged the bullet. We're still catching our breath."
Ladbrokes laid one bet of £200,000 to a high-rolling Kauto Star fan and industry predictions of a record-breaking betting race were proved accurate.
"It was a crazy day in betting shops up and down the land. We were packed out and the mega bets we saw made even our stony traders go weak at the knees."
Some lucky punters gained consolation by backing top trainer Paul Nicholls to saddle the first three home in the Gold Cup at odds of 5/1.
"We only offered it as a bit of fun but it's backfired. It's great news for punters on what's been a pretty grim day for them" said Williams.
Denman is the even money favourite to win the 2009 Cheltenham Gold Cup with Ladbrokes.
[more]