Denman
05/06/18
Denman, the 2008 Cheltenham Gold Cup winner, died on Tuesday 5th June 2018 at the age of 18, trainer Paul Nicholls told Betfair.
Denman


© racing-images.co.uk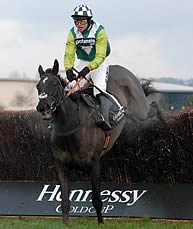 Nicholls said the brilliant chaser "had begun to go downhill in the past few days", and was "put to sleep painlessly".
The Ditcheat handler said: "The decision was taken by his devoted owner Paul Barber with the full support of myself, our head lad Clifford Baker and our vet Buffy Shirley-Beavan.
"We all agreed it was the right thing to do because he had begun to go downhill in the past few days and we did not want to see him suffer."
Denman was renowned for his iron will on a racecourse and won 14 races from 24 starts.
His finest hour came in the 2008 Cheltenham Gold Cup, when he defeated stablemate Kauto Star by seven lengths in a race for the ages.
Denman claimed four Grade One races and was also twice successful in the Hennessy Gold Cup at Newbury in 2007 and 2009. He retired in 2011 and earned over £1million in prize-money.
Nicholls said: "Denman was known affectionately to punters and racegoers as 'The Tank', which I always felt was a fitting description.
"He was a magic horse who had a tremendous following because of the wholehearted way he went about his racing.
"He was tough, hardy and willing, wasn't the easiest to train, and would bite your hand off in his box given half a chance.
"He came along at the right time and was one of our superstars during a golden era for Team Ditcheat."
Denman initially took up team chasing with Charlotte Alexander following his retirement. before returning to Ditcheat where he was cared for by owner Paul Barber's daughter-in-law Emma.
Nicholls described Barber as "immensely proud of Denman's achievements on the racecourse" and recounted how the gelding came to join his team.
He said: "I remember seeing Denman for the first time at Adrian Maguire's yard near Cork while Paul and I were on a shopping trip in Ireland. It was a few weeks after he had won his maiden point-to-point in March 2005. I was bowled over by Denman's presence and raw power as he was led into view.
"He had only taken a few steps when I told Adrian I'd have him. The words were hardly out of my mouth when Paul Barber countered, 'No you won't. I'm having him'. Neither of us had any cause to regret the deal that took Denman home to Ditcheat."
Denman was diagnosed with a fibrillating heart in the autumn following his Gold Cup win and Nicholls felt he lost a little of his brilliance after that problem.
He added: "Denman took a long time to recover his condition and full strength once back in training and in my view was never quite as good again.
"But he showed that he still retained his competitive edge and plenty of ability by winning a second Hennessy Gold Cup with an astonishing performance under top weight and also finishing runner up in three more Gold Cups.
"When he retired in 2011 he had earned in excess of £1million with 14 victories from 24 starts under rules, but mere statistics cannot possibly do him justice."
Dan Skelton was assistant trainer to Nicholls during Denman's career and was fulsome in his praise for Denman's attitude.
He tweeted: "Don't (mind) admitting I thought Kauto would win the 2008 GC (Gold Cup). What Denman did was incredible and was a performance for the ages. He was obviously super talented, but I loved that rugged ambition to win at any cost.
"A sad day, that feels like the end of an era. These two were a fixture of my Racing education and to be fair it now seems surreal to have been a little part of it and to have been able to witness their careers. How lucky were we all!"
Cheltenham and Newbury hosted the highlights of Denman's career and both tracks were keen to pay tribute on social media.
A tweet issued by Cheltenham read: "A true hero and Gold Cup legend. Rest easy Denman, and thank you for the memories."
Newbury added on Twitter: "An incredible achievement that will never be forgotten. Denman is forever ingrained in our history and his passing is felt by all at Newbury Racecourse. Seven races here, five wins, two Hennessy Gold Cups – a legend of Newbury and a legend of the sport of horse racing #RIPDenman."
Denman
Born on April 17, 2000, Denman was bred by haulage contractor Colman O'Flynn at his farm close to Fermoy in Co Cork, Ireland, after a liaison between his mare Polly Puttens and the stallion Presenting at the neighbouring Rathbarry Stud. Denman was due to be sold at the 2004 Tattersalls Ireland Derby Sale but was spun for his wind and immediately afterwards had a hobday operation. He went into training with former jockey Adrian Maguire in Ireland and won his only point-to-point start at Liscarroll on March 20, 2005. Owner Paul Barber and trainer Paul Nicholls were impressed and bought the gelding privately, reportedly for £82,000, and he has never finished out of the first two in 17 completed starts. His debut season in Britain produced four straight wins, scoring in novice hurdles at Wincanton in October and November, 2005, and landing the Grade One Challow Hurdle at Cheltenham in January, 2006, as well as collecting a minor event at Bangor the following month. His only defeat that season came when second in the 2006 Neptune Investment Management Novices' Hurdle at the Cheltenham Festival. His novice chasing career began at Exeter in October, 2006, with an easy victory over 2005 JCB Triumph Hurdle victor Penzance and was followed by a three quarters of a length verdict over Don't Push It in the Jim Brown Memorial Novices' Chase at Cheltenham the following month. Denman comfortably saw off three rivals to land the Grade Two Berkshire Novices' Chase at Newbury in December and returned to the course for a facile success in a three-mile event in February, 2007. He extended his winning sequence to five with an emphatic success at The Festival in the 2007 RSA Chase, slamming Snowy Morning by 10 lengths. Nicknamed 'The Tank', he began the 2007/08 season in December with a foot-perfect display to win the Hennessy Cognac Gold Cup at Newbury under top-weight, ridden by Sam Thomas, and then travelled to Ireland for the Grade One Lexus Chase at Leopardstown later that month, when he proved too good for rivals Mossbank, The Listener and Beef Or Salmon. He returned to Newbury in February, 2008, easily accounting for three rivals in the Grade Two Aon Chase. The 2008 totesport Cheltenham Gold Cup was billed as a match between Denman and his stable companion, the reigning champion Kauto Star. Denman was an awesome sight as he took up the running a long way from home and powered clear of his rival for a seven-length success. Denman missed the first half of the 2008/09 season after being treated for a fibrillating heart and made his belated comeback at Kempton on February 17 when - sent off at 8/11 - he trailed in 23 lengths behind Madison Du Berlais. But the chaser is a champion with true courage and he returned to something nearer his best in the 2009 totesport Gold Cup, staying on to take second, 13 lengths behind the brilliant winner, Kauto Star. Denman then went to Aintree for the totesport Bowl but was never travelling on the tight track and took a crashing fall two fences from home. Denman faced a formidable task on his first start of the 2009/10 season as he lined up for the Hennessy Cognac Gold Cup at Newbury under top-weight of 11st 12lb. The remarkable gelding repeated the feat of two years earlier with a second triumph in the race as he defeated subsequent Grade One winner What A Friend by three and a half lengths, despite conceding 22lb to that rival. In the AON Chase at Newbury on February 13, Denman was not in the same formidable form. A mistake four out cost him the lead and as he attempted to reassert, the 10-year-old blundered at the next fence, unseating new jockey Tony McCoy.
Paul Barber and Margaret Findlay
Paul Barber's family have farmed near Ditcheat since the 1830s and he oversees a 2,000-strong dairy herd on 3,000 acres, having started with 150 cows on 150 acres that now produce 45 tonnes of cheese daily for Barbers and Maryland Farmhouse Cheese, run by Paul's brother Nicholas. Paul - who has been allergic to cheese since the age of five - was born on December 31, 1942, on the kitchen table in the house where he still lives, stating "I've never thought about living elsewhere" and despite no family involvement with racing, has been an owner since his purchase in 1958 of a horse that cost £450 and had to be paid for instalments. He has never owned a Flat horse and his first winner was Crazy Slave, who scored in 1963. His main flagbearers before Denman are headed by the 1999 totesport Cheltenham Gold Cup winner See More Business. He paid £82,000 for Denman and refuses to pay over the odds for a horse after being stung when making a couple of expensive purchases following See More Business's success. "Back then I bought a couple of horses which to my mind cost too much money. One thing all horses have in common are that they are bloody expensive," he said recently. Others to carry his colours include See More Indians, who won eight races out of 14, and the John Thorne-trained Artifice. Barber owns Nicholls's Manor Farm Stables, initially converted from a cow shed, and his house overlooks Denman's stable. Many of his best performers have had an initial grounding in point-to-points, either with Liam Burke in Ireland or Barber's brother Richard - who has trained four Festival winners - at Seaborough in Dorset. Barber's partner in many of his horses is professional gambler Harry Findlay. Denman, like many of Findlay's horses, runs in the name of his mother Margaret, like his late father a former nurse from Glasgow. The London-born Findlay, who lives near Bath, is a one-time greyhound trainer who is now best known as a fearless high-stakes punter. He is a regular winner of the Tote's Scoop 6 bet and specialises in long odds-on bets on Betfair but met his biggest reverse when losing £2.7 million after backing New Zealand to win the 2007 Rugby World Cup. He met Paul Barber at Doncaster sales and the duo have teamed up to own a number of promising performers which - apart from Denman - include Racing Post Chase winner Gungadu, Desert Quest, who landed the 2006 Vincent O'Brien County Handicap Hurdle and Big Fella Thanks, named after his best greyhound.
totesport Cheltenham Gold Cup wins: 1999 SEE MORE BUSINESS (owned by Paul Barber and John Keighley), 2008 DENMAN