Ribblesdale Stakes

Group 2, Ascot 15:40
£200,000 added,
3yo only,
1m 3f 211y, Class 1  
Thursday 21st June 2018
1 Magic Wand 10/3
2 Wild Illusion 9/4F
3 Sun Maiden 3/1
10 ran Distances: 4l, 1½l, 2½l
Time: 2m 28.52s (slow by 0.02s)
Another one for Ryan Moore and Aidan O'Brien with Magic Wand
Magic Wand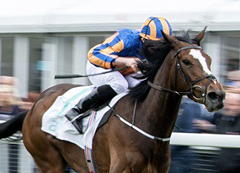 The Ryan Moore-ridden filly, a daughter of Galileo, was sent off at 100/30 and beat the Charlie Appleby-trained 9/4 favourite Wild Illusion into second.
Magic Wand was always prominent throughout the mile and a half race and came to the front after rounding the turn into the home straight. She quickly drew clear of the field and won impressively by four lengths in 2min 28.52s.
It takes O'Brien to the top of the QIPCO Royal Ascot Top Trainer Award with three wins for the week, and means he has now trained a total of 64 Royal Ascot winners.
Ribblesdale Stakes (Fillies' Group 2)
£200,000 added, 3yo only, 1m 3f 211y, Class 1
10 ran
Going: Good to Firm
Pos
Dr
D
Horse SP
Jockey Weight
Trainer
Age
1st
(1)
Magic Wand (IRE) 10/3
R L Moore
9-0
A P O'Brien
3
2nd
(7)
4
Wild Illusion 9/4f
W Buick
9-3
C Appleby
3
3rd
(10)
1&frac12
Sun Maiden 3/1
James Doyle
9-0
Sir Michael Stoute
3
4th
(3)
2&frac12
Athena (IRE) 12/1
D O'Brien
9-0
A P O'Brien
3
5th
(5)
2&frac12
Perfect Clarity 10/1
A Kirby
9-0
C G Cox
3
6th
(9)
nk
Highgarden 10/1
L Dettori
9-0
J H M Gosden
3
7th
(8)
&frac34
Lady of Shalott 33/1
J P Spencer
9-0
D M Simcock
3
8th
(4)
&frac12
Sarrocchi (IRE) 25/1
W M Lordan
9-0
A P O'Brien
3
9th
(2)
1&frac34
Dancing Brave Bear (USA) 16/1
Andrea Atzeni
9-0
E F Vaughan
3
10th
(6)
1&frac34
Sizzling (IRE) 33/1
J A Heffernan
9-0
A P O'Brien
3

RIBBLESDALE STAKES WINNERS
YR/DATE GR WINNER TRAINER JOCKEY OWNER AGE/WGT SP
17/22/06 2 CORONET John Gosden Olivier Peslier Denford Stud 3-9-00 9/1
16/16/06 2 EVEN SONG Aidan O'Brien IRE Ryan Moore Sue Magnier, Michael Tabor & Derrick Smith 3-9-00 15/8F
15/18/06 2 CURVY David Wachman IRE Ryan Moore Sue Magnier, Michael Tabor & Derrick Smith 3-9-00 9/2
14/19/06 2 BRACELET Aidan O'Brien IRE Joseph O'Brien Michael Tabor, Derrick Smith& Sue Magnier 3-9-00 10/1
13/20/06 2 RIPOSTE Lady Cecil Tom Queally Khalid Abdullah 3-8-12 9/2
12/21/06 2 PRINCESS HIGHWAY Dermot Weld IRE Pat Smullen Moyglare Stud Farms Ltd 3-8-12 17/2
11/16/06 2 BANIMPIRE Jim Bolger IRE Kevin Manning Jackie Bolger 3-8-12 3/1F
10/17/06 2 HIBAAYEB Saeed bin Suroor Frankie Dettori Godolphin 3-8-12 4/1JF
09/18/06 2 FLYING CLOUD Saeed bin Suroor Frankie Dettori Godolphin 3-8-12 5/1
08/19/06 2 MICHITA John Gosden Jimmy Fortune Stonerside Stable LLC 3-8-12 100/30F
07/21/06 2 SILKWOOD Michael Jarvis Philip Robinson Sheikh Mohammed 3-8-12 4/1
06/22/06 2 MONT ETOILE William Haggas Michael Hills Tony Hirschfeld/Des Scott/Lester Piggott 3-8-12 25/1
*05/16/06 2 THAKAFAAT John Dunlop Willie Supple Hamdan Al Maktoum 3-8-11 22/1
04/17/06 2 PUNCTILIOUS Saeed bin Suroor Frankie Dettori Godolphin 3-8-11 9/2
03/19/06 2 SPANISH SUN Sir Michael Stoute Richard Hughes Khalid Abdullah 3-8-11 9/2
02/20/06 2 IRRESISTIBLE JEWEL Dermot Weld IRE Pat Smullen Moyglare Stud Farms Ltd 3-8-08 12/1
01/21/06 2 SAHARA SLEW John Oxx IRE Johnny Murtagh Lady O'Reilly 3-8-08 14/1
00/22/06 2 MILETRIAN Mick Channon Michael Roberts Miletrian Plc 3-8-08 10/1
99/17/06 2 FAIRY QUEEN Saeed bin Suroor Frankie Dettori Godolphin 3-8-08 8/1
98/18/06 2 BAHR Saeed bin Suroor Frankie Dettori Godolphin 3-8-08 13/8F
97/19/06 2 YASHMAK Henry Cecil Kieren Fallon Khalid Abdullah 3-8-08 7/2
96/20/06 2 TULIPA Andre Fabre FR Sylvain Guillot Sheikh Mohammed 3-8-08 15/2
95/22/06 2 PHANTOM GOLD Lord Huntingdon Frankie Dettori H M The Queen 3-8-08 5/1
94/16/06 2 BOLAS Barry Hills Pat Eddery Khalid Abdullah 3-8-08 3/1F
93/17/06 2 THAWAKIB John Dunlop Willie Carson Hamdan Al Maktoum 3-8-08 5/2F
92/18/06 2 ARMARAMA Clive Brittain Michael Roberts Charles Olley 3-8-08 5/2F
91/20/06 2 THIRD WATCH John Dunlop John Reid Peter Goulandris 3-8-08 20/1
90/21/06 2 HELLENIC Michael Stoute Walter Swinburn Lord Weinstock 3-8-08 6/1
89/22/06 2 ALYDARESS Henry Cecil Steve Cauthen Sheikh Mohammed 3-8-09 4/1
88/16/06 2 MISS BONIFACE Paul Kelleway Cash Asmussen Paul Kelleway 3-8-08 12/1
87/18/06 2 QUEEN MIDAS Henry Cecil Willie Ryan Louis Freedman 3-8-08 9/1
86/19/06 2 GULL NOOK John Dunlop Pat Eddery Lord Halifax 3-8-08 8/1
85/18/06 2 SALLY BROWN Michael Stoute Walter Swinburn Bob Cowell 3-8-07 7/1
84/19/06 2 BALLINDERRY Jeremy Tree Tony Ives Khalid Abdullah 3-8-07 9/2
83/14/06 2 HIGH HAWK John Dunlop Willie Carson Sheikh Mohammed 3-8-07 7/1
82/15/06 2 DISH DASH Robert Armstrong Bruce Raymond John Bryce 3-8-07 6/1
81/16/06 2 STRIGIDA Henry Cecil Lester Piggott Lord Howard de Walden 3-8-07 5/1
80/17/06 2 SHOOT A LINE Dick Hern Willie Carson R Budgett 3-8-11 5/2JF
79/19/06 2 EXPANSIVE Dick Hern Willie Carson H M The Queen 3-8-03 11/2
78/20/06 2 RELFO Paddy Prendergast IRE Christy Roche Lord Granard 2-8-10 12/1
77/14/06 2 NANTICIOUS Dermot Weld IRE Walter Swinburn Mrs Bertram R Firestone 3-8-10 15/2
*run at York