Banimpire Shines in Ribblesdale Stakes
16/06/11
1 Banimpire 3/1F
2 Field Of Miracles 16/1
3 Dorcas Lane 10/1
12 ran Distances: shd, 7l, 6l
TIME 2m 37.06s (slow by 7.06s)
The gutsy Banimpire fought off Field Of Miracles to win the Ribblesdale Stakes by a short-head just four days after her last victory at Cork on Sunday.
Banimpire (Kevin Manning outside)
gets up in the dying strides to collar Field of Miracles (Richard Hughes)


© racing-images.co.uk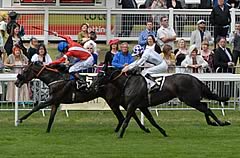 "After she won at Cork, it was always the plan to come here and we had hoped that she came out of that run alright. We used Cork instead of giving her a blow out at home - I have done it before and done it successfully," said winning trainer Jim Bolger, whose wife Jackie owns the filly.

"She's a very gross filly, she eats and sleeps and does nothing else at home, she won't mind me saying that. The only times she exerts herself a bit is on the racecourse and we can't get her to do much work at home.

"We would have preferred good ground and she didn't handle it too well today but she got there anyway. She is very courageous and gutsy and she stuck at it. She takes her racing well but that was a bit tougher than I expected but I suppose the going had a bit to do with that. She's not wild about soft ground but her courage and stamina got her through.

"Going to Cork and then here was very much on the agenda since she won at Naas. We'll freshen her up until Monday and then she'll be off again. Today's race was a bit like Alexander Goldrun and Ouija Board in the Nassau Stakes at Goodwood but this time we have come out on the right side.

"She's a late developer and will go for the Irish Oaks but I will probably find a race for her in between just to keep her pipes clean. After that, we might do what the French do and give her a little break and have her back for the Prix de l'Opera."

Jockey Kevin Manning added: "She is very tough and improving all of the time. The ground maybe wasn't ideal for her - I travelled very well on her but, when I asked her to quicken from the home straight, I just had to dig deep on her. She usually shows me a little bit more of a turn of foot but I think that she wasn't as effective on the ground. All her winning has been on a quicker surface and she's a tough, improving filly.

"I always felt, knowing her turn of foot, that she would pick up the second, but she didn't pick up as well as I first thought because of the ground.

"Jim usually pitches horses up and they are in tip-top shape - he knows what he is doing. He said after she won at Cork that she would be going for the Ribblesdale and it was never even a question mark about her coming here. She is a very tough individual and going to right way.

"A Group One looks the natural step now and, while it's up to the boss, the Irish Oaks has always been the long-term plan.

"I thought that the ground was quite slow down the back and it was very slow from the time we left the gate right down to Swinley Bottom and across the bottom down into the straight - the straight is definitely the best of it."
Position

Horse
Trainer
Jockey
Weight
Starting Price
Beaten Distance
1

Banimpire
J S Bolger
K J Manning
8st 12lbs
3 - 1
Winner
2

Field Of Miracles
J H M Gosden
R Hughes
8st 12lbs
16 - 1
Short Head
3

Dorcas Lane
Mrs L Wadham
P Hanagan
8st 12lbs
10 - 1
7 lengths
4

Look At Me
A P O'Brien
R L Moore
8st 12lbs
12 - 1
6 lengths
5

Zain Al Boldan
M R Channon
K Fallon
8st 12lbs
8 - 1
4 lengths
6

Rumh
S bin Suroor
L Dettori
8st 12lbs
7 - 2
6 lengths
7

Highest
J H M Gosden
William Buick
8st 12lbs
9 - 1
18 lengths
8

Musharakaat
E A L Dunlop
R Hills
8st 12lbs
33 - 1
5 lengths
9

Arizona Jewel
H R A Cecil
T P Queally
8st 12lbs
14 - 1
9 lengths
10

Make My Heart Sing
A P O'Brien
P J Smullen
8st 12lbs
14 - 1
1 3/4 length
11

Creme Anglaise
M L W Bell
Hayley Turner
8st 12lbs
14 - 1
1 1/2 length
12

Sunday Bess
Tom Dascombe
R Kingscote
8st 12lbs
40 - 1
6 lengths
MIRACLE ALMOST IN A FIELD OF HER OWN

Jockey Richard Hughes committed Field Of Miracles on the final bend in the Ribblesdale Stakes and the ploy came within a short-head of success.
Only Banimpire proved too good, cutting down the runner-up in the final furlong, but trainer John Gosden was satisfied with Field Of Miracles' effort.
Gosden, who also ran seventh-placed Highest, said of the runner-up: "She ran a great race and was coming back at the winner near the line. I like to see a filly coming back and trying to nail the winner.
"Highest couldn't handle the ground - it was like she was on an ice rink. She found it too loose."
Stephen Kemble, breeder and joint-owner of third-placed Dorcas Lane, was delighted with his filly's performance, not least because his early aspirations were to win a hurdle race with the daughter of Norse Dancer.
Trainer Lucy Wadham subsequently reported Dorcas Lane was showing more than a little promise at home, a view that was borne out by today's placing. Kemble said: "We were thinking of running her in a hurdle race at Auteuil, and so ran her in January to get her ready for an assignment in February or March.
"The strange thing is Lucy told us last summer that she thought the filly was good enough for Royal Ascot, although she had a few niggling problems that prevented her running at two.
"She's progressing, but she hated the ground today despite finishing well clear of the fourth. We'll think about the Yorkshire Oaks next."