Ribblesdale Stakes

Group 2, Ascot 15:40
£200,000 added,
3yo only,
1m 3f 211y, Class 1  
Thursday 22nd June 2017

1 Coronet 9/1
2 Mori 2/1F
3 Hertford Dancer 16/1
12 ran Distances: nk, 1l, 1½l
Time: 2m 32.06s (slow by 3.56s)
Coronet stays on strongly under Olivier Peslier to collar Mori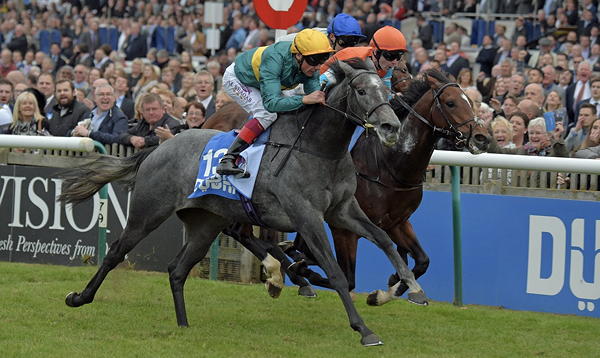 Coronet beats Mori @Ladbrokes
Coronet's last-gasp victory in the Ribblesdale Stakes was the 42nd Royal Ascot win for her trainer John Gosden - but his first of this year's Royal Meeting.
The Dubawi filly snatched triumph in the shadow of the post by a neck from 2/1 favourite Mori, denying Sir Michael Stoute a record-breaking 76th Royal Ascot win.
"My God, I've never seen a pace like that for a mile and a half race," said Gosden. "The boys said the track was riding better today, because obviously they watered last night, five millilitres, then we got the cloud cover, which held the moisture in. In the last two days the water they put on at night had been sucked out by noon by the wind and the heat. It's interesting that they say it is riding better today.
"Coronet is a lovely filly. I thought the third filly [Hertford Dancer, also trained by Gosden] had got it won; she's a very game filly and was ridden well. It was a great run and I'm delighted with her. 
"I told Olivier [Peslier, who rode her] that this filly would come strong - I thought Mori was going to win and then Olivier came and grabbed it. 
She's a tough filly. She loved the uphill at Epsom [in the Oaks, where she finished fourth] but not downhill. It was a good run and she deserved this success, and the second is an exceptionally good filly as well.
" It was a proper, true Ribblesdale - I think Mori was the one and Alluringly [sixth] fought a lot of fights - but it was still a high-class race."
The injury suffered by jockey Frankie Dettori last week at Yarmouth causing him to miss the Royal Meeting became Olivier Peslier's gain and the spare ride gave him a 16th Royal Ascot success.
"I could take my time on her and the race went well for her," said Peslier. "There was a good pace, but the leader was a bit too far in front so no one wanted to follow her. There was a horse on my outside, number nine I think, who lost her saddle, so I wasn't very comfortable at that point. I tried to stay behind her, I was not quite sure where she was going to go.
"The strong pace was a big help for me. When you win, you say the ground is OK and everything is fine but, just before the last corner, I didn't really have the gap. I prefer it when the filly is coming slowly and I didn't want to push too hard with her.
"John said that she would take a bit of time but when she comes, she comes well. This was the reason I didn't panic, took a bit of time and came back late. I am very patient and I didn't want to kill her between horses - I preferred to take my time.
"John said Coronet would finish well, he said to be careful because she takes some time to change gear, but she's finished like a French horse.
"The ground has been watered, so it rode less firm than yesterday."
Ribblesdale Stakes (Fillies' Group 2)
£200,000 added, 3yo only, 1m 3f 211y, Class 1
12 ran
Going: Good to Firm (Watered)
Pos
Dr
D
Horse SP
Jockey Weight
Trainer
Age
1st
(1)
Coronet 9/1
O Peslier
9-0
J H M Gosden
3
2nd
(10)
nk
Mori 2/1f
P J Smullen
9-0
Sir Michael Stoute
3
3rd
(8)
1
Hertford Dancer 16/1
Jim Crowley
9-0
J H M Gosden
3
4th
(12)
1&frac12
Rich Legacy (IRE) 40/1
Oisin Murphy
9-0
R M Beckett
3
5th
(9)
1&frac14
Apphia (IRE) 66/1
James Doyle
9-0
H Palmer
3
6th
(4)
2&frac14
Alluringly (USA) 5/2
R L Moore
9-0
A P O'Brien
3
7th
(3)
&frac12
Coconut Creme 20/1
P Cosgrave
9-0
W J Haggas
3
8th
(5)
nse
The Sky Is Blazing (IRE) 20/1
S De Sousa
9-0
W J Haggas
3
9th
(11)
1&frac14
Serenada 16/1
Andrea Atzeni
9-0
R Varian
3
10th
(6)
s.h
Gracious Diana 20/1
A Kirby
9-0
J H M Gosden
3
11th
(2)
5
Astronomy's Choice 16/1
W Buick
9-0
J H M Gosden
3
12th
(7)
9
Naughty Or Nice (IRE) 7/1
D P McDonogh
9-0
J M Oxx
3

MORI A FINE SECOND
Sir Michael Stoute's strongly supported 2/1 favourite Mori was an agonising neck second to Coronet.
Off a fast pace set by William Haggas' The Sky Is Blazing, Mori made up excellent ground towards the outside of the field to lead briefly, but was collared close home by Gosden's charge under a well-timed Olivier Peslier ride, with the narrow finish drawing huge cheers from the crowd at Royal Ascot.
Coronet's stable companion Hertford Dancer, who surged to the front in the home straight, finished a length behind Mori in third.
Stoute was pleased with the daughter of Frankel's performance, commenting: "She has run a great race. She has just been beaten by a more experienced filly who was able to get the better of her but we are delighted with the run.
"She needs about this trip [12 furlongs] for now. We brought her up to a mile and a half thinking that she would get the trip and she did."
Teddy Grimthorpe, racing manager to Khalid Abdullah, said: "You saw what you saw, she has run a really decent race and has been nabbed on the line."
Pat Smullen, jockey of Mori, added: "She has run a excellent race and is progressive. It is just unfortunate I couldn't hold on to the turn of foot of the winner. She  nabbed me late."
John Gosden said: "I thought Hertford Dancer had the race won - she ran a great race and was ridden well.
"She ran a gorgeous race. We went a bit bold and the owners said they wanted to run as that is what Royal Ascot is all about.
"There are some very nice races left for the rest of the season to target and they deserve to take their chances."