Diamond Jubilee Stakes

Group 1, Ascot 16:20
£600,000 added,
3yo plus,
6f, Class 1  
Saturday 24th June 2017

1 The Tin Man 9/2
2 Tasleet 7/1
3 Limato 2/1f
4 Librisa Breeze 11/1
19 ran Distances: nk, ¾l, 1¼l
Time: 1m 12.02s (fast by 0.38s)
The Tin Man wins the Diamond Jubilee from Tasleet and Limato
The Tin Man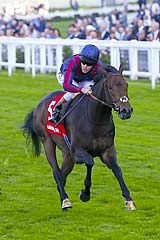 The James Fanshawe-trained The Tin Man gained his second success at G1 level with a thrilling victory.
Ridden by Tom Queally, the five-year-old son of Equiano was held up early on in the six-furlong event but having thread a passage towards the far-side rail at the two furlong pole, the imposing gelding stayed on tenaciously despite drifting left, to score by a neck from the fast-finishing
Tasleet
, trained by William Haggas in second, with Henry Candy's well-supported 2/1 favourite
Limato
a further three-quarter lengths behind in third.
A stewards' enquiry was called concerning interference between the first three horses, but the placings remained unaltered. 
The Tin Man is owned by the Fred Archer Racing Syndicate, which was set up by Fanshawe's wife Jacko, whilst the Newmarket handler trains at a yard built by the famous jockey.
The gelding also won the G1
QIPCO Champion Sprint Stakes
at Ascot on QIPCO Champions Day in October and was gaining his third victory at the track. The Tin Man [groom, Oleg Sheyets] also won the best turned out award.
Fanshawe, registering his 10th victory at the Royal Meeting and second success in the contest [
Society Rock
, 2011], said: "I am a very relieved man. I am extremely grateful for The Tin Man, for giving a fantastic performance. This horse doesn't tell you a thing back home. He just has a buck and a kick and does none of his homework.
"Tom gave him the most beautiful ride today. The Tin Man is a star horse and we are lucky to have him. Tom has proved that there is no man better in the big races than him and he rode the horse beautifully today - it's great for the yard as well.
"There is no place like Royal Ascot to train G1 winners. To have a horse of that calibre, with the Fred Archer Partnership, is really exciting. The horse is so laidback but, when he produces that sort of performance, it is absolutely thrilling. He is the best older horse - I am not sure about the three-year-olds - but he has done it twice now. He won the Champion Sprint last year and the Diamond Jubilee this year. He is a very, very good horse.
"That was a huge relief as The Tin Man shows nothing at home. He is obviously a very good horse, he is the best older sprinter around now as he has proved in this race and here in the QIPCO Champions Sprint in October. I'm really proud of the horse.
"He loves Ascot, I think it's the third time he has won here and it suits his style, as likes to come from off the pace. His acceleration really comes to the fore here. I was concerned about the ground today but Tom said when he won at Newbury [July 16] last year it was like the road, so he put me at ease about that.
"The Tin Man was the first horse we beat for the Fred Archer Syndicate and he is the top-rated sprinter, so he is a great advert for the syndicate and Fred Archer also built my yard! We have been a bit thin on the ground with runners this year, but it doesn't matter when you have a horse like The Tin Man to get you out of jail."
The Tin Man has potentially set up a mouth-watering clash with Aidan O'Brien's G1
Commonwealth Cup
winner
Caravaggio
in the
July Cup
[July 15] at Newmarket, for which he is a 6/1 shot with
Coral
. However, Fanshawe is keen to see how the horse comes out of today's contest before moving forward.
He continued: "I'll see how he comes out of this race. He is entered in the July Cup, it's the obvious target but we will play it by ear. Things have come right for him at Ascot this year and he is in good form at the moment. There looks to be a good three-year-old around the place [Aidan O'Brien's Caravaggio] so we'll see what happens later in the year.
"He is great for the yard and a great horse to have. I'm sure we will meet with Caravaggio at some point this year and let's just hope The Tin Man is in one piece when they do meet up."
Diamond Jubilee Stakes (Group 1)
(British Champions Series & Global Sprint Challenge)
£600,000 added, 3yo plus, 6f, Class 1
19 ran
Going: Good to Firm, Firm in places
Pos
Dr
D
Horse SP
Jockey Weight
Trainer
Age
1st
(3)
The Tin Man 9/2
T P Queally
9-3
J R Fanshawe
5
2nd
(12)
nk
Tasleet 7/1
Jim Crowley
9-3
W J Haggas
4
3rd
(15)
&frac34
Limato (IRE) 2/1f
R L Moore
9-3
H Candy
5
4th
(10)
1&frac14
Librisa Breeze 11/1
R Winston
9-3
D K Ivory
5
5th
(7)
&frac34
Finsbury Square (IRE) 40/1
O Peslier
9-3
F Chappet
5
6th
(1)
&frac12
Tupi (IRE) 66/1
S M Levey
9-3
R Hannon
5
7th
(9)
nse
Suedois (FR) 25/1
D Tudhope
9-3
D O'Meara
6
8th
(11)
&frac12
Aclaim (IRE) 25/1
J P Spencer
9-3
M Meade
4
9th
(16)
1
Al Jazi (IRE) 33/1
Gregory Benoist
9-0
Francois Rohaut
4
10th
(8)
nk
Kachy 33/1
R Kingscote
9-3
Tom Dascombe
4
11th
(2)
s.h
The Right Man 14/1
FX Bertras
9-3
Guillemin (s)
5
12th
(14)
6
Long On Value (USA) 14/1
Joel Rosario
9-3
William Mott
6
13th
(6)
hd
Comicas (USA) 33/1
W Buick
9-3
C Appleby
4
14th
(5)
s.h
Dancing Star 25/1
David Probert
9-3
A M Balding
4
15th
(4)
4&frac12
Windfast (IRE) 66/1
S De Sousa
9-3
B J Meehan
6
16th
(19)
12
Mobsta (IRE) 100/1
P J Smullen
9-3
M R Channon
5
17th
(13)
1&frac12
Kassia (IRE) 100/1
G Lee
9-0
M R Channon
4
18th
(18)
4&frac12
Magical Memory (IRE) 8/1
James Doyle
9-3
C Hills
5
Also Ran: Growl (unshipped jockey before leaving stalls)

DIAMOND JUBILEE STAKES WINNING JOCKEY
The James Fanshawe-trained The Tin Man survived a stewards' enquiry to land today's feature race, giving Tom Queally his first win of the 2017 Royal Meeting and his seventh in total.
The first three jockeys past the post were called into the stewards' room but Queally said he was confident he would keep the race.
Queally said: "He's a pretty great horse and exceptional in this division. He stamped his authority on them there. 
"You're only as good as the horse you're on and it's nice to have a horse of this calibre to come to the big meetings with. This is what it's all about."
This was Queally's first Royal Ascot winner since 2013. 
"James is an exceptional trainer, he's had less than a handful of runners this week and that's not by choice it's because he wants to run horses that can win them. He's a talented trainer and if he had 20 horses that were capable of being here, they'd be here."
The former Frankel jockey paid tribute to all those who work behind the scenes: "I'm delighted for Jacko [Fanshawe] and all the team - the Fred Archer syndicate [which owns The Tin Man] is her initiative - the people in the office, on the yard, day in, day out.
"It's hard to get rides, it's hard to get runners and it's even harder to have winners, so it's fantastic." 
TASLEET PROVES HIMSELF GROUP ONE CLASS
Tasleet, stepping up to Group One company for the first time, acquitted himself with honours when second by a neck. He also survived a stewards' enquiry into a couple of bumps between the first three finishers - The Tin Man, Tasleet and Limato - in the final 100 yards, the placings remaining unaltered after the enquiry.
Tasleet is trained by William Haggas and was ridden by Jim Crowley
"He's run very well, there was little bit of a bump at the end, but he's run well," said Crowley of the 7/1 chance.
"I am delighted with how the horse has run," said Haggas of the four-year-old colt by Showcasing. "To run and win on soft ground last time, and to run like that on fast ground today, proves that I have been an idiot not running him over six furlongs until today! He's a good horse.
Of the final furlong bumps, Haggas said: "I don't know, it's one of those things. Jim said there was a hell of a headwind and they were all over the place, but my mate's won the race, so I can swallow that!"
Tasleet won the G2 Duke Of York Stakes in May at York - his first run since 2015 in Group race company.
Angus Gold, racing manager to owner Sheikh Hamdan al Maktoum, said: "He's run a huge, fantastic race. The horse has improved this year, he had very little racing last year, but he's just improved and improved this season.  
"He has a great attitude, he loves racing and he gave his all.
"It is frustrating to finish second - to get that close and just miss - as we've had no winners in the week, but he is an exciting horse to move forward with. 
"We know he stays that little bit further, whether Sheikh Hamdan wants to go to the July Cup or the Maurice de Gheest, which is a great idea of William's, we'll see. And, as we know he can handle soft ground, hopefully we come back here in October for the QIPCO Champion Sprint Stakes, all being well."
That could be a serious end-of-season target to look forward to - the race was won in 2016 by today's conqueror, The Tin Man.
CANDY PLEASED WITH LIMATO
Henry Candy, the trainer of third-placed Limato, wasn't looking for excuses.
Limato, the 2/1 favourite ridden by Ryan Moore, looked to be a little squeezed for space as the winner The Tin Man edged left in the closing stages.
But Candy said: "Ryan said he was third best at that stage - end of story.
"If anything, he had to go pretty much too soon. He had to go a little bit early on the horse."
Candy, though, was very pleased with Limato's effort after below-par runs in Santa Anita and Meydan.
The trainer is now weighing up whether Limato will stay at six furlongs and tackle the July Cup - or contest the seven-furlong
Lennox Stakes
next.
He said: "I'm delighted with his run. It's good to have Santa Anita and Dubai out of the way - he's back on track.
"It will be a toss-up (next) between the July Cup and the Lennox. Ryan is rather in favour of the July Cup, which is quite surprising as he would be on Caravaggio in that.
"I know that the horse gets seven furlongs - he won the Foret and was second in that."
Dean Ivory, trainer of fourth-placed Librisa Breeze, said: "He has been off for a while - he hadn't had a run this year - so I'm absolutely delighted with him. We haven't thought beyond today."  
MOTT HAPPY AFTER LONG'S RUN
Bill Mott, trainer of American challenger Long On Value, who made the long trip over from the USA, was still positive even though his charge came home in 12th.
Mott reflected: "Our trip has been absolutely fantastic. Everyone has treated us with the utmost helpfulness and respect. We haven't had a bad experience since we came here.
"Next year - or sometime in the future, we will come back."
As to Long On Value's run Mott said: "He certainly would have preferred to have worked into the right side [far side] of the course.
"Joel [Rosario} thought the horse would have worked better there, but we have no big excuse - it just wasn't his day."
Jockey Rosario, added: "He was just kind of even all the way. He didn't have a sharp break away at the start but he was kind of OK. 
"He always likes to come from off the pace.
"It looked like he didn't like one area [side of the course] and he just stayed even all the way."

THE DIAMOND JUBILEE STAKES
Past Results
2016-WINNER-TWILIGHT SON 4-9-03 Owner-Godfrey Wilson & Cheveley Park Stud; Trainer-Henry Candy; Jockey-Ryan Moore; SP-7/2
2ND-Gold-Fun 7-9-03 Owner-Sutong Pan; Trainer-Richard Gibson HK; Jockey-Christophe Soumillon; SP-7/1
3RD-Signs Of Blessing 5-9-03; Owner-I Corbani/Pandora Racing/A Mouknass; Trainer-Francois Rohaut FR; Jockey-Olivier Peslier; SP- 25/1
9 ran; Time-1m 13.44s; Dist-nk, sh 3/1 Fav Magical Memory (4th)
2015-WINNER-UNDRAFTED 5-9-03 Owner-Wes Welker & Sol Kumin; Trainer-Wesley Ward USA; Jockey-Frankie Dettori; SP- 14/1
2ND-Brazen Beau 3-9-03 Owner-On Track Racing; Trainer-Chris Waller AUS; Jockey-Craig Williams; SP-7/2 Jt Fav
3RD-Astaire 4-9-03 Owner-Angie Bailey; Trainer-Kevin Ryan; Jockey-Jamie Spencer; SP-25/1
15 ran; Time-1m 12.69s; Dist-1⁄2, 13⁄4 7/2 Jt Fav Mustajeeb (5th)
2014-WINNER-SLADE POWER 5-9-04 Owner-Sabena Power; Trainer-Edward Lynam IRE; Jockey-Wayne Lordan; SP-7/2F
2ND-Due Diligence 3-8-11 Owner-Michael Tabor, Derrick Smith & Sue Magner; Trainer-Aidan O'Brien IRE; Jockey-Ryan Moore; SP-5/1
3RD-Aljamaaheer 5-9-04 Owner-Hamdan Al Maktoum; Trainer-Roger Varian; Jockey-Paul Hanagan; SP-4/1
14 ran; Time-1m 12.40s; Dist-1½; hd
2013-WINNER-LETHAL FORCE 4-9-04 Owner-Alan Craddock; Trainer-Clive Cox; Jockey-Adam Kirby; SP-11/1
2ND-Society Rock 6-9-04 Owner-Simon Gibson; Trainer-James Fanshawe; Jockey-Kieren Fallon; SP-4/1 Fav
3RD-Krypton Factor 5-9-04 Owner-Fawzi Abdulla Nass; Trainer-Fawzi Nass BAH; Jockey-Luke Morris; SP-25/1
18 ran; Time-1m 13.36s; Dist-2, 1¾
2012-WINNER-BLACK CAVIAR 6-9-01 Owner-G J Wilkie, Mrs K J Wilkie et al; Trainer-Peter Moody AUS; Jockey-Luke Nolen; SP-1/6
Fav
2ND-Moonlight Cloud 4-9-01 Owner-George Strawbridge; Trainer-Freddy Head FR; Jockey-Thierry Jarnet; SP-5/1
3RD-Restiadargent 3-8-08 Owner-Guy Pariente; Trainer-Alex Pantall FR; Jockey-Maxime Guyon; SP-40/1
14 ran; Time-1m 14.10s; Dist-hd, nk
2011-WINNER-SOCIETY ROCK 4-9-04 Owner-Simon Gibson; Trainer-James Fanshawe; Jockey-Pat Cosgrave; SP-25/1
2ND-Monsieur Chevalier 4-9-04 Owner-Valerie Hubbard & Ian Higginson; Trainer-Richard Hannon; Jockey-Kieren Fallon; SP-25/1
3RD-Star Witness 4-9-04 Owner-Widden Stud; Trainer-Danny O'Brien AUS; Jockey-Steven Arnold; SP-4/1
16 ran; Time-1m 17.22s; Dist-½, 1¼ 3/1 Fav Bewitched (14th)
2010-WINNER-STARSPANGLEDBANNER 4-9-04 Owner-Michael Tabor/Derrick Smith/Sue Magnier/Ms Massey; Trainer-Aidan O'Brien
IRE; Jockey-Johnny Murtagh; SP-13/2 Jt Fav
2ND Society Rock 3-8-11 Owner-Simon Gibson; Trainer-James Fanshawe; Jockey-Pat Cosgrave; SP-50/1
3RD Kinsale King 5-9-04 Owner-Sheehy LLC; Trainer-Carl O'Callaghan USA; Jockey-Kieren Fallon; SP-8/1
24 ran; Time-1m 12.57s; Dist-1¾, hd 13/2 Jt Fav Fleeting Spirit (4th)
2009-WINNER-ART CONNOISSEUR 3-8-11 Owner-Richard Green; Trainer-Michael Bell; Jockey-Tom Queally; SP-20/1
2ND-Cannonball 4-9-04 Owner-Ken & Sarah Ramsey; Trainer-Wesley Ward USA; Jockey-Olivier Peslier; SP-11/1
3RD-Lesson In Humility 4-9-01 Owner-Michael Nelmes-Crocker; Trainer-Karl Burke; Jockey-Andrew Elliott; SP-33/1
14 ran; Time-1m 14.90s; Dist-nk, 2½ 5/2 Fav J J The Jet Plane (4th)
2008-WINNER-KINGSGATE NATIVE 3-8-11 Owner-John Mayne; Trainer-John Best; Jockey-Seb Sanders; SP-33/1
2ND-War Artist 5-9-04 Owner-Vintage Thoroughbreds; Trainer-James Eustace; Jockey-Kerrin McEvoy; SP-8/1
3RD-Sir Gerry 3-8-11 Owner-Mrs Gerry Galligan; Trainer-James Fanshawe; Jockey-Jamie Spencer; SP-20/1
17 ran, Time-1m 13.33s, Dist-1¼, ¾ 4/1 Fav Takeover Target (4th)
2007-WINNER-SOLDIER'S TALE 6-9-04 Owner-Budget Stable; Trainer-Jeremy Noseda; Jockey-Johnny Murtagh; SP-9/1
2ND-Takeover Target 8-9-04 Owner-Joe & Ben Janiak; Trainer-Joe Janiak AUS; Jockey-Jay Ford; SP-8/1
3RD-Asset 4-9-04 Owner-Highclere Thoroughbred Racing XXVI; Trainer-Richard Hannon; Jockey-Richard Hughes; SP-14/1
21 ran, Time-1m 14.51s, Dist-hd, ½ 2/1 Fav Miss Andretti (15th)
2006-WINNER-LES ARCS 6-9-04 Owner-Willie McKay; Trainer-Tim Pitt; Jockey-John Egan; SP-33/1
2ND-Balthazaar's Gift 3-8-11 Owner-Ryder Racing Ltd; Trainer-Kevin Ryan; Jockey-Jamie Spencer; SP-50/1
3RD-Takeover Target 7-9-04 Owner-Joe & Ben Janiak; Trainer-Joe Janiak AUS; Jockey-Jay Ford; SP-7/2 Fav
18 ran, Time-1m 13.12s, Dist-nk, 2
2005-WINNER-CAPE OF GOOD HOPE 7-9-04 Owner-Exors of the late R Carstairs; Trainer-David Oughton HK;
Jockey-Michael Kinane; SP-6/1
2ND-Galeota 3-8-11 Owner-John Lazzari; Trainer-Richard Hannon; Jockey-Ryan Moore; SP-15/2
3RD-Balmont 4-9-04 Owner-Sanford Robertson & Hatta Bloodstock; Jockey-Christophe Soumillon; SP-9/2 Fav
15 ran, Time-1m 8.58s Dist-hd, 1½ (run at York)
2004-WINNER-FAYR JAG 5-9-04 Owner-Jonathan Gill; Trainer-Tim Easterby; Jockey-Willie Supple; SP-12/1
2ND-Crystal Castle 6-9-04 Owner-J Raw; Trainer-John Hammond FR; Jockey-Kieren Fallon; SP-8/1
3RD-Cape Of Good Hope 6-9-04 Owner-Exors of the late R Carstairs; Trainer-David Oughton HK; Jockey-Michael Kinane; SP-13/2
14 ran, Time-1m 13.35s Dist-hd, hd 100/30 Fav Avonbridge (5th)
2003-WINNER-CHOISIR 4-9-04 Owner-Terry Wallace and Partners; Trainer-Paul Perry AUS; Jockey-Johnny Murtagh; SP-13/2
2ND-Airwave 3-8-08 Owner-Henry Candy and Partners; Trainer-Henry Candy; Jockey-Dane O'Neill; SP-11/8 Fav
3RD-Baron's Pit 3-8-11 Owner-Jeff and Kath Thomas; Trainer-Richard Hannon; Jockey-Jimmy Fortune; SP-50/1
17 ran, Time-1m 12.23s Dist-½, 1
2002-WINNER-MALHUB 4-9-04 Owner-Hamdan Al Maktoum; Trainer-John Gosden; Jockey-Kevin Darley; SP-16/1
2ND-Danehurst 4-9-01 Owner-Cheveley Park Stud; Trainer-Sir Mark Prescott; Jockey-Seb Sanders; SP-13/2
3RD-Three Points 5-9-04 Owner-Godolphin; Trainer-Saeed bin Suroor; Jockey-Frankie Dettori; SP-4/1
12 ran, Time-1m 14.34s, Dist- 1½, ½ 3/1 Fav Johannesburg (9th)