Kingsgate Native is the Sprint King
21/06/08
1st (18) Kingsgate Native 33-1
2nd (13) War Artist 8-1
3rd (20) Sir Gerry 20-1
17 ran
Also: 4-1 Fav Takeover Target 4th
NR: 9,12,19
Kingsgate Native


© racing-images.co.uk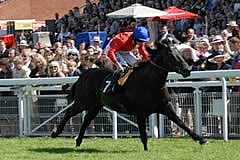 Just four days after the he had finished 10th in the King's Stand Stakes, Kingsgate Native ran the race of his life in the Group One Jubilee Stakes to bring Maidstone handler John Best his second success at this year's Royal Ascot, a victory the trainer celebrated wildly:
"I do get very excited when I have winners - it means so much - and to have winners here is the ultimate," he said.
Best, whose Flashmans Papers won the Windsor Castle Stakes on Tuesday at 100/1, completed a 3,433/1 double with Kingsgate Native's 33/1 success. "I thought that the 33/1 and 40/1 that were available were crazy prices about Kingsgate Native for what he had done last year," said the trainer.
Kingsgate Native had enjoyed considerable success as a two-year-old, including winning the Group One Nunthorpe Stakes at York, and the trainer admitted that he had plenty to live up to. "The weights were very much in his favour as a two-year-old and we didn't know if the form would translate as a three-year-old," he said.
Tuesday's King Stand run was the horse's first outing of the season and the trainer felt that the horse had run "with the choke out."
"Immediately after the race I said to the owners John Mayne and the Thompsons [David and Patricia, owners of the Cheveley Park Stud] that I didn't think we should rule out the Golden Jubilee. I didn't think we had anything to lose. He has done a good job to come back so quickly. He has been sat on once since Tuesday when cantering yesterday - apart from that he has been out in the field all the time, " the trainer said.
Two days before the race, the trainer booked jockey Seb Sanders to replace Jimmy Quinn who had ridden the horse in its last three outings. "I think we needed to try something different," said Best. "I feel sorry for Jimmy Quinn - he has done a lot of work on the horse. Hopefully, he will have a chance to get back on, if not on this one on some of my others. He could go to stud at the end of the year - a decision will have to be made to keep him in training after then. He should make a good stallion."
Sanders was very complimentary about his mount. "The horse was very professional, when I asked him the question he responded very well. They were tough horses that he was up against and this is a proper tough horse too. Once he had got his head in front there was only going to be one result. He is a very good sprinter." said the jockey.
The trainer now sees the July Cup at Newmarket as the obvious next target. "The six furlongs at Newmarket is three seconds slower than at Ascot, so he shouldn't have any trouble with that." The Nunthorpe is also in the trainer's plans.
Position

Horse
Trainer
Jockey
Weight
Starting Price
Beaten Distance
1

Kingsgate Native
J R Best
S Sanders
8st 11lbs
33 - 1
Winner
2

War Artist
J M P Eustace
K McEvoy
9st 4lbs
8 - 1
1 1/4 length
3

Sir Gerry
J R Fanshawe
J P Spencer
8st 11lbs
20 - 1
3/4 length
4

Takeover Target
J Janiak
J Ford
9st 4lbs
4 - 1
2 1/4 lengths
5

US Ranger
A P O'Brien
J Murtagh
9st 4lbs
6 - 1
1 length
6

Marchand D'or
F Head
D Bonilla
9st 4lbs
9 - 2
1/2 length
7

Astronomer Royal
A P O'Brien
C O'Donoghue
9st 4lbs
25 - 1
3/4 length
8

Zidane
J R Fanshawe
R Winston
9st 4lbs
25 - 1
Neck
9

Dark Missile
A M Balding
William Buick
9st 1lbs
40 - 1
3 lengths
10

Balthazaar's Gift
L M Cumani
J Fortune
9st 4lbs
20 - 1
3/4 length
11

Fat Boy
P W Chapple-Hyam
R L Moore
8st 11lbs
16 - 1
1/2 length
12

Seachange
Graeme Sanders
T E Durcan
9st 1lbs
22 - 1
4 1/2 lengths
13

Snaefell
M Halford
P J Smullen
9st 4lbs
100 - 1
4 lengths
14

Assertive
R Hannon
R Hughes
9st 4lbs
25 - 1
1/2 length
15

Aeroplane
P W Chapple-Hyam
A Munro
9st 4lbs
40 - 1
5 lengths
16

Diabolical
Saeed bin Suroor
L Dettori
9st 4lbs
33 - 1
1 1/2 length
17

Sakhee's Secret
H Morrison
S Drowne
9st 4lbs
5 - 1
4 lengths
NonRunner

Soldier's Tale
J Noseda
M J Kinane
9st 4lbs


NonRunner

Utmost Respect
R A Fahey
P Hanagan
9st 4lbs


NonRunner

Myboycharlie
T Stack
W M Lordan
8st 11lbs


WAR DELIGHTS EUSTACE
The globetrotting War Artist found just Kingsgate Native too good when runner-up in a great renewal of the Golden Jubilee Stakes.
"I was pleased that Takeover Target was drawn near us because he's always thereabouts and Kerrin tracked the right horse. It really paid off," said War Artist's trainer James Eustace.
"We can go on to the July Cup and then might have a crack at the Global Sprint Challenge. He's the right sort of horse to travel, he's a five-year-old gelding that takes everything in his stride. His connections are fairly international as well.
"I'm glad that he ran his race and I didn't mess up but it's tough being runner-up for a second time with him."
Trainer James Fanshawe was delighted with the third-place finish of Sir Gerry. "He'd been working very well and this was his ideal trip. He was really closing in on them going home and mentally he's getting better. He's improving.
"There's a good chance that he'll go for the July Cup but he has never run very well at Newmarket - it was rock hard in his second race there and then he didn't do that well in the Middle Park."
Australian raider Takeover Target finished in the first four on his sixth consecutive start at Royal Ascot when one place behind Sir Gerry.
"The ground was very firm the other day and that might just have jarred him up slightly," said Takeover Target's trainer Joe Janiak. "He was right up there but just didn't go on when the pressure was put on.
"He has a heart of gold and we'll see what the problem is and hope he can run in the July Cup."
Takeover Target's jockey Jay Ford added: "He ran well but was in a bit of a bad mood today, he had a bit of a bee in his bonnet and never showed his cutting dash. I wouldn't be surprised if something comes out of it after the race even though he was a creditable fourth."
DROWNE AT A LOSS OVER SAKHEE'S SECRET
Sakhee's Secret was sent off the 5/1 third choice in the betting for the Group One Golden Jubilee Stakes but was never a factor as he trailed home last of the 20 runners in the six-furlong showpiece.
Last season's July Cup winner was bumped and barged mid-race but Drowne was not offering that as an excuse.
He said: "He lost a front shoe but I was first beaten. The ground's not loose enough to say he would run that badly.
"It just wasn't his running."
Trainer Hughie Morrison said: "He was never going on the ground and we will take him home and hope to find something, he was beaten to early for that to be his running.
"The only time he has run badly before today was on fast ground that had been softened by rain like this."
Davy Bonilla partnered French raider Marchand D'Or to finish sixth for trainer Freddie Head.
He said: "Today he was a little bit nervous and keen. He doesn't like to be in the middle of horses like he was there and when I asked him to go he was empty.
"The pace was slow with people looking out for who was going to go on and it wasn't clear for me at the start.
"It wasn't the race I imagined in my head beforehand."