Diamond Jubilee Stakes

Group 1, Ascot 16:20
£525,000 added,
3yo plus,
6f, Class 1  
Saturday 20th June 2015
1 Undrafted 14/1
2 Brazen Beau 7/2JF
3 Astaire 25/1
4 Music Master 14/1
15 ran Distances: ½l, 1¾l, 1¼l
TIME 1m 12.69s (slow by 0.09s)

Undrafted, owned by NFL star Wes Welker, wins the Diamond Jubilee Stakes under Frankie Dettori
Trainer Wesley Ward was full of praise for jockey Frankie Dettori after he and five-year-old Undrafted got up near the post to win.

The winner, a 14/1 shot who scored by half a length and one and three-quarters of a length from the Australian runner and 7/2 joint-favourite Brazen Beau, and 25/1 outsider Astaire, became Ward's fifth Royal Ascot winner, but his first by a horse older than two. Undrafted carried the colours of American football star Wes Welker, who was unable to travel to Britain and was represented by his racing manager, Gatewood Bell.

Ward, who has yards in California and Florida, but has become by far the most frequent international trainer at Royal Ascot, described the victory as the biggest of his career, yet it came after a fraught night spent with his young daughter who was taken ill and admitted to Frimley Hospital. She was not kept in this morning and they both attended the races today.

Ward said: "We were in Frimley hospital all last night. I don't know what happened but my daughter got a touch of the bell's palsy. It's unbelievable and really special for this little girl, she really wanted to come out here and we were all night in the hospital. Fortunately enough, Derrick Smith sent over a wonderful doctor and we are here today to enjoy this special moment. It didn't look like we were going to make it but we did.

"I am just elated. This is the biggest race I've won - I've won Breeders' Cups and races here in the past, but to come here and be presented with a Group One trophy by the Queen was such a fantastic experience.

"The horse has been training unbelievably well and every week has been firing bullets at Keeneland, but I'll tell you what, Frankie is superb. You can have a Porsche against Porsches, but you still gotta have the right guy [at the wheel] and this is a magical guy. He's just a cool sitter and a go-getter as they say.

"It would have been so easy to lay up with this horse, but Frankie just sat back there, got him wide and came home with the rest. It was fantastic.

"Gatewood Bell, a wonderful bloodstock agent, picked the horse out as a yearling and I broke him in. Wes has been a dream owner and a fantastic guy to train for - it was like I owned the horse because I could do anything with him from the time he came to me. One of the reasons for the success is that if I want to give the horse a winter off like I did last year he's happy for that. It's a shame he's not here today.

"He's a tremendous horse at the top of his game. I've been on the phone to Frankie for weeks and weeks, telling him how good the horse is. I felt that given the right ride over the right trip we could get the job done and we did. We're going to sit down and talk about the July Cup [at Newmarket], but no decision has been made."

Brazen Beau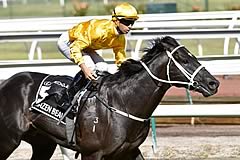 Pride was the principal emotion felt by Chris Waller after his charge Brazen Beau came so close to being the third Australian raider to take the Diamond Jubilee Stakes, after Choisir (2003) and Black Caviar (2012). The four-year-old went under in the last few strides, beaten half a length by USA challenger Undrafted.

"He has done us so proud," said Waller. "To get so close may be frustrating tonight, but right now I'm so pleased with the way he ran, and to be part of such a special occasion. It has just been a privilege to be here, and everyone has done all they can to help."

Brazen Beau (7/2 joint-favourite with Mustajeeb) and Craig Williams broke from the stall nearest the stands and raced solo for much of the race. "Maybe the barrier draw did him no favours - it might have been a bit tough for him to be out on his own. But it so very nearly wasn't a problem, and full credit to the winner."

Brazen Beau, a son of I Am Invincible, will retire to stud under Sheikh Mohammed's Darley banner after his next race, the Darley July Cup at Newmarket. "The horse is a dream horse to look after, a complete professional," added Waller, "and I hope the July Cup will give us a second chance."

Williams added: "Unfortunately we didn't have that little bit more punch at the end of the race. He was so gallant in defeat."

Best of the home side was 25/1 shot Astaire, a length and three-quarters back in third, and he, too, is bound for Newmarket next month. "I've never lost faith in him," said trainer Kevin Ryan, "and he's proved today he is up to this level. I was delighted with him, he looked great and was so relaxed, and Jamie [Spencer, rider] said he loved having something to aim at.

"It's great to have this international element. This is the Olympics of the sport and the whole world should be involved."
Diamond Jubilee Stakes (Group 1)
(British Champions Series & Global Sprint Challenge)
£525,000 added, 3yo plus, 6f, Class 1
15 ran
Going: Good to Firm, Firm in places
Dr
Dist
Horse SP
Jockey Weight
Trainer
Age
1st
(6)
Undrafted (USA) 14/1
L Dettori
9-3
Wesley Ward
5
2nd
(15)
&frac12
Brazen Beau (AUS) 7/2j
Craig Williams
9-3
C J Waller
4
3rd
(3)
1&frac34
Astaire (IRE) 25/1
J P Spencer
9-3
K A Ryan
4
4th
(13)
1&frac14
Music Master 14/1
D Sweeney
9-3
H Candy
5
5th
(4)
&frac12
Mustajeeb 7/2j
P J Smullen
9-3
D K Weld
4
6th
(10)
&frac12
Wandjina (AUS) 10/1
D M Oliver
9-3
Ms G Waterhouse
4
7th
(2)
1&frac14
Caspar Netscher 25/1
A Mullen
9-3
D M Simcock
6
8th
(7)
&frac12
Gordon Lord Byron (IRE) 20/1
W M Lordan
9-3
T Hogan
7
9th
(11)
s.h
Glass Office 20/1
Jim Crowley
9-3
D M Simcock
5
10th
(5)
&frac12
Ansgar (IRE) 40/1
James Doyle
9-3
Miss S J Harty
7
11th
(1)
1&frac12
Moviesta (USA) 16/1
P Mulrennan
9-3
E Lynam
5
12th
(14)
3&frac34
Pearl Secret 16/1
Andrea Atzeni
9-3
T D Barron
6
13th
(9)
1&frac34
Lucky Kristale 33/1
T P Queally
9-0
G G Margarson
4
14th
(8)
9
Tropics (USA) 10/1
R Winston
9-3
D K Ivory
7
15th
(12)
14
Due Diligence (USA) 5/1
R L Moore
9-3
A P O'Brien
4
THE DIAMOND JUBILEE STAKES
Past Results
2014-WINNER-SLADE POWER 5-9-04 Owner-Sabena Power; Trainer-Edward Lynam IRE; Jockey-Wayne Lordan; SP-7/2F
2ND-Due Diligence 3-8-11 Owner-Michael Tabor, Derrick Smith & Sue Magner; Trainer-Aidan O'Brien IRE; Jockey-Ryan Moore; SP-5/1
3RD-Aljamaaheer 5-9-04 Owner-Hamdan Al Maktoum; Trainer-Roger Varian; Jockey-Paul Hanagan; SP-4/1
14 ran; Time-1m 12.40s; Dist-1½; hd
2013-WINNER-LETHAL FORCE 4-9-04 Owner-Alan Craddock; Trainer-Clive Cox; Jockey-Adam Kirby; SP-11/1
2ND-Society Rock 6-9-04 Owner-Simon Gibson; Trainer-James Fanshawe; Jockey-Kieren Fallon; SP-4/1 Fav
3RD-Krypton Factor 5-9-04 Owner-Fawzi Abdulla Nass; Trainer-Fawzi Nass BAH; Jockey-Luke Morris; SP-25/1
18 ran; Time-1m 13.36s; Dist-2, 1¾
2012-WINNER-BLACK CAVIAR 6-9-01 Owner-G J Wilkie, Mrs K J Wilkie et al; Trainer-Peter Moody AUS; Jockey-Luke Nolen; SP-1/6
Fav
2ND-Moonlight Cloud 4-9-01 Owner-George Strawbridge; Trainer-Freddy Head FR; Jockey-Thierry Jarnet; SP-5/1
3RD-Restiadargent 3-8-08 Owner-Guy Pariente; Trainer-Alex Pantall FR; Jockey-Maxime Guyon; SP-40/1
14 ran; Time-1m 14.10s; Dist-hd, nk
2011-WINNER-SOCIETY ROCK 4-9-04 Owner-Simon Gibson; Trainer-James Fanshawe; Jockey-Pat Cosgrave; SP-25/1
2ND-Monsieur Chevalier 4-9-04 Owner-Valerie Hubbard & Ian Higginson; Trainer-Richard Hannon; Jockey-Kieren Fallon; SP-25/1
3RD-Star Witness 4-9-04 Owner-Widden Stud; Trainer-Danny O'Brien AUS; Jockey-Steven Arnold; SP-4/1
16 ran; Time-1m 17.22s; Dist-½, 1¼ 3/1 Fav Bewitched (14th)
2010-WINNER-STARSPANGLEDBANNER 4-9-04 Owner-Michael Tabor/Derrick Smith/Sue Magnier/Ms Massey; Trainer-Aidan O'Brien
IRE; Jockey-Johnny Murtagh; SP-13/2 Jt Fav
2ND Society Rock 3-8-11 Owner-Simon Gibson; Trainer-James Fanshawe; Jockey-Pat Cosgrave; SP-50/1
3RD Kinsale King 5-9-04 Owner-Sheehy LLC; Trainer-Carl O'Callaghan USA; Jockey-Kieren Fallon; SP-8/1
24 ran; Time-1m 12.57s; Dist-1¾, hd 13/2 Jt Fav Fleeting Spirit (4th)
2009-WINNER-ART CONNOISSEUR 3-8-11 Owner-Richard Green; Trainer-Michael Bell; Jockey-Tom Queally; SP-20/1
2ND-Cannonball 4-9-04 Owner-Ken & Sarah Ramsey; Trainer-Wesley Ward USA; Jockey-Olivier Peslier; SP-11/1
3RD-Lesson In Humility 4-9-01 Owner-Michael Nelmes-Crocker; Trainer-Karl Burke; Jockey-Andrew Elliott; SP-33/1
14 ran; Time-1m 14.90s; Dist-nk, 2½ 5/2 Fav J J The Jet Plane (4th)
2008-WINNER-KINGSGATE NATIVE 3-8-11 Owner-John Mayne; Trainer-John Best; Jockey-Seb Sanders; SP-33/1
2ND-War Artist 5-9-04 Owner-Vintage Thoroughbreds; Trainer-James Eustace; Jockey-Kerrin McEvoy; SP-8/1
3RD-Sir Gerry 3-8-11 Owner-Mrs Gerry Galligan; Trainer-James Fanshawe; Jockey-Jamie Spencer; SP-20/1
17 ran, Time-1m 13.33s, Dist-1¼, ¾ 4/1 Fav Takeover Target (4th)
2007-WINNER-SOLDIER'S TALE 6-9-04 Owner-Budget Stable; Trainer-Jeremy Noseda; Jockey-Johnny Murtagh; SP-9/1
2ND-Takeover Target 8-9-04 Owner-Joe & Ben Janiak; Trainer-Joe Janiak AUS; Jockey-Jay Ford; SP-8/1
3RD-Asset 4-9-04 Owner-Highclere Thoroughbred Racing XXVI; Trainer-Richard Hannon; Jockey-Richard Hughes; SP-14/1
21 ran, Time-1m 14.51s, Dist-hd, ½ 2/1 Fav Miss Andretti (15th)
2006-WINNER-LES ARCS 6-9-04 Owner-Willie McKay; Trainer-Tim Pitt; Jockey-John Egan; SP-33/1
2ND-Balthazaar's Gift 3-8-11 Owner-Ryder Racing Ltd; Trainer-Kevin Ryan; Jockey-Jamie Spencer; SP-50/1
3RD-Takeover Target 7-9-04 Owner-Joe & Ben Janiak; Trainer-Joe Janiak AUS; Jockey-Jay Ford; SP-7/2 Fav
18 ran, Time-1m 13.12s, Dist-nk, 2
2005-WINNER-CAPE OF GOOD HOPE 7-9-04 Owner-Exors of the late R Carstairs; Trainer-David Oughton HK;
Jockey-Michael Kinane; SP-6/1
2ND-Galeota 3-8-11 Owner-John Lazzari; Trainer-Richard Hannon; Jockey-Ryan Moore; SP-15/2
3RD-Balmont 4-9-04 Owner-Sanford Robertson & Hatta Bloodstock; Jockey-Christophe Soumillon; SP-9/2 Fav
15 ran, Time-1m 8.58s Dist-hd, 1½ (run at York)
2004-WINNER-FAYR JAG 5-9-04 Owner-Jonathan Gill; Trainer-Tim Easterby; Jockey-Willie Supple; SP-12/1
2ND-Crystal Castle 6-9-04 Owner-J Raw; Trainer-John Hammond FR; Jockey-Kieren Fallon; SP-8/1
3RD-Cape Of Good Hope 6-9-04 Owner-Exors of the late R Carstairs; Trainer-David Oughton HK; Jockey-Michael Kinane; SP-13/2
14 ran, Time-1m 13.35s Dist-hd, hd 100/30 Fav Avonbridge (5th)
2003-WINNER-CHOISIR 4-9-04 Owner-Terry Wallace and Partners; Trainer-Paul Perry AUS; Jockey-Johnny Murtagh; SP-13/2
2ND-Airwave 3-8-08 Owner-Henry Candy and Partners; Trainer-Henry Candy; Jockey-Dane O'Neill; SP-11/8 Fav
3RD-Baron's Pit 3-8-11 Owner-Jeff and Kath Thomas; Trainer-Richard Hannon; Jockey-Jimmy Fortune; SP-50/1
17 ran, Time-1m 12.23s Dist-½, 1
2002-WINNER-MALHUB 4-9-04 Owner-Hamdan Al Maktoum; Trainer-John Gosden; Jockey-Kevin Darley; SP-16/1
2ND-Danehurst 4-9-01 Owner-Cheveley Park Stud; Trainer-Sir Mark Prescott; Jockey-Seb Sanders; SP-13/2
3RD-Three Points 5-9-04 Owner-Godolphin; Trainer-Saeed bin Suroor; Jockey-Frankie Dettori; SP-4/1
12 ran, Time-1m 14.34s, Dist- 1½, ½ 3/1 Fav Johannesburg (9th)