Prince Of Wales's Stakes

Group 1, Ascot 16:20
£750,000 added,
4yo plus,
1m 2f, Class 1  
Wednesday 15th June 2016

1 My Dream Boat 16/1
2 Found 4/1
3 Western Hymn 12/1
6 ran Distances: nk, 3½l, ¾l
TIME 2m 11.38s (slow by 6.88s)
My Dream Boat wins the Prince of Wales's Stakes and beats A Shin Hikari
The Clive Cox-trained My Dream Boat ran out a shock 16/1 victor of the Group One Prince of Wales's Stakes, the feature race on day two of the Royal meeting

Having finished a well-beaten fifth behind today's warm favourite, the Japanese raider A Shin Hikari in the Prix d'Isaphan at Chantilly last month, Cox's charge dramatically reversed placings this time around.

The victory gave the trainer his sixth victory at Royal Ascot and his second Group One winner of this year's meeting following Profitable's success in the King's Stand Stakes yesterday.
A Shin Hikari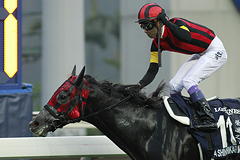 Off an even gallop set by A Shin Hikari, Adam Kirby settled My Dream Boat out the back of the field. However, in the home straight, the son of Lord Shanakill made steady progress racing near the stands' side rail and thundered home inside the final furlong to catch Aidan O'Brien's Found and get up on the line to register a neck success.

Cox, registering his seventh Group One victory remarked: "I'm absolutely blown away. It has been an amazing week, the horses have been running so well. I had admiration for A Shin Hikari when we ran against him in France but I knew we hadn't quite run our race. He found a perfect rhythm today and really found for Adam when he asked him to stretch. I wasn't quite sure if he had won as they were poles apart but I was so pleased that we got the victory.

"Any horse who comes back from a race, you just try and nurture them back to that confidence you hope they are carrying into every race. Stuart Shilston (ex-jockey), rides him out every morning and he loves him to bits. You see this horse go to the start today, he was absolutely bucking so in spite of things not going right in France, he was in pretty good nick. I'm delighted. I think he could go further than 10 furlongs."

As for the future, the Coral-Eclipse at Sandown is a possible destination for the four-year-old. Cox said: "He's just won a Group One over a mile and a quarter so I wouldn't want to change anything. I've entered him in the Coral-Eclipse at Sandown and he is definitely better with a bit of cut in the ground. He doesn't like it too quick. He has come an awful long way in just over a year. He was rated 76 when he won his first race for us so he's done us proud. The Eclipse is more realistic if the ground is ok. The way he has done that today, it looks a possibility that we would go for the Coral Eclipse.

"We will also look to come back to Ascot in October for Champions Day as he has showed his liking for the track.
He improved dramatically for stepping up to a mile and a quarter earlier in the year and he has just kept on improving.

"I always thought enough of him to be here today. He has not surprised me but his upward curve has been phenomenal. It's amazing. It is precisely why you do this job. It feels like a dream."

Cox was also delighted for owners Paul and Clare Rooney commenting: "It is wonderful for Paul and Clare Rooney. They are new to the Flat game so it is great. We have had a few nice winners for them over the past year, starting out with this one. We've got a great bunch of horses and a great bunch of owners and I am just delighted."

Paul and Clare Rooney, better know for jump horses, highlighted by The Last Samuri's second-placed finish in this year's Grand National, were delighted to register their first Group One success. An ecstatic Clare Rooney said: "It's just unbelievable, we are full of emotion. The ground today suited us. I am a big Flat enthusiastic and I am just delighted."

Paul Rooney added: "We are delighted. A first Group One for us and there are many more to come. It is just amazing, we really wanted that horse to win today. It just shows the mettle in him. He ran a perfect race for us."
Prince Of Wales's Stakes (Group 1)
£750,000 added, 4yo plus, 1m 2f, Class 1
6 ran
Going: Soft
Pos
Dr
D
Horse SP
Jockey Weight
Trainer
Age
1st
(3)
My Dream Boat (IRE) 16/1
A Kirby
9-0
C G Cox
4
2nd
(5)
nk
Found (IRE) 4/1
R L Moore
8-11
A P O'Brien
4
3rd
(6)
3&frac12
Western Hymn 12/1
L Dettori
9-0
J H M Gosden
5
4th
(1)
&frac34
The Grey Gatsby (IRE) 10/1
J P Spencer
9-0
K A Ryan
5
5th
(2)
nk
Tryster (IRE) 12/1
W Buick
9-0
C Appleby
5
6th
(4)
s.h
A Shin Hikari (JPN) 8/13f
Y Take
9-0
Masanori Sakaguchi
5

FOUND FINDS ONE TOO GOOD

Found, who came home second in the Group One Coronation Cup at Epsom Downs 11 days ago again found one to good when she was a neck second in the Prince Of Wales's Stakes.

"I can't believe we got beaten." was jockey Ryan Moore's reaction after the race while Aidan O'Brien, the Galileo fillies' trainer, added: "That is racing.

"She quickened very well. I think she will probably have a break now and then maybe America again."

John Gosden, trainer of the third home Western Hymn, said: "It was a solid run - they didn't go much pace did they. When they quickened in the straight, it caught us flat footed.

"We were third last year and third this year but ran a great race. He is a lovely horse to have in the yard.

"He enjoys the Eclipse at Sandown and then we might step up to a mile and a half. He is beginning to look like a little extra will suit him."

Fourth placed The Grey Gatsby also holds an entry to the Eclipse and his trainer Kevin Ryan said: "He is in the Eclipse so I just hope the ground is better at Sandown.

"He has run great on ground we know he doesn't like. His big strength is his turn of foot and he just couldn't use it on that ground.

"We got a run into him which is important, it is hard to keep stopping and starting at this level."

KICK IN THE SHIN AS JAPAN'S SUPERSTAR FAILS TO SHINE

He came, we saw, but he didn't conquer, and another huge reputation fell upon the fickle sword of horse racing.

Japanese superstar A Shin Hikari, a son of the potent stallion Deep Impact, had romped his only other start in Europe - last month's Group One Prix d'Ispahan by 10 lengths, no less - and landed the Grade One Hong Kong Cup in December. Today's Prince of Wales's Stakes against just five rivals looked his for the taking, and he was sent off the 8/13 favourite.

He finished last, albeit only four and three-quarters of a length behind winner My Dream Boat, and the large travelling contingent from the Far East who had joined his owners, the Hirai brothers, at Royal Ascot, were left looking as deflated as a squashed top hat.

Jockey Yutaka Take confined his views to a short: "He felt good, but was a little too keen."

Hirotsugu Hirai and his brother, Katsuhiko, of Eishindo Co Ltd, were initially too despondent to say other than, "Not now - you can imagine how disappointed we feel."

Later, Hirotsugu added: "After the race the horse was fine - he wasn't upset, but we're upset.

"We knew it wasn't going to be easy. This was his first time around a bend that sharp and it surprised him, and also the turf was very soft, like a luxurious carpet, and that didn't suit him."

THE PRINCE OF WALES'S STAKES
Past Results
2015-WINNER-FREE EAGLE 4-9-00 Owner-Moyglare Stud; Trainer-Dermot Weld IRE; Jockey-Pat Smullen; SP-5/2 Fav
2ND-The Grey Gatsby 4-9-00 Owner-Frank Gillespie; Trainer-Kevin Ryan; Jockey-Jamie Spencer; SP-9/2
3RD-Western Hymn 4-9-00 Owner-Robin Geffen; Trainer-John Gosden; Jockey-Frankie Dettori; SP-8/1
9 ran; Time-2m 5.07s; Dist-sh, 23⁄4
2014-WINNER-THE FUGUE 5-8-11 Owner-Lord Lloyd-Webber; Trainer-John Gosden; Jockey-William Buick; SP-11/2
2ND-Magician 4-9-00 Owner-Michael Tabor, Derrick Smith & Sue Magnier; Trainer-Aidan O'Brien IRE; Jockey-Joseph O'Brien; SP-6/1
3RD-Treve 4-8-11 Owner-Al Shaqab Racing; Trainer-Criquette Head-Maarek FR; Jockey-Frankie Dettori; SP-8/13 Fav
8 ran; Time-2m 1.90s; Dist-13⁄4, 1
2013-WINNER-AL KAZEEM 5-9-00 Owner-John Deer; Trainer-Roger Charlton; Jockey-James Doyle; SP-11/4
2ND-Mukhadram 4-9-00 Owner-Hamdan Al Maktoum; Trainer-William Haggas; Jockey-Paul Hanagan; SP-14/1
3RD-The Fugue 4-8-11 Owner-Lord Lloyd-Webber; Trainer-John Gosden; Jockey-William Buick; SP-13/2
11 ran; Time-2m 3.06s; Dist-nk, 3¼ 5/2 Fav Camelot (4th)
2012-WINNER-SO YOU THINK 6-9-00 Owner- Smith/Magnier/Tabor/DatoTan/TunkuYahaya; Trainer-Aidan O'Brien IRE; Jockey-
Joseph O'Brien; SP-4/5F
2ND-Carlton House 4-9-00 Owner-The Queen; Trainer-Sir Michael Stoute; Jockey-Ryan Moore; SP-7/2
3RD-Farhh 4-9-00 Owner-Godolphin; Trainer-Saeed bin Suroor; Jockey-Frankie Dettori; SP-6/1
11 ran; Time-2m 3.86s; Dist-2¼, ½
2011-WINNER-REWILDING 4-9-00 Owner-Godolphin; Trainer Mahmood Al Zarooni; Jockey-Frankie Dettori; SP-17/2
2ND-So You Think 5-9-00 Owner-Smith/Magnier/Tabor/Dato Tan/Tunku Yahaya; Trainer-Aidan O'Brien IRE; Jockey-Ryan
Moore; SP-4/11 Fav
3RD-Sri Putra 5-9-00 Owner-H R H Sultan Ahmad Shah; Trainer-Roger Varian; Jockey-Neil Callan; SP-66/1
7 ran; Time-2m 4.24s; Dist-nk, 6
2010-WINNER-BYWORD 4-9-00 Owner-Khalid Abdullah; Trainer-Andre Fabre FR; Jockey-Maxime Guyon; SP-5/2 Fav
2ND-Twice Over 5-9-00 Owner-Khalid Abdullah; Trainer-Henry Cecil; Jockey-Tom Queally; SP-11/2
3RD-Tazeez 6-9-00 Owner-Hamdan Al Maktoum; Trainer-John Gosden; Jockey-Tadhg O'Shea; SP-40/1
12 ran; Time-2m 5.35s; Dist-½, ¾
2009-WINNER-VISION D'ETAT 4-9-00 Owner-Jacques Detre; Trainer-Eric Libaud FR; Jockey-Olivier Peslier; SP-4/1
2ND-Tartan Bearer 4-9-00 Owner-Ballymacoll Stud; Trainer-Sir Michael Stoute; Jockey-Ryan Moore; SP-6/4 Fav
3RD-Never On Sunday 4-9-00 Owner-Daniel-Yves Treves; Trainer-Jean Claude Rouget FR; Jockey-Christophe Lemaire;
SP-7/2
8 ran; Time-2m 6.90s; Dist-½, hd
2008-WINNER-DUKE OF MARMALADE 4-9-00 Owner-Sue Magnier & Michael Tabor; Trainer-Aidan O'Brien IRE; Jockey-
Johnny Murtagh; SP-Evens Fav
2ND-Phoenix Tower 4-9-00 Owner-Khalid Abdullah; Trainer-Henry Cecil; Jockey-Ted Durcan; SP-7/1
3RD-Pipedreamer 4-9-00 Owner-Cheveley Park Stud; Trainer-John Gosden; Jockey-Jimmy Fortune; SP-11/1
12 ran, Time-2m 5.35s, Dist-4, sh
2007-WINNER-MANDURO 5-9-00 Owner-Baron Georg von Ullmann; Trainer-Andre Fabre FR; Jockey-Stephane Pasquier;
SP-15/8 Fav
2ND-Dylan Thomas 4-9-00 Owner-Sue Magnier & Michael Tabor; Trainer-Aidan O'Brien IRE; Jockey-Christophe Soumillon;
SP-2/1
3RD-Notnowcato Owner-Anthony & David de Rothschild; Trainer-Sir Michael Stoute; Jockey-Johnny Murtagh; SP-13/2
6 ran, Time-2m 5.91s, Dist-1¼, 4
2006-WINNER-OUIJA BOARD 5-8-11 Owner-Lord Derby; Trainer-Ed Dunlop; Jockey-Olivier Peslier; SP-8/1
2ND-Electrocutionist 5-9-00 Owner-Godolphin; Trainer-Saeed bin Suroor; Jockey-Frankie Dettori; SP-9/4
3RD-Manduro 4-9-00 Owner-Baron Georg von Ullmann; Trainer-Andre Fabre FR; Jockey-Christophe Soumillon; SP-12/1
7 ran, Time-2m 6.92s, Dist-½, ¾ 11/8 Fav David Junior (4th)
2005-WINNER-AZAMOUR 4-9-00 Owner-H H Aga Khan; Trainer-John Oxx IRE; Jockey-Michael Kinane; SP-11/8 Fav
2ND-Ace 4-9-00 Owner-Sue Magnier, Michael Tabor & Mrs Harry McCalmont; Trainer-Aidan O'Brien IRE; Jockey-Kieren Fallon;
SP-7/1
3RD-Elvstroem 5-9-00 Owner-Elvstroem Syndicate; Trainer-Tony Vasil AUS; Jockey-Nash Rawiller; SP-11/1
8 ran Time-2m 8.15s Dist-1½, 5 (run at York)
2004-WINNER-RAKTI 5-9-00 Owner-Gary Tanaka; Trainer-Michael Jarvis; Jockey-Philip Robinson; SP-3/1
2ND-Powerscourt 4-9-00 Owner-Sue Magnier; Trainer-Aidan O'Brien IRE; Jockey-Jamie Spencer; SP-9/2
3RD-Ikhtyar 4-9-00 Owner-Hamdan Al Maktoum; Trainer-John Gosden; Jockey-Richard Hills; SP-8/1
10 ran Time-2m 04.95s Dist-2, ½ 11/4 Fav Sulamani (4th)
2003-WINNER-NAYEF 5-9-00 Owner-Hamdan Al Maktoum; Trainer-Marcus Tregoning; Jockey-Richard Hills; SP-5/1
2ND-Rakti 4-9-00 Owner-Gary Tanaka; Trainer-Michael Jarvis; Jockey-Phillip Robinson; SP-50/1
3RD-Islington 4-8-11 Owner-Exors of the late Lord Weinstock; Trainer-Sir Michael Stoute; Jockey-Kieren Fallon; SP-7/1
10 ran Time-2m 05.30s Dist-2½, 1 2/1 Fav Moon Ballad (9th)