Fabre and Guyon Final Word in Prince of Wales's Stakes
16/06/10
1 Byword 5/2F
2 Twice Over 11/2
3 Tazeez 40/1
The 21-year-old French riding sensation Maxime Guyon starred on day two of Royal Ascot when - having his first ever ride in Britain - produced 5/2 favourite Byword to come with a perfectly-timed run to win the Group One Prince Of Wales's Stakes.

The four-year-old beat Twice Over, who was also owned by Prince Khalid Abdulla, to score by half a length to the delight of trainer Andre Fabre.

"The horse had the ability to win the race but I was a bit worried about the inexperienced jockey.
He had a perfect ride - clear without any bumps, " said Fabre. "The horse has matured this season and we always thought he was really good. He got a bit sick as a three-year-old and had a virus so we gave him time. He has strengthened and now is really coming into himself.

"He is a horse who could go for the big mile races and he won't go further than a mile and a quarter. We will look at something like the Prix Jacques le Marois for him. We will discuss the Prix de l'Arc de Triomphe with the Prince but I think that is only a remote possibility. There is a question mark with his stamina and he needs good ground as well. We have to run in Group Ones and I think it's likely that he will go back to a mile.

"Maxime has nerves and he is young, which is always an advantage. He has been in fantastic form - he knows the horses well and he knows what they want. He also doesn't use the whip a lot, which I enjoy as well.

"I was impressed with his ride, he rode a beautiful race. It's a double celebration for me, not only because of the jockey but because the winner is by Peintre Celebre as well.

"It was a big worry about the jockey but he walked the course, saw some films and I gave him some phone calls but he's very laid back and rode an ideal race."
Guyon added: "It's a great honour to be given the opportunity to ride here today for Mr Fabre. I never thought that I would get the chance to ride at Royal Ascot this afternoon and I cannot thank my trainer enough for trusting me.
"Everything went perfectly in the race and I had a great ride throughout the race - I am delighted.

"I was not too nervous before the race but I was obviously a little apprehensive riding here for the first time. I wasn't given precise orders but was just told to get him in a good position which I managed and we had a good run.

"Monsieur Fabre did ring me and told me to walk the course and see a few other races because this is not a track like any other."
Teddy Grimthorpe, racing manager to Abdulla, said: "It's especially exciting because the first two were home-breds whose families go back several generations.

"Ascot is such an important venue for world racing and Prince Khalid likes to run his best horses in the best races. As for the future it might be difficult to split the first and second but we will look at the programme book."
Position

Horse
Trainer
Jockey
Weight
Starting Price
Beaten Distance
1

Byword
A Fabre
M Guyon
9st 0lbs
5 - 2
Winner
2

Twice Over
H R A Cecil
T P Queally
9st 0lbs
11 - 2
1/2 length
3

Tazeez
J H M Gosden
T P O'Shea
9st 0lbs
40 - 1
3/4 length
4

Stimulation
H Morrison
J P Murtagh
9st 0lbs
40 - 1
1 1/2 length
5

Wiener Walzer
J Hirschberger
A de Vries
9st 0lbs
20 - 1
Nose
6

Glass Harmonium
Sir Michael Stoute
R L Moore
9st 0lbs
10 - 1
1 1/2 length
7

Debussy
J H M Gosden
William Buick
9st 0lbs
25 - 1
Head
8

Shalanaya
M Delzangles
C P Lemaire
8st 11lbs
7 - 1
Neck
9

Presvis
L M Cumani
K Fallon
9st 0lbs
9 - 1
1 3/4 length
10

Mawatheeq
M P Tregoning
R Hills
9st 0lbs
7 - 1
Nose
11

Allybar
M Al Zarooni
Ahmed Ajtebi
9st 0lbs
25 - 1
6 lengths
12

Cavalryman
S bin Suroor
L Dettori
9st 0lbs
8 - 1
12 lengths
Twice Over (Tom Queally pink cap)


© racing-images.co.uk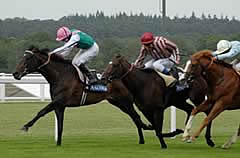 HENRY UNHAPPY AS TWICE OVER MISSES OUT
This year's Prince of Wales's Stakes was won by Byword, but the first two places might be reversed if the race was run twice over.

Five-year-old Twice Over was nearer last than first after two furlongs, took a while to quicken off the final bend and then made up ground without quite managing to haul in the winner. He was beaten half a length, and like the winner carried the colours of Prince Khalid Abdulla.
Trainer Henry Cecil looked understandably disappointed at the way the race unfolded for Twice Over, although he attached no blame to jockey Tom Queally. Cecil said of his horse: "He ran very well, but he couldn't get out. He got locked in and too far back - he made a lot of ground up and ran super, but he didn't get there.
"We wanted to be handier and it was such a mess-up because he couldn't get the position he wanted and was taken back [when the runners bunched after a couple of furlongs]. I hope he'll go back to the Champion Stakes, but it is up to the Prince."
Teddy Grimthorpe, Prince Khalid's racing manager, later said: "He didn't get out when he wanted to and finished really well. He's back on track. Henry's done a great job given it was the horse's first run since Dubai. He went for the Eclipse Stakes [at Sandown] last year and didn't run that well behind Sea The Stars so although it's different circumstances we'd have to take that into consideration."
In contrast, John Gosden had no complaints about the result for third-placed Tazeez, a 40/1 outsider who made the running and was passed by just two horses. Gosden said: "He ran very well the other day at Sandown [when second in the Brigadier Gerard Stakes], and he's probably improved 5lb on that. He's run a blinder. He's gone a good even gallop and only two horses have gone by him, and they were entitled to being the first and second favourite."
Gosden is considering the Group Two Skybet Stakes at York next month, although he might step him up in trip to 12 furlongs, and said: "I put him in the Princess of Wales's Stakes [at Newmarket's July meeting] only yesterday."